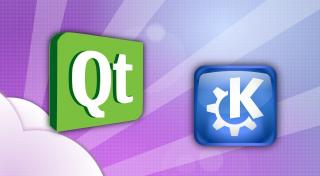 Cuma, 12 Haziran 2015
KDE bugün KDE Frameworks 5.11.0 sürümünün piyasaya sürüldüğünü duyurdu.
KDE Çerçeveleri, kullanıcı dostu lisans koşulları ile olgun, hakemli ve iyi test edilmiş kitaplıklarda yaygın olarak ihtiyaç duyulan çok çeşitli işlevsellik sağlayan 60 Qt eklenti kitaplıklarıdır. Giriş için [KDE Framework sürüm duyurusu]60 'na bakın.
Bu sürüm, geliştiricilere hızlı ve öngörülebilir bir şekilde iyileştirmeler sağlayan bir dizi planlı aylık sürümün bir parçasıdır.
Bu sürümde yeni
Ekstra CMake Modülleri
Ecm_add_tests () için yeni argümanlar. (hata 345797)
Framework Integration
Use the correct initialDirectory for the KDirSelectDialog
Make sure the scheme is specified when overriding the start url value
Only accept existing directories in FileMode::Directory mode
KActivities
(no changelog provided)
KAuth
Make KAUTH_HELPER_INSTALL_ABSOLUTE_DIR available to all KAuth users
KCodecs
KEmailAddress: Add overload for extractEmailAddress and firstEmailAddress which returns an error message.
KCompletion
Dosya iletişim kutusunda dosya adını düzenlerken istenmeyen seçimi düzeltin (hata344525)
KConfig
Prevent crash if QWindow::screen() is null
Add KConfigGui::setSessionConfig() (bug 346768)
KCoreAddons
New KPluginLoader::findPluginById() convenience API
KDeclarative
support creation of ConfigModule from KPluginMetdata
fix pressAndhold events
KDELibs 4 Desteği
Use QTemporaryFile instead of hardcoding a temporary file.
KDocTools
Çevirileri güncelleyin
Update customization/ru
Fix entities with wrong links
KEmoticons
Temayı entegrasyon eklentisinde önbelleğe alın
KGlobalAccel
[runtime] Move platform specific code into plugins
KIconThemes
Optimize KIconEngine::availableSizes()
KIO
Do not try to complete users and assert when prepend is non-empty. (bug 346920)
Use KPluginLoader::factory() when loading KIO::DndPopupMenuPlugin
Ağ proxy'lerini kullanırken kilitlenmeyi düzeltin (hata 346214)
Fixed KIO::suggestName to preserve file extensions
Kick off kbuildsycoca4 when updating sycoca5.
KFileWidget: Don't accept files in directory only mode
KIO::AccessManager: Make it possible to treat sequential QIODevice asynchronously
KNewStuff
Add new method fillMenuFromGroupingNames
KMoreTools: birçok yeni grup ekle
KMoreToolsMenuFactory: handling for "git-clients-and-actions"
createMenuFromGroupingNames: make url parameter optional
KNotification
Fix crash in NotifyByExecute when no widget has been set (bug 348510)
Kapatılan bildirimlerin işlenmesini iyileştirin (hata 342752)
Replace QDesktopWidget usage with QScreen
KNotification'ın GUI olmayan bir iş parçacığından kullanılabileceğinden emin olun
Package Framework
Qpointer erişim yapısını koruyun (bug 347231)
KPeople
Use QTemporaryFile instead of hardcoding /tmp.
KPty
Use tcgetattr & tcsetattr if available
Kross
Fix loading of Kross modules "forms" and "kdetranslation"
KService
When running as root preserve file ownership on existing cache files (bug 342438)
Akışı açamamaya karşı koruma (hata 342438)
Fix check for invalid permissions writing file (bug 342438)
Fix querying ksycoca for x-scheme-handler/* pseudo-mimetypes. (bug 347353)
KTextEditor
Allow like in KDE 4.x times 3rdparty apps/plugins to install own highlighting XML files into katepart5/syntax
Add KTextEditor::Document::searchText()
Bring back use of KEncodingFileDialog (bug 343255)
KTextWidgets
Dekoratörü temizlemek için bir yöntem ekleyin
Özel sonnet dekoratörünün kullanımına izin ver
Implement "find previous" in KTextEdit.
Re-add support for speech-to-text
KWidgetsAddons
KAssistantDialog: Re-add the Help button that was present in KDELibs4 version
KXMLGUI
KMainWindow için oturum yönetimi ekleyin (bug 346768)
NetworkManagerQt
NM 1.2.0+ için WiMAX desteğini bırakın
Plasma Framework
Takvim bileşenleri artık hafta numaralarını görüntüleyebilir (hata 338195)
Parola alanlarındaki yazı tipleri için QtRendering kullanın
Fix AssociatedApplicationManager lookup when a mimetype has (bug 340326)
Panel arka plan rengini düzeltin (bug 347143)
Get rid of "Could not load applet" message
Capability to load QML kcms in plasmoid config windows
Don't use the DataEngineStructure for Applets
Port libplasma away from sycoca as much as possible
[plasmacomponents] Make SectionScroller follow the ListView.section.criteria
Kaydırma çubukları artık bir dokunmatik ekran mevcut olduğunda otomatik olarak gizlenmiyor (hata347254)
Sonnet
SpellerPlugins için bir merkezi önbellek kullanın.
Reduce temporary allocations.
Optimize: Do not wipe dict cache when copying speller objects.
Optimise away save() calls by calling it once at the end if needed.
Bu sürüm hakkında fikir ve önerilerinizi the dot makalesinde yorum olarak ekleyebilirsiniz.
İkili paketleri yükleme
On Linux, using packages for your favorite distribution is the recommended way to get access to KDE Frameworks. Get KDE Software on Your Linux Distro wiki page
Kaynaklardan derleme
The complete source code for KDE Frameworks 5.11.0 may be freely downloaded. Instructions on compiling and installing KDE Frameworks 5.11.0 are available from the KDE Frameworks 5.11.0 Info Page.
Building from source is possible using the basic cmake .; make; make install commands. For a single Tier 1 framework, this is often the easiest solution. People interested in contributing to frameworks or tracking progress in development of the entire set are encouraged to use kdesrc-build. Frameworks 5.11.0 requires Qt .
A detailed listing of all Frameworks and other third party Qt libraries is at inqlude.org, the curated archive of Qt libraries. A complete list with API documentation is on api.kde.org.
Katılın
Those interested in following and contributing to the development of Frameworks can check out the git repositories and follow the discussions on the KDE Frameworks Development mailing list. Policies and the current state of the project and plans are available at the Frameworks wiki. Real-time discussions take place on the #kde-devel IRC channel on freenode.net.
Supporting KDE
KDE is a Free Software community that exists and grows only because of the help of many volunteers that donate their time and effort. KDE is always looking for new volunteers and contributions, whether it is help with coding, bug fixing or reporting, writing documentation, translations, promotion, money, etc. All contributions are gratefully appreciated and eagerly accepted. Please read through the Supporting KDE page for further information or become a KDE e.V. supporting member through our Join the Game initiative.