KDE 4.11.5'i Duyurdu
Salı, 7 Ocak 2014
7 Ocak 2014. Bugün KDE, Çalışma Alanları, Uygulamalar ve Geliştirme Platformu için güncellemeler yayınladı. Bu güncellemeler, aylık bir serinin beşincisidir4.11 serisi için stabilizasyon güncellemeleri. Sürümde duyurulduğu gibi, çalışma alanları Ağustos 2015'e kadar güncellemeleri almaya devam edecek. Bu sürüm yalnızca hata düzeltmeleri ve çeviri güncellemeleri içeriyor ve herkes için güvenli ve hoş bir güncelleme olacak.
Several recorded bugfixes include improvements to the personal information management suite Kontact, the UML tool Umbrello, the document viewer Okular, the web browser Konqueror, the file manager Dolphin, and others. The Plasma calculator can handle greek letters now and Okular can print pages with long titles. And Konqueror got better web fonts support through fixing a bug.
A more complete list of changes can be found in KDE's issue tracker. For a detailed list of changes that went into 4.11.5, you can also browse the Git logs.
To download source code or packages to install go to the 4.11.5 Info Page. If you want to find out more about the 4.11 versions of KDE Workspaces, Applications and Development Platform, please refer to the 4.11 release notes.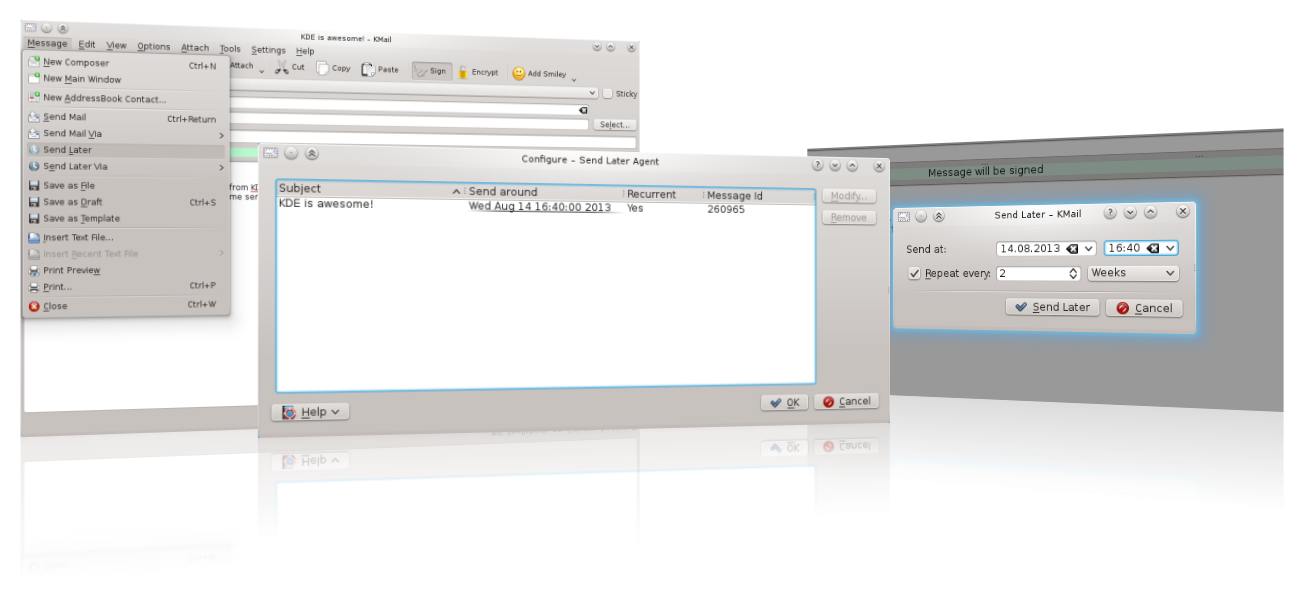 KDE software, including all libraries and applications, is available for free under Open Source licenses. KDE's software can be obtained as source code and various binary formats from http://download.kde.org or from any of the major GNU/Linux and UNIX systems shipping today.
KDE hakkında
KDE is an international technology team that creates free and open source software for desktop and portable computing. Among KDE's products are a modern desktop system for Linux and UNIX platforms, comprehensive office productivity and groupware suites and hundreds of software titles in many categories including Internet and web applications, multimedia, entertainment, educational, graphics and software development. KDE software is translated into more than 60 languages and is built with ease of use and modern accessibility principles in mind. KDE's full-featured applications run natively on Linux, BSD, Windows and macOS.
---
Ticari Marka Bildirimleri.

KDE® and the K Desktop Environment® logo are registered trademarks of KDE e.V..
Linux, Linus Torvalds'ın tescilli ticari markasıdır. UNIX, The Open Group'un Amerika Birleşik Devletleri ve diğer ülkelerdeki tescilli ticari markasıdır.
Bu duyuruda atıfta bulunulan diğer tüm ticari markalar ve telif hakları ilgili sahiplerinin mülkiyetindedir.
---
Basın İletişim
Daha fazla bilgi için bize bir e-posta gönderin: press@kde.org