You make KDE Gear possible with your support and donations. Help us keep improving and building apps by using the donation form.
KDE Gear 22.12 is Here!
torsdag, 8 december 2022
KDE Gear ⚙️ is back with exciting new features, performance boosts, and bugfixes for all your favorite KDE apps!
In this release: Kate extends a warm welcome, Dolphin offers you more choices, and a lot of apps serve up hamburgers galore!
You make KDE Gear possible with your support and donations. Help us keep improving and building apps by using the donation form.
Read on for details...
What's New
Höjdpunkter
Dolphin
New Selection Mode
KDE Connect
Inline Message Replies
Dolphin is KDE's powerful file browser. It has supported connecting to and browsing Samba shares for many versions, but now it is also able to manage permissions remotely.
Another new feature is Selection Mode. Hit the spacebar (or tap the hamburger menu and check the Select files and folders checkbox) and a light green bar will appear at the top of the file view (see video). You can now click or tap files and folders and quickly and easily select the ones you want to work with.
Another toolbar will appear at the bottom of the view, giving you options of what you can do with the selected files. For example, if you select only images, it will offer to open them in Gwenview. The moment you select a file Gwenview cannot handle, the options will change to fit the new set of selected files.
Speaking of Gwenview, KDE's feature-rich image and video viewer becomes even... er... feature-richer, as Gwenview now also lets you adjust the brightness, contrast, and gamma of your pictures as you preview them.
Another welcome feature for people who use Free Software graphical editing tools is that Gwenview can now open GIMP's .xcf files.
Kate and KWrite, KDE's text editors, add a welcome window when launched without any files open. The new window lets you create a new file, open an existing file from a list of recent files or anywhere else on the system, and consult the documentation.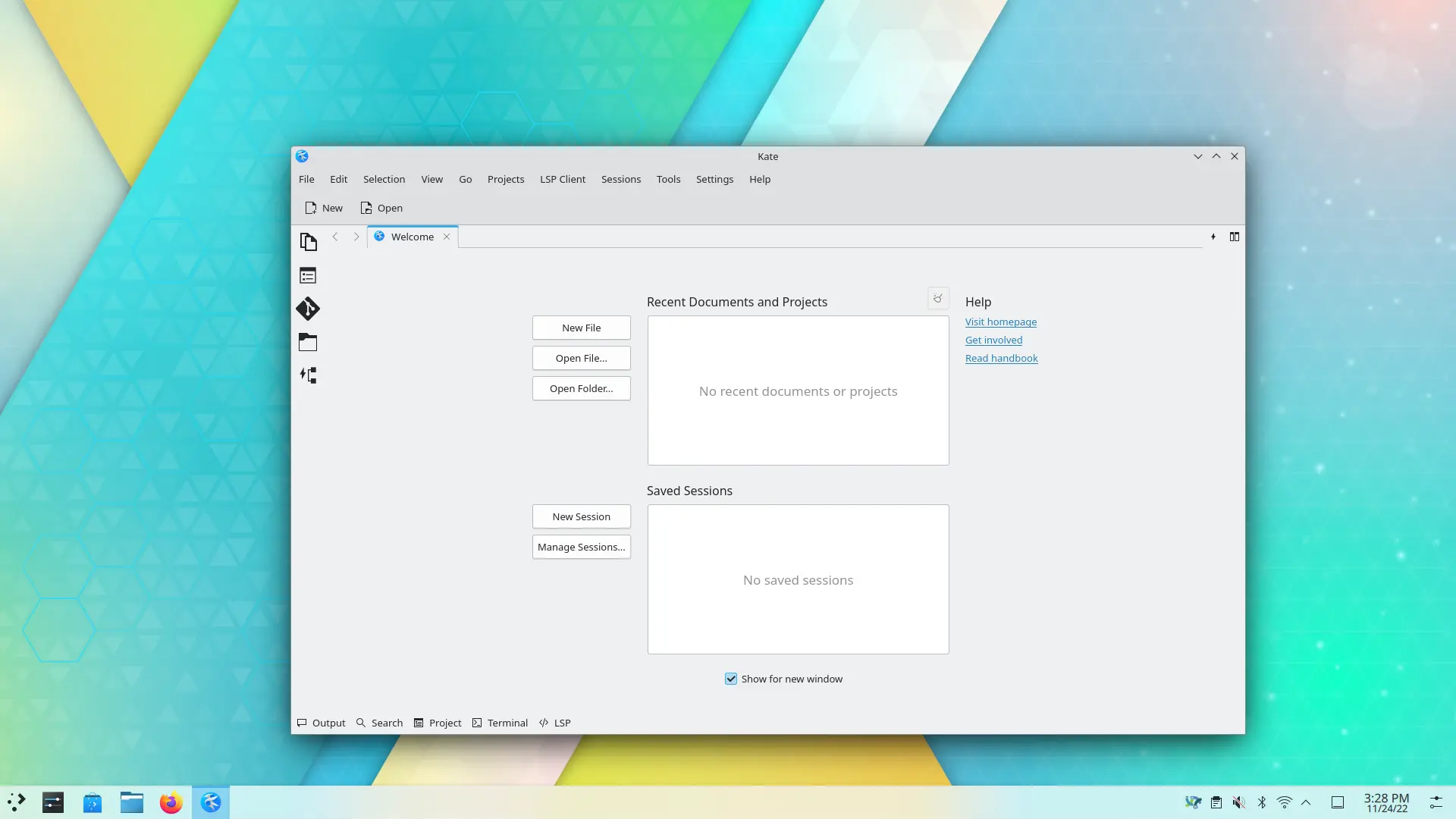 But probably the most useful new feature of them all is the Keyboard Macro tool. Activate it in Settings > Configure Kate... > Plugins, and then at the bottom of the Tools menu, you'll find tools to record, save, and play back macros. You can record a long sequence of key presses you need to type often and then hit Ctrl + Alt + K and Kate will type the sequence for you. You can name and save sequences you find particularly useful and use them again and again during different sessions.
In other news, you will find that Kate and KWrite have also adopted KHamburgerMenu for those who prefer to hide their menubars. Because these are large and complex apps, the menubar is still shown by default, like it is in Okular and Kdenlive.
Kdenlive improves its guide/marker system with custom categories and search filters. Kdenlive also improves its integration with other video applications, and now you can send Kdenlive timelines as backgrounds to the Glaxnimate vector animation utility.
And like many other KDE apps, Kdenlive has also adopted KHamburgerMenu, although by default the regular menu is what you will see the first time you launch the app. If you turn off the normal menubar to gain some vertical real estate, all the menu options will be tucked away under the hamburger menu button in the toolbar.
KDE Connect links up your phone to your desktop. It allows you to share files and the clipboard, use your phone as a mouse or a remote control, and answer messages from your desktop.
In version 22.12, when you want to reply to a text message using the KDE Connect widget, the text field is now inline rather than in a separate dialog window, making it more convenient to answer when working on your computer.
Kalendar is a new calendaring app from KDE. In the latest update, devs have introduced a new "basic" mode for views. These are ideal for use on low-performance or battery-powered devices, as this mode is not based on swipe gestures like the regular views, but rather presents a more static layout that is easier on the hardware.
Also new is that Kalendar now uses pop-up windows for displaying events, making it easier and more convenient to view and manage your schedule.
Developers have also been busy fixing bugs and improving the performance of Kalendar, so you can expect a smoother and more reliable experience when using the app.
Elisa is a friendly music player with a cool, modern look. With version 22.12 Elisa is even friendlier, as it now shows a message explaining what didn't work in case you dragged-and-dropped a non-audio file onto its playlist.
You can also put Elisa into a true full-Screen mode, and the Artist view displays a grid of the artist's albums, rather than a sea of nondescript identical icons.
And all this too
---
KDE handlar om programmen
One of the Goals of KDE is to be All About the Apps. This means the KDE Community takes more charge of releasing our own software and delivering it directly to you. Although we fully support distributions that ship our software, KDE Gear 22.12 apps will also be available on these Linux app stores shortly:


Om du skulle vilja hjälpa oss att få in fler program i programbutikerna, stödja fler programbutiker och få programmen bättre integrerade med vår utvecklingsprocess, kom och hälsa i vårt chattrum All About the Apps.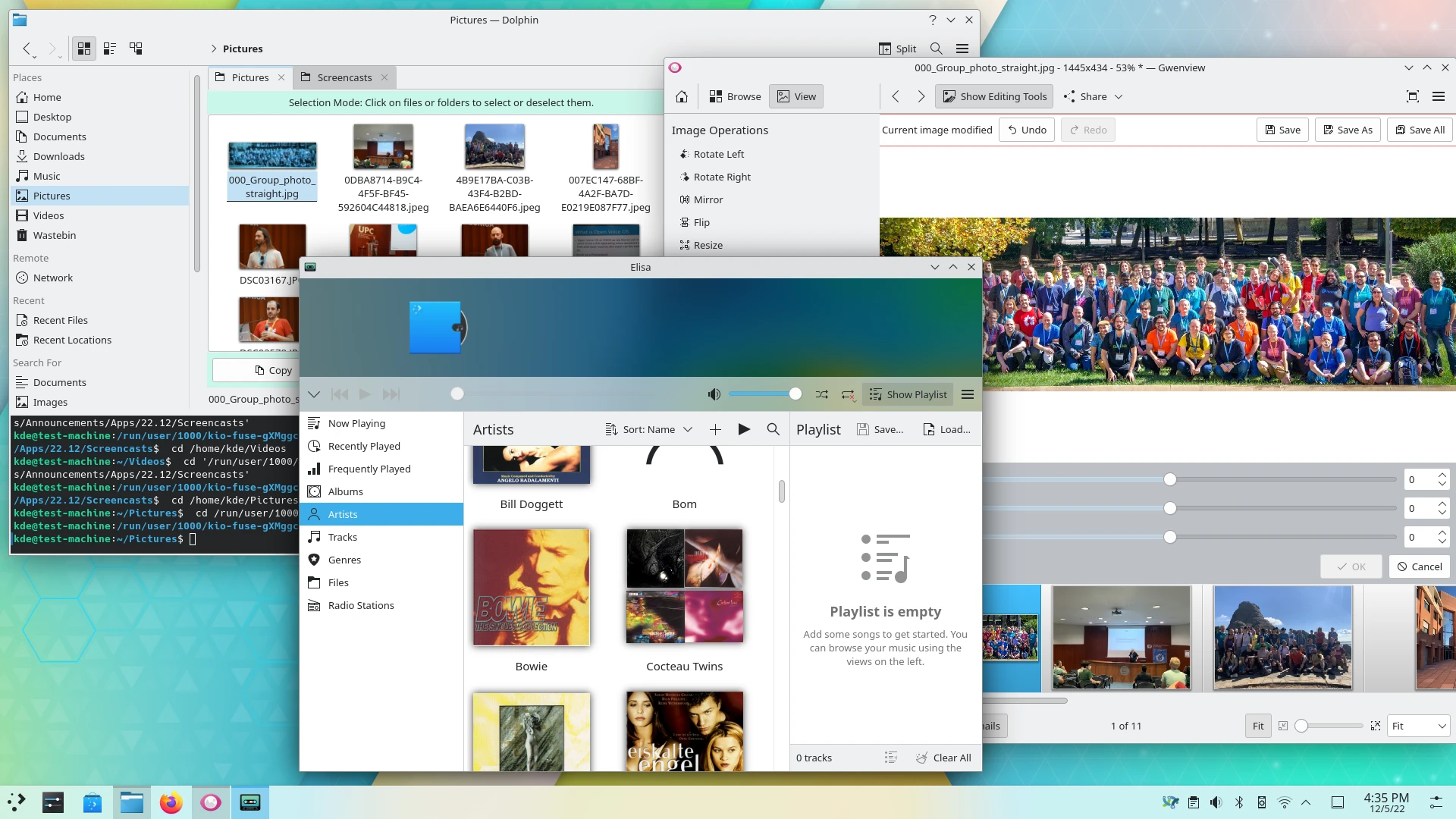 Observera att paket i utgåvan kanske inte är tillgängliga i alla distributioner vid tiden för det här meddelandet. Wiki-sida för paketnerladdningar
Kompilera KDE Gear
Den fullständiga källkoden för KDE Gear 22.12.0 kan laddas ner fritt. Instruktioner om kompilering och installation är tillgängliga från Informationssidan för KDE Gear 22.12.0.
Om KDE
KDE är en internationell teknikgrupp som skapar fri programvara med öppen källkod för skrivbordsdatorer och bärbara apparater. Bland KDE:s produkter finns ett modernt skrivbordssystem för Linux- och UNIX-plattformar, omfattande programsviter för kontorsproduktivitet och grupprogram, och hundratals programvaror i många kategorier inklusive Internet- och webbprogram, multimedia, underhållning, utbildning, grafik och programvaruutveckling. KDE:s programvara översätts till mer än 60 språk och byggs med användarvänlighet och moderna handikappstödprinciper i åtanke. KDE:s funktionsrika program kör direkt på Linux, BSD, Windows och macOS.
---
Varumärkesdeklarationer

KDE® och logotypen för K-skrivbordsmiljön® är varumärken registrerade av KDE e.V..
Linux är ett registrerat varumärke av Linus Torvalds. UNIX är ett registrerat varumärke av The Open Group i Förenta staterna och andra länder.
Alla övriga varumärken och upphovsrätter nämnda i det här tillkännagivandet hör till sina respektive ägare.
---
Presskontakter
Skicka e-post till oss för mer information: press@kde.org
---
Artikel bidragen av Paul Brown, Carl Schwan, Aron Kovacs, och Nate Graham med licens CC-BY-4.0.