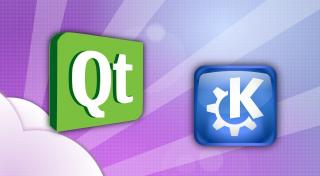 torsdag, 11 december 2014
KDE tillkännager idag utgivning av KDE Ramverk 5.5.0.
KDE Ramverk består av 60 tilläggsbibliotek för Qt, som tillhandahåller ett brett utbud av allmänt användbar funktionalitet i referentgranskade och väl utprovade bibliotek med gynnsamma licensvillkor. För en introduktion, se utgivningsmeddelandet för KDE Ramverk.
Den här utgåvan ingår i en serie planerade månadsvisa utgåvor som gör förbättringar tillgängliga för utvecklare på ett snabbt och förutsägbart sätt.
Nytt i den här versionen
Attica
Use all of QT_PLUGIN_PATH paths rather than just QLibraryInfo path to look for plugins
KActivities
Fix plugin loading with KDE_INSTALL_USE_QT_SYS_PATHS ON
KCMUtils
Restore KStandardGuiItems to get consistent icons and tooltips
KCodecs
Introduce KEmailAddress class for email validation
Use more robust implementation of MIME codecs taken from the KMime library
Add KCodecs::encodeRFC2047String()
KCompletion
Fix PageUp/Down actions in the completion popup box
KCoreAddons
Add KTextToHTML class for plaintext->HTML conversion
Add KPluginMetaData::metaDataFileName()
Allow to read KPluginMetaData from .desktop files
Kdelibs4Migration now gives priority to distro-provided KDE4_DEFAULT_HOME
KDeclarative
Use Qt's method of blocking for component completion rather than our own
Make it possible to delay initialization of object incubated from QmlObject
Add guard when trying to access root object before component is complete
KEmoticons
Add KEmoticonsIntegrationPlugin for KTextToHTML from KCoreAddons
KHTML
A number of forward-ported fixes from kdelibs, no API changes.
KIO
Fix Size columns being empty in the KFileWidget detailed views
Do not drop ASN passed to KRun when executing desktop files
Fix passing of DESKTOP_STARTUP_ID to child process in kioexec
Fix compilation with Qt 5.2, which also fixes a race condition
KFileItem: cleanup overlay icon usage
Implement back/forward side mouse buttons to navigate in the history
Allow user to cancel out of the certificate accept duration dialog box.
KJobWidgets
Fix compilation with Qt 5.2.0
KNewStuff
Also allow absolute filepaths for configfile parameter.
Fix compilation on Windows
KNotifications
Make KNotificationPlugin a public class
KPassivePopup - Set default hide delay
KRunner
Add a simple cli tool to run a query on all runners
KService
Fix KPluginTrader::query() for old JSON
Deprecate kservice_desktop_to_json for kcoreaddons_desktop_to_json
Implement KPluginTrader::query() using KPluginLoader::findPlugins()
Fix KPluginInfo::entryPath() being empty when not loaded from .desktop
KTextEditor
Fix bug #340212: incorrect soft-tabs alignment after beginning-of-line
Add libgit2 compile-time check for threads support
KWidgetsAddons
Add class KSplitterCollapserButton, a button which appears on the side of a splitter handle and allows easy collapsing of the widget on the opposite side
Support monochrome icon themes (such as breeze)
KWindowSystem
Add KStartupInfo::createNewStartupIdForTimestamp
Add support for more multimedia keys
Add support for initial mapping state of WM_HINTS
Drop incorrect warnings when using KXMessages without QX11Info
Plasma Framework
Fix compilation with Qt 5.2.0
Fix the platformstatus kded module
Migrate BusyIndicator, ProgressBar to QtQuick.Controls
Add thumbnailAvailable property to PlasmaCore.WindowThumbnail
Solid
Fix warning: No such signal org::freedesktop::UPower::Device...
Extra cmake modules
Set CMAKE_INSTALL_SYSCONFDIR to /etc when CMAKE_INSTALL_PREFIX is /usr (instead of /usr/etc)
Enable -D_USE_MATH_DEFINES on Windows
Frameworkintegration
Implement standardButtonText().
Fix restoring the view mode and sizes in the file dialog
You can discuss and share ideas on this release in the comments section of the dot article.
Installera binärpaket
På Linux är det rekommenderade sättet att komma åt KDE Ramverk att använda paket från din favoritdistribution. Hämta KDE-programvara på wiki-sidan för din Linux-distribution
Kompilera från källkod
Den fullständiga källkoden för KDE Ramverk 5.5.0 kan laddas ner fritt. Instruktioner om kompilering och installation är tillgängliga från Informationssidan för KDE Ramverk 5.5.0.
Att bygga från källkod är möjligt med de grundläggande kommandona cmake .; make; make install. För ett enda lager 1 ramverk är det oftast den enklaste lösningen. Personer som är intresserade av att bidra till ramverken eller följa framstegen i utvecklingen av hela uppsättningen uppmuntras att använda kdesrc-build. Ramverk 5.5.0 kräver Qt .
En detaljerad listning över alla Ramverk och andra tredje-part Qt-bibliotek finns på inqlude.org, det kontrollerade arkivet med Qt-bibliotek. En fullständig lista med dokumentation av programmeringsgränssnittet finns på api.kde.org.
Engagera dig
De som är intresserade av att följa och bidra till utvecklingen av Ramverk kan titta på git-arkiven och följa diskussionerna på KDE Ramverks e-postlista för utveckling. Principer samt projektets nuvarande tillstånd och planer är tillgängliga på Ramverks wiki. Diskussioner i realtid äger rum på IRC-kanalen #kde-devel på Libera Chat.
Stöd KDE
KDE är en gemenskap av fri programvara som bara finns och växer på grund av hjälp från många frivilliga som skänker sin tid och kraft. KDE söker alltid efter nya frivilliga och bidragsgivare, vare sig det gäller hjälp med att koda, rapportera eller rätta fel, skriva dokumentation, översätta, marknadsföra, bidra finansiellt, etc. Alla bidragsgivare uppskattas tacksamt och accepteras ytterst gärna. Läs igenom sidan Stöd KDE för ytterligare information, eller bli stödmedlem i KDE e.V. via vårt initiativ Join the Game.