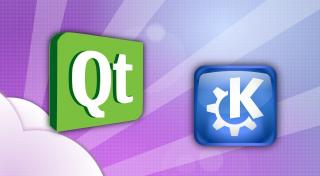 Суббота, 8 июля 2017
Сообщество KDE сегодня представило Frameworks 5.36.0.
KDE Frameworks — это дополнения библиотек Qt, представляющие набор часто используемых функций в виде проверенных и хорошо протестированных библиотечных модулей, распространяемы на условиях дружественной лицензии. Для ознакомления обратитесь к объявлению о выпуске KDE Frameworks.
Этот выпуск является частью серии запланированных ежемесячных выпусков, направленных на предоставление разработчикам улучшений быстрым и предсказуемым способом.
Нововведения, представленные в этой версии
All frameworks: Option to build & install QCH file with the public API dox
Baloo
Use FindInotify.cmake to decide whether inotify is available
Breeze Icons
Do not depend on bash unnecessarily, and do not validate icons by default
Extra CMake Modules
FindQHelpGenerator: avoid picking up Qt4 version
ECMAddQch: fail hard if needed tools are not present, to avoid surprises
Drop perl as dep for ecm_add_qch, not needed/used
Scan the whole install folder for qml dependencies
New: ECMAddQch, for generating qch & doxygen tag files
Fix KDEInstallDirsTest.relative_or_absolute_usr, avoid Qt paths being used
KAuth
Check error status after every PolKitAuthority usage
KBookmarks
Emit errors when keditbookmarks is missing (bug 303830)
KConfig
KCoreAddons
Use FindInotify.cmake to decide whether inotify is available
KDeclarative
KKeySequenceItem: make it possible to record Ctrl+Num+1 as a shortcut
Start drag with press and hold on touch events (bug 368698)
Don't rely on QQuickWindow delivering QEvent::Ungrab as mouseUngrabEvent (as it no longer does in Qt 5.8+) (bug 380354)
KDELibs 4 Support
Search for KEmoticons, which is a dependency per the CMake config.cmake.in (bug 381839)
KFileMetaData
Add an extractor using qtmultimedia
KI18n
Make sure that the tsfiles target is generated
KIconThemes
More details about deploying icon themes on Mac & MSWin
Change panel icon size default to 48
KIO
[KNewFileMenu] Hide "Link To Device" menu if it would be empty (bug 381479)
Use KIO::rename instead of KIO::moveAs in setData (bug 380898)
Fix drop menu position on Wayland
KUrlRequester: Set NOTIFY signal to textChanged() for text property
[KOpenWithDialog] HTML-escape file name
KCoreDirLister::cachedItemForUrl: don't create the cache if it didn't exist
Use "data" as filename when copying data urls (bug 379093)
KNewStuff
Fix incorrect error detection for missing knsrc files
Expose and use Engine's page size variable
Make it possible to use QXmlStreamReader to read a KNS registry file
KPackage Framework
Added kpackage-genericqml.desktop
KTextEditor
Fix cpu usage spiking after showing vi command bar (bug 376504)
Fix jumpy scrollbar-dragging when mini-map is enabled
Jump to the clicked scrollbar position when minim-map is enabled (bug 368589)
KWidgetsAddons
Update kcharselect-data to Unicode 10.0
KXMLGUI
KKeySequenceWidget: make it possible to record Ctrl+Num+1 as a shortcut (bug 183458)
Revert "When building menu hyerarchies, parent menus to their containers"
Revert "use transientparent directly"
NetworkManagerQt
WiredSetting: wake on lan properties were backported to NM 1.0.6
WiredSetting: metered property was backported to NM 1.0.6
Add new properties to many settings classes
Device: add device statistics
Add IpTunnel device
WiredDevice: add information about required NM version for s390SubChannels property
TeamDevice: add new config property (since NM 1.4.0)
Wired device: add s390SubChannels property
Update introspections (NM 1.8.0)
Plasma Framework
Make sure size is final after showEvent
Fix vlc tray icon margins and color scheme
Set Containments to have focus within the view (bug 381124)
generate the old key before updating enabledborders (bug 378508)
show show password button also if empty text (bug 378277)
Emit usedPrefixChanged when prefix is empty
Solid
cmake: build udisks2 backend on FreeBSD only when enabled
Syntax Highlighting
Highlight .julius files as JavaScript
Haskell: Add all language pragmas as keywords
CMake: OR/AND not highlighted after expr in () (bug 360656)
Makefile: Remove invalid keyword entries in makefile.xml
indexer: Improve error reporting
HTML syntax file version update
Angular modifiers in HTML attributes added
Update test reference data following the changes of the previous commit
Bug 376979 - angle brackets in doxygen comments break syntax highlighting
ThreadWeaver
Work-around MSVC2017 compiler bug
Security information
The released code has been GPG-signed using the following key: pub rsa2048/58D0EE648A48B3BB 2016-09-05 David Faure <faure@kde.org> Primary key fingerprint: 53E6 B47B 45CE A3E0 D5B7 4577 58D0 EE64 8A48 B3BB
You can discuss and share ideas on this release in the comments section of the dot article.
Установка двоичных пакетов
В Linux для доступа к KDE Frameworks рекомендуется использовать пакеты вашего любимого дистрибутива. Получить программное обеспечение KDE на вики-странице вашего дистрибутива Linux
Сборка из исходного кода
Полный исходный код KDE Frameworks 5.36.0 можно загрузить здесь. Инструкции по компиляции и установке доступны на [информационной странице KDE Frameworks 5.36.0(/info/kde-frameworks-5.36.0).
Building from source is possible using the basic cmake .; make; make install commands. For a single Tier 1 framework, this is often the easiest solution. People interested in contributing to frameworks or tracking progress in development of the entire set are encouraged to use kdesrc-build. Frameworks 5.36.0 requires Qt .
Подробный список всех модулей Frameworks и других сторонних библиотек Qt находится на inqlude.org, архиве проверенных библиотек Qt. Полный список документации по API находится на api.kde.org.
Принять участие
Те, кто заинтересован в том, чтобы следить за разработкой Frameworks и вносить свой вклад в их развитие, могут заглянуть в репозитории Git и следить за обсуждениями в списке рассылки KDE Frameworks Development. Политики, текущее состояние проекта и планы доступны на вики-странице Frameworks. Обсуждения в реальном времени проходят на IRC-канале #kde-devel на Libera Chat.
Поддержите KDE
KDE — это сообщество разработки свободного программного обеспечения, которое существует и растёт только благодаря многим добровольцам, которые жертвуют своим временем и усилиями. KDE всегда ищет новых участников, способных помочь в разработке, исправлении ошибок или их нахождении, написании документации и переводов, продвижении, деньгах и другими способами. Любая поддержка приветствуется и будет принята с благодарностью. Ознакомьтесь со страницей поддержки KDE, чтобы узнать больше или стать поддерживающим участником KDE e.V. через нашу инициативу Вступайте в игру.