Você torna o KDE Gear possível com o seu suporte e doações. Ajude-nos a continuar a melhorar e a criar aplicações, usando o formulário de doações.
KDE Gear ☀️ 23.08
We got you covered 🏖️
Quinta, 24 de Agosto de 2023
We create software for people, and the KDE Gear releases are the result of that. Every four months we publish new updates of a large number of KDE apps and software libraries. We create new programs to meet more of your needs, implement more features so you can adapt to an ever-changing digital world, and make our software faster, more efficient, more reliable. We also port it to more platforms so you can run it on more devices: your laptop, your game console, your phone, anywhere.
Read on to find out what's new in KDE Gear 23.08:
We renamed Kalendar to Merkuro since the application not only lets you manage your events and tasks any more, but also your contacts.
And soon we'll be adding email!
Apart from renaming and revamping its looks, Merkuro splits the application in two, so you can have just calendaring, only contacts, or both, depending on your needs.
Skanpage, KDE's scanning utility, now lets you re-order multi-page scans using drag-and-drop, and offers more adjustment options, like brightness, contrast, gamma, and color balance.
The preview has also been improved and lets you select multiple specific parts of the image to scan, or automatically split the area into two pages. This is especially useful when scanning books.
...E também isto
Partition Manager, the tool for creating and modifying partitions on disks, gets a new icon which distinguishes it from Filelight.
Konqueror, KDE's classic web browser/file explorer, restores the last tabs and windows on restart and you can change the browser identification.
Konsole, KDE's feature-rich terminal emulator, can send you a notification once a long-running task finishes.
In Memoriam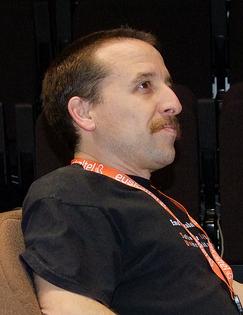 KDE Gear ⚙️ 23.08 is dedicated to our good friend Dani Gutiérrez Porset. Dani was a generous and militant Free Software activist that organised many KDE-related events, including the Akademy of 2013.
Dani left us for thee great big server in the sky on the 16th of July. Goian bego.
---
Onde obter as aplicações do KDE
Ainda que tenhamos suporte completo para as distribuições que fornecem as nossas aplicações, as aplicações do KDE Gear 23.08 também estarão disponíveis nestas lojas de aplicações de Linux em breve:
Se nos quiser ajudar a colocar mais aplicações do KDE nas lojas de aplicações, adicionar o suporte para mais lojas de aplicações ou ter as mesmas melhor integradas no nosso processo de desenvolvimento, diga-nos olá na nossa sala de conversação All About the Apps.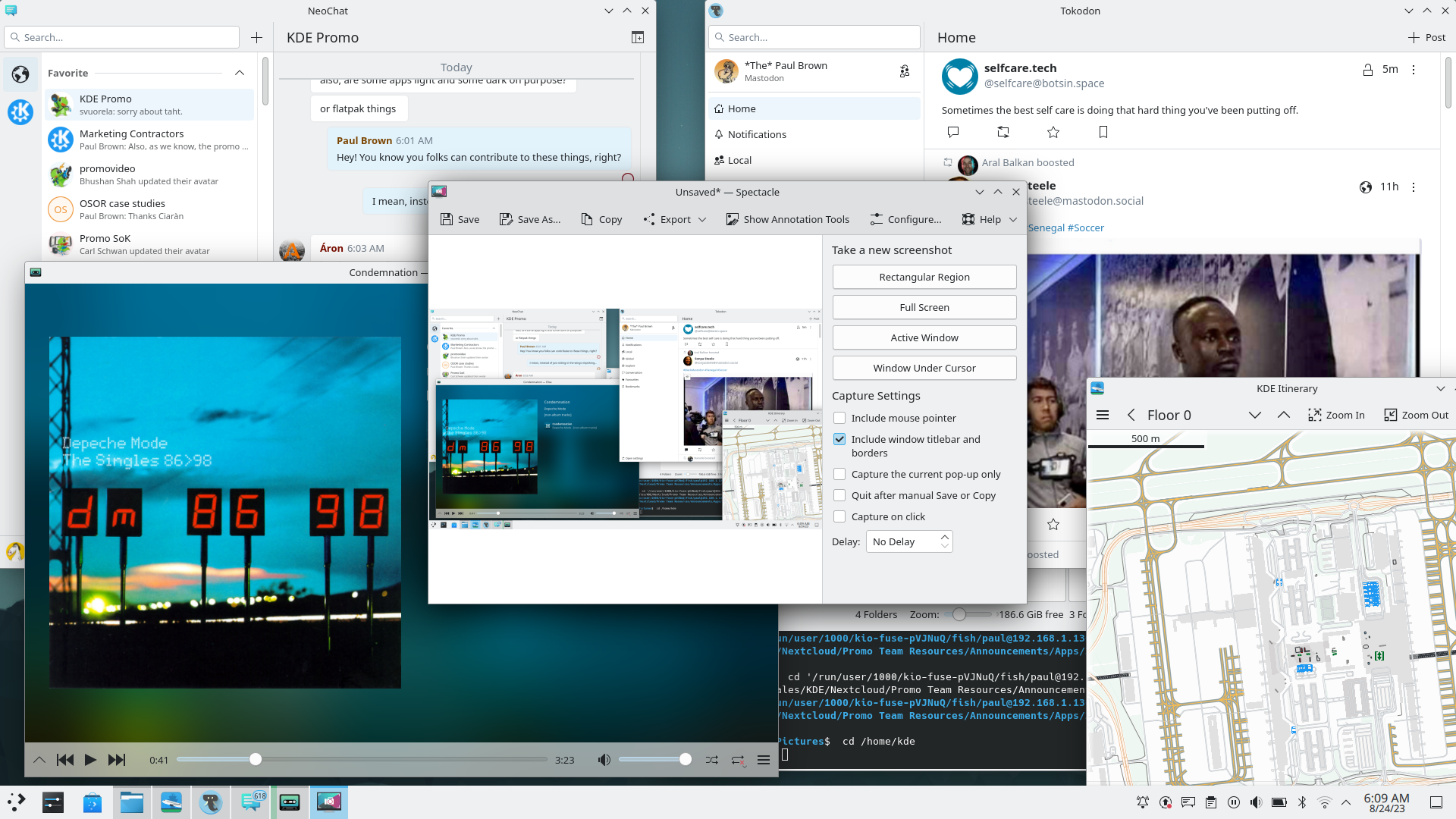 Lembre-se que os pacotes desta versão poderão ainda não estar disponíveis em todas as distribuições na altura deste anúncio. Página da transferência de pacotes na wiki
Compilar o KDE Gear
O código-fonte completo do KDE Gear poderá ser obtido de forma gratuita. As instruções de compilação e instalação estão disponíveis na Página de Informação do KDE Gear 23.08.0.
Acerca do KDE
O KDE é uma equipa de tecnologia internacional que cria aplicações livres e de código aberto para computadores e dispositivos móveis. Entre os produtos do KDE, existe uma área de trabalho moderna para as plataformas Linux e UNIX, alguns pacotes de produtividade e 'groupware' em escritório, assim como centenas de títulos de 'software' que incluem aplicações para a Internet e Web, multimédia, entretenimento, educação, gráficos e programação. As aplicações do KDE estão traduzidas em mais de 60 línguas e é concebido com a facilidade de utilização e os princípios modernos de acessibilidade em mente. As aplicações mais poderosas do KDE correm nativamente em Linux, BSD, Windows e no macOS.
---
Avisos de Marcas Registadas.

O KDE® e o Ambiente de Trabalho K® são marcas registadas do KDE e.V..
O Linux é uma marca registada de Linus Torvalds. O UNIX é uma marca registada do The Open Group nos Estados Unidos e em outros países.
Todas as outras marcas registadas e direitos de cópia referido neste anúncio são da propriedade dos seus respectivos donos.
---
Contactos de Imprensa
Para mais informações, envie-nos um e-mail: press@kde.org
---
O artigo foi contribuído por Paul Brown segundo os termos da licença CC-BY-4.0.