Il nuovo Plasma introduce un'interfaccia più pulita su un nuovo sistema grafico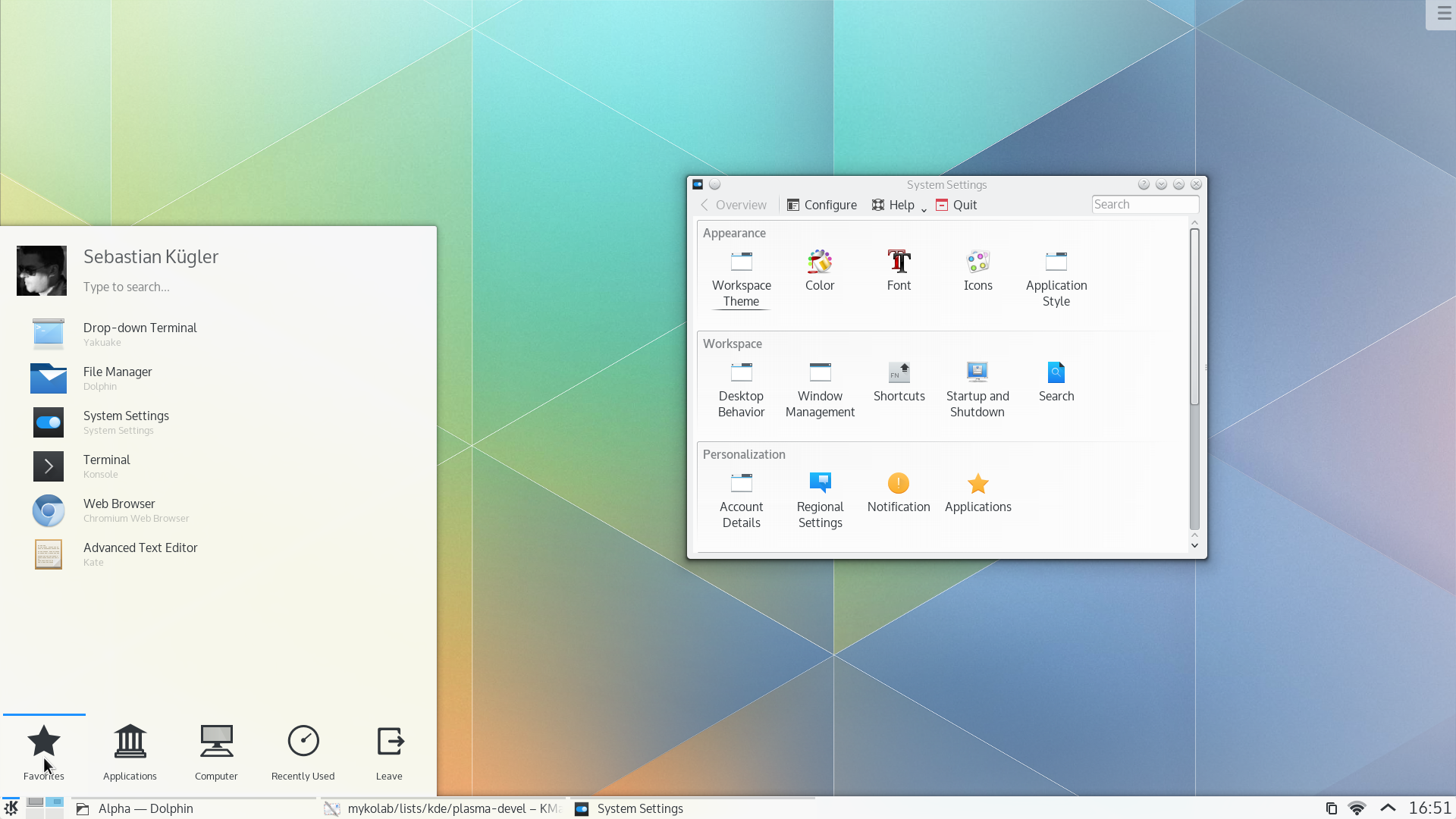 July 15, 2014. KDE proudly announces the immediate availability of Plasma 5.0, providing a visually updated core desktop experience that is easy to use and familiar to the user. Plasma 5.0 introduces a new major version of KDE's workspace offering. The new Breeze artwork concept introduces cleaner visuals and improved readability. Central work-flows have been streamlined, while well-known overarching interaction patterns are left intact. Plasma 5.0 improves support for high-DPI displays and ships a converged shell, able to switch between user experiences for different target devices. Changes under the hood include the migration to a new, fully hardware-accelerated graphics stack centered around an OpenGL(ES) scenegraph. Plasma is built using Qt 5 and Frameworks 5.
Le principali modifiche in questa nuova versione includono:
Un'esperienza utente visiva e interattiva aggiornata e modernizzata, più pulita
Il nuovo tema Brezza è un tema piatto e ad alto contrasto per l'area di lavoro. È disponibile nelle varianti chiaro e scuro. Elementi grafici più semplici e più monocromatici e disposizioni centrate sulla tipografia offrono un'esperienza utente pulita e visivamente chiara.
Smoother graphics performance thanks to an updated graphics stack
Plasma's user interfaces are rendered on top of an OpenGL or OpenGL ES scenegraph, offloading many of the computational-intensive rendering tasks. This allows for higher framerates and smoother graphics display while freeing up resources of the main system processor.

Altre modifiche visibili dall'utente sono:

Converged shell
The "converged Plasma shell" that loads up the desktop in Plasma 5.0 can be extended with other user experiences. This lays the base for a converged user experience bringing up a suitable UI for a given target device. User experiences can be switched dynamically at runtime, allowing, based on hardware events such as plugging in a keyboard and a mouse.
Modernized launchers
The application launchers' user interfaces have been reworked. Among the changes are a visually redesigned Kickoff application launcher, a newly included, more menu-like launcher, called Kicker and a new, QtQuick-based interface for KRunner.

Workflow improvements in the notification area
The notification area has been cleaned up, and sports a more integrated look now. Less popup windows and quicker transitions between for example power management and networks settings lead to a more distraction-free interaction pattern and greater visual coherence.
Better support for high-density (high-DPI) displays
Support for high-density displays has been improved. Many parts of the UI now take the physical size of the display into account. This leads to better usability and display on screens with very small pixels, such as Retina displays.
The Plasma 5.0 Visual Feature Guide provides a tour around the updated desktop.

Il tema Brezza migliora la chiarezza visiva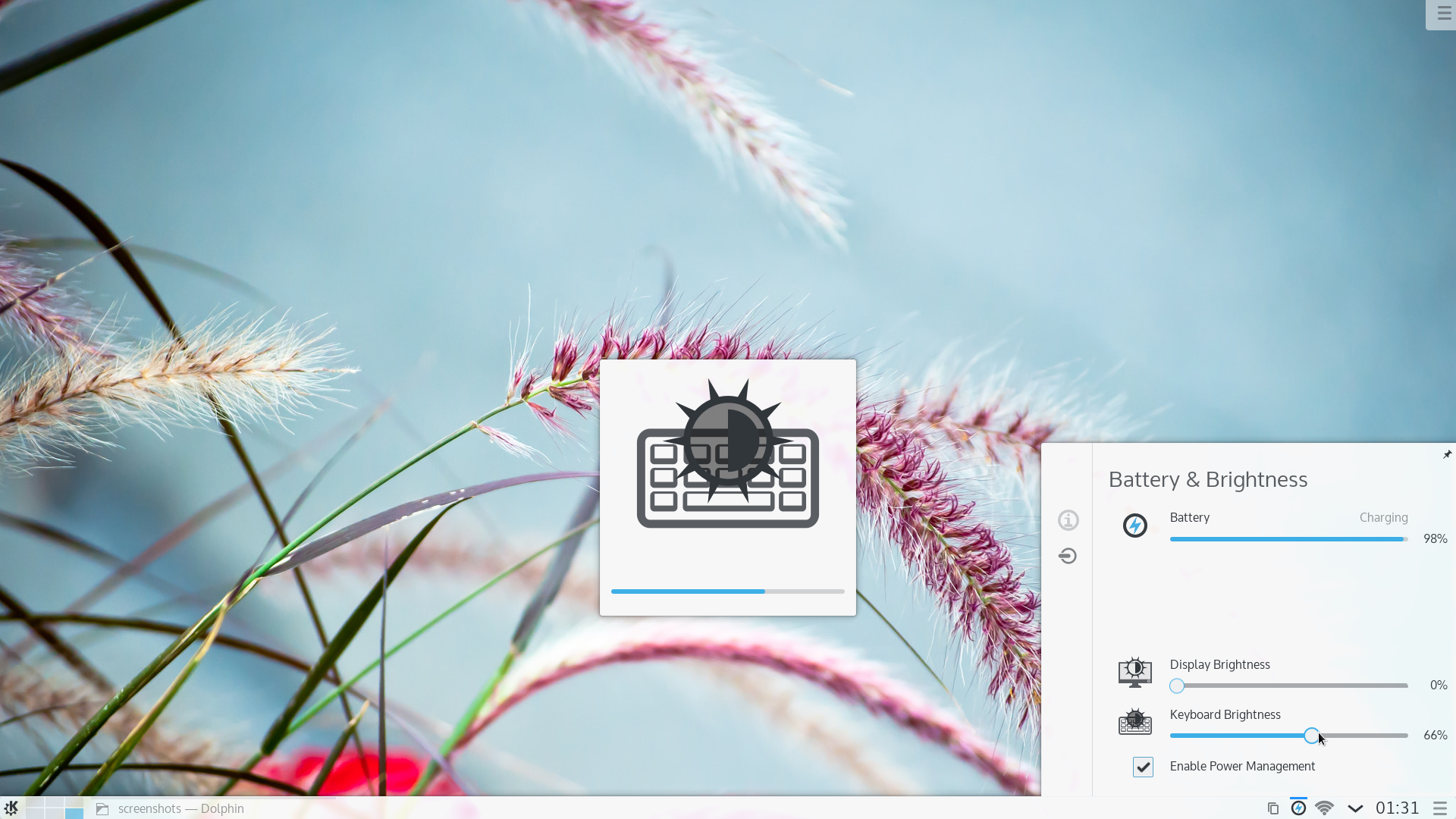 The new Breeze theme, which is still in its infancy, welcomes the user with a cleaner, modernized user interface, which improves contrast and reduces visual clutter throughout the workspace. Stronger reliance on typography eases the recognition of UI elements. These changes go together with flatter default theming and improved contrast to improve visual clarity further. Breeze being a new artwork concept, is only starting to show its face. A theme for the workspace components is already available, theming of traditional widgets is under way, and the work on a new icon theme has commenced. The migration to a fully Breeze-themed workspace will be a gradual one, with its first signs showing up in Plasma 5.0.
Plasma 5 brings a greater level of flexibility and consistency to core components of the desktop. The widget explorer, window and activity switcher now share a common interaction scheme. More reliance on vertical instead of horizontal lists provides better usability. Moving the window switcher to the side of the screen shifts the user's focus towards the applications and documents, clearing the stage for the task at hand.
Esperienza utente convergente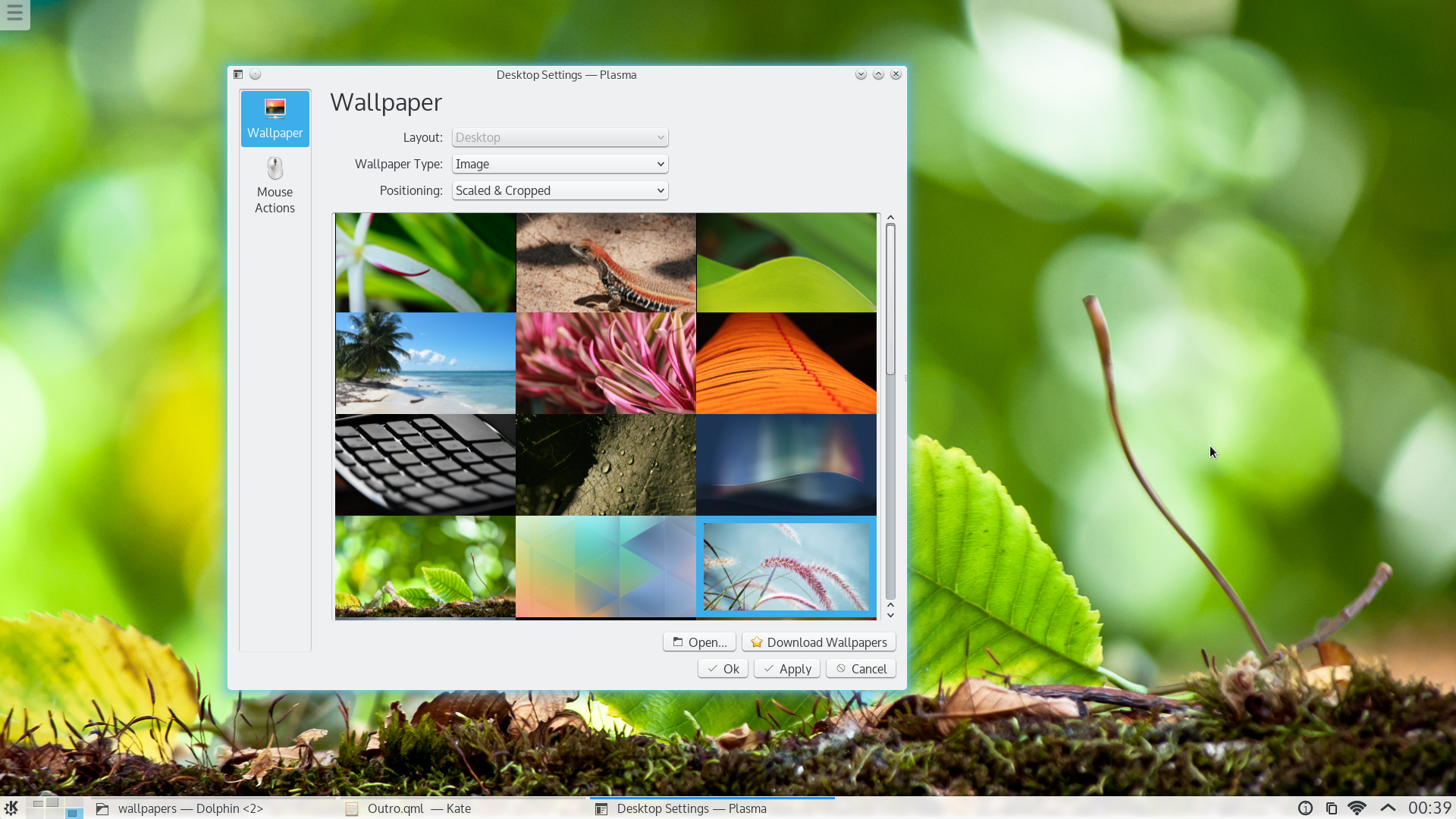 The new-in-Plasma-5 "Look and Feel" mechanism allows swapping out parts like the task and activity switchers, lock and login screen and the "Add Widgets" dialog. This allows for greater consistency across central workflows, improves clarity within similar interaction patterns and changing related interaction patterns across the workspace at once.
On top of that, the Plasma 5 shell is able to load and switch between user experiences for a given target device, introducing a truly convergent workspace shell. The workspace demonstrated in this release is Plasma Desktop. It represents an evolution of known desktop and laptop paradigms. A tablet-centric and mediacenter user experience are under development as alternatives. While Plasma 5.0 will feel familiar, users will notice a more modern and consistent, cleaner workspace experience.
Stack grafico completamente accelerato dall'hardware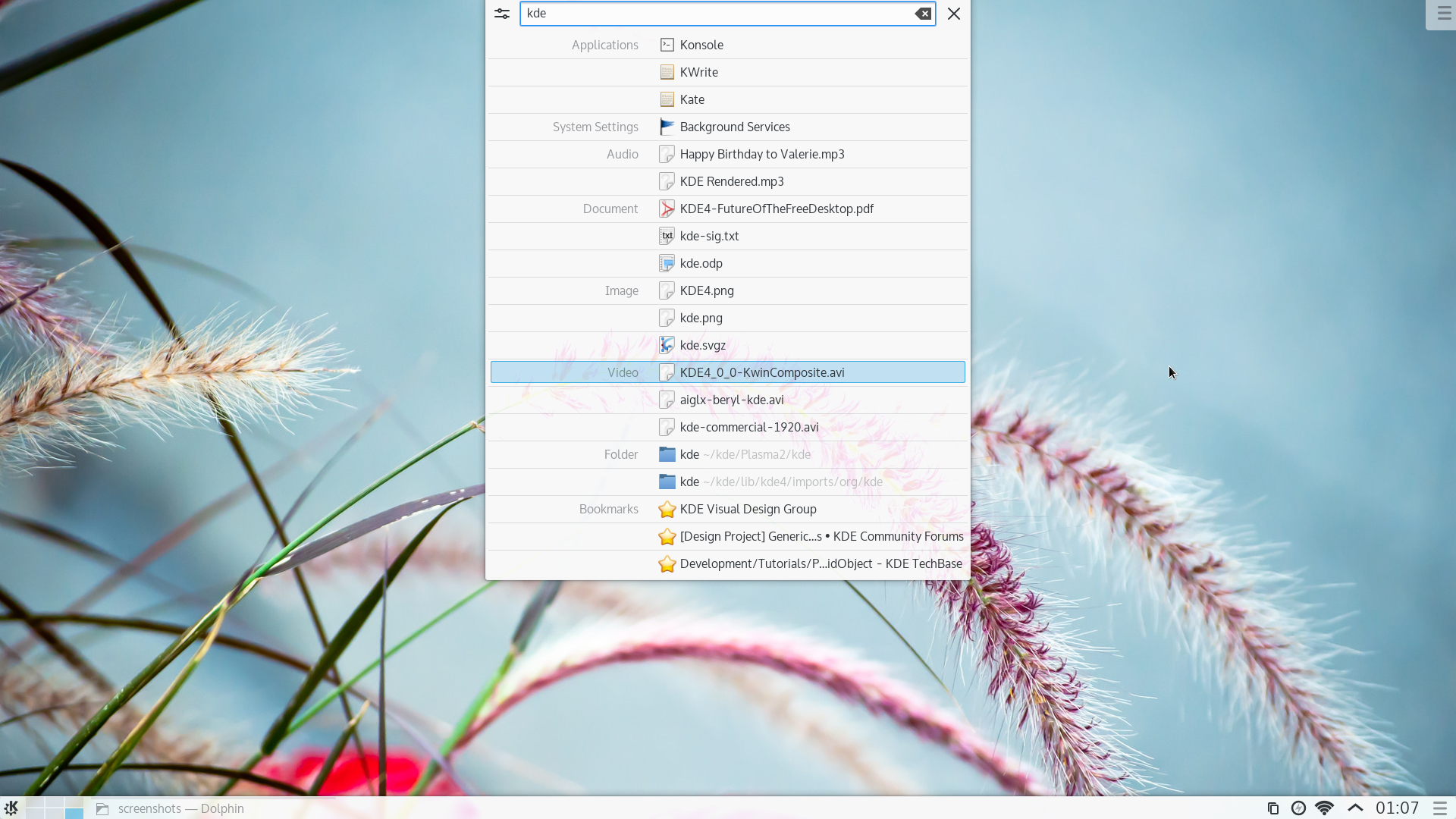 Plasma 5 completes the migration of the Plasma workspace to QtQuick. Qt 5's QtQuick 2 uses a hardware-accelerated OpenGL(ES) scenegraph to compose and render graphics on the screen. This allows offloading computationally expensive graphics rendering tasks onto the GPU which frees up resources on the system's main processing unit, is faster and more power-efficient.
Internal changes in the graphics compositor and underlying Frameworks prepare support for running on Wayland, which is planned for an upcoming release.
Idoneità e aggiornamenti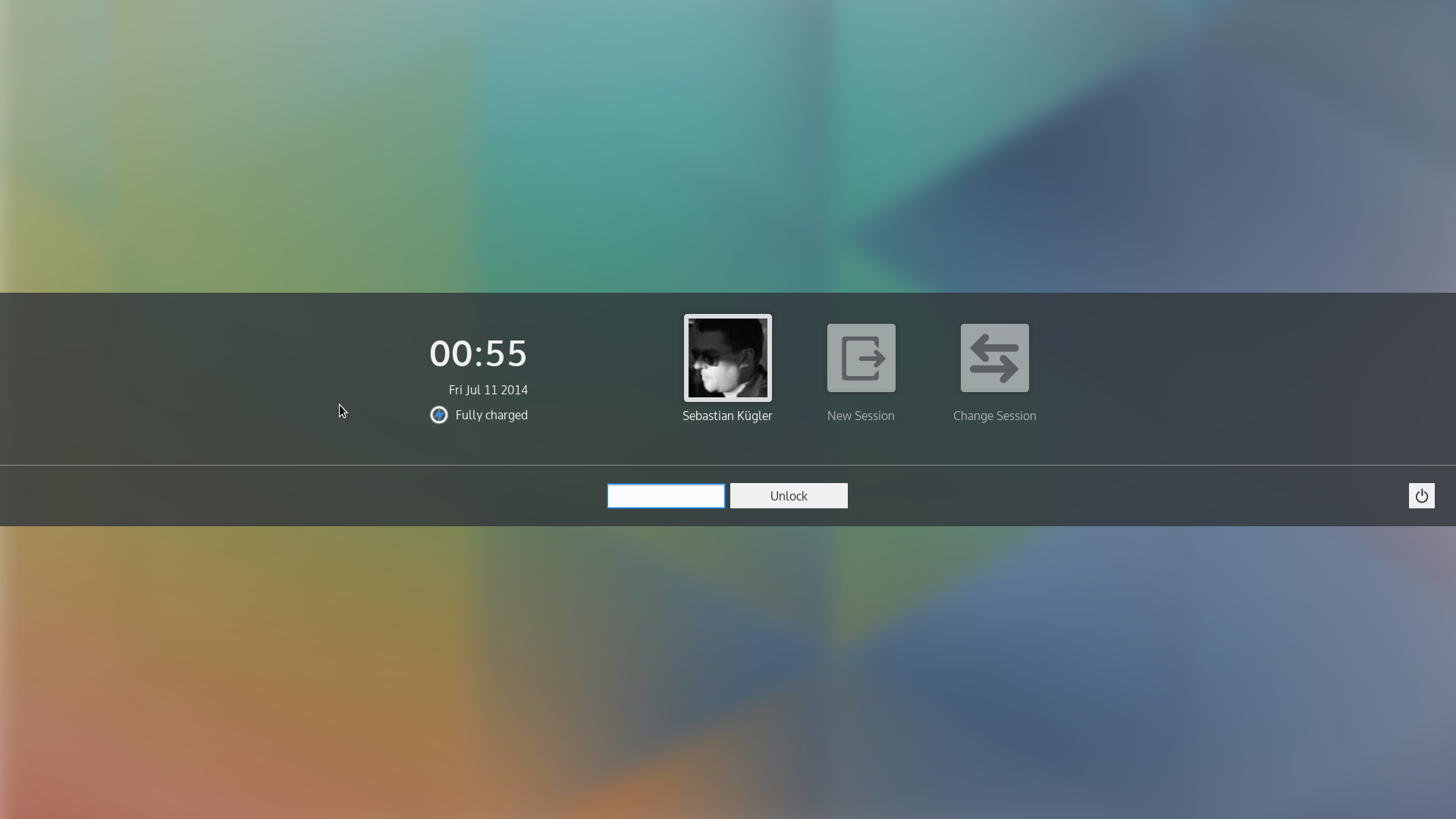 Plasma 5.0 provides a core desktop with a feature set that will suffice for many users. The development team has concentrated on tools that make up the central workflows. As such, not all features from the Plasma 4.x series are available yet, many of them planned to return with a subsequent release. As with any software release of this size, there will be bugs that make a migration to Plasma 5 hard, if not impossible for some users. The development team would like to hear about such issues, so they can be addressed and fixed. We have compiled a list of known issues. Users can expect monthly bugfix updates, and a release bringing new features and more old ones back in the autumn 2014.
With a substantial new toolkit stack below some exciting new crashes and problems that need time to be shaken out are to be expected in a first stable release. Especially graphics performance is heavily dependent on specific hardware and software configurations and usage patterns. While it has great potential, it takes time to wrangle this out of it. The underlying stack may not be entirely ready for this either. In many scenarios, Plasma 5.0 will display the buttery smooth performance it is capable of - while at other times, it may be hampered by various shortcomings. These can and will be addressed, however, much is dependent on components like Qt, Mesa and hardware drivers lower in the stack.
Installazione e invio di segnalazioni
Prima dell'installazione è caldamente consigliata la lettura dell'elenco dei problemi noti.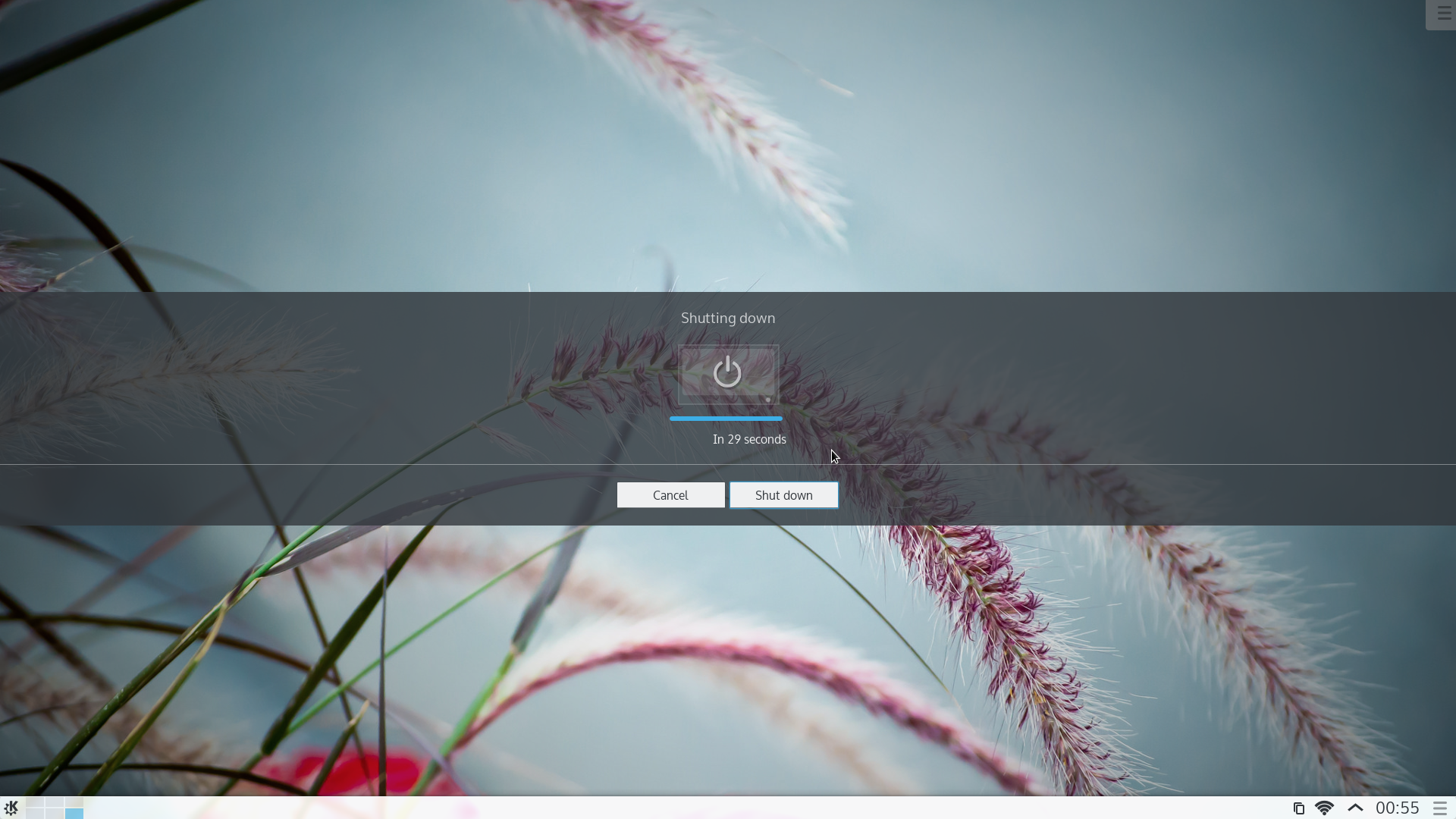 Il modo più semplice di provarlo è la ISO di Neon 5, un'immagine live di sistema operativo aggiornata con le ultime versioni dei programmi compilati direttamente dai sorgenti.
Alcune distribuzioni hanno creato, o stanno per creare, pacchetti; per una panoramica dei pacchetti della versione 5.0, consulta la nostra pagina wiki dei pacchetti delle distribuzioni
Scaricamento del sorgente. Puoi installare Plasma 5.0 direttamente dal sorgente. Il wiki della comunità KDE contiene le istruzioni per la compilazione. Nota che Plasma 5 non è co-installabile con Plasma 4.x, dovrai disinstallare le vecchie versioni o installarlo in un prefisso separato.
Puoi fornire un riscontro tramite il canale IRC #Plasma, la lista di distribuzione di plasma-devel o segnalare problemi tramite bugzilla. Plasma 5 è anche discusso nei forum KDE. I tuoi commenti sono molto graditi. Se ti piace quello che il gruppo degli sviluppatori sta facendo, faglielo sapere!
Sostenere KDE
KDE è una comunità di software libero che esiste e cresce solo grazie all'aiuto di tanti volontari che donano il loro tempo e le loro energie. KDE è sempre alla ricerca di nuovi volontari e collaborazioni, di qualsiasi natura esse siano: contributi in codice, segnalazione o correzione degli errori, scrittura delle documentazione, traduzioni, promozione, denaro, ecc. Tutti i contributi sono molto apprezzati e accettati con entusiasmo. Leggi la pagina Sostenere KDE per ulteriori informazioni o diventa un membro sostenitore di KDE e.V. attraverso la nostra iniziativa Join the Game.
Informazioni su KDE
KDE è un gruppo tecnologico internazionale che crea software libero e aperto per i sistemi informatici desktop e mobili. Tra i prodotti i KDE vi sono un moderno ambiente desktop per piattaforme Linux e UNIX, suite di produttività per l'ufficio e il groupware e centinaia di programmi di varie categorie tra cui applicazioni Internet e web, multimediali, per il divertimento, educative, di grafica e di sviluppo del software. Il software KDE è tradotto in più di 60 lingue ed è costruito perché sia facile da usare e tenendo conto dei moderni principi di accessibilità. Le applicazioni KDE, ricche di funzionalità, funzionano nativamente su sistemi Linux, BSD, Windows e macOS.
---
Informazioni sui marchi registrati.

KDE® e il logo K Desktop Environment® sono marchi registrati di KDE e.V..
Linux è marchio registrato di Linus Torvalds. UNIX è un marchio registrato da The Open Group negli Stati Uniti d'America e in altre nazioni.
Tutti gli altri marchi e marchi registrati citati in questo annuncio sono di proprietà dei rispettivi proprietari.
---
Contatti per la stampa
Per ulteriori informazioni inviaci un messaggio di posta: press@kde.org