KDE rilascia la seconda beta della nuova generazione di Plasma Workspaces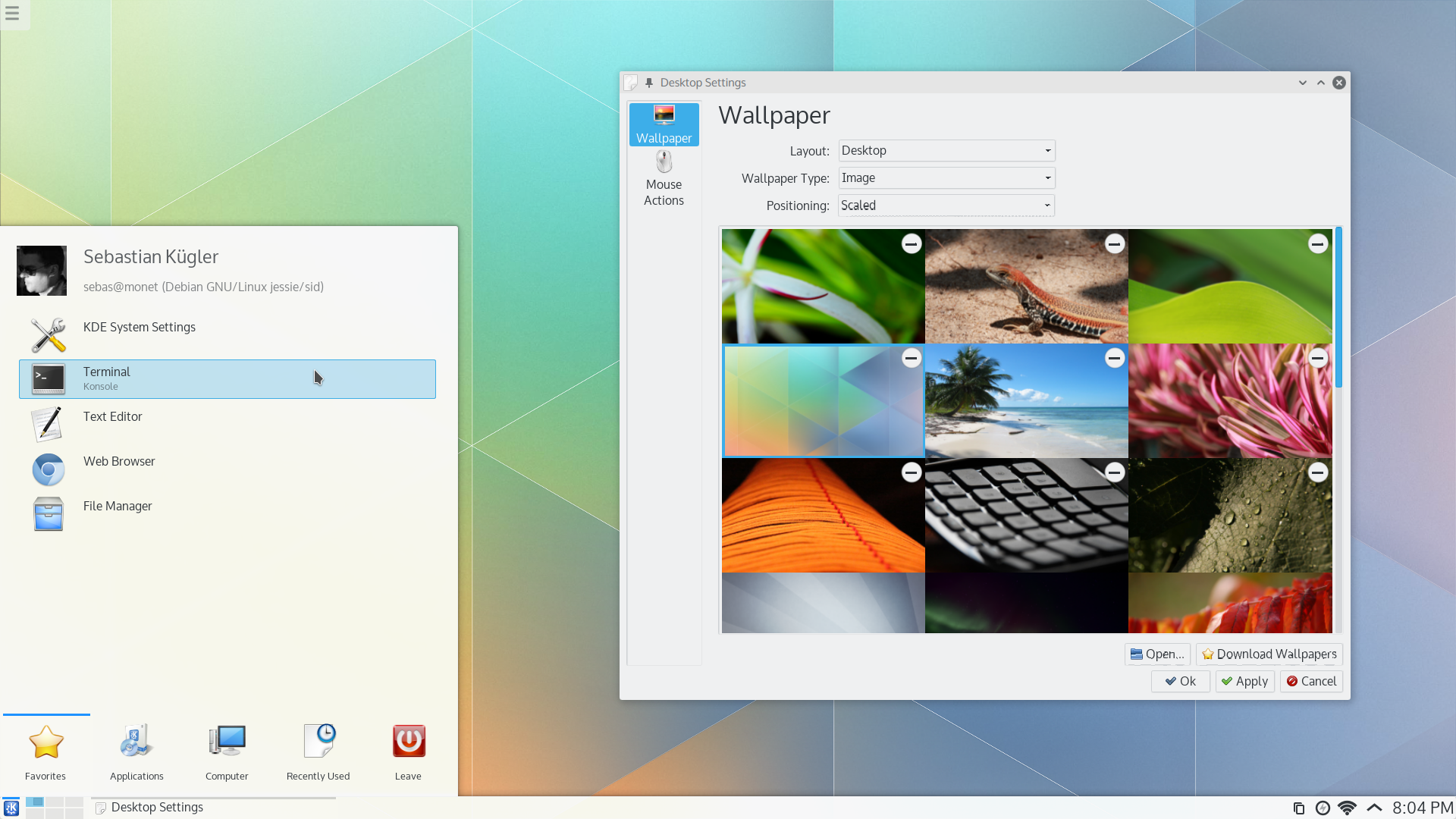 June 10, 2014. KDE today releases the second Beta version of the next-generation Plasma workspace. The Plasma team would like to ask the wider Free Software community to test this release and give any feedback. Plasma 5 provides a visually updated core desktop experience that will be easy and familiar for current users of KDE workspaces or alternative Free Software or proprietary offerings. Plasma 5 is planned to be released in early July.
Modifiche in Plasma 5
Plasma 5 è una versione evolutiva del popolare spazio di lavoro desktop. Sebbene miri a mantenere intatti i flussi di lavoro esistenti, ci sono alcuni miglioramenti significativi che vale la pena menzionare.
Per utenti
The new Breeze theme, which is still in its infancy, welcomes the user with a cleaner, modernized user interface, which improves contrast and reduces visual clutter throughout the workspace. Stronger reliance on typography, and vertical lists instead of horizontal ones go together with flatter UI elements and improved contrast to improve the ease of use. Breeze being a new artwork concept, it is only starting to show its face. A theme for the workspace components is already available, theming of traditional widgets is under way, and the work on a new icon theme has commenced. The migration to a fully Breeze-themed workspace will be a gradual one, with its first signs showing up in Plasma 5.0.
Plasma 5 brings a greater level of flexibility and consistency to core components of the desktop. The widget explorer, window and activity switcher now share a common interaction scheme through the use of the new-in-Plasma-5 Look and Feel package, which allows swapping these parts of the user experience in and out as a whole. The Plasma 5 workspace shell is able to load and switch between user experience for a given target device, introducing a truely convergent workspace shell. The workspace demonstrated in this pre-release is Plasma Desktop. It represents an evolution of known desktop and laptop paradigms. A tablet-centric and mediacenter user experience are under development as alternatives. While Plasma 5 will feel familiar, users will notice a more modern workspace.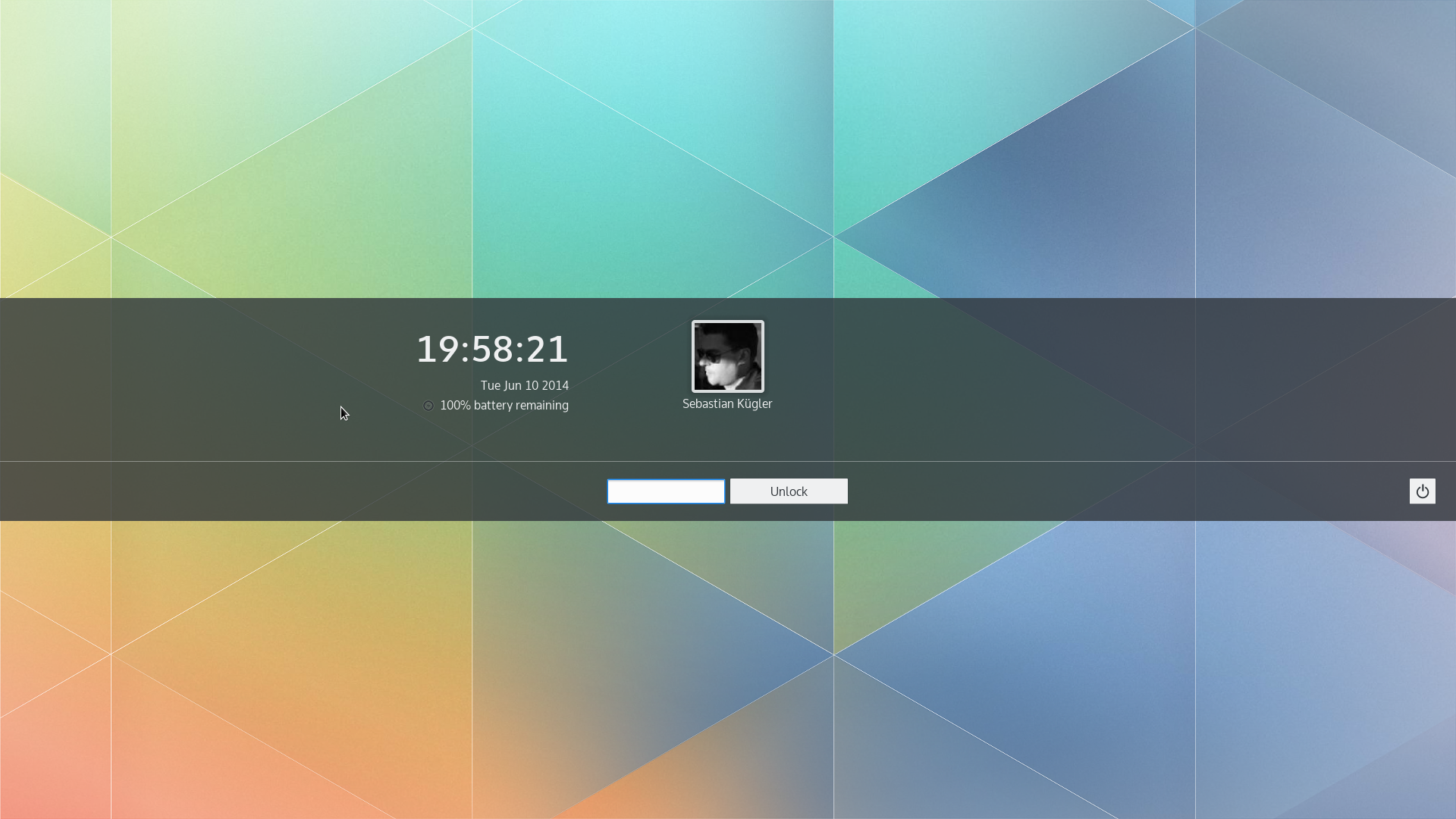 Per sviluppatori
Since the first beta release, a wide range of changes has been made. In the workspace components itself, more than 150 bugs have been fixed, with many fixes across the stack. Plasma 5.0 Beta 2 has increased the minimal Qt dependency to 5.3, in order to require a number of improvements which have been made upstream in Qt. Some missing functions, which were lacking proper solutions have been restored. The developer team has also settled on a version number scheme where the first release will be version 5.0 and the family is called Plasma 5.
Plasma 5 runs on top of a fully hardware-accelerated graphics stack, using Qt 5, QML 2 and an OpenGL(-ES) scenegraph to deliver graphics onto the users' screens. This allows the rendering to be faster, more efficient, less power-hungry and enables a smoother user experience by freeing up resources of the system processor. Plasma 5 completes the migration of the workspace to Qt Quick that has begun in earlier releases.
Plasma 5 is the first complex codebase to transition to KDE Frameworks 5, which is a modular evolution of the KDE development platform into leaner, less interdependent libraries.
Pronto per i test, non per la produzione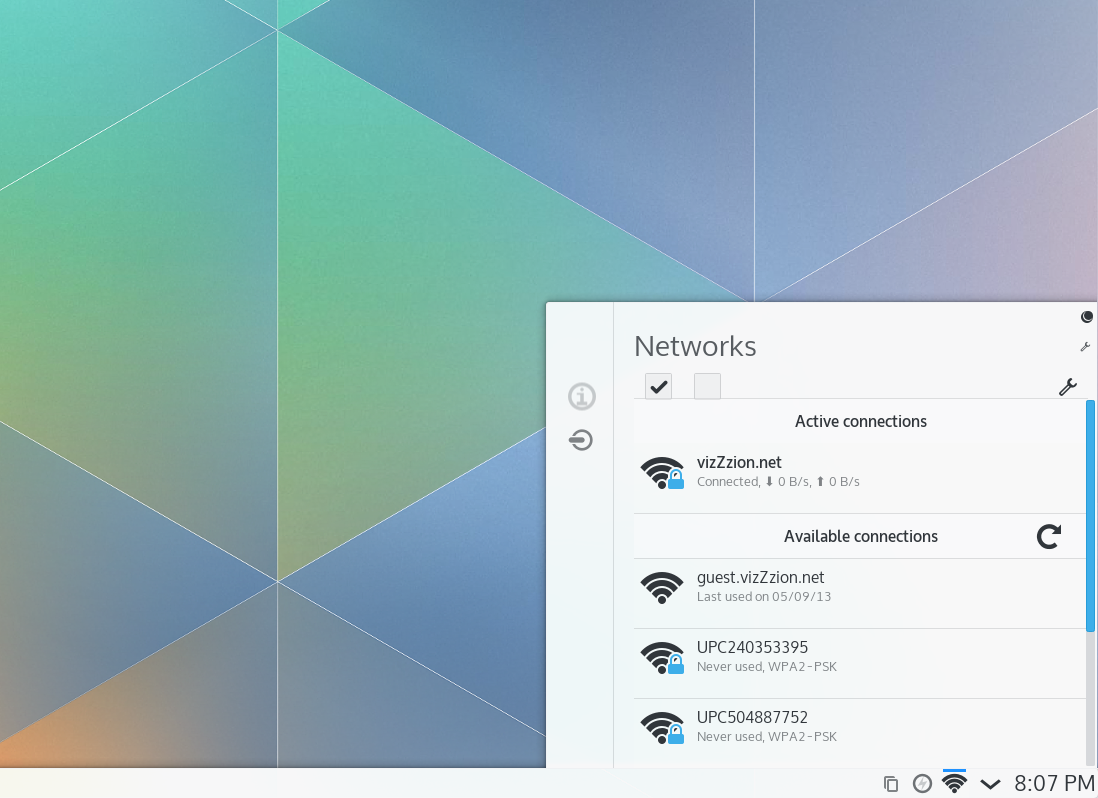 As a Beta release, this pre-release is not suitable for production use. It is meant as a base for testing and gathering feedback to ensure that the initial stable release of Plasma 5 in July will be a smooth ride for everybody involved and lay a stable foundation for future versions. Plasma 5 is intended for end users, but will not provide feature parity with the latest 4.x release, which will come in follow-up version. The team is concentrating on the core desktop features first, instead of trying to transplant every single feature into the new workspaces. The feature set presented in Plasma 5.0 will suffice for most users, though some might miss a button here and there. This is not because the Plasma team wants to remove features, but simply that not everything has been done yet. Of course, everybody is encouraged to help bringing Plasma back to its original feature set and beyond.
Problemi noti
Stability is not yet up to the level where the developers want Plasma 5. With a substantial new toolkit stack below come exciting new crashes and problems that need time to be shaken out.
Performance of Plasma 5 is heavily dependent on specific hardware and software configurations and usage patterns. While it has great potential, it takes time to wrangle this out of it and the underlying stack is not entirely ready for this either. In some scenarios, Plasma 5 will display the buttery smooth performance it is capable off - while at other times, it will be hampered by various shortcomings. These can and will be addressed, however, much is dependent on components like Qt, Mesa and hardware drivers lower in the stack. Again, this will need time, as fixes made elsewhere in the software stack might be released by the time the first Plasma 5 version becomes available.
Polish is a major benefit of Qt Quick 2, as it allows seamless usage of OpenGL(-ES), much more precise positioning and many other abilities. At the same time, the immaturity of Qt Quick Controls, the brand new successor to the 15+ year old Qt Widgets technology, brings some rough edges yet to be smoothed out.
Installazione e invio di segnalazioni
Il modo più semplice di provarlo è la ISO di Neon 5, un'immagine live di sistema operativo aggiornata con le ultime versioni dei programmi compilati direttamente dai sorgenti.
Alcune distribuzioni hanno creato, o stanno per creare, pacchetti; per una panoramica dei pacchetti della versione Beta 2, consulta la nostra pagina wiki dei pacchetti unstable
Scaricamento del sorgente. Puoi installare Plasma 5 direttamente dal sorgente. Il wiki della comunità KDE contiene le istruzioni. Nota che Plasma 5 non è co-installabile con Plasma 4.x, dovrai disinstallare le vecchie versioni o installarlo in un prefisso separato.
Puoi fornire un riscontro tramite il canale IRC #Plasma, la lista di distribuzione di plasma-devel o segnalare problemi tramite bugzilla. Plasma Next è anche discusso nei forum KDE. I tuoi commenti sono molto graditi. Se ti piace quello che il gruppo degli sviluppatori sta facendo, faglielo sapere!
Sostenere KDE
KDE è una comunità di software libero che esiste e cresce solo grazie all'aiuto di tanti volontari che donano il loro tempo e le loro energie. KDE è sempre alla ricerca di nuovi volontari e collaborazioni, di qualsiasi natura esse siano: contributi in codice, segnalazione o correzione degli errori, scrittura delle documentazione, traduzioni, promozione, denaro, ecc. Tutti i contributi sono molto apprezzati e accettati con entusiasmo. Leggi la pagina Sostenere KDE per ulteriori informazioni o diventa un membro sostenitore di KDE e.V. attraverso la nostra iniziativa Join the Game.
Informazioni su KDE
KDE è un gruppo tecnologico internazionale che crea software libero e aperto per i sistemi informatici desktop e mobili. Tra i prodotti i KDE vi sono un moderno ambiente desktop per piattaforme Linux e UNIX, suite di produttività per l'ufficio e il groupware e centinaia di programmi di varie categorie tra cui applicazioni Internet e web, multimediali, per il divertimento, educative, di grafica e di sviluppo del software. Il software KDE è tradotto in più di 60 lingue ed è costruito perché sia facile da usare e tenendo conto dei moderni principi di accessibilità. Le applicazioni KDE, ricche di funzionalità, funzionano nativamente su sistemi Linux, BSD, Windows e macOS.
---
Informazioni sui marchi registrati.

KDE® e il logo K Desktop Environment® sono marchi registrati di KDE e.V..
Linux è marchio registrato di Linus Torvalds. UNIX è un marchio registrato da The Open Group negli Stati Uniti d'America e in altre nazioni.
Tutti gli altri marchi e marchi registrati citati in questo annuncio sono di proprietà dei rispettivi proprietari.
---
Contatti per la stampa
Per ulteriori informazioni inviaci un messaggio di posta: press@kde.org