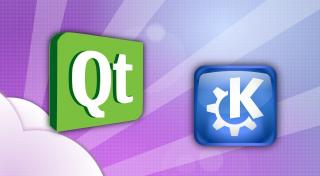 Venerdì, 12 Giugno 2015
KDE annuncia oggi il rilascio di KDE Frameworks 5.11.0.
KDE Frameworks sono 60 componenti aggiuntivi per Qt che forniscono una grande varietà di funzionalità, comunemente richieste, raccolte in librerie mature, soggette a revisione paritaria, ben testate e con termini di licenza di facile utilizzo. Per un'introduzione, consulta l'annuncio di rilascio di KDE Frameworks.
Questo rilascio è parte di una serie di rilasci mensili programmati che rende disponibili i miglioramenti agli sviluppatori in modo rapido e prevedibile.
Novità in questa versione
Moduli CMake aggiuntivi
New arguments for ecm_add_tests(). (bug 345797)
Integrazione della struttura
Use the correct initialDirectory for the KDirSelectDialog
Make sure the scheme is specified when overriding the start url value
Only accept existing directories in FileMode::Directory mode
KActivities
(nessun elenco dei cambiamenti fornito)
KAuth
Make KAUTH_HELPER_INSTALL_ABSOLUTE_DIR available to all KAuth users
KCodecs
KEmailAddress: Add overload for extractEmailAddress and firstEmailAddress which returns an error message.
KCompletion
Fix unwanted selection when editing the filename in the file dialog (bug 344525)
KConfig
Prevent crash if QWindow::screen() is null
Add KConfigGui::setSessionConfig() (bug 346768)
KCoreAddons
New KPluginLoader::findPluginById() convenience API
KDeclarative
support creation of ConfigModule from KPluginMetdata
fix pressAndhold events
Supporto KDELibs 4
Use QTemporaryFile instead of hardcoding a temporary file.
KDocTools
Update translations
Update customization/ru
Fix entities with wrong links
KEmoticons
Cache the theme in the integration plugin
KGlobalAccel
[runtime] Move platform specific code into plugins
KIconThemes
Optimize KIconEngine::availableSizes()
KIO
Do not try to complete users and assert when prepend is non-empty. (bug 346920)
Use KPluginLoader::factory() when loading KIO::DndPopupMenuPlugin
Fix deadlock when using network proxies (bug 346214)
Fixed KIO::suggestName to preserve file extensions
Kick off kbuildsycoca4 when updating sycoca5.
KFileWidget: Don't accept files in directory only mode
KIO::AccessManager: Make it possible to treat sequential QIODevice asynchronously
KNewStuff
Add new method fillMenuFromGroupingNames
KMoreTools: add many new groupings
KMoreToolsMenuFactory: handling for "git-clients-and-actions"
createMenuFromGroupingNames: make url parameter optional
KNotification
Fix crash in NotifyByExecute when no widget has been set (bug 348510)
Improve handling of notifications being closed (bug 342752)
Replace QDesktopWidget usage with QScreen
Ensure KNotification can be used from a non-GUI thread
Struttura dei pacchetti
Guard the structure qpointer access (bug 347231)
KPeople
Use QTemporaryFile instead of hardcoding /tmp.
KPty
Use tcgetattr & tcsetattr if available
Kross
Fix loading of Kross modules "forms" and "kdetranslation"
KService
When running as root preserve file ownership on existing cache files (bug 342438)
Guard against being unable to open stream (bug 342438)
Fix check for invalid permissions writing file (bug 342438)
Fix querying ksycoca for x-scheme-handler/* pseudo-mimetypes. (bug 347353)
KTextEditor
Allow like in KDE 4.x times 3rdparty apps/plugins to install own highlighting XML files into katepart5/syntax
Add KTextEditor::Document::searchText()
Bring back use of KEncodingFileDialog (bug 343255)
KTextWidgets
Add a method to clear decorator
Allow to use custom sonnet decorator
Implement "find previous" in KTextEdit.
Re-add support for speech-to-text
KWidgetsAddons
KAssistantDialog: Re-add the Help button that was present in KDELibs4 version
KXMLGUI
Add session management for KMainWindow (bug 346768)
NetworkManagerQt
Drop WiMAX support for NM 1.2.0+
Plasma Framework
Calendar components can now display week numbers (bug 338195)
Use QtRendering for fonts in password fields
Fix AssociatedApplicationManager lookup when a mimetype has (bug 340326)
Fix panel background coloring (bug 347143)
Get rid of "Could not load applet" message
Capability to load QML kcms in plasmoid config windows
Don't use the DataEngineStructure for Applets
Port libplasma away from sycoca as much as possible
[plasmacomponents] Make SectionScroller follow the ListView.section.criteria
Scroll bars no longer automatically hide when a touch screen is present (bug 347254)
Sonnet
Use one central cache for the SpellerPlugins.
Reduce temporary allocations.
Optimize: Do not wipe dict cache when copying speller objects.
Optimise away save() calls by calling it once at the end if needed.
Puoi discutere e condividere idee su questo rilascio nella sezione dei commenti nell'articolo sul Dot.
Installazione dei pacchetti binari
In Linux, l'uso di pacchetti per la tua distribuzione preferita è il metodo raccomandato per avere accesso a KDE Frameworks. Pagina wiki per scaricare il software KDE per la tua distribuzione Linux.
Compilazione da sorgente
Il codice sorgente per KDE Frameworks 5.11.0 può essere scaricato liberamente. Le istruzioni per la sua compilazione e installazione 5.11.0 sono disponibili dalla pagina informativa di KDE Frameworks 5.11.0.
La compilazione da sorgente è possibile tramite i comandi di base cmake .; make; make install. Per un framework di solo livello 1, questo è spesso la soluzione più semplice. Le persone interessate a collaborare a Frameworks o a tenere traccia dei progressi dell'intero set sono invitate a usare kdesrc-build. Frameworks 5.11.0 richiede Qt .
Un elenco dettagliato di tutti i componenti di Frameworks e delle altre librerie Qt di terze parti si trova su inqlude.org, l'archivio curato delle librerie Qt. Un elenco completo con la documentazione delle API si trova in api.kde.org.
Partecipa
Le persone interessate a seguire e collaborare allo sviluppo di Frameworks possono consultare i repository git e seguire le discussioni sulla mailing list di sviluppo di KDE Frameworks. Le politiche e lo stato attuale del progetto e i relativi piani sono disponibili nel wiki Frameworks. Le discussioni in tempo reale si svolgono sul canale IRC #kde-devel su freenode.net.
Sostenere KDE
KDE è una comunità di software libero che esiste e cresce solo grazie all'aiuto di tanti volontari che donano il loro tempo e le loro energie. KDE è sempre alla ricerca di nuovi volontari e collaborazioni, di qualsiasi natura esse siano: contributi in codice, segnalazione o correzione degli errori, scrittura delle documentazione, traduzioni, promozione, denaro, ecc. Tutti i contributi sono molto apprezzati e accettati con entusiasmo. Leggi la pagina Sostenere KDE per ulteriori informazioni o diventa un membro sostenitore di KDE e.V. attraverso la nostra iniziativa Join the Game.