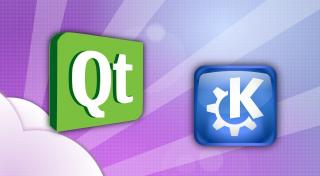 Friday, 13 March 2015
KDE today announces the release of KDE Frameworks 5.8.0.
KDE Frameworks are 60 addon libraries to Qt which provide a wide variety of commonly needed functionality in mature, peer reviewed and well tested libraries with friendly licensing terms. For an introduction see the KDE Frameworks release announcement.
This release is part of a series of planned monthly releases making improvements available to developers in a quick and predictable manner.
New in this version
Novas infraestruturas:
KPeople, fornece acceso a todos os contactos e as persoas ás que corresponden
KXmlRpcClient, interacción con servizos de XMLRPC
Xeral
Varias correccións de construción para compilar coa vindeira Qt 5.5
KActivities
Completouse o servizo de puntuación de recursos
KArchive
Deixar de fallar con ficheiros ZIP con descritores de datos redundantes
KCMUtils
Restaurar KCModule::setAuthAction
KCoreAddons
KPluginMetadata: engadir a posibilidade de usar a clave Hidden
KDeclarative
Preferir expoñer listas a QML con QJsonArray
Xestionar devicePixelRatios non predeterminado en imaxes
Expoñer hasUrls en DeclarativeMimeData
Permitir aos usuarios configurar o número de liñas horizontais que se debuxan
KDocTools
Corrixir a construción en MacOSX ao usar Homebrew
Mellor estilo de obxectos de son e vídeo (imaxes, …) na documentación
Codificar os caracteres incorrectos das rutas que se usan nos DTD de XML para editar erros
KGlobalAccel
Marca de tempo de activación definida como propiedade dinámica nunha QAction causada.
KIconThemes
Corrixir que QIcon::fromTheme(xxx, someFallback) non devolvese a reserva
KImageFormats
Facer que o lector de imaxes PSD funcione sen importar o tipo de endian.
KIO
Marcar como obsoleto UDSEntry::listFields e engadir o método UDSEntry::fields que devolve un QVector sen unha conversión custosa.
Só sincronizar bookmarkmanager se o cambio o fixo este proceso (fallo 343735)
Corrixiuse o inicio do servizo de D-Bus kssld5
Engadir compatibilidade con quota-used-bytes e quota-available-bytes, de RFC 4331, para permitir información de espazo libre no escravo de entrada e saída de HTTP.
KNotifications
Atrasar a inicialización do son ata que se necesite
Corrixir que a configuración das notificacións non se aplicase de maneira instantánea
Corrixir que as notificacións de son se detivesen tras reproducir o primeiro ficheiro
KNotifyConfig
Engadir unha dependencia opcional de QtSpeech para activar de novo as notificacións faladas.
KService
KPluginInfo: permitir listas de cadeas como propiedades
KTextEditor
Engadir estatísticas de número de palabras na barra de estado
vimode: corrixir a quebra ao retirar a última liña no modo de liña visual
KWidgetsAddons
Facer que KRatingWidget xestione devicePixelRatio
KWindowSystem
KSelectionWatcher e KSelectionOwner poden usarse sen depender de QX11Info.
KXMessages pode usarse sen depender de QX11Info
NetworkManagerQt
Engadir novas propiedades e métodos de NetworkManager 1.0.0
Infraestrutura de Plasma
Corrixir plasmapkg2 para sistemas traducidos
Mellorar a disposición dos consellos
Make it possible to let plasmoids to load scripts outside the plasma package ...
Cambios do sistema de construción (extra-cmake-modules)
Estender o macro ecm_generate_headers para permitir tamén cabeceiras con MaiúsculasIniciais.h
Pode comentar e compartir ideas sobre esta versión na sección de comentarios do artigo do Dot.
Installing binary packages
On Linux, using packages for your favorite distribution is the recommended way to get access to KDE Frameworks. Get KDE Software on Your Linux Distro wiki page
Compiling from sources
The complete source code for KDE Frameworks 5.8.0 may be freely downloaded. Instructions on compiling and installing are available from the KDE Frameworks 5.8.0 Info Page.
Building from source is possible using the basic cmake .; make; make install commands. For a single Tier 1 framework, this is often the easiest solution. People interested in contributing to frameworks or tracking progress in development of the entire set are encouraged to use kdesrc-build. Frameworks 5.8.0 requires Qt .
A detailed listing of all Frameworks and other third party Qt libraries is at inqlude.org, the curated archive of Qt libraries. A complete list with API documentation is on api.kde.org.
Get Involved
Those interested in following and contributing to the development of Frameworks can check out the git repositories and follow the discussions on the KDE Frameworks Development mailing list. Policies and the current state of the project and plans are available at the Frameworks wiki. Real-time discussions take place on the #kde-devel IRC channel on Libera Chat.
Supporting KDE
KDE is a Free Software community that exists and grows only because of the help of many volunteers that donate their time and effort. KDE is always looking for new volunteers and contributions, whether it is help with coding, bug fixing or reporting, writing documentation, translations, promotion, money, etc. All contributions are gratefully appreciated and eagerly accepted. Please read through the Supporting KDE page for further information or become a KDE e.V. supporting member through our Join the Game initiative.