KDE publica a versión 16.04.0 das aplicacións de KDE
20 de abril de 2016. KDE introduce hoxe a versión 16.04 das aplicacións de KDE con innumerábeis anovacións no que respecta a unha maior facilidade de acceso, a introdución de funcionalidades moi útiles e solucionar eses pequenos problemas que fan que as aplicacións de KDE estean un pouco máis preto de ofrecer a configuración perfecta para o seu dispositivo.
KColorChooser, KFloppy, KMahjongg and KRDC have now been ported to KDE Frameworks 5 and we look forward to your feedback and insight into the newest features introduced with this release. We would also highly encourage your support for Minuet as we welcome it to our KDE Applications and your input on what more you'd like to see.
Último engadido a KDE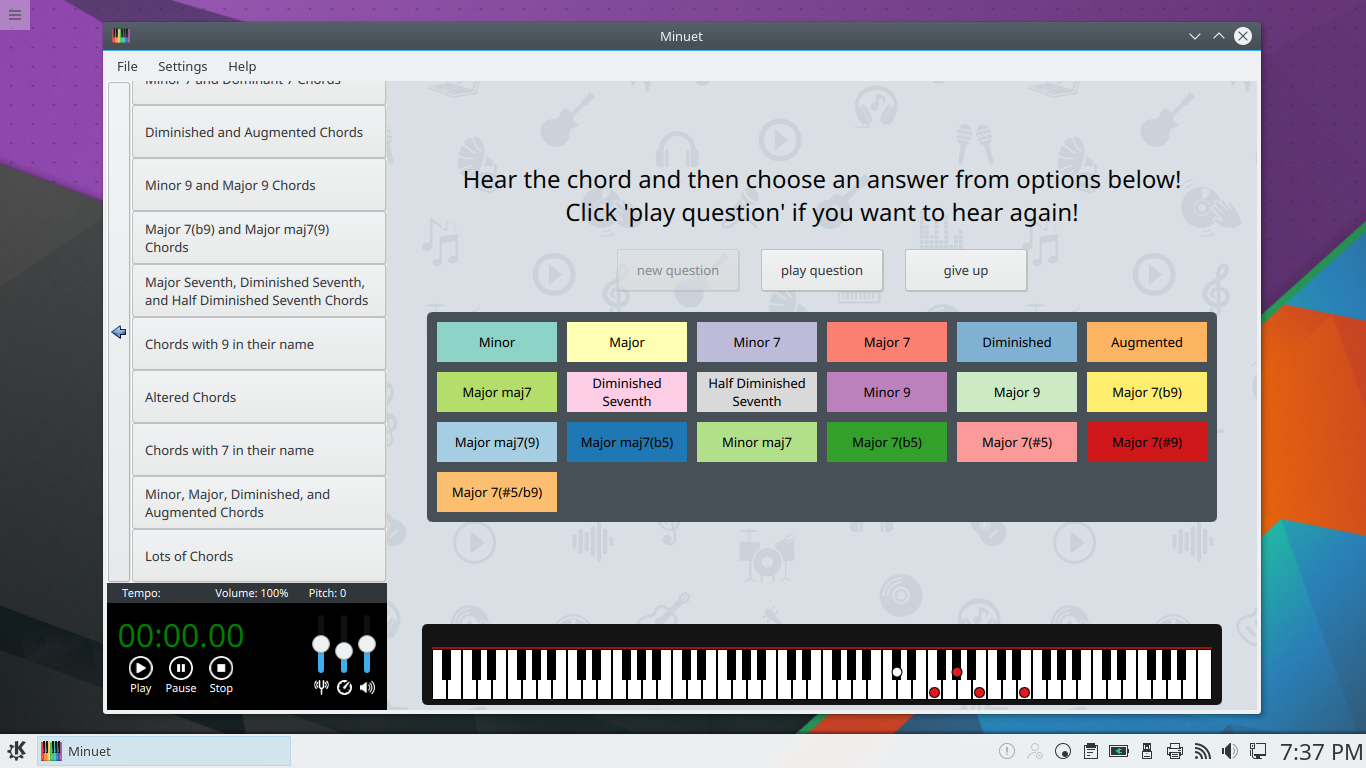 A new application has been added to the KDE Education suite. Minuet is a Music Education Software featuring full MIDI support with tempo, pitch and volume control, which makes it suitable for both novice and experienced musicians.
Minuet inclúe 44 exercicios de adestramento de oído sobre escalas, acordes, intervalos e ritmos, permite visualizar contido musical no teclado do piano e permite unha integración transparente cos seus propios exercicios.
Máis axuda para vostede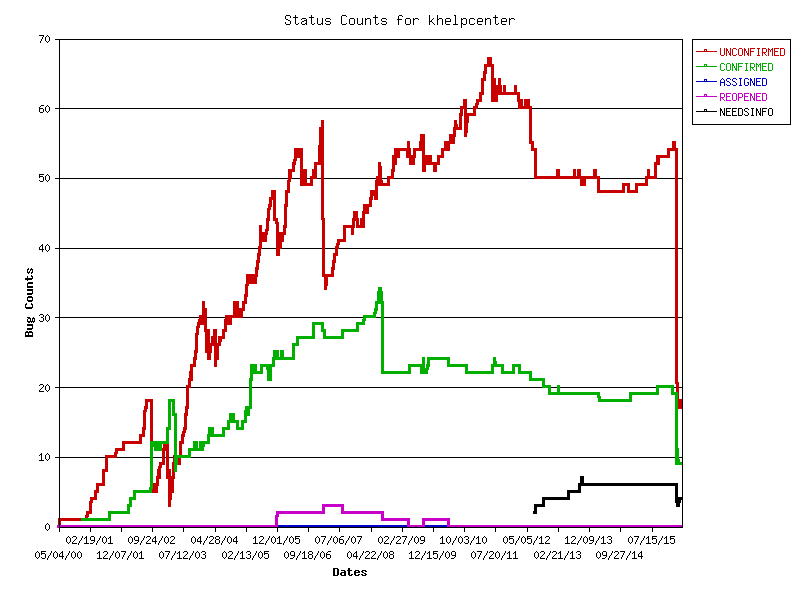 KHelpCenter, que adoitaba distribuírse xunto con Plasma, pasa a distribuírse como parte das aplicacións de KDE.
O equipo de KHelpCenter levou a cabo unha campaña masiva de revisión de fallos e limpeza que resultou na resolución de 49 fallos, moitos deles relacionados con mellorar e restaurar a funcionalidade de busca, que non funcionaba.
A busca de documento interna que usaba o software obsoleto ht::/dig substituíuse por un novo sistema de indexación e busca baseada en Xapian, o que leva a restaurar funcionalidades como buscar en páxinas de manual, en páxinas de información e documentación fornecida por software de KDE, engadindo a funcionalidade de marcadores para as páxinas de documentación.
Ao retirar a compatibilidade con KDE Libs 4, limpar código e solucionar algúns outros pequenos fallos, o mantemento do código mellorouse de maneira significativa para ofrecerlle un KHelpCenter completamente renovado.
Exterminación de erros
A colección de Kontact recibiu 55 correccións de fallos; algunhas delas estaban relacionadas con problemas ao configurar alarmas, e na importación de correo de Thunderbird, reducindo o tamaño de iconas de Skype e Google Talk na vista de panel de contactos, apaños relacionados con KMail como a importación de cartafoles, importación de vCard, apertura de anexos de correo de ODF, insercións de URL de Chromium, as diferenzas dos menús de ferramentas coa aplicación iniciada como parte de Kontact ou de maneira independente, a falta do elemento de menú de «Enviar» e algúns outros. Engadíronse as fontes RSS de portugués do Brasil, e corrixíronse os enderezos das fontes de húngaro e castelán.
Entre as novas funcionalidades hai un cambio do deseño do editor de contactos de KAddressbook, un novo tema predeterminado de cabeceira de KMail, melloras no exportador da configuración e unha corrección da compatibilidade coas iconas de sitios web de Akregator. O editor de mensaxes de KMail limpouse ao tempo que se engadía un novo tema predeterminado de cabeceira de KMail co tema de Grantlee que se usa para a páxina de «Sobre» de KMail, Kontact e Akregator. Agora Akregator usa QtWebKit, un dos principais motores para renderizar páxinas web e executar código JavaScript como motor web de renderizado e xa comezou o proceso para permitir QtWebEngine en Akregator e outras aplicacións da colección Kontact. Ao tempo que moitas funcionalidades pasaron a fornecerse como complementos en «kdepim-addons», as bibliotecas de xestión de información persoal dividíronse en varios paquetes.
Arquivar en profundidade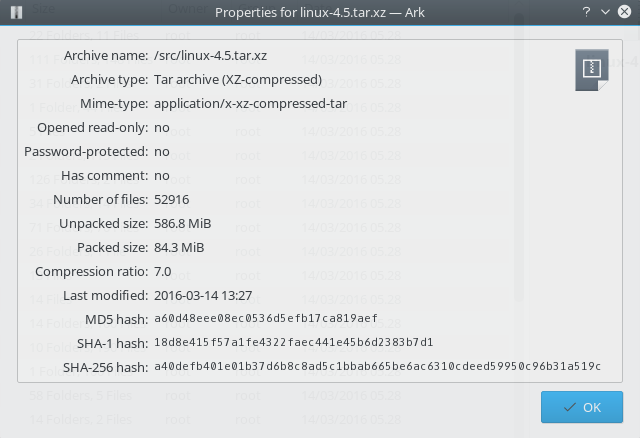 Ark, the archive manager, has had two major bugs fixed so that now Ark warns the user if an extraction fails due to lack of sufficient space in the destination folder and it does not fill up the RAM during the extraction of huge files via drag and drop.
Agora Ark tamén inclúe un diálogo de propiedades que mostra información como o tipo de arquivo, o tamaño comprimido e descomprimido, os resumos criptográficos de MD5, SHA-1 e SHA-256 sobre o arquivo aberto actualmente.
Agora Ark tamén pode abrir e extraer arquivos RAR sen utilizar as ferramentas non libres de RAR e pode abrir, extraer e crear arquivos TAR comprimidos cos formatos lzop, lzip e lrzip.
Puliuse a interface de usuario de Ark reorganizando a barra de menú e a barra de ferramentas para mellorar a facilidade de uso e para retirar ambigüidades, así como para aforrar espazo vertical grazas á barra de estado, que agora está agochada de maneira predeterminada.
Máis precisión nas edicións de vídeo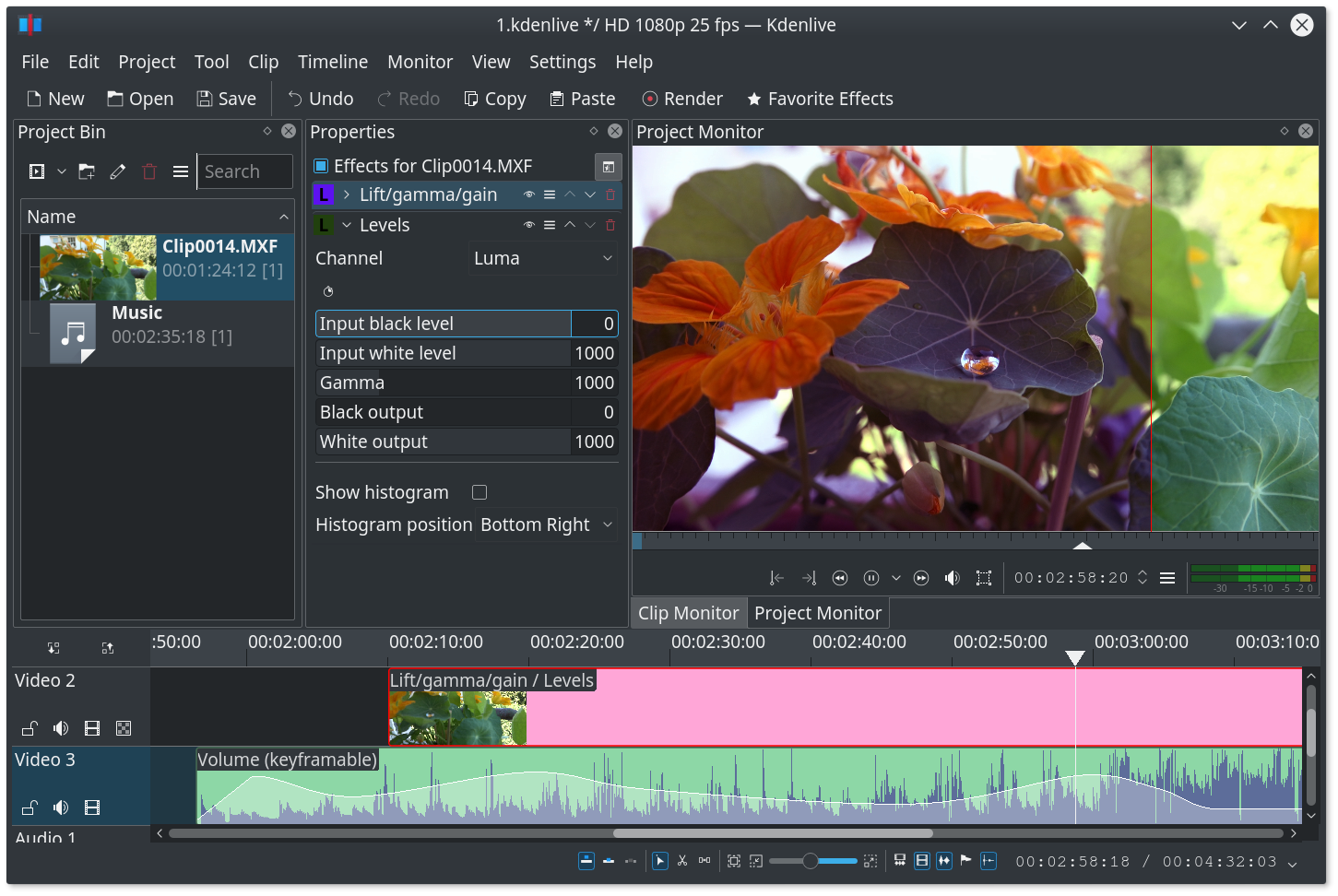 Kdenlive, the non-linear video editor has numerous new features implemented. The titler now has a grid feature, gradients, the addition of text shadow and adjusting letter/line spacing.
Pantalla integrada de niveis de son permite monitorizar facilmente o son no proxecto xunto coas novas capas do monitor de vídeo que mostra a taxa de fotogramas da reprodución, as zonas seguras e as ondas de son e unha barra de ferramentas para ir a marcadores e un monitor de ampliación.
Tamén hai unha nova funcionalidade de biblioteca que permite copiar e pegar secuencias entre proxectos e unha vista dividida na liña de tempo para comparar e visualizar os efectos aplicados ao fragmento co fragmento sen eles.
O diálogo do renderizador escribiuse de novo engadindo unha opción para conseguir unha codificación máis rápida, producindo polo tanto ficheiros grandes, e o efecto de velocidade modificouse para que tamén funcione co son.
Introducíronse curvas nos fotogramas clave para algúns efectos e agora pode acceder rapidamente aos seus efectos máis habituais mediante o trebello de efectos favoritos. Ao usar a ferramenta de coitela, agora a liña vertical da liña de tempo mostrará o fotograma exacto no que se realizará o corte e os xeradores de fragmentos que se acaban de engadir permitiranlle crear fragmentos e contadores de barras de cores. Ademais disto, introduciuse de novo o número de usos de fragmentos no lixo do proxecto e as miniaturas de son reescribíronse para que sexan moito máis rápidas.
As correccións de fallos principais afectan a cousas como a quebra ao usar títulos (que require a última versión de MLT), corrixir corrupcións que se producen cando a taxa de fotogramas por segundo do proxecto é distinta de 25, as quebras ao eliminar pistas, o problemático modo de sobrescribir na liña de tempo e as corrupcións e os efectos perdidos ao usar unha configuración rexional con coma como separador. Ademais destas correccións, o equipo estivo traballando de maneira constante en facer grandes melloras de estabilidade, fluxo de traballo e pequenas melloras de facilidade de uso.
E máis!
Okular, the document viewer brings in new features in the form of customizable inline annotation width border, allowance of directly opening embedded files instead of only saving them and also the display of a table of content markers when the child links are collapsed.

Kleopatra introduced improved support for GnuPG 2.1 with a fixing of selftest errors and the cumbersome key refreshes caused by the new GnuPG (GNU Privacy Guard) directory layout. ECC Key generation has been added with the display of Curve details for ECC certificates now. Kleopatra is now released as a separate package and support for .pfx and .crt files has been included. To resolve the difference in the behaviour of imported secret keys and generated keys, Kleopatra now allows you to set the owner trust to ultimate for imported secret keys.

You can find the full list of changes here.
Spread the Word
Non-technical contributors are an important part of KDE's success. While proprietary software companies have huge advertising budgets for new software releases, KDE depends on people talking with other people. Even for those who are not software developers, there are many ways to support the KDE Applications release. Report bugs. Encourage others to join the KDE Community. Or support the nonprofit organization behind the KDE community
Please spread the word on the Social Web. Submit stories to news sites, use channels like delicious, digg, reddit, and twitter. Upload screenshots of your new set-up to services like Facebook, Flickr, ipernity and Picasa, and post them to appropriate groups. Create screencasts and upload them to YouTube, Blip.tv, and Vimeo. Please tag posts and uploaded materials with 'KDE'. This makes them easy to find, and gives the KDE Promo Team a way to analyze coverage for this KDE Applications release.
Installing KDE Applications Binary Packages
Packages
Some Linux/UNIX OS vendors have kindly provided binary packages of KDE Applications for some versions of their distribution, and in other cases community volunteers have done so. Additional binary packages, as well as updates to the packages now available, may become available over the coming weeks.
Package Locations
For a current list of available binary packages of which the KDE Project has been informed, please visit the Community Wiki.
Compiling KDE Applications
The complete source code for KDE Applications may be freely downloaded. Instructions on compiling and installing are available from the KDE Applications 16.04.0 Info Page.
Supporting KDE
KDE is a Free Software community that exists and grows only because of the help of many volunteers that donate their time and effort. KDE is always looking for new volunteers and contributions, whether it is help with coding, bug fixing or reporting, writing documentation, translations, promotion, money, etc. All contributions are gratefully appreciated and eagerly accepted. Please read through the Supporting KDE page for further information or become a KDE e.V. supporting member through our Join the Game initiative.
About KDE
KDE is an international technology team that creates free and open source software for desktop and portable computing. Among KDE's products are a modern desktop system for Linux and UNIX platforms, comprehensive office productivity and groupware suites and hundreds of software titles in many categories including Internet and web applications, multimedia, entertainment, educational, graphics and software development. KDE software is translated into more than 60 languages and is built with ease of use and modern accessibility principles in mind. KDE's full-featured applications run natively on Linux, BSD, Windows, Haiku, and macOS.
---
Trademark Notices.

KDE® and the K Desktop Environment® logo are registered trademarks of KDE e.V..
Linux is a registered trademark of Linus Torvalds. UNIX is a registered trademark of The Open Group in the United States and other countries.
All other trademarks and copyrights referred to in this announcement are the property of their respective owners.
---
Press Contacts
For more information send us an email: press@kde.org