KDE distribúe as actualizacións de outubro para os espazos de traballo de Plasma, as aplicacións e a plataforma
Tuesday, 1 October 2013
1 de outubro de 2013. Hoxe KDE publica actualizacións dos seus espazos de traballo, das aplicacións e da plataforma de desenvolvemento. Estas actualizacións son as segundas dunha serie de actualizacións de estabilización mensuais para a serie 4.11. Tal e como se anunciou na publicación, os espazos de traballo continuarán recibindo actualizacións durante os próximos dous anos. Esta versión só contén correccións e actualizacións de traducións e será unha actualización segura e agradábel para todo o mundo.
Entre as máis de 70 correccións están melloras no xestor de xanelas KWin, o xestor de ficheiros Dolphin e a colección de xestión de información persoal Kontact. Hai moitas correccións de estabilidade e o engadido habitual de traducións.
A more complete list of changes can be found in KDE's issue tracker. For a detailed list of changes that went into 4.11.2, you can also browse the Git logs.
Para descargar o código fonte ou paquetes para instalar vaia á páxina de información de 4.11.2. Se quere saber máis sobre as versións 4.11 dos espazos de traballo, das aplicacións e da plataforma de desenvolvemento de KDE, consulte as notas de publicación de 4.11.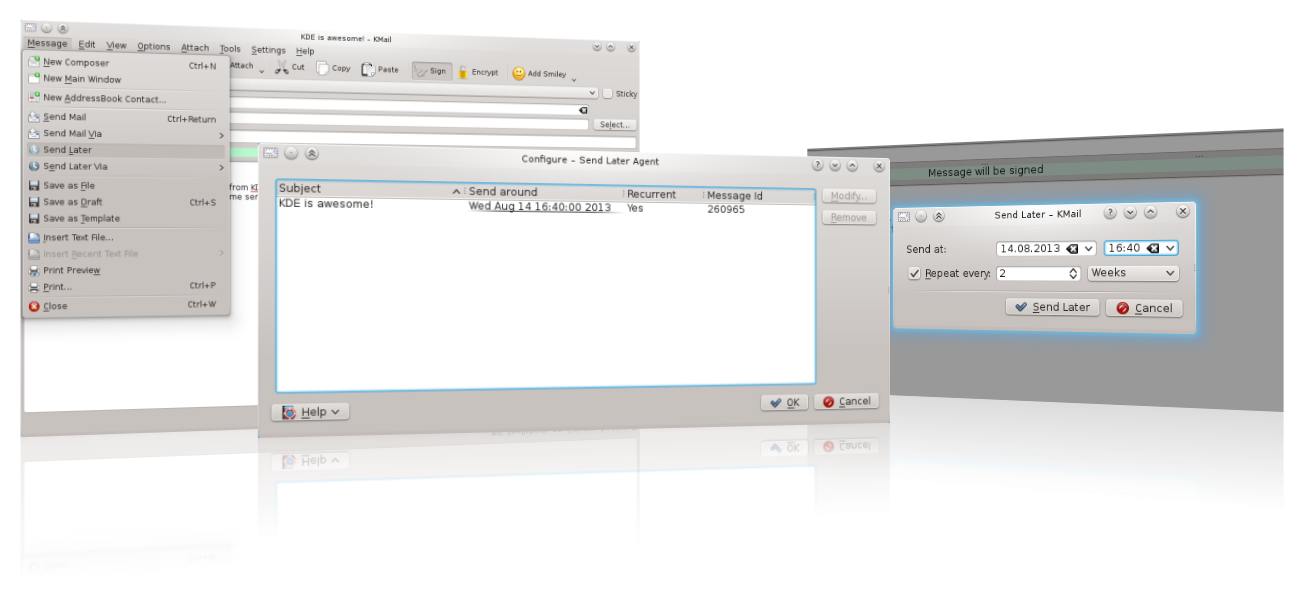 KDE software, including all libraries and applications, is available for free under Open Source licenses. KDE's software can be obtained as source code and various binary formats from download.kde.org or from any of the major GNU/Linux and UNIX systems shipping today.
About KDE
KDE is an international technology team that creates free and open source software for desktop and portable computing. Among KDE's products are a modern desktop system for Linux and UNIX platforms, comprehensive office productivity and groupware suites and hundreds of software titles in many categories including Internet and web applications, multimedia, entertainment, educational, graphics and software development. KDE software is translated into more than 60 languages and is built with ease of use and modern accessibility principles in mind. KDE's full-featured applications run natively on Linux, BSD, Windows, Haiku, and macOS.
---
Trademark Notices.

KDE® and the K Desktop Environment® logo are registered trademarks of KDE e.V..
Linux is a registered trademark of Linus Torvalds. UNIX is a registered trademark of The Open Group in the United States and other countries.
All other trademarks and copyrights referred to in this announcement are the property of their respective owners.
---
Press Contacts
For more information send us an email: press@kde.org