A versión 4.11 das aplicacións de KDE supón un enorme paso adiante na xestión de información persoal e melloras xerais
Wednesday, 14 August 2013
14 de agosto de 2013
The Dolphin file manager brings many small fixes and optimizations in this release. Loading large folders has been sped up and requires up to 30% less memory. Heavy disk and CPU activity is prevented by only loading previews around the visible items. There have been many more improvements: for example, many bugs that affected expanded folders in Details View were fixed, no "unknown" placeholder icons will be shown any more when entering a folder, and middle clicking an archive now opens a new tab with the archive contents, creating a more consistent experience overall.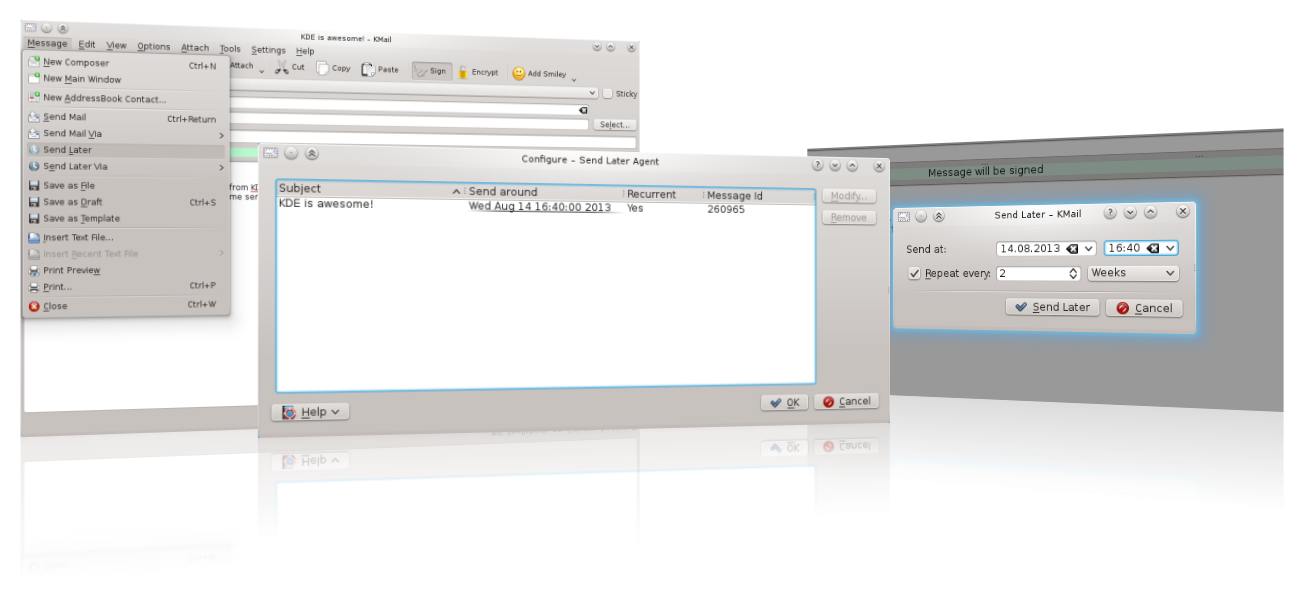 Melloras da colección Kontact
O desenvolvemento da colección Kontact centrouse de maneira significativa en estabilidade, rendemento e uso de memoria. Durante os últimos 6 meses melloráronse a importación de cartafoles, o cambio entre mapas, a obtención de correo, marcar e mover grandes números de mensaxes, e o tempo de inicio. Consulte este blog (en inglés) para máis información. Tamén se solucionaron moitos fallos da ferramenta de arquivo e fixéronse melloras no asistente de importación, permitindo importar opcións do cliente de correo Trojitá e mellorando a importación doutras aplicacións. Descubra máis aquí (en inglés).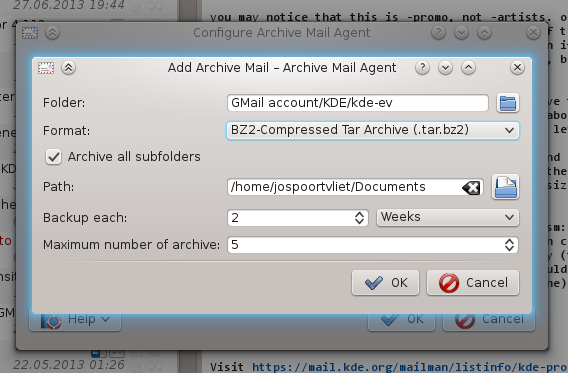 This release also comes with some significant new features. There is a new theme editor for email headers and email images can be resized on the fly. The Send Later feature allows scheduling the sending of emails on a specific date and time, with the added possibility of repeated sending according to a specified interval. KMail Sieve filter support (an IMAP feature allowing filtering on the server) has been improved, users can generate sieve filtering scripts with an easy-to-use interface. In the security area, KMail introduces automatic 'scam detection', showing a warning when mails contain typical phishing tricks. You now receive an informative notification when new mail arrives. and last but not least, the Blogilo blog writer comes with a much-improved QtWebKit-based HTML editor.
Extensións das linguaxes compatíbeis con Kate
O editor de texto avanzado Kate introduce novos complementos: Python (2 e 3), JavaScript e jQuery, Django e XML. Introducen funcionalidades como completado automático estático e dinámico, os comprobadores de sintaxe, inserción de fragmentos de código e a posibilidade de sangrar automaticamente XML cun atallo. Pero para os amigos de Python hai máis: unha consola de Python que fornece información detallada nun ficheiro fonte aberto. Tamén se realizaron pequenas melloras da interface de usuario, incluídas novas notificacións pasivas para a funcionalidade de busca, optimizacións para o modo de VIM e unha nova funcionalidade d pregado de texto.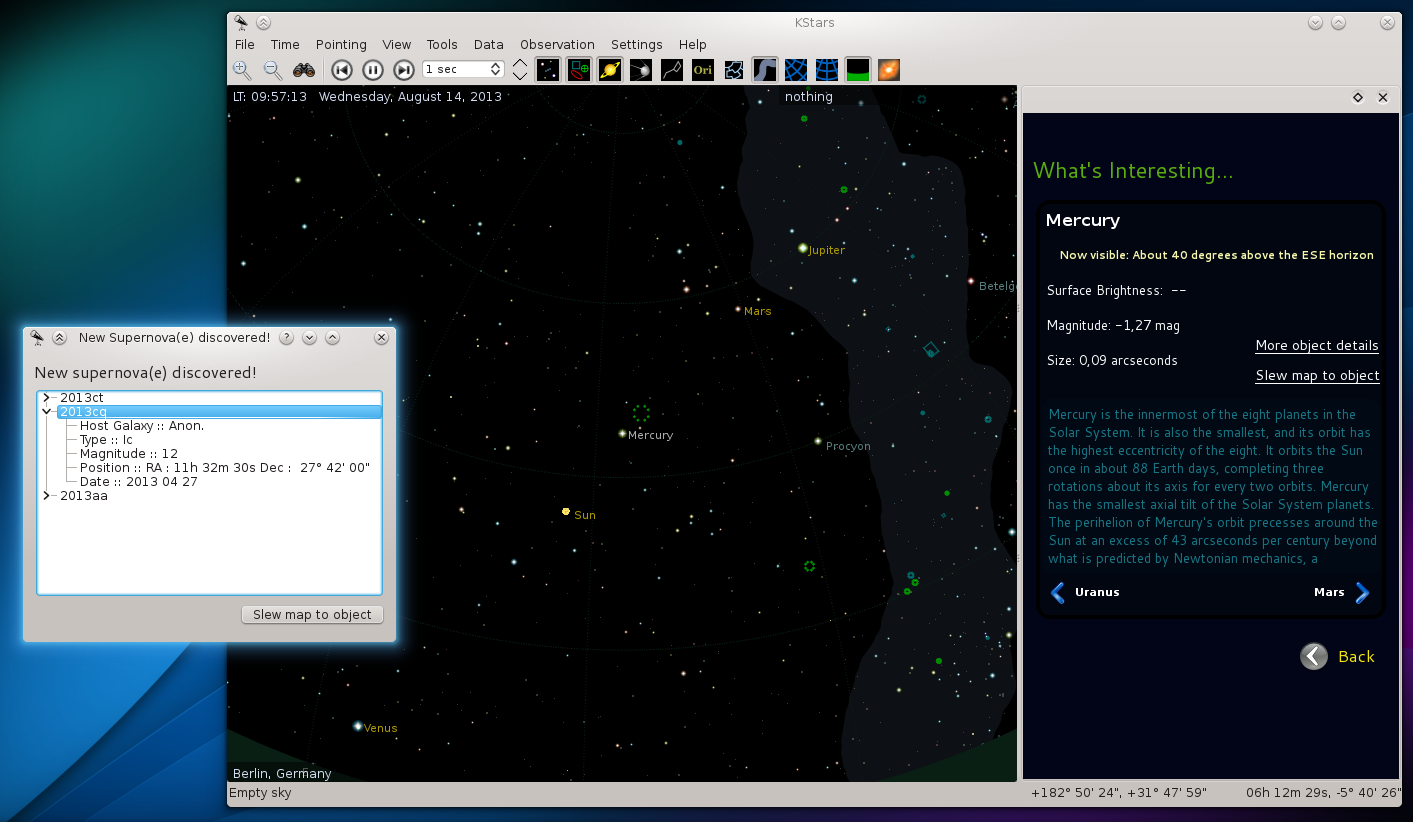 Melloras doutras aplicacións
Na categoría de xogos e educación chegaron varias novas funcionalidades e optimizacións, grandes e pequenas. Os futuros mecanógrafos agradecerán a compatibilidade con escritura de dereita a esquerda en KTouch, mentres que o mellor amigo do observador de estrelas, KStars, fornece agora unha ferramenta que mostra vindeiros eventos interesantes na súa zona. As ferramentas de matemáticas Rocs, Kig, Cantor e KAlgebra recibiron atención tamén, e permiten agora infraestruturas e cálculos adicionais. E o xogo KJumpingCube ten agora tamaños máis grandes de taboleiro, novos niveis de habilidade, respostas máis rápidas e unha interface de usuario mellorada.
A aplicación de debuxo simple, Kolourpaint, pode traballar co formato de imaxe WebP e o visor de documentos universal Okular ten ferramentas de revisión que se poden configurar e introduce a funcionalidade de desfacer e refacer en formularios e anotacións. O reprodutor e etiquetador de son JuK permite reproducir e editar metadatos do novo formato de son Ogg Opus (porén, isto require que o controlador de son e TagLib tamén sexan compatíbeis con Ogg Opus).
Instalar aplicacións de KDE
KDE software, including all its libraries and its applications, is available for free under Open Source licenses. KDE software runs on various hardware configurations and CPU architectures such as ARM and x86, operating systems and works with any kind of window manager or desktop environment. Besides Linux and other UNIX based operating systems you can find Microsoft Windows versions of most KDE applications on the KDE software on Windows site and Apple Mac OS X versions on the KDE software on Mac site. Experimental builds of KDE applications for various mobile platforms like MeeGo, MS Windows Mobile and Symbian can be found on the web but are currently unsupported. Plasma Active is a user experience for a wider spectrum of devices, such as tablet computers and other mobile hardware.
KDE software can be obtained in source and various binary formats from http://download.kde.org and can also be obtained on CD-ROM or with any of the major GNU/Linux and UNIX systems shipping today.
Paquetes
Some Linux/UNIX OS vendors have kindly provided binary packages of 4.11.0 for some versions of their distribution, and in other cases community volunteers have done so.

Lugares dos paquetes
For a current list of available binary packages of which the KDE's Release Team has been informed, please visit the Community Wiki.
The complete source code for 4.11.0 may be freely downloaded. Instructions on compiling and installing KDE software 4.11.0 are available from the 4.11.0 Info Page.
Requisitos do sistema
In order to get the most out of these releases, we recommend to use a recent version of Qt, such as 4.8.4. This is necessary in order to assure a stable and performant experience, as some improvements made to KDE software have actually been done in the underlying Qt framework.
In order to make full use of the capabilities of KDE's software, we also recommend to use the latest graphics drivers for your system, as this can improve the user experience substantially, both in optional functionality, and in overall performance and stability.
Hoxe tamén se anunciaron:
En preparación para mantemento a longo prazo, os espazos de traballo de Plasma inclúen melloras adicionais en funcionalidades básicas cunha barra de tarefas máis suave, un trebello de batería máis intelixente e un mesturador de son mellorado. A introdución de KScreen trae consigo xestión intelixente de varios monitores nos espazos de traballo, e melloras de rendemento a gran escala en combinación con pequenos axustes de facilidade de uso que conseguen unha mellor experiencia xeral.
Esta versión 4.11 da plataforma de KDE continúa centrándose en estabilidade. Estanse realizando novas funcionalidades para a futura versión 5.0 das infraestruturas de KDE, pero para a versión estábel conseguimos introducir optimizacións para a nosa infraestrutura Nepomuk.
About KDE
KDE is an international technology team that creates free and open source software for desktop and portable computing. Among KDE's products are a modern desktop system for Linux and UNIX platforms, comprehensive office productivity and groupware suites and hundreds of software titles in many categories including Internet and web applications, multimedia, entertainment, educational, graphics and software development. KDE software is translated into more than 60 languages and is built with ease of use and modern accessibility principles in mind. KDE's full-featured applications run natively on Linux, BSD, Windows and macOS.
---
Trademark Notices.

KDE® and the K Desktop Environment® logo are registered trademarks of KDE e.V..
Linux is a registered trademark of Linus Torvalds. UNIX is a registered trademark of The Open Group in the United States and other countries.
All other trademarks and copyrights referred to in this announcement are the property of their respective owners.
---
Press Contacts
For more information send us an email: press@kde.org