Support Plasma 6!
Spark Innovation with Your Donation
Exciting news on the horizon! In February 2024, Plasma 6 is set to make its grand debut. But we need your help to ensure its successful launch.
LEFT UNTIL LAUNCH!*
* More or less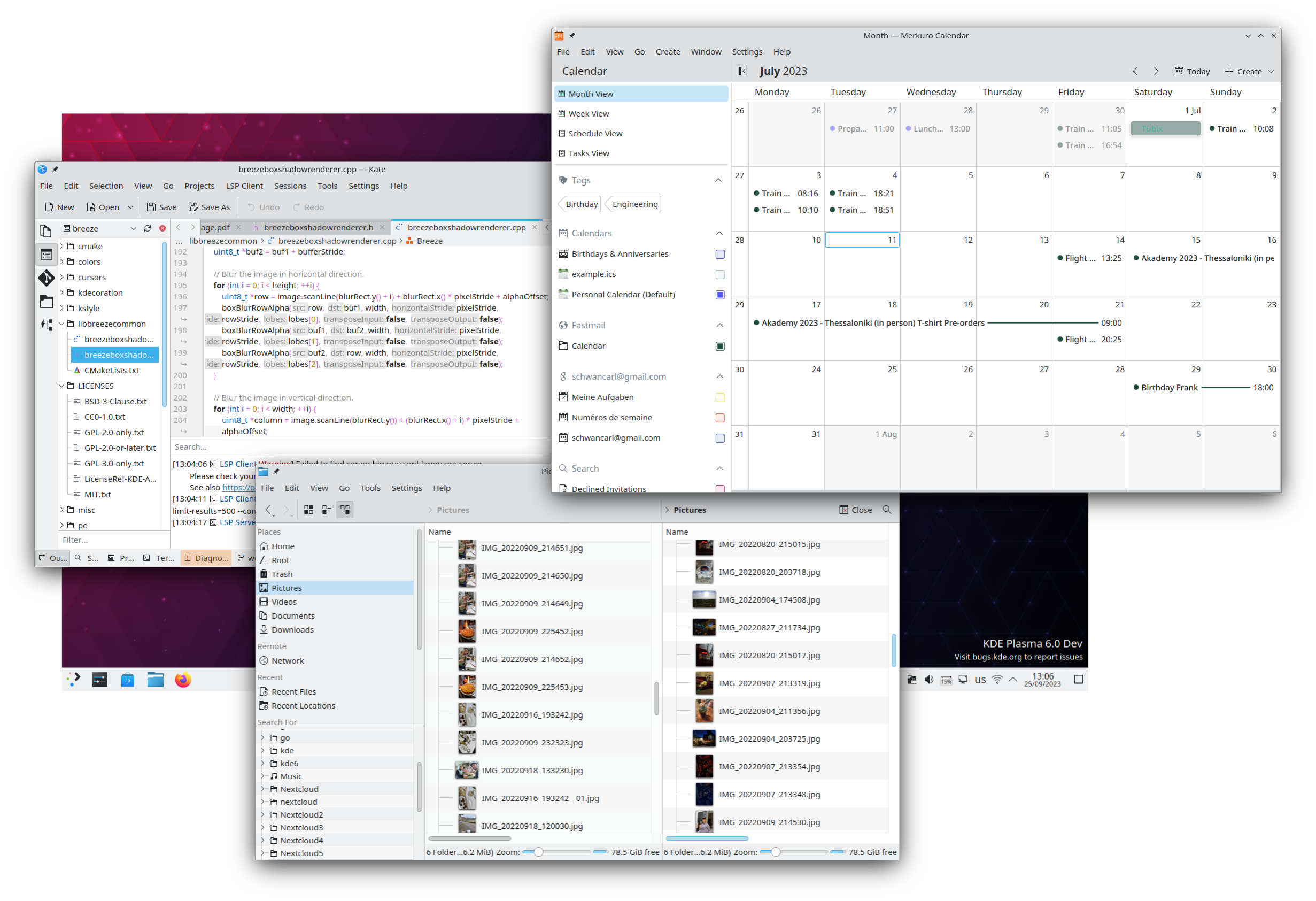 Why Donate
In short: because generosity is at the heart of KDE and keeps our projects alive.
It's what motivates our volunteers to share their time and knowledge to keep building new features and keeping KDE software up-to-date and secure.
Generosity also drives our supporters. Their contributions and sponsorships keep KDE's gears turning and ensure that our developers can continue their fantastic work.
How to Become a Supporter
Fill out the form above and for less than €10 a month you too can support the champions who tirelessly improve our software every day. The KDE development ecosystem is a bustling hive of activity, and every supporting member helps keep it buzzing.
If you'd prefer a one-time donation, please click here.
Perks
We know that keeping KDE healthy and running is all the reward you need for your generosity, but, as a token of our appreciation for your support, we are also offering:
Your name will shine bright on our donation page, acknowledging your contribution.
Your name will be displayed in Plasma 6 itself!
More perks coming soon!
If you don't want any of the above, that is fine too, of course. Remember to mark the "[✔️] Make donation anonymous" checkbox in the donation process above.
How We Use the Money
This where your donation will make a difference:
Sprints for Developers: You will help finance the in-person meetups that keep our developers energized and focused on making KDE even better.
Travel Costs to Events: You will support our team's presence at important gatherings and conferences, like FOSDEM, FOSSAsia and LinuxCons.
Akademy Event: You will ensure the success of KDE's yearly community event for all members, and foster collaboration and growth.
Running KDE: You will keep the lights on at KDE HQ and our digital home running smoothly.
Paying Support Staff: You will ensure KDE has on hand the experts we need to assist our contributors and users.
Our Goal
Our aim is to reach 500 supporters before Plasma 6 launches in February 2024. With your support, we can achieve this milestone and ensure the continued success of KDE and the launch of Plasma 6.
*Updated daily.
Join us in making Plasma 6's launch a spectacular success. Contribute to our fundraiser. Your donation will fuel innovation, support dedicated developers, and ensure that KDE continues to shine brightly in the world of free open-source software. Together, we can achieve great things!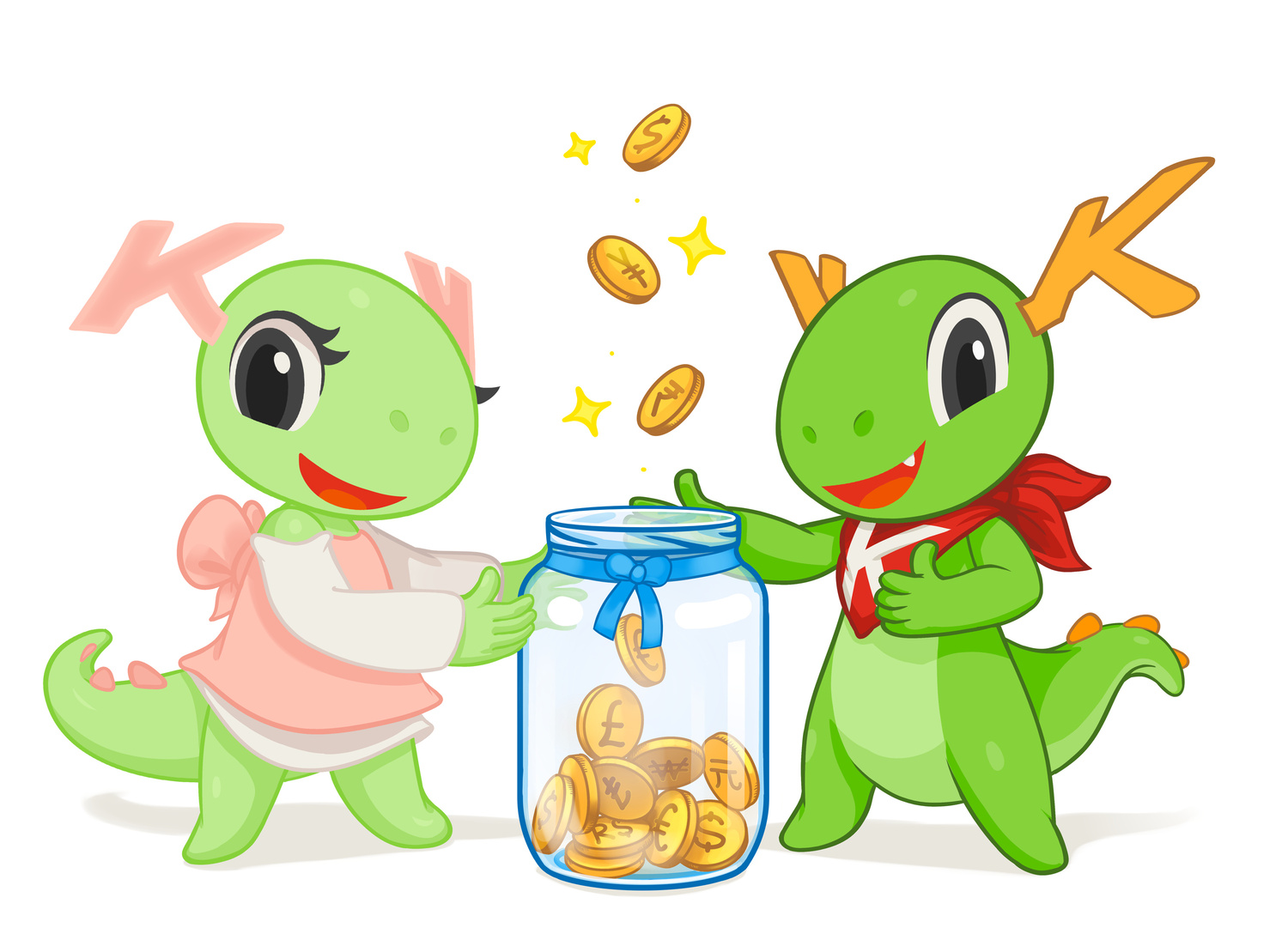 New Supporting Members
Peter König ⭐ Aurélien COUDERC ⭐ Łukasz Konieczny ⭐ Alexander Gurenko ⭐ Jure Repinc ⭐ Batuhan Taskaya ⭐ Samir Nassar ⭐ Stanislas Leduc ⭐ Nils Martens ⭐ Marius Hergel ⭐ Carl Schwan ⭐ Burgess Chang ⭐ Dennis Zellner ⭐ Martin Beck ⭐ edwin vervliet ⭐ Petr Kadlec ⭐ Gernot Schiller ⭐ Lee Courington ⭐ Sacha Schutz ⭐ Roger Granrud ⭐ Marcos Gutiérrez Alonso ⭐ Chris Niewiarowski ⭐ Denis Doria ⭐ Yu Te Wang ⭐ Jaroslav Reznik ⭐ Diego Miguel Lozano ⭐ Timo Büttner ⭐ Daniel Noga ⭐ Sebastian Paul ⭐ Xuetian Weng ⭐ Antti Luoma ⭐ Kiril Vladimirov ⭐ Odin Vex ⭐ Jeremy Linton ⭐ Guruprasad L ⭐ Christian Gmeiner ⭐ Sergi Navas ⭐ Warren Krettek ⭐ John Kizer ⭐ Lisardo Sobrino ⭐ Peter Nunn ⭐ Carlos Gonzalez Cortes ⭐ Ethan Hussong ⭐ Willow Aran ⭐ Kai-Uwe Uhlitzsch ⭐ Luciano Barea ⭐ Yoann LE TOUCHE ⭐ Wyatt Childers ⭐ Simon Österle ⭐ Andreas Paul ⭐ Martin Supan ⭐ Tom Schwarz ⭐ Titouan Fuchs ⭐ Melissa Autumn ⭐ Oliver Rasche ⭐ Cass Midkiff ⭐ André Barata ⭐ Julius Binder ⭐ Thomas Karpiniec ⭐ Hendrik Richter ⭐ Jakub Judas ⭐ Paul Porubsky ⭐ Harald Gall ⭐ Malte Jürgens ⭐ Cameron Bosch ⭐ Łukasz Plich ⭐ Jack Case ⭐ Ryan Chambers ⭐ Fabian Niepelt ⭐ Michael Stemle ⭐ Jonas Gamao ⭐ Tapio Metsälä ⭐ Alexander Ypema ⭐ Eduard Nikoleisen ⭐ Dean Bradley ⭐ Joshua Phelps ⭐ José Guardado ⭐ Nathan Wolf ⭐ Linda Polman ⭐ Mehrad Mahmoudian ⭐ Curtis Bullock ⭐ Artem Puzikov ⭐ Richard BEOLET ⭐ Björn Bauer ⭐ Paul Worrall ⭐ Régis GUYOMARCH ⭐ Aroun Clément Baudouin-van Os ⭐ Cornelius Kluge ⭐ Paul Fleischer ⭐ Sebastian Löw ⭐ Gerbrand van Dieyen ⭐ Jens Reimann ⭐ Julian Borrero ⭐ Timothy Carr ⭐ Gregor Burgeff ⭐ Michael Brunner ⭐ Johann Jacobsohn ⭐ Andrew Keenan Richardson ⭐ Alexander Verweinen ⭐ Regina Abendroth ⭐ Muthanna K. ⭐ Kevin McCarthy ⭐ Douglas Shaw ⭐ Christopher Mandlbaur ⭐ Joey Eamigh ⭐ Igor Stojkovic ⭐ Rhys Jones ⭐ Paul Birkholtz ⭐ Dima T ⭐ Chad McCullough ⭐ Valentin Petzel ⭐ Lizoblyud Lika ⭐ Byron Fröhlich ⭐ Coty Ternes ⭐ Joan Aluja Oraá ⭐ Jim Crawford ⭐ Jacob Ludvigsen ⭐ Henri Michael ⭐ Helge Bahmann ⭐ Ulrich Schreiner ⭐ Ralf Hein ⭐ Bel Lord-Williams ⭐ Christian Moesgaard ⭐ Simon Hötten ⭐ Dennis Schumann ⭐ Marcus Harrison ⭐ Vincent Delor ⭐ Mustafa Muhammad ⭐ Srikar Gottipati ⭐ Justin Geigley ⭐ Jonas Mutke ⭐ Brett Hagen ⭐ Huw McNamara ⭐ Florian Dittmer ⭐ Samuel Jordan Kleinman ⭐ Jason Logue ⭐ Rob Hyndman ⭐ Dmitry Misharov ⭐ Christoph Singer ⭐ Lukas Neubert ⭐ Lauren Howe ⭐ Lino Moser ⭐ Tristan Remy ⭐ Benjamin Tzschoppe ⭐ Harry A ⭐ Gerardus Franciscus Maria van Iersel ⭐ Thomas Ludwig ⭐ Techin Eamrurksiri ⭐ Pierre-Alexandre Hamel-Bussières ⭐ Philipp Reichmuth ⭐ Thomas Eckart ⭐ Teodor Calin Sirbu ⭐ Benjamin Xiao ⭐ Przemysław Romanik ⭐ Denis Doria ⭐ Alejandro Cholaquidis ⭐ Kristian Kriehl ⭐ Ian Boll ⭐ Radek Nováček ⭐ Martin Bednar ⭐ scaine uk ⭐ Evan Chang ⭐ Jakob Rath ⭐ Moritz Lammerich ⭐ Neal Gompa ⭐ Chrismettal Binary-6 ⭐ Bryan Zaffino ⭐ Angus Kelsey ⭐ Reid Wiggins ⭐ Dirk Holsopple ⭐ Dan Heneise ⭐ Adam Dymitruk ⭐ Peter Simonsson ⭐ ILIOPOULOS IOANNIS ⭐ Zacharie Monnet ⭐ Jan Iversen ⭐ Thomas ROBIN ⭐ Joost Cassee ⭐ Luis Büchi ⭐ Moritz Schulte ⭐ Jed Baldwin ⭐ Nicola Jelmorini ⭐ Lennart Kroll ⭐ Alexander Reimelt ⭐ ali xyz ⭐ Alonso Mendoza ⭐ Dmitry Sobolev ⭐ Eric NGUYEN ⭐ Stefan Neacsu ⭐ Pascal Schmidt ⭐ Arne Keller ⭐ Simon Berz ⭐ Will Butler ⭐ Conny Magnusson ⭐ Tobias Brunner ⭐ Markus Ebner ⭐ Flori G ⭐ Andrew Rosenwinkel ⭐ Paul Merryfellow ⭐ Henning Sextro ⭐ Daan Boerlage ⭐ Tomás Duarte ⭐ William Z ⭐ Cory Adkins ⭐ Marko Hehl ⭐ Mario Loik ⭐ David Germain ⭐ Artur Pieniążek ⭐ Travis Suel ⭐ Milton Hagler ⭐ Alejandro Muñoz Fernández ⭐ Kevin Messer ⭐ Sam Smucny ⭐ Chris Davis ⭐ Vojtech Kuchar ⭐ Pablo Caballero ⭐ Zach B ⭐ Will Styler ⭐ Jay Tuckey ⭐ Ami Chayun ⭐ Sander Smid-Merlijn ⭐ Andrea Scartazza ⭐ OC Blanco ⭐ Nina Wanca ⭐ Andrija Jovanovic ⭐ Dyllan Kobal ⭐ Ivo Marciniak ⭐ Marián Polťák ⭐ Nikita Malgin ⭐ Gaurav Dasharathe ⭐ Zoran Dimovski ⭐ Michael Niehoff ⭐ Tommy Beauclair-Mariotti ⭐ Björn Aili ⭐ David Chocholatý ⭐ David Martinez ⭐ Frank Mankel ⭐ Lars Jose ⭐ Linus Karl ⭐ Kim Hayo ⭐ Achilleas Koutsou ⭐ François-Xavier Thomas ⭐ Renārs Ceļapīters ⭐ Florian Edelmann ⭐ Boji Tony ⭐ Logan Rogers-Follis ⭐ harry loh ⭐ Iain Cuthbertson ⭐ Frédéric LAURENT ⭐ Keelan Jones ⭐ Michel Filipe ⭐ R.A. Bijl ⭐ Stefan Hellwig ⭐ E. Mau. ⭐ Fco Javier Bolívar ⭐ Matt Milliman ⭐ Benjamin Terrier ⭐ Rainier Ramos ⭐ Matija Šuklje ⭐ Daniel Bagge ⭐ Dennis Malmin ⭐ Justus Tartz ⭐ Wolfgang Kerschbaumer ⭐ Dougie Beney ⭐ Mikko Mensonen ⭐ Max Buchholz ⭐ Emanuele Cannizzaro ⭐ Thibaud Franchetti ⭐ your mom ⭐ Florian Stadler ⭐ Luis Garcia ⭐ Miku Hatsune ⭐ George Pchelkin ⭐ Jeremy Winter ⭐ Laust Lund Kristensen ⭐ Aman Chhabra ⭐ Michael Alexsander ⭐ Christoffer Jansson ⭐ Sebastian Goth ⭐ Joshua Mohr ⭐ TIMOPHEY TSITAVETS ⭐ Quentin Stuchlik ⭐ Michael Bolleininger ⭐ JIMI ROSS ⭐ Herbert Feiler ⭐ Paul Elliott ⭐ Nathan Westerman ⭐ Adrian Friedli ⭐ Lukas Kucerik ⭐ Aljosha Papsch ⭐ Bernhard Breinbauer ⭐ Sebastian Fohler ⭐ Andrea Panontin ⭐ Mikołaj Świątek ⭐ Rodney Lorimor ⭐ Jim Helm ⭐ David Martinez ⭐ Asim Shrestha ⭐ Tamas Kornman ⭐ Christopher Clarke ⭐ Stephane Perrin ⭐ Bjørnar Hausken ⭐ Peter Permenter ⭐ Christian Strebel ⭐ Michael Winters ⭐ Jérémy Friche ⭐ Marcos Gutiérrez Alonso ⭐ Andrew Munkres ⭐ Cody Harrison ⭐ Trey Boyer ⭐ Nathaniel Housman ⭐ Sergei Golimbievsky ⭐ Antonio Teixeira ⭐ Gabriel Morell ⭐ Samuel Allen ⭐ Jacob Perron ⭐ David Roth ⭐ Petri Koskimaa ⭐ Niklas Kämper ⭐ Nicola Feltrin ⭐ Jennifer Radtke ⭐ Aleksei Liudskoi ⭐ Sébastien Monassa ⭐ Michael Meister ⭐ Batuhan Cinar ⭐ Störm Poorun ⭐ Rahul Ramesh ⭐ Nick Severino ⭐ Sebastian Turzanski ⭐ Simon Finlay ⭐ Albert Goncharov ⭐ Mateusz Dytkowski ⭐ Marcel Siggelsten ⭐ Klemen Košir ⭐ Wesley Schroth