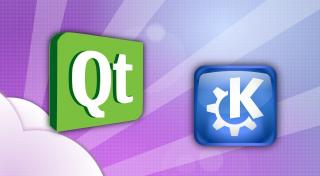 Samedi, 14 Avril 2018
KDE publie aujourd'hui la version 5.45.0 des environnements de développement de KDE.
Les environnements de développement de KDE sont 70 bibliothèques additionnelles à Qt, fournissant un large éventail de fonctionnalités nécessaires les plus communes, sous une forme matures, revues par des pairs et aussi largement testées, avec des conditions de licences acceptables. Pour plus d'informations, veuillez consulter les annonces de publications des environnements de développement de KDE.
Cette mise à jour fait partie d'une série de mise à jours mensuelles, permettant la mise à disposition des améliorations de manière rapide et prévisible pour les développeurs.
Nouveautés de cette version
Attica
Explicitly set content type to form data
Baloo
Simplify Term operator&& and ||
Do not retrieve document ID for skipped result entries
Do not retrieve mtime from database repeatedly when sorting
Ne pas exporter par défaut « databasesanitizer »
baloodb : ajout d'un message expérimental
Introduction de l'outil « baloodb CLI »
Introduction de la classe « Nettoyeur »
[FileIndexerConfig] Delay populating folders until actually used
src/kioslaves/search/CMakeLists.txt - link to Qt5Network following changes to kio
balooctl: checkDb should also verify the last known url for the documentId
Surveillance « balooctl » : reprendre pour attendre l'exécution du service
Icônes « Breeze »
add window-pin icon (bug 385170 add window-pin icon)
Renommage des icônes de 64 pixels, ajoutées pour elisa
change 32px icons for playlist shuffle and repeat
Missing icons for inline Messages (bug 392391)
Nouvel icône pour le lecteur de musique Elisa
Ajout d'icônes d'état pour des média
Suppression de cadre autour des icônes d'actions sur média.
add media-playlist-append and play icons
Ajout de « view-media-album » pour « babe »
Modules additionnels « CMake »
Make use of upstream CMake infrastructure to detect the compiler toolchain
API dox: fix some "code-block" lines to have empty lines before/after
Ajout de « ECMSetupQtPluginMacroNames »
Provide androiddeployqt with all prefix paths
Inclusion de « stdcpp-path »dans le fichier « json »
Résolution des liens symboliques dans les emplacements d'importation « QML »
Provide QML import paths to androiddeployqt
Intégration avec l'environnement de développement
kpackage-install-handlers/kns/CMakeLists.txt - link to Qt::Xml following changes in knewstuff
KActivitiesStats
Do not assume SQLite works and do not terminate on errors
Outils KDE avec « DOxygen »
Look first for qhelpgenerator-qt5 for help generation
KArchive
karchive, kzip: try to handle duplicate files in a bit nicer way
Use nullptr for passing a null pointer to crc32
KCMUtils
Make it possible to request a plugin configuration module programatically
Consistently use X-KDE-ServiceTypes instead of ServiceTypes
Ajout « X-KDE-OnlyShowOnQtPlatforms » à la définition de « KCModule servicetype »
KCoreAddons
KTextToHTML : retour si l'« URL » est vide
Cleanup m_inotify_wd_to_entry before invalidating Entry pointers (bug 390214)
KDeclarative
Paramètre une seule fois de « QQmlEngine » dans « QmlObject »
KDED
Ajout « X-KDE-OnlyShowOnQtPlatforms » à la définition de « KDEDModule servicetype »
KDocTools
Add entities for Elisa, Markdown, KParts, DOT, SVG to general.entities
customization/ru: Fix translation of underCCBYSA4.docbook and underFDL.docbook
Fix duplicate lgpl-notice/gpl-notice/fdl-notice
customization/ru: Translate fdl-notice.docbook
change spelling of kwave requested by the maintainer
KFileMetaData
taglibextractor: Refactor for better readability
KGlobalAccel
Don't assert if used incorrectly from dbus (bug 389375)
KHolidays
holidays/plan2/holiday_in_en-gb - update holiday file for India (bug 392503)
This package was not be updated. Perhaps a problem with script
Reworked the holiday files for Germany (bug 373686)
Format README.md as the tools expect (with an Introduction section)
KHTML
Éviter de demander un protocole vide
KI18n
Make sure ki18n can build its own translations
Don't call PythonInterp.cmake in KF5I18NMacros
Rendre possible la génération de fichiers « po » en parallèle
Create a constructor for KLocalizedStringPrivate
KIconThemes
Make KIconEngine export comment accurate
Éviter une erreur à l'exécution « asan »
KInit
Delete IdleSlave having temporary authorization
KIO
Ensure that the model is set when resetResizing is called
Le fichier « pwd.h » est absent de Windows
Remove Recently Saved This Month and Recently Saved Last Month entries by default
Exécution de la compilation de « Kio » pour Android.
Temporarily disable installation of file ioslave's kauth helper and policy file
Handle privilege operation confirmation prompts in SlaveBase rather than in KIO::Job
Improve consistency of "Open With" UI by always showing top app inline
Fix crash when device emits ready read after job is finished
Highlight selected items when showing parent folder from the open/save dialog (bug 392330)
Prise en charge des fichiers masqués « NTFS »
Consistently use X-KDE-ServiceTypes instead of ServiceTypes
Fix assert in concatPaths when pasting a full path into KFileWidget's lineedit
[KPropertiesDialog] Support Checksum tab for any local path (bug 392100)
[KFilePlacesView] Call KDiskFreeSpaceInfo only if necessary
FileUndoManager : ne pas supprimer les fichiers locaux non existants
[KProtocolInfoFactory] Don't clear cache if it had just been built
Don't try to find an icon for a relative URL either (e.g. '~')
Use correct item URL for Create New context menu (bug 387387)
Fix more cases of incorrect parameter to findProtocol
KUrlCompletion: early return if the URL is invalid like ":/"
Don't try to find an icon for an empty url
Kirigami
Icônes plus grandes pour les plate-formes mobiles
Forcer une taille de contenu dans l'élément de style pour l'arrière-plan
Add InlineMessage type and Gallery app example page
Meilleure coloration par sélection heuristique
make loading from local svgs actually work
support the android icon loading method as well
Utilisation d'une stratégie de coloration similaires aux précédents styles différents
[Carte] Utilisation de l'implémentation personnelle de « findIndex »
kill network transfers if we change icon while running
Premier prototype pour le recycleur délégué
Allow OverlaySheet clients to omit the built-in close button
Composants pour les cartes
Correction de la taille de « ActionButton »
Make passiveNotifications last longer, so users can actually read them
Supprimer les dépendances inutilisées de « QQC1 »
Format de « ToolbarApplicationHeader »
Rend possible l'affichage du titre même sans avoir d'actions « ctx »
KNewStuff
Actually vote when clicking stars in the list view (bug 391112)
Environnement de développement « KPackage »
Tentative de correction de la compilation pour « FreeBSD »
Utiliser « Qt5::rcc » au lieu de rechercher l'exécutable
Use NO_DEFAULT_PATH to ensure the right command is picked up
Regarder aussi les exécutables préfixés « rcc »
Définir le composant pour la génération correcte de « qrc »
Correction de la génération de paquets binaires « rcc »
Generate the rcc file every time, at install time
Make org.kde. components include a donate URL
Mark kpackage_install_package undeprecated for plasma_install_package
KPeople
Présentation de « PersonData::phoneNumber » à « QML »
Kross
Aucun nécessité d'avoir « kdoctools »
KService
API dox: consistently use X-KDE-ServiceTypes instead of ServiceTypes
KTextEditor
Make it possible for KTextEditor to build on Android NDK's gcc 4.9
avoid Asan runtime error: shift exponent -1 is negative
Optimisation de « TextLineData::attribute »
Ne pas calculer « attribute() » deux fois
Revert Fix: View jumps when Scroll past end of document is enabled (bug 391838)
Ne pas polluer l'historique du presse-papier avec des duplicatas
KWayland
Ajout d'une interface d'accès à distance à Wayland
[server] Add support for the frame semantics of Pointer version 5 (bug 389189)
KWidgetsAddons
KColorButtonTest : supprimer le code « A faire »
ktooltipwidget: Subtract margins from available size
[KAcceleratorManager] Only set iconText() if actually changed (bug 391002)
ktooltipwidget: Prevent offscreen display
KCapacityBar: set QStyle::State_Horizontal state
Synchroniser les modifications de « KColorScheme »
ktooltipwidget: Fix tooltip positioning (bug 388583)
KWindowSystem
Ajout de « SkipSwitcher » à l'« API »
[xcb] Fix implementation of _NET_WM_FULLSCREEN_MONITORS (bug 391960)
Réduction du temps de pause de « plasmashell »
ModemManagerQt
cmake: don't flag libnm-util as found when ModemManager is found
NetworkManagerQt
Exporter les dossiers d'inclusions du « NetworkManager »
Démarrage nécessitant « NM 1.0.0 »
device: define StateChangeReason and MeteredStatus as Q_ENUMs
Fix conversion of AccessPoint flags to capabilities
Environnement de développement de Plasma
Wallpaper templates: set background color to ensure contrast to sample text content
Ajout d'un modèle pour les fonds d'écran de Plasma avec extension « QML »
[ToolTipArea] Ajout du signal « aboutToShow »
windowthumbnail: Use gamma correct scaling
windowthumbnail: Use mipmap texture filtering (bug 390457)
Suppression des entrées non utilisées de « X-Plasma-RemoteLocation »
Templates: drop unused X-Plasma-DefaultSize from applet metadata
Consistently use X-KDE-ServiceTypes instead of ServiceTypes
Templates: drop unused X-Plasma-Requires-* entries from applet metadata
Suppression des ancres d'éléments dans un format
Réduction du temps de pause de « plasmashell »
preload only after the containment emitted uiReadyChanged
Correction d'une rupture pour les listes à menu déroulant (bogue 392026)
Fix text scaling with non-integer scale factors when PLASMA_USE_QT_SCALING=1 is set (bug 356446)
Nouvelles icônes pour les périphériques déconnectés ou désactivés
[Dialog] Allow setting outputOnly for NoBackground dialog
[ToolTip] Check file name in KDirWatch handler
Disable deprecation warning from kpackage_install_package for now
[Breeze Plasma Theme] Apply currentColorFix.sh to changed media icons
[Breeze Plasma Theme] Add media status icons with circles
Suppression des trames autour des boutons de média
[Window Thumbnail] Allow using atlas texture
[Dialog] Remove now obsolete KWindowSystem::setState calls
Prise en charge des textures « Atlas » dans « FadingNode »
Fix FadingMaterial fragment with core profile
QQC2StyleBridge
Correction du rendu lorsque désactivée
Meilleure disposition
Prise en charge expérimental des moyens mnémotechniques automatiques
Make sure we are taking into account the size of the element when styling
Fix font rendering for non-HiDPI and integer scale factors (bug 391780)
Correction des couleurs d'icônes avec des jeux de couleurs
Correction des couleurs d'icônes pour les boutons de menus
Opaque
Solid can now query for batteries in e.g. wireless gamepads and joysticks
Utilisation des énumérations récemment définies
add gaming_input devices and others to Battery
Ajout d'une énumération des périphériques de batteries
[UDevManager] Also explicitly query for cameras
[UDevManager] Already filter for subsystem before querying (bug 391738)
Sonnet
Don't impose using the default client, pick one that supports the requested language.
Include replacement strings in the suggestion list
implement NSSpellCheckerDict::addPersonal()
NSSpellCheckerDict::suggest() returns a list of suggestions
initialise NSSpellChecker language in NSSpellCheckerDict ctor
implement NSSpellChecker logging category
« NSSpellChecker » nécessite « AppKit »
Move NSSpellCheckerClient::reliability() out of line
Utilisation du jeton préféré pour la plate-forme « Mac »
Use correct directory to lookup trigrams in windows build dir
Coloration syntaxique
Rendre possible la construction complète d'un projet avec compilation croisée
Nouvelle conception du générateur de syntaxe « CMake »
Optimize highlighting Bash, Cisco, Clipper, Coffee, Gap, Haml, Haskell
Ajout d'une coloration syntaxique pour les fichiers « MIB »
Informations sur la sécurité
Le code publié a été signé en « GPG » avec la clé suivante  pub rsa2048/58D0EE648A48B3BB 2016-09-05 David Faure <faure@kde.org> Empreinte de la clé primaire : 53E6 B47B 45CE A3E0 D5B7 4577 58D0 EE64 8A48 B3BB
Vous pouvez discuter et partager vos idées sur cette version dans la section des commentaires de l'article.
Installation de paquets binaires
Sous Linux, l'utilisation de paquets pour votre distribution préférée est le moyen recommandé pour accéder aux environnements de développement de KDE. Obtenez les logiciels de KDE sur votre page wiki de votre distribution Linux
Compilation à partir des sources
Le code source complet des environnements de développement 5.45.0 de KDE peut être librement téléchargé. Les instructions pour sa compilation et son installation sont disponibles à partir de la page d'informations sur les environnements de développement de KDE 5.45.0.
La compilation à partir des sources est possible en utilisant le classique enchaînement cmake . ; make ; make install. Pour un seul environnement tiers, il s'agit souvent de solution la plus facile. Les personnes intéressées à contribuer à des environnements de développement ou par le suivi des progrès dans le développement de l'ensemble sont encouragés à utiliser kdesrc-build. Les environnements de développement 5.45.0 nécessite Qt .
Une liste détaillée de tous les environnements de développement et des autres bibliothèques Qt tierces se trouve sur la page inqlude.org sous forme d'une archive conservée des bibliothèques Qt. Une liste complète avec la documentation des API se trouve sur la page api.kde.org.
Soyez impliqués
Les personnes souhaitant suivre et contribuer au développement des environnements de développement peuvent consulter les dépôts « git » et de suivre les discussions sur la liste de diffusions concernant le développement des environnements de développement de KDE. La stratégie et l'état actuel du projet et des plans sont disponibles à la page de wiki des environnements de développement. Les discussions en temps réel se font sur le canal « IRC » #kde-devel sur le forum de discussions « Libera ».
Soutien à KDE
KDE est une communauté de logiciels libres existant et grandissant grâce à l'aide de nombreux bénévoles, qui donnent de leur temps et de leurs efforts. KDE est toujours à la recherche de nouveaux bénévoles et de nouvelles contributions, qu'il s'agisse de codage, de correction de bogues ou de rapport d'avancement, de rédaction de documents, de traductions, de promotion, d'argent, etc. Toutes les contributions sont appréciées et acceptées avec enthousiasme. Veuillez lire la page « Soutenir KDE » pour plus de détails ou devenir un membre actif de KDE e.V. grâce à notre initiative Rejoindre le jeu.