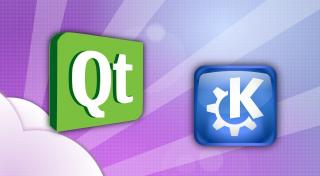 Samedi, 10 Mars 2018
KDE publie aujourd'hui la version 5.44.0 des environnements de développement de KDE.
Les environnements de développement de KDE sont 70 bibliothèques additionnelles à Qt, fournissant un large éventail de fonctionnalités nécessaires les plus communes, sous une forme matures, revues par des pairs et aussi largement testées, avec des conditions de licences acceptables. Pour plus d'informations, veuillez consulter les annonces de publications des environnements de développement de KDE.
Cette mise à jour fait partie d'une série de mise à jours mensuelles, permettant la mise à disposition des améliorations de manière rapide et prévisible pour les développeurs.
Nouveautés de cette version
Baloo
balooctl: Remove checkDb option (bug 380465)
indexerconfig : description de certaines fonctions
indexerconfig: Expose canBeSearched function (bug 388656)
Surveillance de « balooctl » : attente de l'interface « D-Bus »
fileindexerconfig: Introduce canBeSearched() (bug 388656)
Icônes « Breeze »
remove view-media-playlist from preferences icons
Ajout d'une icône « 24px » pour « media-album-cover »
Ajout de la prise en charge de « Babe QML » (22px)
Mise à jour des icônes de poignées pour « kirigami »
Ajout d'icônes « 64px » multimédia pour Elisa
Modules additionnels « CMake »
Définition de « ANDROID_API »
Correction du nom de la commande « readelf » sur « x86 »
Android toolchain: add ANDROID_COMPILER_PREFIX variable, fix include path for x86 targets, extend search path for NDK dependencies
Outils KDE avec « DOxygen »
Exit in error if the output directory is not empty (bug 390904)
KConfig
Save some memory allocations by using the right API
Exportation de « kconf_update » pour les outils
KConfigWidgets
Improve KLanguageButton::insertLanguage when no name is passed
Add icons for KStandardActions Deselect and Replace
KCoreAddons
Cleanup m_inotify_wd_to_entry before invalidating Entry pointers (bug 390214)
kcoreaddons_add_plugin: remove effectless OBJECT_DEPENDS on json file
Help automoc to find metadata JSON files referenced in the code
kcoreaddons_desktop_to_json: note the generated file in the build log
Basculement de « shared-mime-info » vers la version 1.3
Introduction de « K_PLUGIN_CLASS_WITH_JSON »
KDeclarative
Correction de l'échec de compilation pour l'architecture « armhf/aarch64 »
Arrêt de « QmlObjectIncubationController »
disconnect render() on window change (bug 343576)
KHolidays
Allen Winter is now officially the maintainer of KHolidays
KI18n
API dox: add note about calling setApplicationDomain after QApp creation
KIconThemes
[KIconLoader] Take into account devicePixelRatio for overlays
KIO
Do not assume layout of msghdr and iovec structure (bug 391367)
Correction de la sélection de protocole dans « KUrlNavigator »
Remplacer « qSort » par « std::sort »
[KUrlNavigatorPlacesSelector] Use KFilePlacesModel::convertedUrl
[Drop Job] Create proper trash file on linking
Fix unintentional breadcrumb menu item activation (bug 380287)
[KFileWidget] Hide places frame and header
[KUrlNavigatorPlacesSelector] Put categories into submenus (bug 389635)
Favoriser l'utilisation de l'en-tête d'assistant standard de test « KIO »
Add Ctrl+H to the list of shortcuts for "show/hide hidden files" (bug 390527)
Add move semantics support to KIO::UDSEntry
Fix "ambiguous shortcut" issue introduced with D10314
Stuff the "Couldn't find executable" message box into a queued lambda (bug 385942)
Improve usability of "Open With" dialog by adding option to filter the application tree
[KNewFileMenu] KDirNotify::emitFilesAdded after storedPut (bug 388887)
Fix assert when cancelling the rebuild-ksycoca dialog (bug 389595)
Fix bug #382437 "Regression in kdialog causes wrong file extension" (bug 382437)
Démarrage plus rapide de tâches simples
Repair copying file to VFAT without warnings
kio_file: skip error handling for initial perms during file copy
Permettre de générer la sémantique de déplacement pour « KFileItem ». Le constructeur de copie, le destructeur et l'opérateur d'affectation de copie existants sont maintenant également générés par le compilateur.
Don't stat(/etc/localtime) between read() and write() copying files (bug 384561)
Distant : ne pas créer des entrées avec des noms vides
Ajout d'une fonctionnalité « Thèmes pris en charge »
Use F11 as the shortcut to toggle the aside preview
[KFilePlacesModel] Group network shares under "Remote" category
Kirigami
Show tool button as checked while the menu is shown
Indicateurs de défilement non interactifs pour plate-forme mobile
Correction des sous-menus d'actions
Rendre possible l'utilisation des actions « QQC2 »
Make it possible to support exclusive action groups (bug 391144)
Show the text by the page action tool buttons
Rendre possible pour des actions d'afficher des sous-menus
Don't have specific component position in its parent
Don't trigger SwipeListItem's actions unless they are exposed
Ajout d'une vérification « isNull() » avant de définir si « QIcon » est un masque
Ajout de « FormLayout.qml » à « kirigami.qrc »
Correction des couleurs de « swipelistitem »
Meilleur comportement avec les en-têtes et les pieds de page
Improve ToolBarApplicationHeader left padding and eliding behavior
Make sure the navigation buttons don't go under the action
support for header and footer properties in overlaysheet
Eliminate unnecessary bottom padding on OverlaySheets (bug 390032)
Améliorations de l'apparence de l'entête de l'application pour la barre d'outils
Affiche un bouton « Fermer » sur le bureau (bogue 387815)
Impossible de fermer la feuille avec la molette de la souris
Only multiply the icon size if Qt isn't doing it already (bug 390076)
Prise en compte du pied de page global pour la position de la poignée
Évènements encadrant la création et la destruction de barre de défilement
ScrollView: Make the scrollbar policy public and fix it
KNewStuff
Add vokoscreen to KMoreTools and add it to the "screenrecorder" grouping
KNotification
Utilisation de « QWidget » pour voir si la fenêtre est visible
Environnement de développement « KPackage »
Help automoc to find metadata JSON files referenced in the code
KParts
Nettoyage du code ancien et mort
KRunner
Mise à jour du modèle pour le module externe « krunner »
KTextEditor
Add icons for KTextEditor Document-Export, Bookmark-Remove and Formatting Text Upppercase, Lowercase and Capitalize
KWayland
Implement releasing of client-freed output
[server] Properly handle the situation when the DataSource for a drag gets destroyed (bug 389221)
[server] Don't crash when a subsurface gets committed whose parent surface got destroyed (bug 389231)
KXMLGUI
Reset QLocale internals when we have a custom app language
Do not allow to configure separator actions via context menu
Don't show context menu if right-clicking outside (bug 373653)
Improve KSwitchLanguageDialogPrivate::fillApplicationLanguages
Icônes « Oxygen »
Ajout d'une icône pour Artikulate (bogue 317527)
Ajout de l'icône pour le dossier des jeux (bogue 318993)
fix incorrect 48px icon for calc.template (bug 299504)
add media-playlist-repeat and shuffle icon (bug 339666)
Oxygen: add tag icons like in breeze (bug 332210)
link emblem-mount to media-mount (bug 373654)
add network icons which are available in breeze-icons (bug 374673)
sync oxygen with breeze-icons add icons for audio plasmoid
Add edit-select-none to Oxygen for Krusader (bug 388691)
Ajout d'une icône pour l'évaluation ou l'absence d'évaluation (bogue 339863)
Environnement de développement de Plasma
Utilisation de la nouvelle valeur pour les espacement larges dans Kirigami
Reduce visibility of PC3 TextField placeholder text
Don't make Titles 20% transparent either
[PackageUrlInterceptor] Don't rewrite "inline"
Don't make Headings 20% transparent, to match Kirigami
don't put the fullrep in the popup if not collapsed
Help automoc to find metadata JSON files referenced in the code
[AppletQuickItem] Preload applet expander only if not already expanded
Autres micro-optimisations pour le préchargement
Définition du défaut pour « IconItem » à « smooth=true »
Ajoute du préchargement de la boîte de dialogue pour l'extension
[AppletQuickItem] Fix setting default preload policy if no environment variable is set
fix RTL appearance for ComboBox (bug https://bugreports.qt.io/browse/QTBUG-66446)
try to preload certain applets in a smart way
[Icon Item] Set filtering on FadingNode texture
Initialize m_actualGroup to NormalColorGroup
Make sure the FrameSvg and Svg instances have the right devicePixelRatio
Prison
Update links to dependencies, and mark Android as officially supported
Passage de la dépendance avec « DMTX » en optionnel
Ajoute de la prise en charge de « QML » pour Prison
Définition d'une taille minimale aussi pour les barres codes 1D
Motif
Correction d'un niveau pour accommodation à « Kio »
QQC2StyleBridge
Fix syntax error in previous commit, detected by launching ruqola
Show a radiobutton when we are showing an exclusive control (bug 391144)
Implémentation des éléments de la barre de menus
Implémentation du bouton de retardement
Nouveau composant : bouton rond
Prise en charge de la position de la barre d'outils
Prise en charge des couleur pour les icônes à l'intérieur des boutons
Prise en charge de l'option « --reverse »
Icônes totalement fonctionnelles dans le menu
consistent shadows with the new breeze style
Some QStyles seem to not return sensible pixelmetrics here
Première prise en charge grossières des icônes
Ne pas revenir au départ avec la molette de souris
Opaque
fix a leak and incorrect nullptr check in DADictionary
[UDisks] Fix auto-mount regression (bug 389479)
[UDisksDeviceBackend] Avoid multiple lookup
Mac/IOKit backend: support for drives, discs and volumes
Sonnet
Utilisation de « Locale::name() » au lieu de « Locale::bcp47Name() »
Recherche par « msvc » de la compilation de « libhunspell »
Coloration syntaxique
Basic support for PHP and Python fenced code blocks in Markdown
Prise en charge de « WordDetect » non sensible à la casse
Scheme highlighting: Remove hard-coded colors
Ajoute de la coloration syntaxique pour les politiques « CIL » de « SELinux » et des contextes de fichiers
Ajout de l'extension de fichier « ctp » pour la coloration syntaxique de « PHP ».
Yacc/Bison: Fix the $ symbol and update syntax for Bison
awk.xml: add gawk extension keywords (bug 389590)
Ajout de « APKBUILD » à mettre en surbrillance comme fichier « bash »
Revert "Add APKBUILD to be highlighted as a Bash file"
Ajout de « APKBUILD » à mettre en surbrillance comme fichier « bash »
Informations sur la sécurité
Le code publié a été signé en « GPG » avec la clé suivante  pub rsa2048/58D0EE648A48B3BB 2016-09-05 David Faure <faure@kde.org> Empreinte de la clé primaire : 53E6 B47B 45CE A3E0 D5B7 4577 58D0 EE64 8A48 B3BB
Vous pouvez discuter et partager vos idées sur cette version dans la section des commentaires de l'article.
Installation de paquets binaires
Sous Linux, l'utilisation de paquets pour votre distribution préférée est le moyen recommandé pour accéder aux environnements de développement de KDE. Obtenez les logiciels de KDE sur votre page wiki de votre distribution Linux
Compilation à partir des sources
Le code source complet des environnements de développement 5.44.0 de KDE peut être librement téléchargé. Les instructions pour sa compilation et son installation sont disponibles à partir de la page d'informations sur les environnements de développement de KDE 5.44.0.
La compilation à partir des sources est possible en utilisant le classique enchaînement cmake . ; make ; make install. Pour un seul environnement tiers, il s'agit souvent de solution la plus facile. Les personnes intéressées à contribuer à des environnements de développement ou par le suivi des progrès dans le développement de l'ensemble sont encouragés à utiliser kdesrc-build. Les environnements de développement 5.44.0 nécessite Qt .
Une liste détaillée de tous les environnements de développement et des autres bibliothèques Qt tierces se trouve sur la page inqlude.org sous forme d'une archive conservée des bibliothèques Qt. Une liste complète avec la documentation des API se trouve sur la page api.kde.org.
Soyez impliqués
Les personnes souhaitant suivre et contribuer au développement des environnements de développement peuvent consulter les dépôts « git » et de suivre les discussions sur la liste de diffusions concernant le développement des environnements de développement de KDE. La stratégie et l'état actuel du projet et des plans sont disponibles à la page de wiki des environnements de développement. Les discussions en temps réel se font sur le canal « IRC » #kde-devel sur le forum de discussions « Libera ».
Soutien à KDE
KDE est une communauté de logiciels libres existant et grandissant grâce à l'aide de nombreux bénévoles, qui donnent de leur temps et de leurs efforts. KDE est toujours à la recherche de nouveaux bénévoles et de nouvelles contributions, qu'il s'agisse de codage, de correction de bogues ou de rapport d'avancement, de rédaction de documents, de traductions, de promotion, d'argent, etc. Toutes les contributions sont appréciées et acceptées avec enthousiasme. Veuillez lire la page « Soutenir KDE » pour plus de détails ou devenir un membre actif de KDE e.V. grâce à notre initiative Rejoindre le jeu.