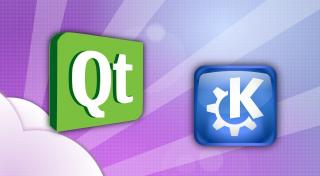 Samedi, 13 Janvier 2018
KDE publie aujourd'hui la version 5.42.0 des environnements de développement de KDE.
Les environnements de développement de KDE sont 70 bibliothèques additionnelles à Qt, fournissant un large éventail de fonctionnalités nécessaires les plus communes, sous une forme matures, revues par des pairs et aussi largement testées, avec des conditions de licences acceptables. Pour plus d'informations, veuillez consulter les annonces de publications des environnements de développement de KDE.
Cette mise à jour fait partie d'une série de mise à jours mensuelles, permettant la mise à disposition des améliorations de manière rapide et prévisible pour les développeurs.
Nouveautés de cette version
Changements généraux
Correction des alarmes « AUTOMOC » pour « cmake 3.10+ »
Utilisation plus répandue de la journalisation catégorisée, pour désactiver la sortie de débogage par défaut (utiliser « kdebugsetting » pour la réactiver).
Baloo
État de « balooctl » : traitement de tous les arguments
Correction de multiples demandes d'étiquettes de mots
Simplifier les conditions de renommage
Correction des noms incorrects d'affichage « UDSEntry »
Icônes « Breeze »
Fix icon name "weather-none" -> "weather-none-available" (bug 379875)
remove Vivaldi icon cause the origin app icon fits perfect with breeze (bug 383517)
Ajout de quelques types « MIME » manquants
Breeze-icons add document-send icon (bug 388048)
Mise à jour de l'icône pour l'artiste de l'album
Ajout de la prise en charge de « labplot-editlayout »
Suppression des duplicatas et mise à jour du thème « Dark »
Ajout de la prise en charge de l'icône de style « Breeze » pour GNUmeric
Modules additionnels « CMake »
Utiliser « readelf » pour identifier les dépendances de projet
Introduce INSTALL_PREFIX_SCRIPT to easily set up prefixes
KActivities
avoid crash in kactivities if no dbus connection is available
KConfig
API docs: explain how to use KWindowConfig from a dialog constructor
Obsolescence de « KDesktopFile::sortOrder() »
Fix the result of KDesktopFile::sortOrder()
KCoreAddons
Extend CMAKE_AUTOMOC_MACRO_NAMES also for own build
Correspondance des clés de licences par « spdx »
KDBusAddons
Fix absolute path detection for cmake 3.5 on Linux
Ajout d'une fonction « cmake » pour « kdbusaddons_generate_dbus_service_file »
KDeclarative
Contrôle « Qml » pour la création « kcm »
KDED
Use cmake function 'kdbusaddons_generate_dbus_service_file' from kdbusaddons to generate dbus service file
Add used property to service file definition
Prise en charge de « KDELibs 4 »
Inform the user if the module can not be registered with org.kde.kded5 and exit with error
Correction de compilation pour « Mingw32 »
KDocTools
Ajout d'une entité pour Michael Pyne
add entities for Martin Koller to contributor.entities
Correction de l'entrée « Debian »
Ajout d'une entité « Debian » à « general.entities »
Ajout d'une entité « kbackup », déjà importée
add entity latex, we have already 7 entities in different index.docbooks in kf5
KEmoticons
Add scheme (file://). It's necessary when we use it in qml and we added all
KFileMetaData
Supprimer l'extracteur reposant sur « QtMultimedia »
Check for Linux instead of TagLib and avoid building the usermetadatawritertest on Windows
Restore # 6c9111a9 until a successful build and link without TagLib is possible
Remove the taglib dependency, caused by a left-over include
KHTML
Finally allow to disable debug output by using categorized logging
KI18n
do not treat ts-pmap-compile as executable
Correction d'une fuite mémoire dans « KuitStaticData »
KI18n : correction d'un nombre dans les recherches dupliquées
KInit
Supprimer l'impossibilité d'atteindre le code
KIO
Properly parse dates in cookies when running in non-English locale (bug 387254)
[kcoredirlister] correction de la création des sous-emplacements
Report de l'état de la corbeille dans « iconNameForUrl »
Forward QComboBox signals instead of QComboBox lineedit signals
Fixed webshortcuts showing their file path instead of their human-readable name
TransferJob : correction dans le cas où le signal « readChannelFinished » a déjà été émis avant que l'appel à « start() » (bogue 386246)
Fix crash, presumably since Qt 5.10? (bug 386364)
KUriFilter : ne pas renvoyer une erreur pour des fichiers non existants
Correction de la création d'emplacements
Implement a kfile dialog where we can add custom widget
Verify that qWaitForWindowActive doesn't fail
KUriFilter: port away from KServiceTypeTrader
API dox: use class names in titles of example screenshots
API dox: also deal with KIOWIDGETS export macros in QCH creation
fix handling of KCookieAdvice::AcceptForSession (bug 386325)
Created 'GroupHiddenRole' for KPlacesModel
forward socket error string to KTcpSocket
Refactor and remove duplicate code in kfileplacesview
Émission du signal « groupHiddenChanged »
Refactoring the hidding/showing animation use within KFilePlacesView
User can now hide an entire places group from KFilePlacesView (bug 300247)
Hidding place groups implementation in KFilePlacesModel (bug 300247)
[KOpenWithDialog] Remove redundant creation of KLineEdit
Ajout de la prise en charge de l'annulation de « BatchRenameJob »
Ajout de « BatchRenameJob » à « KIO »
Fix doxygen code block not ending with endcode
Kirigami
Maintien d'une interaction réactive
Préfixe également correct pour les icônes
Correction du dimensionnement de formes
read wheelScrollLines from kdeglobals if existing
add a prefix for kirigami files to avoid conflicts
Quelques correction de liaisons statiques
Déplacement des styles de Plasma vers « plasma-framework »
Use single quotes for matching characters + QLatin1Char
FormLayout
KJobWidgets
Offer QWindow API for KJobWidgets:: decorators
KNewStuff
Limiter la taille du cache de requêtes
Require the same internal version as you're building
Prevent global variables from been using after freeing
KNotification
[KStatusNotifierItem] Don't "restore" widget position on its first show
Use positions of legacy systray icons for Minimize/Restore actions
Handle positions of LMB clicks on legacy systray icons
Ne pas traiter le menu contextuel comme une fenêtre
Ajout d'un commentaire explicatif
Lazy-instanciate and lazy-load KNotification plugins
Environnement de développement « KPackage »
Invalidation du cache d'exécution à l'installation
experimental support for rcc files loading in kpackage
Compilation avec Qt 5.7
Fix up package indexing and add runtime caching
Nouvelle méthode « KPackage::fileUrl() »
KRunner
[RunnerManager] Don't mess with ThreadWeaver thread count
KTextEditor
Correction la correspondance avec les caractères « joker » pour les modificateurs
Fix a regression caused by changing backspace key behavior
port to non-deprecated API like already used at other place (bug 386823)
Ajout d'un « include » manquant pour « std::array »
MessageInterface: Add CenterInView as additional position
Nettoyage du lanceur « QStringList »
Environnement de développement « KWallet »
Use correct service executable path for installing kwalletd dbus service on Win32
KWayland
Correction des incohérences de nommage
Create interface for passing server decoration palettes
Inclure explicitement les fonctions « std::bind »
[server] Add a method IdleInterface::simulateUserActivity
Fix regression caused by backward compatibility support in data source
Add support for version 3 of data device manager interface (bug 386993)
Scope exported/imported objects to the test
Fix error in WaylandSurface::testDisconnect
Ajout d'un protocole explicite « AppMenu »
Correction de l'exclusion de fichiers produits dans la fonctionnalité « automoc »
KWidgetsAddons
Correction de plantage de « setMainWindow » dans « Wayland »
KXMLGUI
API dox: make doxygen cover session related macros & functions again
Disconnect shortcutedit slot on widget destruction (bug 387307)
NetworkManagerQt
802-11-x : prise en charge de la méthode « EAP »
Environnement de développement de Plasma
[Air theme] Add task bar progress graphic (bug 368215)
Templates: remove stray * from license headers
make packageurlinterceptor as noop as possible
Revert "Don't tear down renderer and other busy work when Svg::setImagePath is invoked with the same arg"
Déplacement ici des styles « Kirigami » de Plasma
Suppression des barres de défilement sur mobile.
reuse KPackage instance between PluginLoader and Applet
[AppletQuickItem] Only set QtQuick Controls 1 style once per engine
Don't set a window icon in Plasma::Dialog
[RTL] - align properly the selected text for RTL (bug 387415)
Initialize scale factor to the last scale factor set on any instance
Revert "Initialize scale factor to the last scale factor set on any instance"
Don't update when the underlying FrameSvg is repaint-blocked
Initialize scale factor to the last scale factor set on any instance
Déplacer si vérifier à l'intérieur de #ifdef
[FrameSvgItem] Ne créer pas de nœuds inutiles
Don't tear down renderer and other busy work when Svg::setImagePath is invoked with the same arg
Prison
Veuillez aussi regarder « qrencode » avec le suffixe « debug »
QQC2StyleBridge
Simplifier et n'essayer pas de bloquer les évènements de souris
si aucun «  », utiliser les lignes globales de défilement avec la molette
Les barres d'onglets possèdent différentes largeurs pour chaque onglet
Vérification que la taille de l'astuce est non nulle.
Sonnet
Ne pas exporter des exécutable internes d'assistant
Sonnet: fix wrong language for suggestions in mixed-language texts
Suppression du contournement ancient et cassé
Ne pas créer de liens circulaires sous Windows
Coloration syntaxique
Highlighting indexer: Warn about context switch fallthroughContext="#stay"
Highlighting indexer: Warn about empty attributes
Indexeur de coloration syntaxique : activation des erreurs
Highlighting indexer: report unused itemDatas and missing itemDatas
Prolog, RelaxNG, RMarkDown: Fix highlighting issues
Haml : correction des « itemDatas » non valables ou non utilisés
ObjectiveC++: Remove duplicate comment contexts
Diff, ObjectiveC++: Cleanups and fix highlighting files
XML (Debug): Fix incorrect DetectChar rule
Highlighting Indexer: Support cross-hl context checking
Revert: Add GNUMacros to gcc.xml again, used by isocpp.xml
email.xml: add *.email to the extensions
Highlighting Indexer: Check for infinite loops
Highlighting Indexer: Check for empty context names and regexps
Fix referencing of non-existing keyword lists
Correction les cas simples de contextes dupliqués
Correction les duplicatas « itemDatas »
Correction des règles « DetectChar » et « Detect2Chars »
Highlighting Indexer: Check keyword lists
Highlighting Indexer: Warn about duplicate contexts
Highlighting Indexer: Check for duplicate itemDatas
Highlighting indexer: Check DetectChar and Detect2Chars
Validate that for all attributes an itemData exists
Informations sur la sécurité
Le code publié a été signé en « GPG » avec la clé suivante  pub rsa2048/58D0EE648A48B3BB 2016-09-05 David Faure <faure@kde.org> Empreinte de la clé primaire : 53E6 B47B 45CE A3E0 D5B7 4577 58D0 EE64 8A48 B3BB
Vous pouvez discuter et partager vos idées sur cette version dans la section des commentaires de l'article.
Installation de paquets binaires
Sous Linux, l'utilisation de paquets pour votre distribution préférée est le moyen recommandé pour accéder aux environnements de développement de KDE. Obtenez les logiciels de KDE sur votre page wiki de votre distribution Linux
Compilation à partir des sources
Le code source complet des environnements de développement 5.42.0 de KDE peut être librement téléchargé. Les instructions pour sa compilation et son installation sont disponibles à partir de la page d'informations sur les environnements de développement de KDE 5.42.0.
La compilation à partir des sources est possible en utilisant le classique enchaînement cmake . ; make ; make install. Pour un seul environnement tiers, il s'agit souvent de solution la plus facile. Les personnes intéressées à contribuer à des environnements de développement ou par le suivi des progrès dans le développement de l'ensemble sont encouragés à utiliser kdesrc-build. Les environnements de développement 5.42.0 nécessite Qt .
Une liste détaillée de tous les environnements de développement et des autres bibliothèques Qt tierces se trouve sur la page inqlude.org sous forme d'une archive conservée des bibliothèques Qt. Une liste complète avec la documentation des API se trouve sur la page api.kde.org.
Soyez impliqués
Les personnes souhaitant suivre et contribuer au développement des environnements de développement peuvent consulter les dépôts « git » et de suivre les discussions sur la liste de diffusions concernant le développement des environnements de développement de KDE. La stratégie et l'état actuel du projet et des plans sont disponibles à la page de wiki des environnements de développement. Les discussions en temps réel se font sur le canal « IRC » #kde-devel sur le forum de discussions « Libera ».
Soutien à KDE
KDE est une communauté de logiciels libres existant et grandissant grâce à l'aide de nombreux bénévoles, qui donnent de leur temps et de leurs efforts. KDE est toujours à la recherche de nouveaux bénévoles et de nouvelles contributions, qu'il s'agisse de codage, de correction de bogues ou de rapport d'avancement, de rédaction de documents, de traductions, de promotion, d'argent, etc. Toutes les contributions sont appréciées et acceptées avec enthousiasme. Veuillez lire la page « Soutenir KDE » pour plus de détails ou devenir un membre actif de KDE e.V. grâce à notre initiative Rejoindre le jeu.