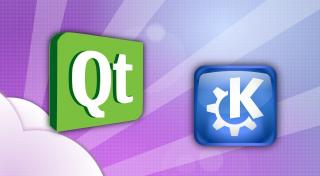 Dimanche, 10 Décembre 2017
KDE publie aujourd'hui la version 5.41.0 des environnements de développement de KDE.
Les environnements de développement de KDE sont 70 bibliothèques additionnelles à Qt, fournissant un large éventail de fonctionnalités nécessaires les plus communes, sous une forme matures, revues par des pairs et aussi largement testées, avec des conditions de licences acceptables. Pour plus d'informations, veuillez consulter les annonces de publications des environnements de développement de KDE.
Cette mise à jour fait partie d'une série de mise à jours mensuelles, permettant la mise à disposition des améliorations de manière rapide et prévisible pour les développeurs.
Nouveautés de cette version
Baloo
Strip down and re-write the baloo tags KIO slave (bug 340099)
BluezQt
Do not leak rfkill file descriptors (bug 386886)
Icônes « Breeze »
Ajout des tailles manquantes d'icônes (bogue 384473)
Ajouter, installer et désinstaller les icônes pour « Discover »
Modules additionnels « CMake »
Ajout d'une étiquette de description pour les fichiers générés par « pkgconfig »
ecm_add_test: Use proper path sep on Windows
Ajout de « FindSasl2.cmake » à « ECM »
Only pass the ARGS thing when doing Makefiles
Add FindGLIB2.cmake and FindPulseAudio.cmake
ECMAddTests: set QT_PLUGIN_PATH so locally built plugins can be found
KDECMakeSettings: more docu about the layout of the build dir
Intégration avec l'environnement de développement
Support downloading the 2nd or 3rd download link from a KNS product (bug 385429)
KActivitiesStats
Start fixing libKActivitiesStats.pc: (bug 386933)
KActivities
Fix race that starts kactivitymanagerd multiple times
KAuth
Allow to only build the kauth-policy-gen code generator
Ajout d'une note concernant l'appel à l'assistant pour les applications multi-processus.
KBookmarks
Do not show edit bookmarks action if keditbookmarks is not installed
Port from deprecated KAuthorized::authorizeKAction to authorizeAction
KCMUtils
Navigation au clavier avec et sans « QML kcms »
KCompletion
Do not crash when setting new line edit on an editable combo box
KComboBox: Return early when setting editable to previous value
KComboBox: Reuse the existing completion object on new line edit
KConfig
Don't look for /etc/kderc every single time
KConfigWidgets
Utiliser une couleur par défaut pour correspondre aux nouvelles couleurs dans « D7424 »
KCoreAddons
Validation des entrées de « SubJobs »
Signaler les erreurs lors du traitement de fichiers « json »
Install mimetype definitions for kcfg/kcfgc/ui.rc/knotify & qrc files
Ajout d'une nouvelle fonction pour mesurer la longueur par texte
Fix KAutoSave bug on file with white space in it
KDeclarative
Exécution de sa compilation sous Windows
make it compile with QT_NO_CAST_FROM_ASCII/QT_NO_CAST_FROM_BYTEARRAY
[MouseEventListener] Allow accepting mouse event
Utilisation du moteur simple « QML »
KDED
kded : suppression des appels « D-Bus » vers « ksplash »
KDocTools
Mise à jour de la traduction en portugais brésilien
Mise à jour de la traduction en russe
Mise à jour de la traduction en russe
Update customization/xsl/ru.xml (nav-home was missing)
KEmoticons
KEmoticons: port plugins to JSON and add support for loading with KPluginMetaData
Do not leak symbols of pimpl classes, protect with Q_DECL_HIDDEN
KFileMetaData
L'utilisation de « usermetadatawritertest » nécessite « Taglib »
If the property value is null, remove the user.xdg.tag attribute (bug 376117)
Ouvrir les fichiers en lecture seule dans l'extracteur « TagLib »
KGlobalAccel
Regroupement de certains appels « D-Bus » bloquants
kglobalacceld: Avoid loading an icon loader for no reason
Générer des chaînes de raccourcis correctes
KIO
KUriFilter : filtrer les modules externes dupliqués
KUriFilter: simplify data structures, fix memory leak
[CopyJob] Don't start all over after having removed a file
Fix creating a directory via KNewFileMenu+KIO::mkpath on Qt 5.9.3+ (bug 387073)
Created an auxiliary function 'KFilePlacesModel::movePlace'
Expose KFilePlacesModel 'iconName' role
KFilePlacesModel: Avoid unnecessary 'dataChanged' signal
Return a valid bookmark object for any entry in KFilePlacesModel
Create a 'KFilePlacesModel::refresh' function
Create 'KFilePlacesModel::convertedUrl' static function
KFilePlaces : création d'une section « A distance »
KFilePlaces : ajout d'une section pour les périphériques amovibles
Ajout des « URL » de « baloo » dans le modèle d'emplacements
Correction de « KIO::mkpath » avec qtbase 5.10 « bêta » 4
[KDirModel] Emit change for HasJobRole when jobs change
Change label "Advanced options" > "Terminal options"
Kirigami
Offset the scrollbar by the header size (bug 387098)
bottom margin based on actionbutton presence
Ne pas prendre l'hypothèse de disponibilité de « applicationWidnow()  »
Don't notify about value changes if we are still in the constructor
Remplacement du nom de bibliothèque dans la source
Prise en charge de couleurs dans plus d'emplacements
Icônes de couleurs pour les barres d'outils, si nécessaire.
Considérer les couleurs des icônes dans les boutons principaux d'actions
Création d'une propriété groupée « Icône »
KNewStuff
Revert "Detach before setting the d pointer" (bug 386156)
do not install development tool to aggregate desktop files
[knewstuff] Do not leak ImageLoader on error
Environnement de développement « KPackage »
Properly do strings in the kpackage framework
Don't try to generate metadata.json if there's no metadata.desktop
Correction de la mise en cache de « kpluginindex »
Améliorer l'affichage des erreurs
KTextEditor
Correction des commandes de mise en buffer « VI-Mode »
Se prémunir d'un zoom accidentel
KUnitConversion
Portage de « QDom » vers « QXmlStreamReader »
Utiliser « https » pour télécharger les taux de conversion de devises
KWayland
Expose wl_display_set_global_filter as a virtual method
Correction de « kwayland-testXdgShellV6 »
Add support for zwp_idle_inhibit_manager_v1 (bug 385956)
[server] Support inhibiting the IdleInterface
KWidgetsAddons
Éviter des incohérences dans « passworddialog »
Définition de l'indication « enable_blur_behind » sur demande
KPageListView: Update width on font change
KWindowSystem
[KWindowEffectsPrivateX11] Add reserve() call
KXMLGUI
Fix translation of toolbar name when it has i18n context
Environnement de développement de Plasma
The #warning directive is not universal and in particular is NOT supported by MSVC
[IconItem] Use ItemSceneHasChanged rather than connect on windowChanged
[Icon Item] Explicitly emit overlaysChanged in the setter rather than connecting to it
[Dialog] Use KWindowSystem::isPlatformX11()
Reduce the amount of spurious property changes on ColorScope
[Icon Item] Emit validChanged only if it actually changed
Suppress unnecessary scroll indicators if the flickable is a ListView with known orientation
[AppletInterface] Emit change signals for configurationRequired and -Reason
Utiliser « setSize()  » au lieu de « setProperty » pour la hauteur et à la largeur
Fixed an issue where PlasmaComponents Menu would appear with broken corners (bug 381799)
Fixed an issue where context menus would appear with broken corners (bug 381799)
API docs: add deprecation notice found in the git log
Synchroniser le composant avec celui dans Kirigami
Search all KF5 components as such instead as separate frameworks
Reduce spurious signal emissions (bug 382233)
Add signals indicating if a screen was added or removed
Installer des éléments de « Switch »
Ne pas se fier aux inclusions des fichiers « include »
Optimiser les noms de rôles pour « SortFilterModel »
Suppression de « DataModel::roleNameToId »
Prison
Ajout du générateur de code « Aztec »
QQC2StyleBridge
determine QQC2 version at build time (bug 386289)
Par défaut, laisser invisible l'arrière-plan
Ajout d'une couleur d'arrière-plan dans « ScrollView »
Opaque
« UDevManager::devicesFromQuery » plus rapide
Sonnet
Rendre possible la compilation croisée de « Sonnet »
Coloration syntaxique
Ajout de « PKGUILD » à la syntaxe de « bash »
JavaScript : inclusion des types standards « MIME »
debchangelog : ajout de « Bionic Beaver »
Update SQL (Oracle) syntax file (bug 386221)
SQL: move detecting comments before operators
crk.xml : ajout d'une ligne d'en-tête <?xml>
Informations sur la sécurité
Le code publié a été signé en « GPG » avec la clé suivante  pub rsa2048/58D0EE648A48B3BB 2016-09-05 David Faure <faure@kde.org> Empreinte de la clé primaire : 53E6 B47B 45CE A3E0 D5B7 4577 58D0 EE64 8A48 B3BB
Vous pouvez discuter et partager vos idées sur cette version dans la section des commentaires de l'article.
Installation de paquets binaires
Sous Linux, l'utilisation de paquets pour votre distribution préférée est le moyen recommandé pour accéder aux environnements de développement de KDE. Obtenez les logiciels de KDE sur votre page wiki de votre distribution Linux
Compilation à partir des sources
Le code source complet des environnements de développement 5.41.0 de KDE peut être librement téléchargé. Les instructions pour sa compilation et son installation sont disponibles à partir de la page d'informations sur les environnements de développement de KDE 5.41.0.
La compilation à partir des sources est possible en utilisant le classique enchaînement cmake . ; make ; make install. Pour un seul environnement tiers, il s'agit souvent de solution la plus facile. Les personnes intéressées à contribuer à des environnements de développement ou par le suivi des progrès dans le développement de l'ensemble sont encouragés à utiliser kdesrc-build. Les environnements de développement 5.41.0 nécessite Qt .
Une liste détaillée de tous les environnements de développement et des autres bibliothèques Qt tierces se trouve sur la page inqlude.org sous forme d'une archive conservée des bibliothèques Qt. Une liste complète avec la documentation des API se trouve sur la page api.kde.org.
Soyez impliqués
Les personnes souhaitant suivre et contribuer au développement des environnements de développement peuvent consulter les dépôts « git » et de suivre les discussions sur la liste de diffusions concernant le développement des environnements de développement de KDE. La stratégie et l'état actuel du projet et des plans sont disponibles à la page de wiki des environnements de développement. Les discussions en temps réel se font sur le canal « IRC » #kde-devel sur le forum de discussions « Libera ».
Soutien à KDE
KDE est une communauté de logiciels libres existant et grandissant grâce à l'aide de nombreux bénévoles, qui donnent de leur temps et de leurs efforts. KDE est toujours à la recherche de nouveaux bénévoles et de nouvelles contributions, qu'il s'agisse de codage, de correction de bogues ou de rapport d'avancement, de rédaction de documents, de traductions, de promotion, d'argent, etc. Toutes les contributions sont appréciées et acceptées avec enthousiasme. Veuillez lire la page « Soutenir KDE » pour plus de détails ou devenir un membre actif de KDE e.V. grâce à notre initiative Rejoindre le jeu.