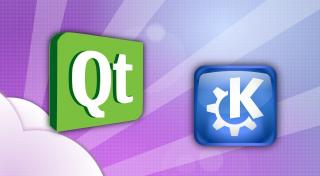 Samedi, 13 Mai 2017
KDE publie aujourd'hui la version 5.34.0 des environnements de développement de KDE.
Les environnements de développement de KDE sont 70 bibliothèques additionnelles à Qt, fournissant un large éventail de fonctionnalités nécessaires les plus communes, sous une forme matures, revues par des pairs et aussi largement testées, avec des conditions de licences acceptables. Pour plus d'informations, veuillez consulter les annonces de publications des environnements de développement de KDE.
Cette mise à jour fait partie d'une série de mise à jours mensuelles, permettant la mise à disposition des améliorations de manière rapide et prévisible pour les développeurs.
Nouveautés de cette version
Baloo
balooctl, baloosearch, balooshow: Fix order of QCoreApplication object creation (bug 378539)
Breeze Icons
Add icons for hotspot (https://github.com/KDAB/hotspot)
Better version control system icons (bug 377380)
Add plasmate icon (bug 376780)
Update microphone-sensitivity icons (bug 377012)
Raise default for 'Panel' icons to 48
Extra CMake Modules
Sanitizers: Don't use GCC-like flags for e.g. MSVC
KDEPackageAppTemplates: documentation improvements
KDECompilerSettings: Pass -Wvla & -Wdate-time
Support older qmlplugindump versions
Introduce ecm_generate_qmltypes
Allow projects to include the file twice
Fix rx that matches project names out of the git uri
Introduce fetch-translations build command
Use -Wno-gnu-zero-variadic-macro-arguments more
KActivities
We are using only Tier 1 frameworks, so move us to Tier 2
Removed KIO from the deps
KAuth
Security fix: verify that whoever is calling us is actually who he says he is
KConfig
Fix relativePath calculation in KDesktopFile::locateLocal() (bug 345100)
KConfigWidgets
Set the icon for the Donate action
Relax constraints for processing QGroupBoxes
KDeclarative
Don't set ItemHasContents in DropArea
Don't accept hover events in the DragArea
KDocTools
Workaround for MSVC and catalog loading
Solve a visibility conflict for meinproc5 (bug 379142)
Quote few other variables with path (avoid issues with spaces)
Quote few variables with path (avoid issues with spaces)
Temporarily disable the local doc on Windows
FindDocBookXML4.cmake, FindDocBookXSL.cmake - search in homebrew installations
KFileMetaData
makes KArchive be optional and do not build extractors needing it
fix duplicated symbols compilation error with mingw on Windows
KGlobalAccel
build: Remove KService dependency
KI18n
fix basename handling of po files (bug 379116)
Fix ki18n bootstrapping
KIconThemes
Don't even try to create icons with empty sizes
KIO
KDirSortFilterProxyModel: bring back natural sorting (bug 343452)
Fill UDS_CREATION_TIME with the value of st_birthtime on FreeBSD
http slave: send error page after authorization failure (bug 373323)
kioexec: delegate upload to a kded module (bug 370532)
Fix KDirlister Gui Test setting URL scheme twice
Delete kiod modules on exit
Generate a moc_predefs.h file for KIOCore (bug 371721)
kioexec: fix support for --suggestedfilename
KNewStuff
Allow multiple categories with the same name
KNewStuff: Show file's size information in grid delegate
If an entry's size is known, show it in the list view
Register and declare KNSCore::EntryInternal::List as a metatype
Don't fall through the switch. Double entries? No please
always close the downloaded file after downloading
KPackage Framework
Fix include path in KF5PackageMacros.cmake
Ignore warnings during appdata generation (bug 378529)
KRunner
Template: Change toplevel template category to "Plasma"
KTextEditor
KAuth integration in document saving - vol. 2
Fix assertion when applying code folding that changes cursor position
Use non-deprecated <gui> root element in ui.rc file
Add scroll-bar-marks also to the built-in search&replace
KAuth integration in document saving
KWayland
Validate surface is valid when sending TextInput leave event
KWidgetsAddons
KNewPasswordWidget: don't hide visibility action in plaintext mode (bug 378276)
KPasswordDialog: don't hide visibility action in plaintext mode (bug 378276)
Fix KActionSelectorPrivate::insertionIndex()
KXMLGUI
kcm_useraccount is dead, long live user_manager
Reproducible builds: drop version from XMLGUI_COMPILING_OS
Fix: DOCTYPE name must match root element type
Fix wrong usage of ANY in kpartgui.dtd
Use non-deprecated <gui> root element
API dox fixes: replace 0 with nullptr or remove where not applied
NetworkManagerQt
Fix crash when retrieving active connection list (bug 373993)
Set default value for auto-negotiation based on running NM version
Oxygen Icons
Plasma Framework
reload icon when usesPlasmaTheme changes
Install Plasma Components 3 so they can be used
Introduce units.iconSizeHints.* to provide user-configurable icon size hints (bug 378443)
[TextFieldStyle] Fix textField is not defined error
Update the ungrabMouse hack for Qt 5.8
Guard against Applet not loading AppletInterface (bug 377050)
Calendar: Use correct language for month and day names
Generate plugins.qmltypes files for the plugins we install
if the user did set an implicit size, keep it
Solid
Add include that is needed in msys2
Syntax Highlighting
Add Arduino extension
LaTeX: Fix Incorrect termination of iffalse comments (bug 378487)
Security information
The released code has been GPG-signed using the following key: pub rsa2048/58D0EE648A48B3BB 2016-09-05 David Faure <faure@kde.org> Primary key fingerprint: 53E6 B47B 45CE A3E0 D5B7 4577 58D0 EE64 8A48 B3BB
You can discuss and share ideas on this release in the comments section of the dot article.
Installation de paquets binaires
Sous Linux, l'utilisation de paquets pour votre distribution préférée est le moyen recommandé pour accéder aux environnements de développement de KDE. Obtenez les logiciels de KDE sur votre page wiki de votre distribution Linux
Compilation à partir des sources
Le code source complet des environnements de développement 5.34.0 de KDE peut être librement téléchargé. Les instructions pour sa compilation et son installation sont disponibles à partir de la page d'informations sur les environnements de développement de KDE 5.34.0.
La compilation à partir des sources est possible en utilisant le classique enchaînement cmake . ; make ; make install. Pour un seul environnement tiers, il s'agit souvent de solution la plus facile. Les personnes intéressées à contribuer à des environnements de développement ou par le suivi des progrès dans le développement de l'ensemble sont encouragés à utiliser kdesrc-build. Les environnements de développement 5.34.0 nécessite Qt .
Une liste détaillée de tous les environnements de développement et des autres bibliothèques Qt tierces se trouve sur la page inqlude.org sous forme d'une archive conservée des bibliothèques Qt. Une liste complète avec la documentation des API se trouve sur la page api.kde.org.
Soyez impliqués
Les personnes souhaitant suivre et contribuer au développement des environnements de développement peuvent consulter les dépôts « git » et de suivre les discussions sur la liste de diffusions concernant le développement des environnements de développement de KDE. La stratégie et l'état actuel du projet et des plans sont disponibles à la page de wiki des environnements de développement. Les discussions en temps réel se font sur le canal « IRC » #kde-devel sur le forum de discussions « Libera ».
Soutien à KDE
KDE est une communauté de logiciels libres existant et grandissant grâce à l'aide de nombreux bénévoles, qui donnent de leur temps et de leurs efforts. KDE est toujours à la recherche de nouveaux bénévoles et de nouvelles contributions, qu'il s'agisse de codage, de correction de bogues ou de rapport d'avancement, de rédaction de documents, de traductions, de promotion, d'argent, etc. Toutes les contributions sont appréciées et acceptées avec enthousiasme. Veuillez lire la page « Soutenir KDE » pour plus de détails ou devenir un membre actif de KDE e.V. grâce à notre initiative Rejoindre le jeu.