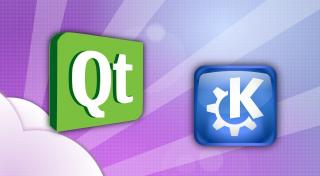 Samedi, 13 Février 2016
KDE publie aujourd'hui la version 5.19.0 des environnements de développement de KDE.
Les environnements de développement de KDE sont 70 bibliothèques additionnelles à Qt, fournissant un large éventail de fonctionnalités nécessaires les plus communes, sous une forme matures, revues par des pairs et aussi largement testées, avec des conditions de licences acceptables. Pour plus d'informations, veuillez consulter les annonces de publications des environnements de développement de KDE.
Cette mise à jour fait partie d'une série de mise à jours mensuelles, permettant la mise à disposition des améliorations de manière rapide et prévisible pour les développeurs.
Nouveautés de cette version
Attica
Simplify attica plugin look-up and initialization
Breeze Icons
Many new icons
Add missing mimetype icons from oxygen icon set
Extra CMake Modules
ECMAddAppIcon: Use absolute path when operating on icons
Make sure the prefix is looked-up on Android
Add a FindPoppler module
Use PATH_SUFFIXES in ecm_find_package_handle_library_components()
KActivities
Don't call exec() from QML (bug 357435)
KActivitiesStats library is now in a separate repository
KAuth
Also perform preAuthAction for Backends with AuthorizeFromHelperCapability
Fix DBus service name of polkit agent
KCMUtils
Fix High-DPI issue in KCMUtils
KCompletion
KLineEdit::setUrlDropsEnabled method can not be marked as deprecated
KConfigWidgets
add a "Complementary" color scheme to kcolorscheme
KCrash
Update docs for KCrash::initialize. Application developers are encourage to call it explicitly.
KDeclarative
Clean up dependencies for KDeclarative/QuickAddons
[KWindowSystemProxy] Add setter for showingDesktop
DropArea: Fix correctly ignoring dragEnter event with preventStealing
DragArea: Implement grabbing delegate item
DragDropEvent: Add ignore() function
KDED
Revert BlockingQueuedConnection hack, Qt 5.6 will contain a better fix
Make kded register under aliases specified by the kded modules
KDELibs 4 Support
kdelibs4support requires kded (for kdedmodule.desktop)
KFileMetaData
Allow querying for a file's origin URL
KGlobalAccel
Prevent crash in case dbus is not available
KDE GUI Addons
Fix listing of available palettes in color dialog
KHTML
Fix detection of icon link type (aka "favicon")
KI18n
Reduce use of gettext API
KImageFormats
Add kra and ora imageio plugins (read-only)
KInit
Ignore viewport on current desktop on init startup information
Port klauncher to xcb
Use an xcb for interaction with KStartupInfo
KIO
New class FavIconRequestJob in new lib KIOGui, for favicons retrieval
Fix KDirListerCache crash with two listers for an empty dir in the cache (bug 278431)
Make Windows implementation of KIO::stat for file:/ protocol error out if the file doesn't exist
Don't assume that files in read-only dir can't be deleted on Windows
Fix .pri file for KIOWidgets: it depends on KIOCore, not on itself
Repair kcookiejar autoload, the values got swapped in 6db255388532a4
Make kcookiejar accessible under the dbus service name org.kde.kcookiejar5
kssld: install DBus service file for org.kde.kssld5
Provide a DBus service file for org.kde.kpasswdserver
[kio_ftp] fix display of file/directory modification time/date (bug 354597)
[kio_help] fix garbage sent when serving static files
[kio_http] Try NTLMv2 authentication if the server denies NTLMv1
[kio_http] fix porting bugs which broke caching
[kio_http] Fix NTLMv2 stage 3 response creation
[kio_http] fix waiting until the cache cleaner listens to the socket
kio_http_cache_cleaner: don't exit on startup if cache dir doesn't exist yet
Change DBus name of kio_http_cache_cleaner so it doesn't exit if the kde4 one is running
KItemModels
KRecursiveFilterProxyModel::match: Fix crash
KJobWidgets
Fix crash in KJob dialogs (bug 346215)
Package Framework
Avoid finding the same package multiple times from different paths
KParts
PartManager: stop tracking a widget even if it is no longer top level (bug 355711)
KTextEditor
Better behaviour for "insert braces around" autobrace feature
Change option key to enforce new default, Newline at End of File = true
Remove some suspicious setUpdatesEnabled calls (bug 353088)
Delay emitting of verticalScrollPositionChanged until all stuff is consistent for folding (bug 342512)
Patch updating tag substitution (bug 330634)
Only update the palette once for the change event belonging to qApp (bug 358526)
Append newlines at EOF by default
Add NSIS syntax highlighting file
KWallet Framework
Duplicate the file descriptor while opening the file to read the env
KWidgetsAddons
Fix buddy widgets working with KFontRequester
KNewPasswordDialog: use KMessageWidget
Prevent crash-on-exit in KSelectAction::~KSelectAction
KWindowSystem
Change licence header from "Library GPL 2 or later" to "Lesser GPL 2.1 or later"
Fix crash if KWindowSystem::mapViewport is called without a QCoreApplication
Cache QX11Info::appRootWindow in eventFilter (bug 356479)
Get rid of QApplication dependency (bug 354811)
KXMLGUI
Add option to disable KGlobalAccel at compilation time
Repair path to app shortcut scheme
Fix listing of shortcut files (wrong QDir usage)
NetworkManagerQt
Re-check connection state and other properties to be sure they are actual (version 2) (bug 352326)
Oxygen Icons
Remove broken linked files
Add app icons from the kde applications
Add breeze places icons into oxygen
Sync oxygen mimetype icons with breeze mimetype icons
Plasma Framework
Add a property separatorVisible
More explicit removal from m_appletInterfaces (bug 358551)
Use complementaryColorScheme from KColorScheme
AppletQuickItem: Don't try to set initial size bigger than parent size (bug 358200)
IconItem: Add usesPlasmaTheme property
Don't load toolbox on types not desktop or panel
IconItem: Try to load QIcon::fromTheme icons as svg (bug 353358)
Ignore check if just one part of size is zero in compactRepresentationCheck (bug 358039)
[Units] Return at least 1ms for durations (bug 357532)
Add clearActions() to remove every applet interface action
[plasmaquick/dialog] Don't use KWindowEffects for Notification window type
Deprecate Applet::loadPlasmoid()
[PlasmaCore DataModel] Don't reset model when a source is removed
Fix margin hints in opague panel background SVG
IconItem: Add animated property
[Unity] Scale Desktop icon size
the button is compose-over-borders
paintedWidth/paintedheight for IconItem
You can discuss and share ideas on this release in the comments section of the dot article.
Installation de paquets binaires
Sous Linux, l'utilisation de paquets pour votre distribution préférée est le moyen recommandé pour accéder aux environnements de développement de KDE. Obtenez les logiciels de KDE sur votre page wiki de votre distribution Linux
Compilation à partir des sources
Le code source complet des environnements de développement 5.19.0 de KDE peut être librement téléchargé. Les instructions pour sa compilation et son installation sont disponibles à partir de la page d'informations sur les environnements de développement de KDE 5.19.0.
La compilation à partir des sources est possible en utilisant le classique enchaînement cmake . ; make ; make install. Pour un seul environnement tiers, il s'agit souvent de solution la plus facile. Les personnes intéressées à contribuer à des environnements de développement ou par le suivi des progrès dans le développement de l'ensemble sont encouragés à utiliser kdesrc-build. Les environnements de développement 5.19.0 nécessite Qt .
Une liste détaillée de tous les environnements de développement et des autres bibliothèques Qt tierces se trouve sur la page inqlude.org sous forme d'une archive conservée des bibliothèques Qt. Une liste complète avec la documentation des API se trouve sur la page api.kde.org.
Soyez impliqués
Les personnes souhaitant suivre et contribuer au développement des environnements de développement peuvent consulter les dépôts « git » et de suivre les discussions sur la liste de diffusions concernant le développement des environnements de développement de KDE. La stratégie et l'état actuel du projet et des plans sont disponibles à la page de wiki des environnements de développement. Les discussions en temps réel se font sur le canal « IRC » #kde-devel sur le forum de discussions « Libera ».
Soutien à KDE
KDE est une communauté de logiciels libres existant et grandissant grâce à l'aide de nombreux bénévoles, qui donnent de leur temps et de leurs efforts. KDE est toujours à la recherche de nouveaux bénévoles et de nouvelles contributions, qu'il s'agisse de codage, de correction de bogues ou de rapport d'avancement, de rédaction de documents, de traductions, de promotion, d'argent, etc. Toutes les contributions sont appréciées et acceptées avec enthousiasme. Veuillez lire la page « Soutenir KDE » pour plus de détails ou devenir un membre actif de KDE e.V. grâce à notre initiative Rejoindre le jeu.