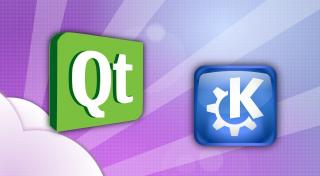 Osteguna, 2015(e)ko urtarrilak 8
KDEk gaur KDE Frameworks 5.6.0(a)ren argitalena iragartzen du.
KDE Frameworks Qt-rako 60 liburutegi gehigarri dira, erabilera arruntean behar izaten diren funtzionaltasunen aukera zabala eskaintzen dute, kideek berrikusitako eta ondo probatutako liburutegi helduetan, lizentzia termino lagunkoiekin hornituak. Sarrerako gisa begira ezazu KDE Frameworks argitalpenaren iragarpena.
Argitalpen hau planifikatutako hilabeteroko argitalpen sail baten zati da, garatzaileei hobekuntzak azkar eta aurreikus daitekeen eran erabilgarri ipintzen dizkiena.
Bertsio honetako berritasunak
Two new frameworks in this version: KPackage and NetworkManagerQt
KActivities
Introducing the ActivityInfo QML object
Linking now supports special values alongside activity ids. Supported values:

:global - links to all activities
:current - links to the current activity
KCoreAddons
KDirWatch can now watch /dev/shm as well (bug 314982)
KDELibs4Migration now always returns an absolute path
KCrash
Kdelibs4Support
Add Lithuania to the list of Euro countries
KdeSU
Fix build on OSX and on FreeBSD
KHtml
6 bug fixes forward-ported from kdelibs4.
KIO
Add support for .hidden files, for users to hide some files from views. (feature 246260)
New method KRun::runService, like KRun::run but returns the PID of the newly started process.
kioexec: fixed many porting bugs, to make it work again
KRun::run: fixed porting bug, to make it work again in the case where KProcess is used directly
KRun: make klauncher runtime dependency optional
Fix compilation on MSVC
Performance: decrease memory consumption of UDSEntry
Actions in popupmenus: in case of multiple mimetypes selected, services that support all mimetypes are now added to the menu.
New job: KIO::DropJob KIO::drop(QDropEvent ev, QUrl destUrl). Replaces KonqOperations::doDrop.
Restart directory watcher after a failed delete operation
Fix false warning about X-KDE-Protocols unused in desktop files without that field.
Merge various settings modules (KCMs) related to kio, into the kio framework.
When copying/moving out the trash, make the files writable.
KIO::file_move now does the chmod on the destination file before emitting result.
KNotifications
Remove NotifyBySound. NotifyByAudio implements the "Sound" notification already
Fix crash accessing dangling pointer in NotifyByPopup
KRunner
Do not detect anything with a '.' as a NetworkLocation (porting bug, bug 340140). One can also uses a decimal point in a calculator.
KService
KTextEditor
Fix build on MSVC.
vimode bugfixes
add syntax file for Oracle PL/SQL
ppd highlighting: better support for multiline values
KWidgetsAddons
Add runtime style element extension convenience functions for widgets: KStyleExtensions
KWindowSystem
Add OnScreenDisplay window type
Fix build on FreeBSD
Plasma-framework
Let month menu navigate in current year (bug 342327)
Expose new OnScreenDisplay window type in Dialog
Migrate Plasma::Package to KPackage
Fix labels not picking up changes to font settings at runtime
Fix text not properly updating its color when switching themes (especially dark<-->light)
Fix placeholder text in textfields being too strong when using a light theme
Set visibility on mainItem to match Dialog
Load IconItem immediately upon componentComplete()
Use the same text colour for comboboxes as buttons
Performance improvements (less config-file reparsing, use shared config...)
roundToIconSize(0) now returns 0
Give undo notifications a title
Solid
Enable fstab and upower backends on FreeBSD
Power: Add aboutToSuspend signal
Buildsystem changes
ECM's KDEInstallDirs now supports KDEINSTALL_ variables, which should be used in preference to the CMAKEINSTALL_ variables or the older KDELibs4-compatible variables. The older forms of the variables are still supported (and kept in sync) unless KDE_INSTALL_DIRS_NO_DEPRECATED or KDE_INSTALL_DIRS_NO_CMAKE_VARIABLES are set to TRUE. See the documentation for more details.
Add COMPATIBILITY argument to ecm_setup_version(). Lots of libraries will want to use SameMajorVersion to make sure searching for version 1 of a library doesn't give you version 2, for example.
Fix ECMQueryQmake when Qt5Core is missing.
Additional buildsystem changes in Extra-Cmake-Modules 1.6.1
Fix building projects that use both GNUInstallDirs and KDEInstallDirs in different subdirectories by not unsetting cache variables in KDEInstallDirs.
Fix KDE_INSTALL_TARGETS_DEFAULT_ARGS value on OSX.
Frameworkintegration
Fix handling of palette change events (bug 336813)
You can discuss and share ideas on this release in the comments section of the dot article.
Pakete bitarrak instalatzea
Linux-en, zure banaketa gogokorako paketeak erabiltzea da KDE Frameworks eskuratzeko gomendatutako modua. Lortu KDE softwarea zure Linux banaketaren wiki orrian
Sorburuetatik konpilatzea
KDE Frameworks 5.6.0(e)ren sorburu-kode osoa askatasun osoz zama-jaitsi daiteke. Konpilatzeko eta instalatzeko jarraibideak eskuragarri daude KDE Frameworks 5.6.0 Informazio orrian.
Sorburuetatik eraiki daiteke cmake .; make; make install oinarrizko komandoak erabiliz. 1. mailako «framework» bakar baterako, hau izaten da irtenbiderik errazena. «Frameworks»ekin laguntzeko edo multzo osoaren garapenaren aurrerapenaren jarraipena egiteko interesa dutenak kdesrc-build erabiltzera animatzen ditugu. Frameworks 5.6.0(e)k Qt behar du.
«Framework» guztien eta hirugarrenen beste Qt liburutegien zerrenda zehatza hemen dago, inqlude.org, Qt liburutegien katalogatutako artxiboa. APIaren dokumentazioa duen zerrenda osoa hemen dago, api.kde.org.
Engaia zaitez
«Frameworks»en garapenaren aurrerapenari jarraipena egiteko eta horretan laguntzeko interesa dutenek git gordetegiak ikuskatu eta KDE Frameworks garatzeko posta-zerrendako eztabaiden jarraipena egin dezakete. Gidalerroak eta proiektuaren egungo egoera eta egitasmoak «Frameworks»en wikian eskuragarri daude. Denbora errealeko eztabaidak #kde-devel IRC kanalean, Libera Chat-en, izaten dira.
KDEri laguntzea
KDE Software askeko komunitate bat da, beraien denbora eta ahalegina borondatez ematen dutenen laguntzagatik existitzen eta hazten dena. KDE beti dago boluntario eta laguntzaileen bila, izan kodetzeko laguntza, akatsak konpontzeko edo jakinarazpenak bidaltzeko, dokumentazioa idazteko, itzulpenak, promozioa, dirua, etab. Laguntza guztiak esker onez hartu eta onartzen dira. Irakurri KDEri laguntzea orria informazio zabalagoa eskuratzeko edo egin zaitez KDE e.V.ren bazkide laguntzailea gure [Batu jokora] (https://relate.kde.org/civicrm/contribute/transact?id=5) ekimenaren bidez.