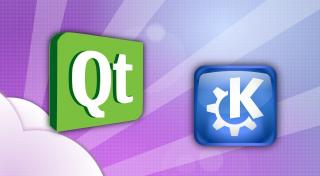 Larunbata, 2016(e)ko urtarrilak 9
KDEk gaur KDE Frameworks 5.18.0(a)ren argitalena iragartzen du.
KDE Frameworks Qt-rako 60 liburutegi gehigarri dira, erabilera arruntean behar izaten diren funtzionaltasunen aukera zabala eskaintzen dute, kideek berrikusitako eta ondo probatutako liburutegi helduetan, lizentzia termino lagunkoiekin hornituak. Sarrerako gisa begira ezazu KDE Frameworks argitalpenaren iragarpena.
Argitalpen hau planifikatutako hilabeteroko argitalpen sail baten zati da, garatzaileei hobekuntzak azkar eta aurreikus daitekeen eran erabilgarri ipintzen dizkiena.
Bertsio honetako berritasunak
Baloo
Fix several issue of mtime related search
PostingDB Iter: Do not assert on MDB_NOTFOUND
Balooctl status: Avoid showing 'Content indexing' about folders
StatusCommand: Show the correct status for folders
SearchStore: Gracefully handle empty term values (bug 356176)
Breeze Icons
icon updates and additions
22px size status icons for 32px too as you need it in the system tray
Changed Fixed to Scalable value to 32px folders in Breeze Dark
Extra CMake Modules
Make the KAppTemplate CMake module global
Silence CMP0063 warnings with KDECompilerSettings
ECMQtDeclareLoggingCategory: Include <QDebug> with the generated file
Fix CMP0054 warnings
KActivities
Streamlined the QML loading for KCM (bug 356832)
Work-around for the Qt SQL bug that does not clean up connections properly (bug 348194)
Merged a plugin that executes applications on activity state change
Port from KService to KPluginLoader
Port plugins to use kcoreaddons_desktop_to_json()
KBookmarks
Fully initialize DynMenuInfo in return value
KCMUtils
KPluginSelector::addPlugins: fix assert if 'config' parameter is default (bug 352471)
KCodecs
Avoid deliberately overflowing a full buffer
KConfig
Ensure group is unescaped properly in kconf_update
KCoreAddons
Add KAboutData::fromPluginMetaData(const KPluginMetaData &plugin)
Add KPluginMetaData::copyrightText(), extraInformation() and otherContributors()
Add KPluginMetaData::translators() and KAboutPerson::fromJson()
Fix use-after-free in desktop file parser
Make KPluginMetaData constructible from a json path
desktoptojson: make missing service type file an error for the binary
make calling kcoreaddons_add_plugin without SOURCES an error
KDBusAddons
Adapt to Qt 5.6's dbus-in-secondary-thread
KDeclarative
[DragArea] Add dragActive property
[KQuickControlsAddons MimeDatabase] Expose QMimeType comment
KDED
kded: adapt to Qt 5.6's threaded dbus: messageFilter must trigger module loading in the main thread
KDELibs 4 Support
kdelibs4support requires kded (for kdedmodule.desktop)
Fix CMP0064 warning by setting policy CMP0054 to NEW
Don't export symbols that also exist in KWidgetsAddons
KDESU
Don't leak fd when creating socket
KHTML
Windows: remove kdewin dependency
KI18n
Document the first argument rule for plurals in QML
Reduce unwanted type changes
Make it possible to use doubles as index for i18np*() calls in QML
KIO
Fix kiod for Qt 5.6's threaded dbus: messageFilter must wait until the module is loaded before returning
Change the error code when pasting/moving into a subdirectory
Fix emptyTrash blocked issue
Fix wrong button in KUrlNavigator for remote URLs
KUrlComboBox: fix returning an absolute path from urls()
kiod: disable session management
Add autocompletion for '.' input which offers all hidden files/folders* (bug 354981)
ktelnetservice: fix off by one in argc check, patch by Steven Bromley
KNotification
[Notify By Popup] Send along event ID
Set default non-empty reason for screen saver inhibition; (bug 334525)
Add a hint to skip notifications grouping (bug 356653)
KNotifyConfig
[KNotifyConfigWidget] Allow selecting a specific event
Package Framework
Make it possible to provide the metadata in json
KPeople
Fix possible double deletion in DeclarativePersonData
KTextEditor
Syntax h/l for pli: builtin functions added, expandable regions added
KWallet Framework
KWindowSystem
Add xcb variant for static KStartupInfo::sendFoo methods
NetworkManagerQt
make it work with older NM versions
Plasma Framework
[ToolButtonStyle] Always indicate activeFocus
Use the SkipGrouping flag for the "widget deleted" notification (bug 356653)
Deal properly with symlinks in path to packages
Add HiddenStatus for plasmoid self-hiding
Stop redirecting windows when item is disabled or hidden. (bug 356938)
Don't emit statusChanged if it hasn't changed
Fix element ids for east orientation
Containment: Don't emit appletCreated with null applet (bug 356428)
[Containment Interface] Fix erratic high precision scrolling
Read KPluginMetada's property X-Plasma-ComponentTypes as a stringlist
[Window Thumbnails] Don't crash if Composite is disabled
Let containments override CompactApplet.qml
You can discuss and share ideas on this release in the comments section of the dot article.
Pakete bitarrak instalatzea
Linux-en, zure banaketa gogokorako paketeak erabiltzea da KDE Frameworks eskuratzeko gomendatutako modua. Lortu KDE softwarea zure Linux banaketaren wiki orrian
Sorburuetatik konpilatzea
KDE Frameworks 5.18.0(e)ren sorburu-kode osoa askatasun osoz zama-jaitsi daiteke. Konpilatzeko eta instalatzeko jarraibideak eskuragarri daude KDE Frameworks 5.18.0 Informazio orrian.
Sorburuetatik eraiki daiteke cmake .; make; make install oinarrizko komandoak erabiliz. 1. mailako «framework» bakar baterako, hau izaten da irtenbiderik errazena. «Frameworks»ekin laguntzeko edo multzo osoaren garapenaren aurrerapenaren jarraipena egiteko interesa dutenak kdesrc-build erabiltzera animatzen ditugu. Frameworks 5.18.0(e)k Qt behar du.
«Framework» guztien eta hirugarrenen beste Qt liburutegien zerrenda zehatza hemen dago, inqlude.org, Qt liburutegien katalogatutako artxiboa. APIaren dokumentazioa duen zerrenda osoa hemen dago, api.kde.org.
Engaia zaitez
«Frameworks»en garapenaren aurrerapenari jarraipena egiteko eta horretan laguntzeko interesa dutenek git gordetegiak ikuskatu eta KDE Frameworks garatzeko posta-zerrendako eztabaiden jarraipena egin dezakete. Gidalerroak eta proiektuaren egungo egoera eta egitasmoak «Frameworks»en wikian eskuragarri daude. Denbora errealeko eztabaidak #kde-devel IRC kanalean, Libera Chat-en, izaten dira.
KDEri laguntzea
KDE Software askeko komunitate bat da, beraien denbora eta ahalegina borondatez ematen dutenen laguntzagatik existitzen eta hazten dena. KDE beti dago boluntario eta laguntzaileen bila, izan kodetzeko laguntza, akatsak konpontzeko edo jakinarazpenak bidaltzeko, dokumentazioa idazteko, itzulpenak, promozioa, dirua, etab. Laguntza guztiak esker onez hartu eta onartzen dira. Irakurri KDEri laguntzea orria informazio zabalagoa eskuratzeko edo egin zaitez KDE e.V.ren bazkide laguntzailea gure [Batu jokora] (https://relate.kde.org/civicrm/contribute/transact?id=5) ekimenaren bidez.