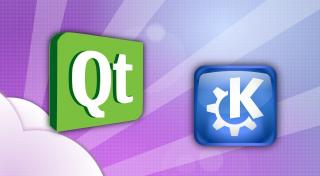 Larunbata, 2015(e)ko abenduak 12
KDEk gaur KDE Frameworks 5.17.0(a)ren argitalena iragartzen du.
KDE Frameworks Qt-rako 60 liburutegi gehigarri dira, erabilera arruntean behar izaten diren funtzionaltasunen aukera zabala eskaintzen dute, kideek berrikusitako eta ondo probatutako liburutegi helduetan, lizentzia termino lagunkoiekin hornituak. Sarrerako gisa begira ezazu KDE Frameworks argitalpenaren iragarpena.
Argitalpen hau planifikatutako hilabeteroko argitalpen sail baten zati da, garatzaileei hobekuntzak azkar eta aurreikus daitekeen eran erabilgarri ipintzen dizkiena.
Bertsio honetako berritasunak
Baloo
Fix date filter used by timeline://
BalooCtl: Return after commands
Clean up and armour Baloo::Database::open(), handle more crash conditions
Add check in Database::open(OpenDatabase) to fail if db doesn't exist
Breeze Icons
Many icons added or improved
use stylesheets in breeze icons (bug 126166)
BUG: 355902 fix and changed system-lock-screen (bug 355902 fix and changed system-lock-screen)
Add 24px dialog-information for GTK apps (bug 355204)
Extra CMake Modules
Don't warn when SVG(Z) icons are provided with multiple sizes/level of detail
Make sure we load translations on the main thread. (bug 346188)
Overhaul the ECM build system.
Make it possible to enable Clazy on any KDE project
Do not find XCB's XINPUT library by default.
Clean export dir before generating an APK again
Use quickgit for Git repository URL.
Framework Integration
Add plasmoid installation failed to plasma_workspace.notifyrc
KActivities
Fixed a lock on the first start of the daemon
Moving QAction creation to the main thread. (bug 351485)
Sometimes clang-format makes a bad decision (bug 355495)
Killing potential synchronization issues
Use org.qtproject instead of com.trolltech
Removing the usage of libkactivities from the plugins
KAStats config removed from the API
Added linking and unlinking to ResultModel
KDE Doxygen Tools
Make kgenframeworksapidox more robust.
KArchive
Fix KCompressionDevice::seek(), called when creating a KTar on top of a KCompressionDevice.
KCoreAddons
KAboutData: Allow https:// and other URL schemas in homepage. (bug 355508)
Repair MimeType property when using kcoreaddons_desktop_to_json()
KDeclarative
Port KDeclarative to use KI18n directly
DragArea delegateImage can now be a string from which an icon is automatically created
Add new CalendarEvents library
KDED
Unset SESSION_MANAGER envvar instead of setting it empty
KDELibs 4 Support
KFileMetaData
Mark m4a as readable by taglib
KIO
Cookie dialogue: make it work as intended
Fix filename suggestion changing to something random when changing save-as mimetype.
Register DBus name for kioexec (bug 353037)
Update KProtocolManager after configuration change.
KItemModels
Fix KSelectionProxyModel usage in QTableView (bug 352369)
Fix resetting or changing the source model of a KRecursiveFilterProxyModel.
KNewStuff
registerServicesByGroupingNames can define default more items
Make KMoreToolsMenuFactory::createMenuFromGroupingNames lazy
KTextEditor
Add syntax highlighting for TaskJuggler and PL/I
Make it possible to disable keyword-completion via the config interface.
Resize the tree when the completion model got reset.
KWallet Framework
Correctly handle the case where the user deactivated us
KWidgetsAddons
Fix a small artifact of KRatingWidget on hi-dpi.
Refactor and fix the feature introduced in bug 171343 (bug 171343)
KXMLGUI
Don't call QCoreApplication::setQuitLockEnabled(true) on init.
Plasma Framework
Add basic plasmoid as example for developerguide
Add a couple of plasmoid templates for kapptemplate/kdevelop
[calendar] Delay the model reset until the view is ready (bug 355943)
Don't reposition while hiding. (bug 354352)
[IconItem] Don't crash on null KIconLoader theme (bug 355577)
Dropping image files onto a panel will no longer offer to set them as wallpaper for the panel
Dropping a .plasmoid file onto a panel or the desktop will install and add it
remove the now unused platformstatus kded module (bug 348840)
allow paste on password fields
fix positioning of edit menu, add a button to select
[calendar] Use ui language for getting the month name (bug 353715)
[calendar] Sort the events by their type too
[calendar] Move the plugin library to KDeclarative
[calendar] qmlRegisterUncreatableType needs a bit more arguments
Allow adding config categories dynamically
[calendar] Move the plugins handling to a separate class
Allow plugins to supply event data to Calendar applet (bug 349676)
check for slot existence before connecting or disconnecting (bug 354751)
[plasmaquick] Don't link OpenGL explicitly
[plasmaquick] Drop XCB::COMPOSITE and DAMAGE dependency
You can discuss and share ideas on this release in the comments section of the dot article.
Pakete bitarrak instalatzea
Linux-en, zure banaketa gogokorako paketeak erabiltzea da KDE Frameworks eskuratzeko gomendatutako modua. Lortu KDE softwarea zure Linux banaketaren wiki orrian
Sorburuetatik konpilatzea
KDE Frameworks 5.17.0(e)ren sorburu-kode osoa askatasun osoz zama-jaitsi daiteke. Konpilatzeko eta instalatzeko jarraibideak eskuragarri daude KDE Frameworks 5.17.0 Informazio orrian.
Sorburuetatik eraiki daiteke cmake .; make; make install oinarrizko komandoak erabiliz. 1. mailako «framework» bakar baterako, hau izaten da irtenbiderik errazena. «Frameworks»ekin laguntzeko edo multzo osoaren garapenaren aurrerapenaren jarraipena egiteko interesa dutenak kdesrc-build erabiltzera animatzen ditugu. Frameworks 5.17.0(e)k Qt behar du.
«Framework» guztien eta hirugarrenen beste Qt liburutegien zerrenda zehatza hemen dago, inqlude.org, Qt liburutegien katalogatutako artxiboa. APIaren dokumentazioa duen zerrenda osoa hemen dago, api.kde.org.
Engaia zaitez
«Frameworks»en garapenaren aurrerapenari jarraipena egiteko eta horretan laguntzeko interesa dutenek git gordetegiak ikuskatu eta KDE Frameworks garatzeko posta-zerrendako eztabaiden jarraipena egin dezakete. Gidalerroak eta proiektuaren egungo egoera eta egitasmoak «Frameworks»en wikian eskuragarri daude. Denbora errealeko eztabaidak #kde-devel IRC kanalean, Libera Chat-en, izaten dira.
KDEri laguntzea
KDE Software askeko komunitate bat da, beraien denbora eta ahalegina borondatez ematen dutenen laguntzagatik existitzen eta hazten dena. KDE beti dago boluntario eta laguntzaileen bila, izan kodetzeko laguntza, akatsak konpontzeko edo jakinarazpenak bidaltzeko, dokumentazioa idazteko, itzulpenak, promozioa, dirua, etab. Laguntza guztiak esker onez hartu eta onartzen dira. Irakurri KDEri laguntzea orria informazio zabalagoa eskuratzeko edo egin zaitez KDE e.V.ren bazkide laguntzailea gure [Batu jokora] (https://relate.kde.org/civicrm/contribute/transact?id=5) ekimenaren bidez.