KDEk, KDE Aplikazioak 17.12.0 kaleratzen du
December 14, 2017. KDE Applications 17.12.0 are now released.
We continuously work on improving the software included in our KDE Application series, and we hope you will find all the new enhancements and bug fixes useful!
What's new in KDE Applications 17.12
Sistema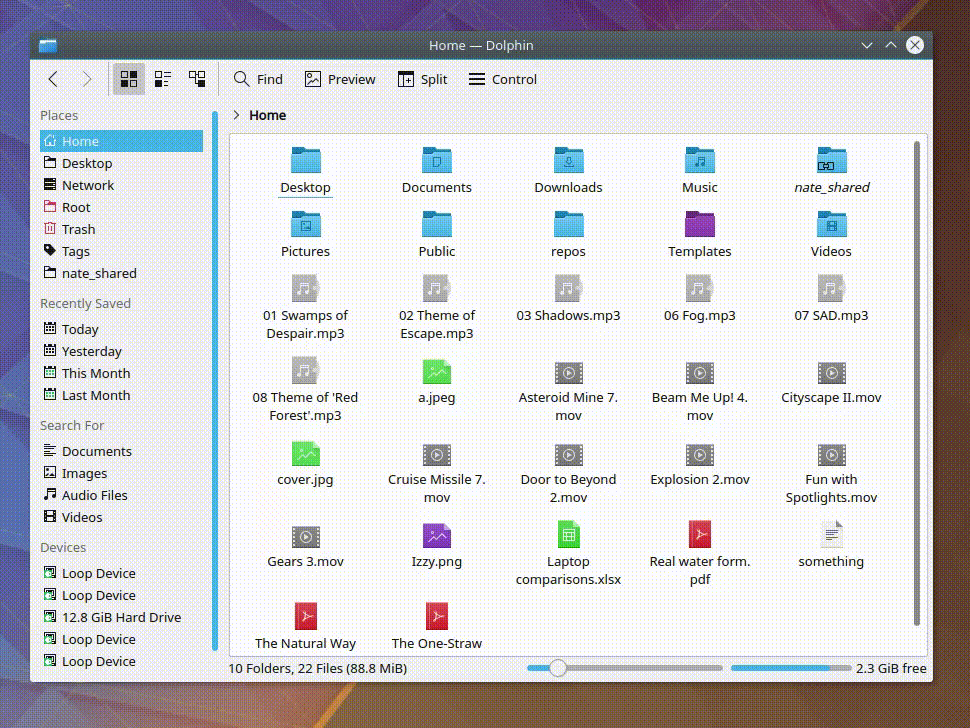 Dolphin, our file manager, can now save searches and limit the search only to folders. Renaming files is now easier; simply double click on the file name. More file information is now at your hands, as the modification date and origin URL of downloaded files are now displayed in the information panel. Additionally, new Genre, Bitrate, and Release Year columns have been introduced.
Grafikoak
Our powerful document viewer Okular gained support for HiDPI displays and Markdown language, and the rendering of documents that are slow to load is now shown progressively. An option is now available to share a document via email.
Gwenview image viewer can now open and highlight images in the file manager, zooming is smoother, keyboard navigation has been improved, and it now supports the FITS and Truevision TGA formats. Images are now protected from being accidentally removed by the Delete key when they are not selected.
Multimedia
Kdenlive now uses less memory when handling video projects which include many images, default proxy profiles have been refined, and an annoying bug related to jumping one second forward when playing backward has been fixed.
Baliagarritasunak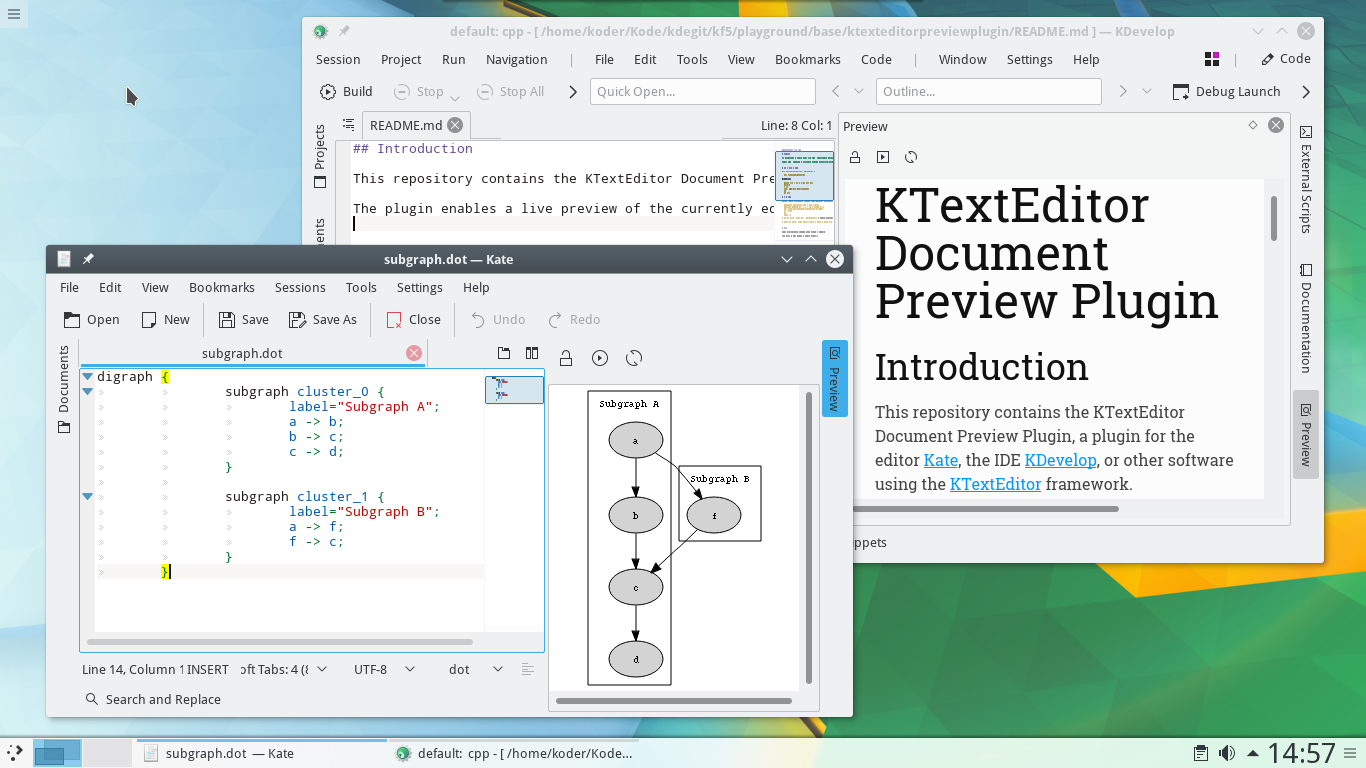 Ark's zip support in the libzip backend has been improved. Kate has a new Preview plugin that allows you to see a live preview of the text document in the final format, applying any available KParts plugins (e.g. for Markdown, SVG, Dot graph, Qt UI, or patches). This plugin also works in KDevelop.
Garapena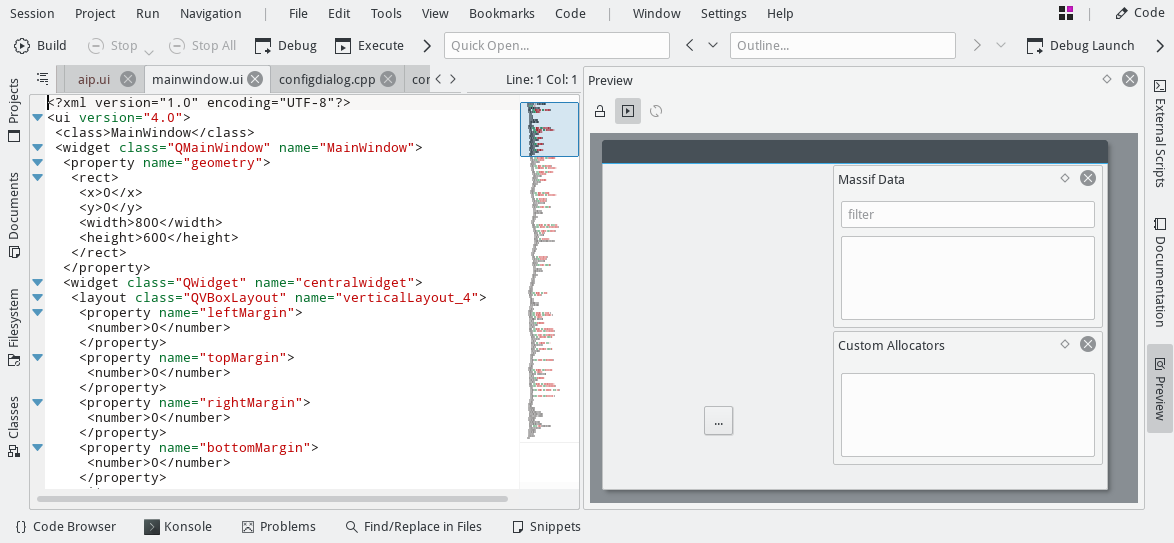 Kompare now provides a context menu in the diff area, allowing for quicker access to navigation or modification actions. If you are a developer, you might find KUIViewers' new in-pane preview of UI object described by Qt UI files (widgets, dialogs, etc) useful. It now also supports KParts streaming API.
Bulegoa
The Kontact team has been hard at work improving and refining. Much of the work has been modernizing the code, but users will notice that encrypted messages display has been improved and support has been added for text/pgp and Apple® Wallet Pass. There is now an option to select IMAP folder during vacation configuration, a new warning in KMail when a mail gets reopened and identity/mailtransport is not the same, new support for Microsoft® Exchange™, support for Nylas Mail and improved Geary import in the akonadi-import-wizard, along with various other bug-fixes and general improvements.
Jokoak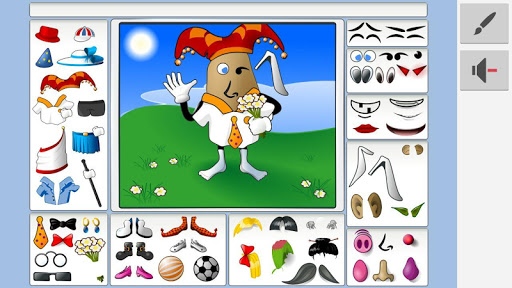 KTuberling can now reach a wider audience, as it has been ported to Android. Kolf, KsirK, and Palapeli complete the porting of KDE games to Frameworks 5.
More Porting to KDE Frameworks 5
Even more applications which were based on kdelibs4 have now been ported to KDE Frameworks 5. These include the music player JuK, the download manager KGet, KMix, utilities such as Sweeper and KMouth, and KImageMapEditor and Zeroconf-ioslave. Many thanks to the hard-working developers who volunteered their time and work to make this happen!
Applications moving to their own release schedule
KStars now has its own release schedule; check this developer's blog for announcements. It is worth noting that several applications such as Kopete and Blogilo are no longer shipped with the Application series, as they have not yet been ported to KDE Frameworks 5, or are not actively maintained at the moment.
Bug Stomping
More than 110 bugs have been resolved in applications including the Kontact Suite, Ark, Dolphin, Gwenview, K3b, Kate, Kdenlive, Konsole, Okular, Umbrello and more!
Aldaketen egunkari osoa
If you would like to read more about the changes in this release, head over to the complete changelog. Although a bit intimidating due to its breadth, the changelog can be an excellent way to learn about KDE's internal workings and discover apps and features you never knew you had.
Hitzez zabaldu
Laguntzaile ez-teknikoak KDEren arrakastaren zati garrantzitsua dira. Software pribatiboko konpainiek argitalpen berriak iragartzeko aurrekontu itzelak dituzten bitartean, KDEk pertsonen arteko ahoz-ahokoa baliatzen du horretarako. Software garatzaileak ez direnek ere badituzte KDE Aplikazioen argitalpenetan sostengua emateko modu ugari. Akatsak jakinaraztea. Beste batzuk KDE Komunitatearekin elkartzera animatzea. Edo KDE komunitatearen gibelean dagoen irabazi asmorik gabeko erakundeari sostengua ematea
Mesedez, hitza zabal ezazu gizarte-webean. Bidali istorioak albiste-guneetara, erabili delicious, digg, reddit eta twitter gisako kanalak. Zama-igo zure ezarpen berriaren pantaila-argazkiak Facebook, Flickr, ipernity eta Picasa gisako zerbitzuetara eta posta bidali talde egokietara. Sortu pantaila-grabazioak eta zama-igo itzazu YouTube, Blip.tv, eta Vimeo-ra. Mesedez, etiketatu postak eta zama-igotako materialak «KDE»rekin. Horrek, haiek bilatzea errazten du, eta KDE Promozio Taldeari KDE Aplikazioen argitalpen honetako estaldura aztertzeko bide bat ematen dio.
KDE Aplikazioen pakete bitarrak instalatzea
Paketeak
Linux/UNIX sistema eragilearen saltzaile batzuek beraien banaketa batzuetarako KDE Aplikazioen pakete bitarrak hornitu dituzte, eta beste kasu batzuetan komunitateko boluntarioek egin dute hori. Pakete bitar osagarriak, baita orain eskuragarri dauden paketeen eguneratzeak ere, erabilgarri egon daitezke datozen asteetan zehar.
Paketeen kokapena
Pakete bitar erabilgarrien gaur egungo zerrenda bat eskuratzeko, KDE Proiektuak jaso dituen berrien araberakoa, bisitatu Komunitatearen Wikia.
KDE Aplikazioak konpilatzea
KDE Aplikazioen sorburu-kode osoa askatasun osoz zama-jaitsi daiteke. Konpilatzeko eta instalatzeko jarraibideak eskuragarri daude KDE Aplikazioak 17.12.0 Informazio orrian.
KDEri laguntzea
KDE Software askeko komunitate bat da, beraien denbora eta ahalegina borondatez ematen dutenen laguntzagatik existitzen eta hazten dena. KDE beti dago boluntario eta laguntzaileen bila, izan kodetzeko laguntza, akatsak konpontzeko edo jakinarazpenak bidaltzeko, dokumentazioa idazteko, itzulpenak, promozioa, dirua, etab. Laguntza guztiak esker onez hartu eta onartzen dira. Irakurri KDEri laguntzea orria informazio zabalagoa eskuratzeko edo egin zaitez KDE e.V.ren bazkide laguntzailea gure [Batu jokora] (https://relate.kde.org/civicrm/contribute/transact?id=5) ekimenaren bidez.
KDEri buruz
KDE is an international technology team that creates free and open source software for desktop and portable computing. Among KDE's products are a modern desktop system for Linux and UNIX platforms, comprehensive office productivity and groupware suites and hundreds of software titles in many categories including Internet and web applications, multimedia, entertainment, educational, graphics and software development. KDE software is translated into more than 60 languages and is built with ease of use and modern accessibility principles in mind. KDE's full-featured applications run natively on Linux, BSD, Windows, Haiku, and macOS.
---
Marka-abisuak.

KDE® eta K Desktop Environment® logoa KDE e.V.-ren marka erregistratuak dira.
Linux, Linus Torvalds-en marka erregistratu bat da. UNIX, Open Group-aren marka erregistratua da Amerikako Estatu Batuetan eta beste herrialde batzuetan.
Dokumentazio honetan aipatzen diren gainerako copyright eta marka erregistratuak euren jabeenak dira.
---
Prentsarako kontaktuak
Informazio gehiago nahi baduzu, bidal iezaguzu e-posta: press@kde.org