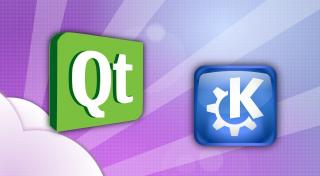 Friday, 8 May 2015
KDE today announces the release of KDE Frameworks 5.10.0.
KDE Frameworks are 60 addon libraries to Qt which provide a wide variety of commonly needed functionality in mature, peer reviewed and well tested libraries with friendly licensing terms. For an introduction see the KDE Frameworks release announcement.
This release is part of a series of planned monthly releases making improvements available to developers in a quick and predictable manner.
New in this version
KActivities
KConfig
QML-kõlblike klasside genereerimine kconfigcompiler'i abil
KCoreAddons
Uus cmake'i makro kcoreaddons_add_plugin KPluginLoader'i põhiste pluginate hõlpsamaks loomiseks.
KDeclarative
Krahhi likvideerimine tekstuuripuhvris.
ja muud parandused
KGlobalAccel
Uue meetodi globalShortcut lisamine, mis hangib globaalsetes seadistustes määratud kiirklahvi.
KIdleTime
Kidletime'i krahhi vältimine waylandi platvormil
KIO
Lisati KPropertiesDialog::KPropertiesDialog(urls) ja KPropertiesDialog::showDialog(urls).
Asünkroonne QIODevice-põhine andmete tõmbamine KIO::storedPut ja KIO::AccessManager::put puhul.
QFile::rename tagastatava väärtuse tingimuste parandamine (veateade 343329)
KIO::suggestName parandamine paremate nimede pakkumise huvides (veateade 341773)
kioexec: kurl'i kirjutatava asukoha parandamine (veateade 343329)
Järjehoidjate salvestamine ainult faili user-places.xbel (veateade 345174)
RecentDocuments'i kirje topelt, kui kahel failil peaks olema sama nimi
Parem veateade, kui üksik fail on liiga suur prügikasti viskamiseks (veateade 332692)
KDirListeri krahhi kõrvaldamine ümbersuunamisel, kui pesa kutsub välja openURL-i
KNewStuff
Uus valik klasse nimedega KMoreTools ja sarnased. KMoreTools aitab lisada vihjeid väliste tööriistade kohta, mida võib-olla ei ole isegi veel paigaldatud. Lisaks muudab see pikad menüüd lühemaks, pakkudes välja kasutaja seadistamise võimalusega põhi- ja lisasektsioonid.
KNotifications
KNotificationsi parandamine kasutamisel koos Ubuntu NotifyOSD-ga (veateade 345973)
Märguannete uuendamist ei käivitata samade omaduste määramisel (veateade 345793)
Lipu LoopSound lisamine, mis lubab märguannetel vajaduse korral esitada heli korduvalt (veateade 346148)
Krahhi vältimine, kui märguandel pole vidinat
KPackage
Funktsiooni KPackage::findPackages lisamine, mis sarnaneb funktsiooniga KPluginLoader::findPlugins
KPeople
KService'i asemel pluginate aktualiseerimiseks KPluginFactory kasutamine
KService
Kirje asukoha väära tükeldamise parandamine [veateade 344614)
KWallet
Migreerimisagent kontrollib nüüd enne alustamist, kas vana turvalaegas on tühi (veateade 346498)
KWidgetsAddons
KDateTimeEdit: Parandus, et kasutaja sisendit ka tegelikult arvestataks. Topeltpiirete parandamine.
KFontRequester: ainult püsisammfontide valimise parandamine
KWindowSystem
QX11Infost sõltumise lõpetamine KXUtils::createPixmapFromHandle'is (veateade 346496)
uus meetod NETWinInfo::xcbConnection() -> xcb_connection_t*
KXmlGui
Kiirklahvide parandamine teisese kiirklahvi määramisel (veateade 345411)
Bugzilla toodete/komponentide loendi uuendamine veast teatamisel (veateade 346559)
Globaalsed kiirklahvid: ka alternatiivse kiirklahvi seadistamise lubamine
NetworkManagerQt
Paigaldatud päised korraldatakse nüüd nii nagu teistes raamistikes.
Plasma raamistik
PlasmaComponents.Menu toetab nüüd sektsioone
KPluginLoaderi kasutamine ksycoca asemel C++ andmemootorite laadimisel
visualParent'i pööramise kaalumine popupPosition'is (veateade 345787)
Sonnet
Esiletõstmist ei rakendata, kui ei leita õigekirja kontrollijat. See tekitab lõputu kordamise - rehighlighRequest'i taimer alustab aina uuesti otsast peale.
Frameworkintegration
Fix native file dialogs from widgets QFileDialog: ** File dialogs opened with exec() and without parent were opened, but any user-interaction was blocked in a way that no file could be selected nor the dialog closed. ** File dialogs opened with open() or show() with parent were not opened at all.
Väljalaske üle arutada ja mõtteid jagada saab meie uudistelehekülje artikli kommentaarides.
Installing binary packages
On Linux, using packages for your favorite distribution is the recommended way to get access to KDE Frameworks. Get KDE Software on Your Linux Distro wiki page
Compiling from sources
The complete source code for KDE Frameworks 5.10.0 may be freely downloaded. Instructions on compiling and installing are available from the KDE Frameworks 5.10.0 Info Page.
Building from source is possible using the basic cmake .; make; make install commands. For a single Tier 1 framework, this is often the easiest solution. People interested in contributing to frameworks or tracking progress in development of the entire set are encouraged to use kdesrc-build. Frameworks 5.10.0 requires Qt .
A detailed listing of all Frameworks and other third party Qt libraries is at inqlude.org, the curated archive of Qt libraries. A complete list with API documentation is on api.kde.org.
Get Involved
Those interested in following and contributing to the development of Frameworks can check out the git repositories and follow the discussions on the KDE Frameworks Development mailing list. Policies and the current state of the project and plans are available at the Frameworks wiki. Real-time discussions take place on the #kde-devel IRC channel on Libera Chat.
Supporting KDE
KDE is a Free Software community that exists and grows only because of the help of many volunteers that donate their time and effort. KDE is always looking for new volunteers and contributions, whether it is help with coding, bug fixing or reporting, writing documentation, translations, promotion, money, etc. All contributions are gratefully appreciated and eagerly accepted. Please read through the Supporting KDE page for further information or become a KDE e.V. supporting member through our Join the Game initiative.