KDE toob välja KDE rakendused 19.08.0
Thursday, 15 August 2019
The KDE community is happy to announce the release of KDE Applications 19.08.
See väljalase näitab KDE jätkuvat pühendumist pakkuda meie loodavate programmide aina veatumaid ja täiustatumaid versioone. Rakenduste uued versioonid toovad kaasa uusi omadusi ja etema ülesehitusega tarkvara, mis suurendab selliste rakenduste kasutushõlpsust ja stabiilsust, nagu Dolphin, Konsool, Kate, Okular ja muud sinu lemmikud KDE tööriistad. Meie eesmärk on tagada kasutajate võimalikult muretu loomeprotsess ning muuta KDE tarkvara kasutamine võimalikult lihtsaks ja maksimaalselt nauditavaks.
We hope you enjoy all the new enhancements you'll find in 19.08!
What's new in KDE Applications 19.08
More than 170 bugs have been resolved. These fixes re-implement disabled features, normalize shortcuts, and solve crashes, making your applications friendlier and allowing you to work and play smarter.
Dolphin
Dolphin on KDE failide ja kataloogide haldur, mida saab nüüd sõltumata sellest, kus parasjagu viibite, käivitada uue globaalse kiirklahviga Meta+E. Üks uus omadus aitab vähendada segadikku töölaual. Kui Dolphin juba töötab ja avad katalooge teiste rakendustega, siis avatakse need kataloogid olemasoleva akna uuel kaardil, mitte Dolphini uues aknas. Pane tähele, et see on nüüd vaikimisi nii, aga soovi korral saab selle keelata.
Infopaneeli (asub vaikimisi Dolphini põhipaneelist paremal) on mitmeti täiustatud. Näiteks saab panna meediafaile automaatselt esitama, kui need põhipaneelil esile tõsta, samuti saab nüüd valida ja kopeerida paneelil näidatavat teksti. Kui aga tahad muuta, mida infopaneel näitab, saab seda teha otse paneelil, sest Dolphin ei ava enam eraldi akent paneeli seadistamiseks.
Me oleme lahendanud hulga väiksemaid vigu ja tõrkeid, mis peaks muutma Dolphini kasutamise veel sujuvamaks.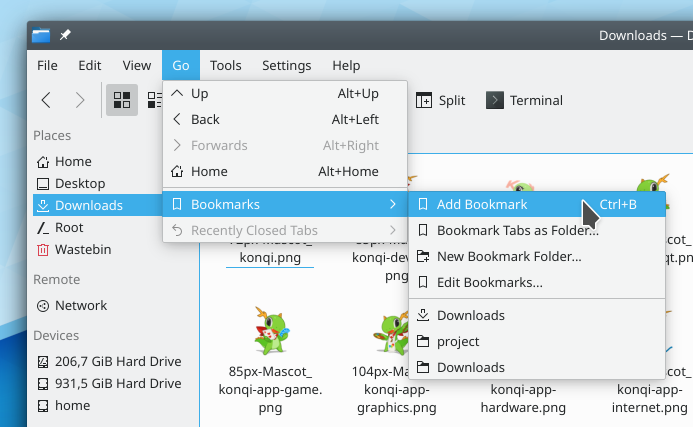 Gwenview
Gwenview is KDE's image viewer, and in this release the developers have improved its thumbnail viewing feature across the board. Gwenview can now use a "Low resource usage mode" that loads low-resolution thumbnails (when available). This new mode is much faster and more resource-efficient when loading thumbnails for JPEG images and RAW files. In cases when Gwenview cannot generate a thumbnail for an image, it now displays a placeholder image rather than re-using the thumbnail of the previous image. The problems Gwenview had with displaying thumbnails from Sony and Canon cameras have also been solved.
Lisaks muutustele pisipiltide juures pakub Gwenview nüüd uut menüüd jagamiseks, mis lubab saata pilte väga mitmele poole, ning suudab laadida ja näidata KIO-moodulite vahendusel võrguasukohtade faile. Samuti näitab Gwenview uus versioon tohutult rohkem toorfailide EXIF-i metaandmeid.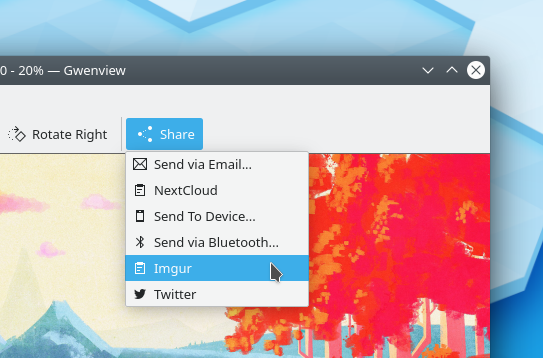 Okular
Arendajad täiustasid omajagu KDE dokumendinäitaja Okular annotatsioone. Lisaks annotatsioonide seadistamisdialoogide kasutajaliidese viimistlemisele saab nüüd joonannotatsioonide otstesse lisada mitmesuguseid visuaalseid elemente, mis lubab need näiteks noolteks muuta. Lisaks saab nüüd annotatsioone vajaduse ja soovi korral lahti ja kokku kerida.
Okulari ePubi dokumentide toetust parandati selles väljalaskes oluliselt. Okulari ei taba enam krahh vigases vormingus ePubi faili laadimisel ning jõudlus suurte ePubi failide käitlemisel on märgatavalt parem. Teiste selle väljalaske muudatuste hulka kuuluvad lehekülje täiustatud piirded ja esitlusrežiimi markeri tööriista parem toimetulek kõrglahutusega DPI korral.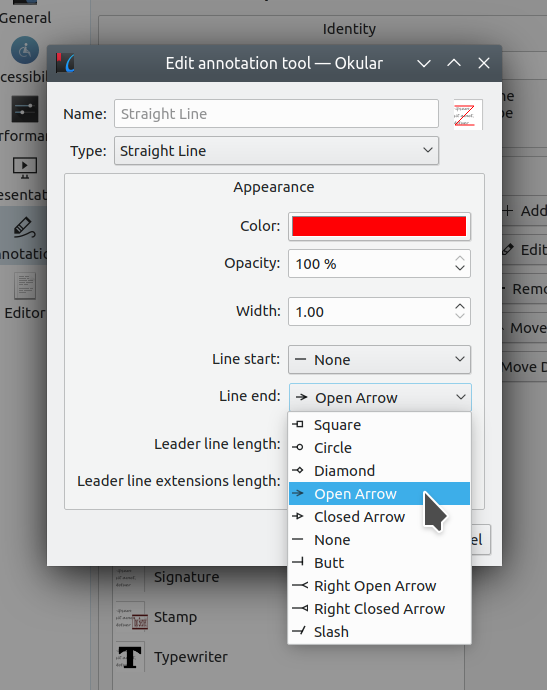 Kate
Thanks to our developers, three annoying bugs have been squashed in this version of KDE's advanced text editor. Kate once again brings its existing window to the front when asked to open a new document from another app. The "Quick Open" feature sorts items by most recently used, and pre-selects the top item. The third change is in the "Recent documents" feature, which now works when the current configuration is set up not to save individual windows' settings.
Konsool
KDE terminaliemulaatori Konsool kõige silmatorkavam muudatus puudutab poolitamisvõimalust. Nüüd saab põhipaneeli poolitada soovikohaselt nii püst- kui ka rõhtsuunas. Ja ka alampaneele saab omakorda poolitada. Selleest väljalaskest peale saab paneele ka lohistada, mis muudab nende ümberkorraldamise palju lihtsamaks.
Lisaks muule on seadistusteakent viimistletud, et see oleks selgemini mõistetav ja hõlpsam kasutada.
Spectacle
Spectacle on KDE ekraanipiltide tegemise rakendus, mis on iga väljalaskega saanud aina uusi huvitavaid omadusi. Erand pole seegi väljalase, mis pakub nüüd mitmeid uusi omadusi viivitusvõimaluse täiustamiseks. Viivitusega ekraanipildi tegemisel näitab Spectacle jäänud aega akna tiitliribal. Samuti näeb seda rakenduse ikoonil tegumihalduril.
Still on the Delay feature, Spectacle's Task Manager button will also show a progress bar, so you can keep track of when the snap will be taken. And, finally, if you un-minimize Spectacle while waiting, you will see that the "Take a new Screenshot" button has turned into a "Cancel" button. This button also contains a progress bar, giving you the chance to stop the countdown.
Ekraanipiltide salvestamisel on samuti uus võimalus. Pildi salvestamisel näitab Spectacle rakenduses sõnumit, mis lubab avada ekraanipildi või seda sisaldava kataloogi.
Kontact
KDE e-kirjade, kalendrite, kontaktide ja grupitöö rakendustekomplekt Kontact pakub kirjade koostamisel Unicode värviliste emojide ja Markdowni toetust. Nii laseb KMail sinu kirjadel kaunid välja näha, kuid lisaks pakub rakendus veel lõiminist selliste grammatika kontrollimise programmidega nagu LanguageTool ja Grammalecte, et su kirjade õigekeel oleks samuti parimas korras.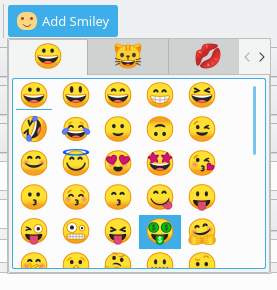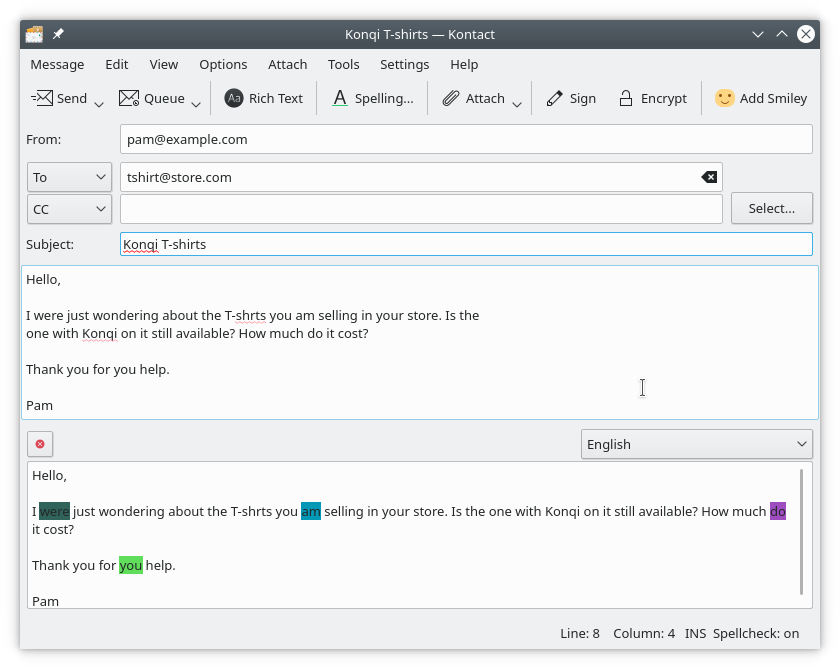 Sündmuste planeerimisel ei kustuta KMail enam kutsekirju, kui neile on vastatud. Sündmust saab nüüd KOrganizeri sündmuste redaktoris liigutada ühest kalendrist teise.
KDE aadressiraamat on nüüd suuteline saatma kontaktidele SMS-e KDE Connecti vahendusel, muutes nii töölaua ja mobiilseadmete lõimituse veel sügavamaks.
Kdenlive
KDE videoredaktori Kdenlive uus versioon pakub välja uue valiku klaviatuuri-hiire ühendtoiminguid, mis lubavad loomekiirust tõsta. Näiteks saab klipi kiirust ajateljel muuta klahvi Ctrl all hoides ja klippi lohistades, videoklippide pisipiltide eelvaatluse aga aktiveerida tõstuklahvi all hoides ja hiirega projektipuus klipi pisipildi peale liikudes. Arendajad nägid palju vaeva ka kolmepunkti-redigeerimise toimingute ühtlustamisega muude videoredaktoritega, mis on kahtlemata tänuväärt täiustus, eriti kui tulla Kdenlive'i kasutama varasema muu videoredaktori kogemuse pealt.
You can find the full list of changes here.
Spread the Word
Non-technical contributors are an important part of KDE's success. While proprietary software companies have huge advertising budgets for new software releases, KDE depends on people talking with other people. Even for those who are not software developers, there are many ways to support the KDE Applications release. Report bugs. Encourage others to join the KDE Community. Or support the nonprofit organization behind the KDE community
Please spread the word on the Social Web. Submit stories to news sites, use channels like delicious, digg, reddit, and twitter. Upload screenshots of your new set-up to services like Facebook, Flickr, ipernity and Picasa, and post them to appropriate groups. Create screencasts and upload them to YouTube, Blip.tv, and Vimeo. Please tag posts and uploaded materials with 'KDE'. This makes them easy to find, and gives the KDE Promo Team a way to analyze coverage for this KDE Applications release.
Installing KDE Applications Binary Packages
Packages
Some Linux/UNIX OS vendors have kindly provided binary packages of KDE Applications for some versions of their distribution, and in other cases community volunteers have done so. Additional binary packages, as well as updates to the packages now available, may become available over the coming weeks.
Package Locations
For a current list of available binary packages of which the KDE Project has been informed, please visit the Community Wiki.
Compiling KDE Applications
The complete source code for KDE Applications may be freely downloaded. Instructions on compiling and installing are available from the KDE Applications 19.08 Info Page.
Supporting KDE
KDE is a Free Software community that exists and grows only because of the help of many volunteers that donate their time and effort. KDE is always looking for new volunteers and contributions, whether it is help with coding, bug fixing or reporting, writing documentation, translations, promotion, money, etc. All contributions are gratefully appreciated and eagerly accepted. Please read through the Supporting KDE page for further information or become a KDE e.V. supporting member through our Join the Game initiative.
About KDE
KDE is an international technology team that creates free and open source software for desktop and portable computing. Among KDE's products are a modern desktop system for Linux and UNIX platforms, comprehensive office productivity and groupware suites and hundreds of software titles in many categories including Internet and web applications, multimedia, entertainment, educational, graphics and software development. KDE software is translated into more than 60 languages and is built with ease of use and modern accessibility principles in mind. KDE's full-featured applications run natively on Linux, BSD, Windows, Haiku, and macOS.
---
Trademark Notices.

KDE® and the K Desktop Environment® logo are registered trademarks of KDE e.V..
Linux is a registered trademark of Linus Torvalds. UNIX is a registered trademark of The Open Group in the United States and other countries.
All other trademarks and copyrights referred to in this announcement are the property of their respective owners.
---
Press Contacts
For more information send us an email: press@kde.org