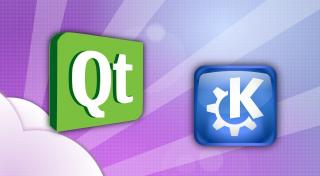 Sábado, 10 de noviembre de 2018
KDE anuncia hoy el lanzamiento de KDE Frameworks 5.52.0.
KDE Frameworks está formada por 70 bibliotecas de complementos para Qt que proporcionan una gran variedad de funcionalidades usadas habitualmente en bibliotecas maduras, revisadas por expertos y comprobadas exhaustivamente, publicadas con unas condiciones de licencia amigables. Puede consultar una introducción en el anuncio del lanzamiento de KDE Frameworks.
Esta versión es parte de una serie planeada de versiones mensuales, lo que permite que las mejoras estén disponibles para los desarrolladores de una forma rápida y predecible.
Novedades de esta versión
Baloo
No romper la compilación con BUILD_QCH=TRUE.
Actually use fileNameTerms and xAttrTerms
[Balooshow] Avoid out-of-bounds access when accessing corrupt db data
[Extractor] Do not check QFile::exists for an empty url
[Scheduler] Use flag to track when a runner is going idle
[Extractor] Handle documents correctly where mimetype should not be indexed
[Scheduler] Fix wrong usage of obsolete QFileInfo::created() timestamp (bug 397549)
[Extractor] Make extractor crash resilient (bug 375131)
Pass the FileIndexerConfig as const to the individual indexers
[Config] Remove KDE4 config support, stop writing arbitrary config files
[Extractor] Improve commandline debugging, forward stderr
[Scheduler] Reuse fileinfo from FilteredDirIterator
[Scheduler] Reuse mimetype from UnindexedFileIterator in indexer
[Scheduler] Remove superfluous m_extractorIdle variable
Perform checks for unindexed files and stale index entries on startup
[balooctl] Print current state & indexing file when monitor starts (bug 364858)
[balooctl] Monitorizar también los cambios de estado.
[balooctl] Fix "index" command with already indexed, but moved file (bug 397242)
BluezQt
Se ha añadido la generación de cabeceras de las API «Media» y «MediaEndpoint».
Iconos Brisa
Change package manager icons to emblems
Se ha vuelto a añadir el icono «link» como acción.
Improve emblem contrast, legibility and consistency (bug 399968)
Support "new" mimetype for .deb files (bug 399421)
Módulos CMake adicionales
ECMAddQch: help doxygen by predefining more Q*DECL** macros
Bindings: Support using sys paths for python install directory
Bindings: Remove INSTALL_DIR_SUFFIX from ecm_generate_python_binding
Se ha implementado el uso del saneador «fuzzer».
KCMUtils
Permitir el uso de KCM con múltiples páginas.
KConfig
Add mechanism to notify other clients of config changes over DBus
Expose getter method for KConfig::addConfigSources
KConfigWidgets
Allow KHelpCenter to open the right pages of KDE help when KHelpClient is invoked with an anchor
KCrash
KCrash: Se ha corregido un fallo («eh irónico») cuando se usa en una aplicación sin QCoreApplication.
KDeclarative
make push/pop part of ConfigModule API
KDED
Remove useless "No X-KDE-DBus-ServiceName found" message
KDesignerPlugin
Reference product "KF5" in widget metadata, instead of "KDE"
KDocTools
API dox: add minimal docs to KDocTools namespace, so doxygen covers it
Create a QCH file with the API dox, optionally, using ECMAddQCH
Wait for docbookl10nhelper to be built before building our own manpages
Use specified Perl interpreter instead of relying on PATH
KFileMetaData
[ExtractorCollection] Use only best matching extractor plugin
[KFileMetaData] Add extractor for generic XML and SVG
[KFileMetaData] Add helper for XML encoded Dublin Core metadata
implement support for reading ID3 tags from aiff and wav files
Se han implementado más etiquetas para los metadatos de ASF.
extract ape tags from ape and wavpack files
provide a list of supported mimetypes for embeddedimagedata
compare with QLatin1String and harmonize handling of all types
Don't crash on invalid exiv2 data (bug 375131)
epubextractor: Add property ReleaseYear
refactor taglibextractor to functions specific for metadata type
add wma files/asf tags as supported mimetype
use own extractor for testing the taglibwriter
add a string suffix to test data and use for unicode testing of taglibwriter
remove compile time check for taglib version
extend test coverage to all supported mimetypes for taglibextractor
Use variable with already fetched text instead of fetching again
KGlobalAccel
Se han corregido las notificaciones de cambio de distribución de teclado (error 269403).
KHolidays
Add Bahrain Holiday File
Make KHolidays work as static library too
KIconThemes
Add a QIconEnginePlugin to allow QIcon deserialization (bug 399989)
[KIconLoader] Replace heap-allocated QImageReader with stack-allocated one
[KIconLoader] Adjust emblem border depending on icon size
Center icons properly if size doesn't fit (bug 396990)
KIO
Do not try to fallback to "less secure" SSL protocols
[KSambaShare] Trim trailing / from share path
[kdirlistertest] Wait a little longer for the lister to finish
Display sorry message if file is not local
kio_help: Fix crash in QCoreApplication when accessing help:// (bug 399709)
Avoid waiting for user actions when kwin Focus stealing prevention is high or extreme
[KNewFileMenu] Don't open an empty QFile
Added missing Icons to Places Panel code from KIO
Get rid of the raw KFileItem pointers in KCoreDirListerCache
Add 'Mount' option to context menu of unmounted device in Places
Add a 'Properties' entry in the places panel context menu
Fix warning "macro expansion producing 'defined' has undefined behavior"
Kirigami
Fix missing items in static builds
Uso básico de páginas ocultas.
Cargar iconos de los temas de iconos correctos.
(muchas más correcciones)
KNewStuff
Mensajes de error más útiles.
KNotification
Se ha corregido un fallo causado por la gestión incorrecta del tiempo de vida de notificaciones de sonido basadas en «canberra» (error 398695).
KParts
Fix Cancel being not handled in deprecated BrowserRun::askEmbedOrSave
Se ha portado a la variante no desaconsejada de «KRun::runUrl».
Port KIO::Job::ui() -> KJob::uiDelegate()
KWayland
Añadir el protocolo de escritorio virtual de KWayland.
Guard data source being deleted before processing dataoffer receive event (bug 400311)
[server] Respect input region of sub-surfaces on pointer surface focus
[xdgshell] Add positioner constraint adjustment flag operators
KWidgetsAddons
API dox: fix "Since" note of KPageWidgetItem::isHeaderVisible
Add a new property headerVisible
KWindowSystem
Do not compare iterators returned from two separate returned copies
KXMLGUI
Take 1..n KMainWindows in kRestoreMainWindows
NetworkManagerQt
Se han añadido las opciones de preferencias de «ipv4» que faltaban.
Add vxlan setting
Framework de Plasma
revert icons scaling on mobile
Support mnemonic labels
Remove PLASMA_NO_KIO option
Properly look for fallback themes
Purpose
Set Dialog flag for JobDialog
Solid
[solid-hardware5] List icon in device details
[UDisks2] Apagar las unidades al extraerlas si lo permiten (error 270808).
Sonnet
Se ha corregido la rotura de la suposición del lenguaje.
Sindicación
Add missing README.md file (needed by various scripts)
Resaltado de sintaxis
Resaltado de sintaxis para archivos CLIST de z/OS.
Se ha creado un nuevo archivo de resaltado de sintaxis para el lenguaje de control de trabajos (JCL).
Eliminar el modo de apertura para versión de Qt demasiado nueva.
inc version + fixup required kate version to current framework version
keyword rule: Support for keywords inclusion from another language/file
No spell checking for Metamath except in comments
CMake: Add XCode related variables and properties introduced in 3.13
CMake: Introduce new features of upcoming 3.13 release
Información de seguridad
El código publicado se ha firmado con GPG usando la siguiente clave: pub rsa2048/58D0EE648A48B3BB 2016-09-05 David Faure <faure@kde.org>. Huella digital de la clave primaria: 53E6 B47B 45CE A3E0 D5B7 4577 58D0 EE64 8A48 B3BB.
Puede comentar esta versión y compartir sus ideas en la sección de comentarios de el artículo de dot.
Instalación de paquetes binarios
En Linux, el uso de paquetes para su distribución favorita es el modo recomendado de tener acceso a KDE Frameworks. Obtenga software de KDE en la página wiki de su distribución de Linux.
Compilación del código fuente
La totalidad del código fuente de las aplicaciones de KDE se puede descargar libremente. Dispone de instrucciones sobre su compilación e instalación en la página de información sobre las aplicaciones de KDE https://download.kde.org/stable/frameworks/5.52.
Se puede compilar el código fuente usando las órdenes básicas cmake .; make; make install. Para una sola framework del Nivel 1, esta suele ser la solución más fácil. Quien esté más interesado en colaborar con las frameworks o seguir el avance del desarrollo del conjunto completo debería usar kdesrc-build. Frameworks 5.52.0 necesita Qt .
En inqlude.org, el archivo actualizado de las bibliotecas Qt, se muestra una lista detallada de todas los Frameworks y de otras bibliotecas Qt de terceras partes. La lista completa con la documentación de la API está en api.kde.org.
Implicarse
Los interesados en seguir el desarrollo de Frameworks y colaborar con él pueden visitar los repositorios git y seguir los debates en la lista de distribución del desarrollo de KDE Frameworks. Las normas, el estado actual del proyecto y sus planes futuros están disponibles en la wiki de Frameworks. Los debates en tiempo real tienen lugar en el canal IRC #kde-devel de Libera Chat.
En apoyo de KDE
KDE es una comunidad de Software Libre que existe y crece únicamente con la ayuda de muchos voluntarios que donan su tiempo y su esfuerzo. KDE siempre está buscando nuevos voluntarios y colaboradores, ya sea para ayudar a programar, informar de errores o corregirlos, escribir documentación, traducir, promocionar, hacer donativos, etc. Cualquier tipo de colaboración se aprecia con gratitud y se acepta con ilusión. Por favor, lea la página de apoyo a KDE para obtener más información o convertirse en un miembro de apoyo a KDE e.V. a través de nuestra nueva iniciativa Únase al juego.