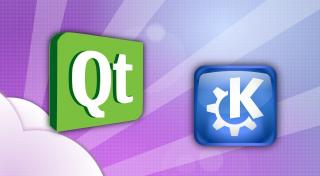 Sábado, 8 de septiembre de 2018
KDE anuncia hoy el lanzamiento de KDE Frameworks 5.50.0.
KDE Frameworks está formada por 70 bibliotecas de complementos para Qt que proporcionan una gran variedad de funcionalidades usadas habitualmente en bibliotecas maduras, revisadas por expertos y comprobadas exhaustivamente, publicadas con unas condiciones de licencia amigables. Puede consultar una introducción en el anuncio del lanzamiento de KDE Frameworks.
Esta versión es parte de una serie planeada de versiones mensuales, lo que permite que las mejoras estén disponibles para los desarrolladores de una forma rápida y predecible.
Novedades de esta versión
Attica
Se ha añadido la implementación de las etiquetas propuestas en OCS 1.7.
Baloo
Se ha corregido un error tipográfico en la salida del tamaño del índice (error 397843).
Eliminar la URL de origen, no la de destino, cuando una URL se convierte en no indexable.
[tags_kio] Simplificar la coincidencia de la petición de ruta de archivo usando un grupo de captura.
Revertir «Omitir encolar archivos recientemente no indexables y eliminarlos del índice permanentemente».
[tags_kio] Simplificar la búsqueda de ruta de archivos en bucle.
Iconos Brisa
Se ha añadido un icono para archivos de proyectos de LabPlot.
ScalableTes: añadir la integración «escalable» de navegador en Plasma (error 393999).
Módulos CMake adicionales
Bindings: Check if bindings can be generated for a specific python version
Bindings: Make generator forward compatible with Python 3
Disable alteration of QT_PLUGIN_PATH by ECM when running tests
Bindings: Add support for scoped enums (bug 397154)
Se ha hecho posible que ECM detecte archivos po en el momento de la configuración.
Integración con Frameworks
[KStyle] Usar «dialog-question» para el icono de preguntas.
KArchive
Manejar codificaciones no ASCII en nombres de archivos en los archivos comprimidos tar (error 266141).
KCompressionDevice: no llamar a «write» tras un error de escritura (error 397545).
Añadir las macros Q_OBJECT que faltaban a las subclases de QIODevice.
KCompressionDevice: propagar errores de QIODevice::close() (error 397545).
Corregir la página principal de bzip.
KCMUtils
Usar un QScrollArea personalizado con sugerencia de tamaño no limitada por el tamaño del tipo de letra (error 389585).
KConfig
Eliminar advertencia sobre una antigua función de «kiosk» que ya no se usa.
Definir el acceso rápido de teclado del sistema por omisión Ctrl+0 para la acción «Tamaño real».
KCoreAddons
No eliminar el espacio entre dos URL cuando la línea empieza por " (error de kmail).
KPluginLoader: usar «/» incluso en Windows, ya que libraryPaths() devuelve rutas con «/».
KPluginMetaData: convertir cadenas de texto vacía a listas de cadenas de texto vacías.
KDeclarative
Revertir «Asegurar que escribimos siempre en el contexto raíz del motor».
Adjuntar propiedad a «delegate» (error 397367).
[KCM GridDelegate] Use layer effect only on OpenGL backend (bug 397220)
KDocTools
Se ha añadido el acrónimo ASCII a «general.entities».
Se ha añadido JSON a «general.entities».
Permitir que «meinproc5» dé más información en la prueba automática «install».
Usar rutas absolutas en «kdoctools_install» para encontrar archivos instalados.
KFileMetaData
Se ha añadido un alias del enumerador «Property::Language» para el error tipográfico «Property::Langauge».
KHolidays
Se ha implementado un algoritmo correcto para calcular los equinoccios y los solsticios (erro 396750).
src/CMakeLists.txt: Instalar cabecera a la manera de frameworks.
KI18n
Impedir que se intente usar un KCatalog sin una QCoreApplication.
Adaptar ki18n de QtScript a QtQml.
Comprobar también el directorio de construcción para «po/».
KIconThemes
Usar Brisa como tema de iconos al que recurrir en caso de fallo.
KIO
[KSambaShareData] Aceptar espacios en el nombre de la máquina ACL.
[KFileItemListProperties] Usar «mostLocalUrl» para capacidades.
[KMountPoint] Comprobar también «smb-share» por si es un montaje SMB (error 344146).
[KMountPoint] Resolver los montajes «gvfsd» (error 344146).
[KMountPoint] Eliminar los restos de «supermount».
[KMountPoint] Eliminar el uso de AIX y Windows CE.
Display mounted file system type and mounted from fields in properties dialog (bug 220976)
kdirlistertest doesn't fail at random
[KUrlComboBox] Corregir el error de adaptación a KIcon.
Port KPATH_SEPARATOR "hack" to QDir::listSeparator, added in Qt 5.6
Corregir una pérdida de memoria en KUrlComboBox::setUrl.
[KFileItem] Don't read directory comment on slow mounts
Use QDir::canonicalPath instead
Ignore NTFS hidden flag for root volume (bug 392913)
Give the "invalid directory name" dialog a cancel button
KPropertiesDialog: switch to label in setFileNameReadOnly(true)
Refine wording when a folder with an invalid name could not be created
Use appropriate icon for a cancel button that will ask for a new name
Hacer que los archivos de solo lectura se puedan seleccionar.
Usar las mayúsculas para títulos en algunas etiquetas de botones.
Usar KLineEdit para nombres de carpeta si tienen permiso de escritura; en caso contrario, usar QLabel.
KCookieJar: Corregir conversión errónea de zona horaria.
Kirigami
Permitir el uso de «fillWidth» en los elementos.
Impedir el borrado externo de páginas.
Mostrar siempre la cabecera cuando estamos en modo plegable.
Corregir el comportamiento de «showContentWhenCollapsed».
Corregir huecos en los menús del estilo «Material».
standard actionsmenu for the page contextmenu
Explicitly request Qt 5.7's QtQuick to make use of Connections.enabled
use Window color instead of a background item
Asegurarse de que el cajón se cierra incluso cuando se pulsa uno nuevo.
export separatorvisible to the globaltoolbar
Corregir la generación de complementos estáticos QRC de Kirigami.
Corregir la compilación en el modo estático LTO.
Asegurar que la propiedad drawerOpen se sincroniza correctamente (error 394867).
Cajón: Mostrar el widget del contenido al arrastrar.
Allow qrc assets to be used in Actions icons
ld on old gcc (bug 395156)
KItemViews
Desaconsejar el uso de KFilterProxySearchLine.
KNewStuff
Poner providerId en caché.
KNotification
Permitir el uso de libcanberra para notificaciones sonoras.
KService
KBuildSycoca: Procesar siempre los archivos de escritorio de las aplicaciones.
KTextEditor
Turn enum Kate::ScriptType into an enum class
Manejo de error correcto para QFileDevice y KCompressedDevice.
InlineNotes: Do not print inline notes
Remove QSaveFile in favor of plain old file saving
InlineNotes: Use screen global coordinates everywhere
InlineNote: Initialize position with Cursor::invalid()
InlineNote: Pimpl inline note data without allocs
Se ha añadido la interfaz de notas en línea.
Show text preview only if main window is active (bug 392396)
Se ha corregido un fallo de la aplicación al ocultar el widget «TextPreview» (error 397266).
Fusionar ssh://git.kde.org/ktexteditor
improve hidpi rendering of icon border
Se ha mejorado el tema de colores de vim (error 361127).
Search: Add workaround for missing icons in Gnome icon-theme
fix overpainting for _ or letters like j in the last line (bug 390665)
Se ha extendido la API de scripts para permitir la ejecución de órdenes.
Script de sangrado para R.
Se ha corregido un cuelgue al sustituir n alrededor de líneas vacías (error 381080).
remove highlighting download dialog
no need to new/delete hash on each doHighlight, clearing it is good enough
ensure we can handle invalid attribute indices that can happen as left overs after HL switch for a document
let smart pointer handle deletion of objects, less manual stuff to do
remove map to lookup additional hl properties
KTextEditor usa el framework KSyntaxHighlighting para todo.
Usar las codificaciones de caracteres como se proporcionan en las definiciones.
Se ha fusionado la rama «master» en el resaltado de sintaxis.
non-bold text no longer renders with font weight thin but (bug 393861)
Usar foldingEnabled.
Se ha eliminado EncodedCharaterInsertionPolicy.
Printing: Respect footer font, fix footer vertical position, make header/footer separator line visually lighter
Se ha fusionado la rama «master» en el resaltado de sintaxis.
let syntax-highlighting framework handle all definition management now that there is the None definition around in the repo
completion widget: fix minimum header section size
Fix: Scroll view lines instead of real lines for wheel and touchpad scrolling (bug 256561)
remove syntax test, that is now tested in the syntax-highlighting framework itself
KTextEditor configuration is now application local again, the old global configuration will be imported on first use
Usar KSyntaxHighlighting::CommentPosition en lugar de KateHighlighting::CSLPos.
Usar isWordWrapDelimiter() de KSyntaxHighlighting.
Cambiar el nombre de isDelimiter() a isWordDelimiter().
implement more lookup stuff via format -> definition link
Ahora siempre se obtienen formatos válidos.
Mejor modo de obtener el nombre del atributo.
fix python indentation test, safer accessor to property bags
Se han vuelto a añadir los prefijos de definiciones correctos.
Merge branch 'syntax-highlighting' of git://anongit.kde.org/ktexteditor into syntax-highlighting
try to bring back lists needed to do the configuration per scheme
Usar KSyntaxHighlighting::Definition::isDelimiter().
make can break bit more like in word code
no linked list without any reason
cleanup properties init
fix order of formats, remember definition in highlighting bag
handle invalid formats / zero length formats
remove more old implementation parts, fixup some accessors to use the format stuff
fix indentation based folding
remove exposure of context stack in doHighlight + fix ctxChanged
start to store folding stuff
rip out highlighting helpers, no longer needed
remove need to contextNum, add FIXME-SYNTAX marker to stuff that needs to be fixed up properly
adapt to includedDefinitions changes, remove contextForLocation, one only needs either keywords for location or spellchecking for location, can be implemented later
Se han eliminado más cosas que ya no se usan en el resaltado de sintaxis.
fixup the m_additionalData and the mapping for it a bit, should work for attributes, not for context
create initial attributes, still without real attribute values, just a list of something
Llamar al resaltado de sintaxis.
derive from abstract highlighter, set definition
Framework KWallet
Move example from techbase to own repo
KWayland
Sync set/send/update methods
Add serial number and EISA ID to OutputDevice interface
Output device color curves correction
Se ha corregido la gestión de memoria en WaylandOutputManagement.
Aislar todas las pruebas de WaylandOutputManagement.
Escalado fraccionario de OutputManagement.
KWidgetsAddons
Crear un primer ejemplo del uso de KMessageBox.
Se han corregido dos errores en KMessageWidget.
[KMessageBox] Call style for icon
Add workaround for labels with word-wrapping (bug 396450)
KXMLGUI
Hacer que Konqi se vea bien en las pantalla de alta densidad.
Se han añadido los paréntesis que faltaban.
NetworkManagerQt
Require NetworkManager 1.4.0 and newer
manager: add support to R/W the GlobalDnsConfiguration property
Actually allow to set the refresh rate for device statistics
Framework de Plasma
Workaround bug with native rendering and opacity in TextField text (bug 396813)
[Icon Item] Watch KIconLoader icon change when using QIcon (bug 397109)
[Icon Item] Use ItemEnabledHasChanged
Deshacerse del uso desaconsejado de QWeakPointer.
Se ha corregido la hoja de estilos para «22-22-system-suspend» (error 397441).
Improve Widgets' removal and configure text
Solid
solid/udisks2: Añadir la posibilidad de crear un registro categorizado.
[Dispositivo de Windows] Mostrar la etiqueta del dispositivo solo si hay una.
Forzar la reevaluación de los predicados si se eliminan las interfaces (error 394348).
Sonnet
hunspell: Restaurar la compilación con hunspell <=v1.5.0.
Incluir cabeceras de hunspell como cabeceras del sistema.
syndication
Nuevo módulo
Resaltado de sintaxis
Resaltar 20.000 líneas por caso de prueba.
make highlighting benchmark more reproducible, we anyways want to measure this execution with e.g. perf from the outside
Tune KeywordList lookup & avoid allocations for implicit capture group
remove captures for Int, never implemented
deterministic iteration of tests for better result comparison
handle nested include attributes
Actualizar el resaltado de sintaxis de Modula-2 (error 397801).
precompute attribute format for context & rules
avoid word delimiter check at start of keyword (bug 397719)
Se ha añadido resaltado de sintaxis para el lenguaje de políticas del kernel de SELinux.
hide bestCandidate, can be static function inside file
Add some improvements to kate-syntax-highlighter for use in scripting
added := as a valid part of an identifier
use our own input data for benchmarking
try to fix line ending issue in compare of results
try trivial diff output for Windows
add defData again for valid state check
decrease StateData space by more than 50% and half the number of needed mallocs
improve performance of Rule::isWordDelimiter and KeywordListRule::doMatch
Improve skip offset handling, allow to skip full line on no match
check extensions wildcard list
more asterisk hl, I tried some asterisk configs, they are just ini style, use .conf as ini ending
fix highlighting for #ifdef _xxx stuff (bug 397766)
fix wildcards in files
MIT relicensing of KSyntaxHighlighting done
JavaScript: add binaries, fix octals, improve escapes & allow Non-ASCII identifiers (bug 393633)
Allow to turn of the QStandardPaths lookups
Allow to install syntax files instead of having them in a resource
handle context switch attributes of the contexts themselves
change from static lib to object lib with right pic setting, should work for shared + static builds
avoid any heap allocation for default constructed Format() as used as "invalid"
Respetar la variable de cmake para bibliotecas estáticas en lugar de dinámicas, como «karchive».
MIT relicensing, https://phabricator.kde.org/T9455
remove old add_license script, no longer needed
Fix includedDefinitions, handle definition change in context switch (bug 397659)
SQL: various improvements and fix if/case/loop/end detection with SQL (Oracle)
fix reference files
SCSS: update syntax. CSS: fix Operator and Selector Tag highlighting
debchangelog: add Bookworm
Se ha cambiado la licencia de «Dockerfile» a la licencia de MIT.
remove the no longer supported configuration part of the spellchecking that always had just one mode we now hardcode
Se ha añadido el resaltado de sintaxis para Stan.
add back indenter
Optimize many syntax highlighting files and fix the '/' char of SQL
Modelines: add byte-order-mark & small fixes
Se ha cambiado la licencia de «modelines.xml» a la licencia de MIT (error 198540).
Add QVector<QPair<QChar, QString>> Definition::characterEncodings() const
Add bool Definition::foldingEnabled() const
Se ha añadido el resaltado de sintaxis «Ninguno» al repositorio como predeterminado.
Update Logtalk language syntax support
Add Autodesk EAGLE sch and brd file format to the XML category
C# highlighting: Prefer C-Style indenter
AppArmor: update syntax and various improvements/fixes
Java: add binaries & hex-float, and support underscores in numbers (bug 386391)
Cleanup: indentation was moved from general to language section
Definition: Expose command markers
Añadir resaltado de sintaxis para JavaScript React.
YAML: fix keys, add numbers and other improvements (bug 389636)
Add bool Definition::isWordWrapDelimiter(QChar)
Definition: Rename isDelimiter() to isWordDelimiter()
Note KF6 API improvement ideas from the KTE porting
Proporcionar también un formato válido para las líneas vacías.
Make Definition::isDelimiter() also work for invalid definitions
Definition: Expose bool isDelimiter() const
Sort returned formats in Definition::formats() by id
Información de seguridad
El código publicado se ha firmado con GPG usando la siguiente clave: pub rsa2048/58D0EE648A48B3BB 2016-09-05 David Faure <faure@kde.org>. Huella digital de la clave primaria: 53E6 B47B 45CE A3E0 D5B7 4577 58D0 EE64 8A48 B3BB.
Puede comentar esta versión y compartir sus ideas en la sección de comentarios de el artículo de dot.
Instalación de paquetes binarios
En Linux, el uso de paquetes para su distribución favorita es el modo recomendado de tener acceso a KDE Frameworks. Obtenga software de KDE en la página wiki de su distribución de Linux.
Compilación del código fuente
La totalidad del código fuente de las aplicaciones de KDE se puede descargar libremente. Dispone de instrucciones sobre su compilación e instalación en la página de información sobre las aplicaciones de KDE https://download.kde.org/stable/frameworks/5.50.
Se puede compilar el código fuente usando las órdenes básicas cmake .; make; make install. Para una sola framework del Nivel 1, esta suele ser la solución más fácil. Quien esté más interesado en colaborar con las frameworks o seguir el avance del desarrollo del conjunto completo debería usar kdesrc-build. Frameworks 5.50.0 necesita Qt .
En inqlude.org, el archivo actualizado de las bibliotecas Qt, se muestra una lista detallada de todas los Frameworks y de otras bibliotecas Qt de terceras partes. La lista completa con la documentación de la API está en api.kde.org.
Implicarse
Los interesados en seguir el desarrollo de Frameworks y colaborar con él pueden visitar los repositorios git y seguir los debates en la lista de distribución del desarrollo de KDE Frameworks. Las normas, el estado actual del proyecto y sus planes futuros están disponibles en la wiki de Frameworks. Los debates en tiempo real tienen lugar en el canal IRC #kde-devel de Libera Chat.
En apoyo de KDE
KDE es una comunidad de Software Libre que existe y crece únicamente con la ayuda de muchos voluntarios que donan su tiempo y su esfuerzo. KDE siempre está buscando nuevos voluntarios y colaboradores, ya sea para ayudar a programar, informar de errores o corregirlos, escribir documentación, traducir, promocionar, hacer donaciones, etc. Cualquier tipo de colaboración se aprecia con gratitud y se acepta con ilusión. Por favor, lea la página de apoyo a KDE para obtener más información o convertirse en un miembro de apoyo a KDE e.V. a través de nuestra nueva iniciativa Únase al juego.