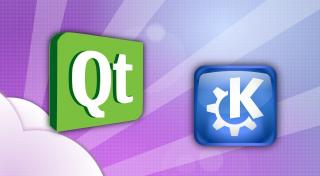 Sábado, 14 de abril de 2018
KDE anuncia hoy el lanzamiento de KDE Frameworks 5.45.0.
KDE Frameworks está formada por 70 bibliotecas de complementos para Qt que proporcionan una gran variedad de funcionalidades usadas habitualmente en bibliotecas maduras, revisadas por expertos y comprobadas exhaustivamente, publicadas con unas condiciones de licencia amigables. Puede consultar una introducción en el anuncio del lanzamiento de KDE Frameworks.
Esta versión es parte de una serie planeada de versiones mensuales, lo que permite que las mejoras estén disponibles para los desarrolladores de una forma rápida y predecible.
Novedades de esta versión
Attica
Explicitly set content type to form data
Baloo
Simplify Term operator&& and ||
Do not retrieve document ID for skipped result entries
Do not retrieve mtime from database repeatedly when sorting
Do not export databasesanitizer by default
baloodb: Add experimental message
Introduce baloodb CLI tool
Introduce sanitizer class
[FileIndexerConfig] Delay populating folders until actually used
src/kioslaves/search/CMakeLists.txt - link to Qt5Network following changes to kio
balooctl: checkDb should also verify the last known url for the documentId
balooctl monitor: Resume to wait for service
Iconos Brisa
add window-pin icon (bug 385170 add window-pin icon)
Se ha cambiado el nombre de los iconos de 64 píxeles añadidos para Elisa.
change 32px icons for playlist shuffle and repeat
Missing icons for inline Messages (bug 392391)
New icon for Elisa music player
Se han añadido iconos de estados multimedia.
Eliminar el marco alrededor de los iconos de acciones multimedia.
add media-playlist-append and play icons
add view-media-album-cover for babe
Módulos CMake adicionales
Make use of upstream CMake infrastructure to detect the compiler toolchain
API dox: fix some "code-block" lines to have empty lines before/after
Add ECMSetupQtPluginMacroNames
Provide androiddeployqt with all prefix paths
Include the "stdcpp-path" in the json file
Resolve symlinks in QML import paths
Provide QML import paths to androiddeployqt
Integración con Frameworks
kpackage-install-handlers/kns/CMakeLists.txt - link to Qt::Xml following changes in knewstuff
KActivitiesStats
Do not assume SQLite works and do not terminate on errors
Herramientas KDE Doxygen
Look first for qhelpgenerator-qt5 for help generation
KArchive
karchive, kzip: try to handle duplicate files in a bit nicer way
Use nullptr for passing a null pointer to crc32
KCMUtils
Make it possible to request a plugin configuration module programatically
Consistently use X-KDE-ServiceTypes instead of ServiceTypes
Add X-KDE-OnlyShowOnQtPlatforms to KCModule servicetype definition
KCoreAddons
KTextToHTML: return when url is empty
Cleanup m_inotify_wd_to_entry before invalidating Entry pointers (bug 390214)
KDeclarative
Setup QQmlEngine only once in QmlObject
KDED
Add X-KDE-OnlyShowOnQtPlatforms to KDEDModule servicetype definition
KDocTools
Se han añadido entidades para Elisa, Markdown, KParts, DOT y SVG en «general.entities».
customization/ru: Fix translation of underCCBYSA4.docbook and underFDL.docbook
Fix duplicate lgpl-notice/gpl-notice/fdl-notice
customization/ru: Translate fdl-notice.docbook
change spelling of kwave requested by the maintainer
KFileMetaData
taglibextractor: Refactor for better readability
KGlobalAccel
Don't assert if used incorrectly from dbus (bug 389375)
KHolidays
holidays/plan2/holiday_in_en-gb - update holiday file for India (bug 392503)
This package was not be updated. Perhaps a problem with script
Reworked the holiday files for Germany (bug 373686)
Format README.md as the tools expect (with an Introduction section)
KHTML
avoid asking for an empty protocol
KI18n
Make sure ki18n can build its own translations
Don't call PythonInterp.cmake in KF5I18NMacros
Make it possible to generate po files in parallel
Create a constructor for KLocalizedStringPrivate
KIconThemes
Make KIconEngine export comment accurate
Avoid an asan runtime error
KInit
Delete IdleSlave having temporary authorization
KIO
Ensure that the model is set when resetResizing is called
pwd.h isn't present on windows
Remove Recently Saved This Month and Recently Saved Last Month entries by default
Have KIO build for Android
Temporarily disable installation of file ioslave's kauth helper and policy file
Handle privilege operation confirmation prompts in SlaveBase rather than in KIO::Job
Improve consistency of "Open With" UI by always showing top app inline
Fix crash when device emits ready read after job is finished
Highlight selected items when showing parent folder from the open/save dialog (bug 392330)
Support NTFS hidden files
Consistently use X-KDE-ServiceTypes instead of ServiceTypes
Fix assert in concatPaths when pasting a full path into KFileWidget's lineedit
[KPropertiesDialog] Support Checksum tab for any local path (bug 392100)
[KFilePlacesView] Call KDiskFreeSpaceInfo only if necessary
FileUndoManager: don't delete non-existing local files
[KProtocolInfoFactory] Don't clear cache if it had just been built
Don't try to find an icon for a relative URL either (e.g. '~')
Use correct item URL for Create New context menu (bug 387387)
Fix more cases of incorrect parameter to findProtocol
KUrlCompletion: early return if the URL is invalid like ":/"
Don't try to find an icon for an empty url
Kirigami
Bigger icons in mobile mode
Force a content size into the background style item
Add InlineMessage type and Gallery app example page
better heuristics selective coloring
make loading from local svgs actually work
support the android icon loading method as well
use a coloring strategy similar to the former different styles
[Card] Use own "findIndex" implementation
kill network transfers if we change icon while running
first prototype for a delegate recycler
Allow OverlaySheet clients to omit the built-in close button
Componentes para tarjetas.
Fix ActionButton size
Make passiveNotifications last longer, so users can actually read them
Eliminar la dependencia de QQC1 que no se usaba.
ToolbarApplicationHeader layout
Make it possible to show the title despite having ctx actions
KNewStuff
Actually vote when clicking stars in the list view (bug 391112)
Framework KPackage
Try to fix the FreeBSD build
Use Qt5::rcc instead of looking for the executable
Use NO_DEFAULT_PATH to ensure the right command is picked up
Look also for prefixed rcc executables
set component for correct qrc generation
Fix the rcc binary package generation
Generate the rcc file every time, at install time
Hacer que los componentes de org.kde incluyan un URL para hacer donaciones.
Mark kpackage_install_package undeprecated for plasma_install_package
KPeople
Expose PersonData::phoneNumber to QML
Kross
No need to have kdoctools required
KService
API dox: consistently use X-KDE-ServiceTypes instead of ServiceTypes
KTextEditor
Make it possible for KTextEditor to build on Android NDK's gcc 4.9
avoid Asan runtime error: shift exponent -1 is negative
optimization of TextLineData::attribute
Don't calculate attribute() twice
Revert Fix: View jumps when Scroll past end of document is enabled (bug 391838)
don't pollute the clipboard history with dupes
KWayland
Añadir interfaz de acceso remoto a KWayland.
[server] Add support for the frame semantics of Pointer version 5 (bug 389189)
KWidgetsAddons
KColorButtonTest: remove todo code
ktooltipwidget: Subtract margins from available size
[KAcceleratorManager] Only set iconText() if actually changed (bug 391002)
ktooltipwidget: Prevent offscreen display
KCapacityBar: set QStyle::State_Horizontal state
Sync with KColorScheme changes
ktooltipwidget: Fix tooltip positioning (bug 388583)
KWindowSystem
Add "SkipSwitcher" to API
[xcb] Fix implementation of _NET_WM_FULLSCREEN_MONITORS (bug 391960)
Reduce plasmashell frozen time
ModemManagerQt
cmake: don't flag libnm-util as found when ModemManager is found
NetworkManagerQt
Export the NetworkManager include dirs
Start requiring NM 1.0.0
device: define StateChangeReason and MeteredStatus as Q_ENUMs
Fix conversion of AccessPoint flags to capabilities
Framework de Plasma
Wallpaper templates: set background color to ensure contrast to sample text content
Se ha añadido una plantilla para el fondo del escritorio de Plasma con extensión QML.
[ToolTipArea] Add "aboutToShow" signal
windowthumbnail: Use gamma correct scaling
windowthumbnail: Use mipmap texture filtering (bug 390457)
Remove unused X-Plasma-RemoteLocation entries
Templates: drop unused X-Plasma-DefaultSize from applet metadata
Consistently use X-KDE-ServiceTypes instead of ServiceTypes
Templates: drop unused X-Plasma-Requires-* entries from applet metadata
remove anchors of item in a layout
Reduce plasmashell frozen time
preload only after the containment emitted uiReadyChanged
Fix combobox breakage (bug 392026)
Fix text scaling with non-integer scale factors when PLASMA_USE_QT_SCALING=1 is set (bug 356446)
new icons for disconnected/disabled devices
[Dialog] Allow setting outputOnly for NoBackground dialog
[ToolTip] Check file name in KDirWatch handler
Disable deprecation warning from kpackage_install_package for now
[Breeze Plasma Theme] Apply currentColorFix.sh to changed media icons
[Breeze Plasma Theme] Add media status icons with circles
Remove frames around media buttons
[Window Thumbnail] Allow using atlas texture
[Dialog] Remove now obsolete KWindowSystem::setState calls
Support Atlas textures in FadingNode
Fix FadingMaterial fragment with core profile
QQC2StyleBridge
fix rendering when disabled
better layout
experimental support for auto mnemonics
Make sure we are taking into account the size of the element when styling
Fix font rendering for non-HiDPI and integer scale factors (bug 391780)
fix icons colors with colorsets
fix icon colors for toolbuttons
Solid
Solid can now query for batteries in e.g. wireless gamepads and joysticks
Use recently introduced UP enums
add gaming_input devices and others to Battery
Adding Battery Devices Enum
[UDevManager] Also explicitly query for cameras
[UDevManager] Already filter for subsystem before querying (bug 391738)
Sonnet
Don't impose using the default client, pick one that supports the requested language.
Include replacement strings in the suggestion list
implement NSSpellCheckerDict::addPersonal()
NSSpellCheckerDict::suggest() returns a list of suggestions
initialise NSSpellChecker language in NSSpellCheckerDict ctor
implement NSSpellChecker logging category
NSSpellChecker necesita AppKit.
Move NSSpellCheckerClient::reliability() out of line
use the preferred Mac platform token
Use correct directory to lookup trigrams in windows build dir
Resaltado de sintaxis
Make it possible to fully build the project when crosscompiling
Redesign CMake syntax generator
Optimize highlighting Bash, Cisco, Clipper, Coffee, Gap, Haml, Haskell
Se han añadido archivos de resaltado de sintaxis para MIB.
Información de seguridad
El código publicado se ha firmado con GPG usando la siguiente clave: pub rsa2048/58D0EE648A48B3BB 2016-09-05 David Faure <faure@kde.org>. Huella digital de la clave primaria: 53E6 B47B 45CE A3E0 D5B7 4577 58D0 EE64 8A48 B3BB.
Puede comentar esta versión y compartir sus ideas en la sección de comentarios de el artículo de dot.
Instalación de paquetes binarios
En Linux, el uso de paquetes para su distribución favorita es el modo recomendado de tener acceso a KDE Frameworks. Obtenga software de KDE en la página wiki de su distribución de Linux.
Compilación del código fuente
La totalidad del código fuente de las aplicaciones de KDE se puede descargar libremente. Dispone de instrucciones sobre su compilación e instalación en la página de información sobre las aplicaciones de KDE https://download.kde.org/stable/frameworks/5.45.
Se puede compilar el código fuente usando las órdenes básicas cmake .; make; make install. Para una sola framework del Nivel 1, esta suele ser la solución más fácil. Quien esté más interesado en colaborar con las frameworks o seguir el avance del desarrollo del conjunto completo debería usar kdesrc-build. Frameworks 5.45.0 necesita Qt .
En inqlude.org, el archivo actualizado de las bibliotecas Qt, se muestra una lista detallada de todas los Frameworks y de otras bibliotecas Qt de terceras partes. La lista completa con la documentación de la API está en api.kde.org.
Implicarse
Los interesados en seguir el desarrollo de Frameworks y colaborar con él pueden visitar los repositorios git y seguir los debates en la lista de distribución del desarrollo de KDE Frameworks. Las normas, el estado actual del proyecto y sus planes futuros están disponibles en la wiki de Frameworks. Los debates en tiempo real tienen lugar en el canal IRC #kde-devel de Libera Chat.
En apoyo de KDE
KDE es una comunidad de Software Libre que existe y crece únicamente con la ayuda de muchos voluntarios que donan su tiempo y su esfuerzo. KDE siempre está buscando nuevos voluntarios y colaboradores, ya sea para ayudar a programar, informar de errores o corregirlos, escribir documentación, traducir, promocionar, hacer donativos, etc. Cualquier tipo de colaboración se aprecia con gratitud y se acepta con ilusión. Por favor, lea la página de apoyo a KDE para obtener más información o convertirse en un miembro de apoyo a KDE e.V. a través de nuestra nueva iniciativa Únase al juego.