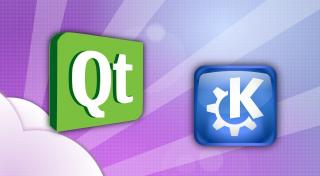 Samstag, 9 Januar 2016
Heute gibt KDE die Veröffentlichung der KDE Frameworks 5.18.0 bekannt.
KDE Frameworks sind 60 zusätzliche Bibliotheken für Qt, die eine große Vielfalt an häufig benötigten Funktionen in ausgereiften, von anderen Entwicklern geprüften und gut getesteten Bibliotheken mit liberalen Lizenzbedingungen bieten. Eine Einführung finden Sie in der Ankündigung zur Veröffentlichung der KDE Frameworks.
Dies ist Teil einer Serie von monatlich geplanten Veröffentlichungen, um Verbesserungen schnell und regelmäßig für Entwickler verfügbar zu machen.
Neu in dieser Version
Baloo
Fix several issue of mtime related search
PostingDB Iter: Do not assert on MDB_NOTFOUND
Balooctl status: Avoid showing 'Content indexing' about folders
StatusCommand: Show the correct status for folders
SearchStore: Gracefully handle empty term values (bug 356176)
Breeze Icons
icon updates and additions
22px size status icons for 32px too as you need it in the system tray
Changed Fixed to Scalable value to 32px folders in Breeze Dark
Extra CMake-Module
Make the KAppTemplate CMake module global
Silence CMP0063 warnings with KDECompilerSettings
ECMQtDeclareLoggingCategory: Include <QDebug> with the generated file
Fix CMP0054 warnings
KActivities
Streamlined the QML loading for KCM (bug 356832)
Work-around for the Qt SQL bug that does not clean up connections properly (bug 348194)
Merged a plugin that executes applications on activity state change
Port from KService to KPluginLoader
Port plugins to use kcoreaddons_desktop_to_json()
KBookmarks
Fully initialize DynMenuInfo in return value
KCMUtils
KPluginSelector::addPlugins: fix assert if 'config' parameter is default (bug 352471)
KCodecs
Avoid deliberately overflowing a full buffer
KConfig
Ensure group is unescaped properly in kconf_update
KCoreAddons
Add KAboutData::fromPluginMetaData(const KPluginMetaData &plugin)
Add KPluginMetaData::copyrightText(), extraInformation() and otherContributors()
Add KPluginMetaData::translators() and KAboutPerson::fromJson()
Fix use-after-free in desktop file parser
Make KPluginMetaData constructible from a json path
desktoptojson: make missing service type file an error for the binary
make calling kcoreaddons_add_plugin without SOURCES an error
KDBusAddons
Adapt to Qt 5.6's dbus-in-secondary-thread
KDeclarative
[DragArea] Add dragActive property
[KQuickControlsAddons MimeDatabase] Expose QMimeType comment
KDED
kded: adapt to Qt 5.6's threaded dbus: messageFilter must trigger module loading in the main thread
KDELibs 4 Support
kdelibs4support requires kded (for kdedmodule.desktop)
Fix CMP0064 warning by setting policy CMP0054 to NEW
Don't export symbols that also exist in KWidgetsAddons
KDESU
Don't leak fd when creating socket
KHTML
Windows: remove kdewin dependency
KI18n
Document the first argument rule for plurals in QML
Reduce unwanted type changes
Make it possible to use doubles as index for i18np*() calls in QML
KIO
Fix kiod for Qt 5.6's threaded dbus: messageFilter must wait until the module is loaded before returning
Change the error code when pasting/moving into a subdirectory
Fix emptyTrash blocked issue
Fix wrong button in KUrlNavigator for remote URLs
KUrlComboBox: fix returning an absolute path from urls()
kiod: disable session management
Add autocompletion for '.' input which offers all hidden files/folders* (bug 354981)
ktelnetservice: fix off by one in argc check, patch by Steven Bromley
KNotification
[Notify By Popup] Send along event ID
Set default non-empty reason for screen saver inhibition; (bug 334525)
Add a hint to skip notifications grouping (bug 356653)
KNotifyConfig
[KNotifyConfigWidget] Allow selecting a specific event
Package Framework
Make it possible to provide the metadata in json
KPeople
Fix possible double deletion in DeclarativePersonData
KTextEditor
Syntax h/l for pli: builtin functions added, expandable regions added
KWallet Framework
KWindowSystem
Add xcb variant for static KStartupInfo::sendFoo methods
NetworkManagerQt
make it work with older NM versions
Plasma Framework
[ToolButtonStyle] Always indicate activeFocus
Deal properly with symlinks in path to packages
Add HiddenStatus for plasmoid self-hiding
Stop redirecting windows when item is disabled or hidden. (bug 356938)
Don't emit statusChanged if it hasn't changed
Fix element ids for east orientation
Containment: Don't emit appletCreated with null applet (bug 356428)
[Containment Interface] Fix erratic high precision scrolling
Read KPluginMetada's property X-Plasma-ComponentTypes as a stringlist
[Window Thumbnails] Don't crash if Composite is disabled
Let containments override CompactApplet.qml
Sie können im Kommentarabschnitt des Dot-Artikels über diese Veröffentlichung diskutieren und Ideen einbringen.
Binärpakete installieren
Unter Linux wird empfohlen, Pakete Ihrer Distribution für die KDE Frameworks zu verwenden. Wiki-Seite KDE-Software von Ihrer Linux-Distribution
Aus dem Quelltext installieren
Der vollständige Quelltext der KDE-Frameworks 5.18.0 kann kostenlos und anonym heruntergeladen werden. Anweisungen zum Kompilieren und Installieren finden Sie auf der Infoseite der KDE-Frameworks 5.18.0 Info Page.
Zum Kompilieren der Quelltexte reichen die bekannten Befehle cmake .; make; make install. Für eine Frameworks-Bibliothek in Tier 1 ist dies meistens die einfachste Lösung. Möchten Sie bei den Frameworks-Bibliotheken mitarbeiten oder den Entwicklungsprozess aller Bibliotheken verfolgen, sollten Sie kdesrc-build verwenden. Frameworks 5.18.0 benötigt Qt .
Eine ausführliche Liste aller KDE Frameworks und Qt-Bibliotheken Dritter finden Sie auf inqlude.org, dem betreuten Archiv von Qt-Bibliotheken. Eine vollständige Liste mit der API-Dokumentation finden Sie auf api.kde.org.
Machen Sie mit
Those interested in following and contributing to the development of Frameworks can check out the git repositories and follow the discussions on the KDE Frameworks Development mailing list. Policies and the current state of the project and plans are available at the Frameworks wiki. Real-time discussions take place on the #kde-devel IRC channel on Libera Chat.
KDE unterstützen
KDE ist eine Gemeinschaft für Freie Software, die nur existiert und wächst, weil viele Freiwillige Zeit und Mühe aufbringen, um zu helfen. KDE sucht stets nach neuen Freiwilligen und Beitragenden, ganz gleich ob es um Hilfe bei der Programmierung, Fehlerbehebungen oder Fehlermeldungen, das Erstellen von Dokumentation, Übersetzungen, Werbung, Geld oder was auch immer geht. Alle Beiträge sind höchst willkommen und werden gerne angenommen. Für weitere Informationen lesen Sie bitte die Seite KDE Unterstützen oder werden Sie ein Unterstützer des KDE e.V. im Rahmen unserer Initiative Join the Game.