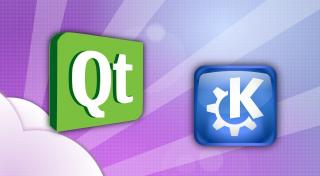 Freitag, 12 Juni 2015
Heute gibt KDE die Veröffentlichung der KDE Frameworks 5.11.0 bekannt.
KDE Frameworks sind 60 zusätzliche Bibliotheken für Qt, die eine große Vielfalt an häufig benötigten Funktionen in ausgereiften, von anderen Entwicklern geprüften und gut getesteten Bibliotheken mit liberalen Lizenzbedingungen bieten. Eine Einführung finden Sie in der Ankündigung zur Veröffentlichung der KDE Frameworks.
Dies ist Teil einer Serie von monatlich geplanten Veröffentlichungen, um Verbesserungen schnell und regelmäßig für Entwickler verfügbar zu machen.
Neu in dieser Version
Extra CMake-Module
Neue Argumente für ecm_add_tests(). (Fehler 345797)
Framework-Integration
Use the correct initialDirectory for the KDirSelectDialog
Make sure the scheme is specified when overriding the start url value
Only accept existing directories in FileMode::Directory mode
KActivities
(no changelog provided)
KAuth
Make KAUTH_HELPER_INSTALL_ABSOLUTE_DIR available to all KAuth users
KCodecs
KEmailAddress: Add overload for extractEmailAddress and firstEmailAddress which returns an error message.
KCompletion
Fix unwanted selection when editing the filename in the file dialog (bug 344525)
KConfig
Prevent crash if QWindow::screen() is null
Add KConfigGui::setSessionConfig() (bug 346768)
KCoreAddons
New KPluginLoader::findPluginById() convenience API
KDeclarative
support creation of ConfigModule from KPluginMetdata
fix pressAndhold events
KDELibs 4 Support
Use QTemporaryFile instead of hardcoding a temporary file.
KDocTools
Update translations
Update customization/ru
Fix entities with wrong links
KEmoticons
Cache the theme in the integration plugin
KGlobalAccel
[runtime] Move platform specific code into plugins
KIconThemes
Optimize KIconEngine::availableSizes()
KIO
Do not try to complete users and assert when prepend is non-empty. (bug 346920)
Use KPluginLoader::factory() when loading KIO::DndPopupMenuPlugin
Fix deadlock when using network proxies (bug 346214)
Fixed KIO::suggestName to preserve file extensions
Kick off kbuildsycoca4 when updating sycoca5.
KFileWidget: Don't accept files in directory only mode
KIO::AccessManager: Make it possible to treat sequential QIODevice asynchronously
KNewStuff
Add new method fillMenuFromGroupingNames
KMoreTools: add many new groupings
KMoreToolsMenuFactory: handling for "git-clients-and-actions"
createMenuFromGroupingNames: make url parameter optional
KNotification
Fix crash in NotifyByExecute when no widget has been set (bug 348510)
Improve handling of notifications being closed (bug 342752)
Replace QDesktopWidget usage with QScreen
Ensure KNotification can be used from a non-GUI thread
Package Framework
Guard the structure qpointer access (bug 347231)
KPeople
Use QTemporaryFile instead of hardcoding /tmp.
KPty
Use tcgetattr & tcsetattr if available
Kross
Fix loading of Kross modules "forms" and "kdetranslation"
KService
When running as root preserve file ownership on existing cache files (bug 342438)
Guard against being unable to open stream (bug 342438)
Fix check for invalid permissions writing file (bug 342438)
Fix querying ksycoca for x-scheme-handler/* pseudo-mimetypes. (bug 347353)
KTextEditor
Allow like in KDE 4.x times 3rdparty apps/plugins to install own highlighting XML files into katepart5/syntax
Add KTextEditor::Document::searchText()
Bring back use of KEncodingFileDialog (bug 343255)
KTextWidgets
Add a method to clear decorator
Allow to use custom sonnet decorator
Implement "find previous" in KTextEdit.
Re-add support for speech-to-text
KWidgetsAddons
KAssistantDialog: Re-add the Help button that was present in KDELibs4 version
KXMLGUI
Add session management for KMainWindow (bug 346768)
NetworkManagerQt
Drop WiMAX support for NM 1.2.0+
Plasma Framework
Calendar components can now display week numbers (bug 338195)
Use QtRendering for fonts in password fields
Fix AssociatedApplicationManager lookup when a mimetype has (bug 340326)
Fix panel background coloring (bug 347143)
Get rid of "Could not load applet" message
Capability to load QML kcms in plasmoid config windows
Don't use the DataEngineStructure for Applets
Port libplasma away from sycoca as much as possible
[plasmacomponents] Make SectionScroller follow the ListView.section.criteria
Scroll bars no longer automatically hide when a touch screen is present (bug 347254)
Sonnet
Use one central cache for the SpellerPlugins.
Reduce temporary allocations.
Optimize: Do not wipe dict cache when copying speller objects.
Optimise away save() calls by calling it once at the end if needed.
Sie können im Kommentarabschnitt des Dot-Artikels über diese Veröffentlichung diskutieren und Ideen einbringen.
Binärpakete installieren
Unter Linux wird empfohlen, Pakete Ihrer Distribution für die KDE Frameworks zu verwenden. Wiki-Seite KDE-Software von Ihrer Linux-Distribution
Aus dem Quelltext installieren
Der vollständige Quelltext der KDE-Frameworks 5.11.0 kann kostenlos und anonym heruntergeladen werden. Anweisungen zum Kompilieren und Installieren finden Sie auf der Infoseite der KDE-Frameworks 5.11.0 Info Page.
Zum Kompilieren der Quelltexte reichen die bekannten Befehle cmake .; make; make install. Für eine Frameworks-Bibliothek in Tier 1 ist dies meistens die einfachste Lösung. Möchten Sie bei den Frameworks-Bibliotheken mitarbeiten oder den Entwicklungsprozess aller Bibliotheken verfolgen, sollten Sie kdesrc-build verwenden. Frameworks 5.11.0 benötigt Qt .
Eine ausführliche Liste aller KDE Frameworks und Qt-Bibliotheken Dritter finden Sie auf inqlude.org, dem betreuten Archiv von Qt-Bibliotheken. Eine vollständige Liste mit der API-Dokumentation finden Sie auf api.kde.org.
Machen Sie mit
Those interested in following and contributing to the development of Frameworks can check out the git repositories and follow the discussions on the KDE Frameworks Development mailing list. Policies and the current state of the project and plans are available at the Frameworks wiki. Real-time discussions take place on the #kde-devel IRC channel on Libera Chat.
KDE unterstützen
KDE ist eine Gemeinschaft für Freie Software, die nur existiert und wächst, weil viele Freiwillige Zeit und Mühe aufbringen, um zu helfen. KDE sucht stets nach neuen Freiwilligen und Beitragenden, ganz gleich ob es um Hilfe bei der Programmierung, Fehlerbehebungen oder Fehlermeldungen, das Erstellen von Dokumentation, Übersetzungen, Werbung, Geld oder was auch immer geht. Alle Beiträge sind höchst willkommen und werden gerne angenommen. Für weitere Informationen lesen Sie bitte die Seite KDE Unterstützen oder werden Sie ein Unterstützer des KDE e.V. im Rahmen unserer Initiative Join the Game.