KDE veröffentlicht die KDE-Anwendungen 19.04.0
Donnerstag, 18 April 2019
The KDE community is happy to announce the release of KDE Applications 19.04.
Our community continuously works on improving the software included in our KDE Application series. Along with new features, we improve the design, usability and stability of all our utilities, games, and creativity tools. Our aim is to make your life easier by making KDE software more enjoyable to use. We hope you like all the new enhancements and bug fixes you'll find in 19.04!
Neu in den KDE-Anwendungen 19.04
More than 150 bugs have been resolved. These fixes re-implement disabled features, normalize shortcuts, and solve crashes, making KDE Applications friendlier and allowing you to be more productive.
Dateiverwaltung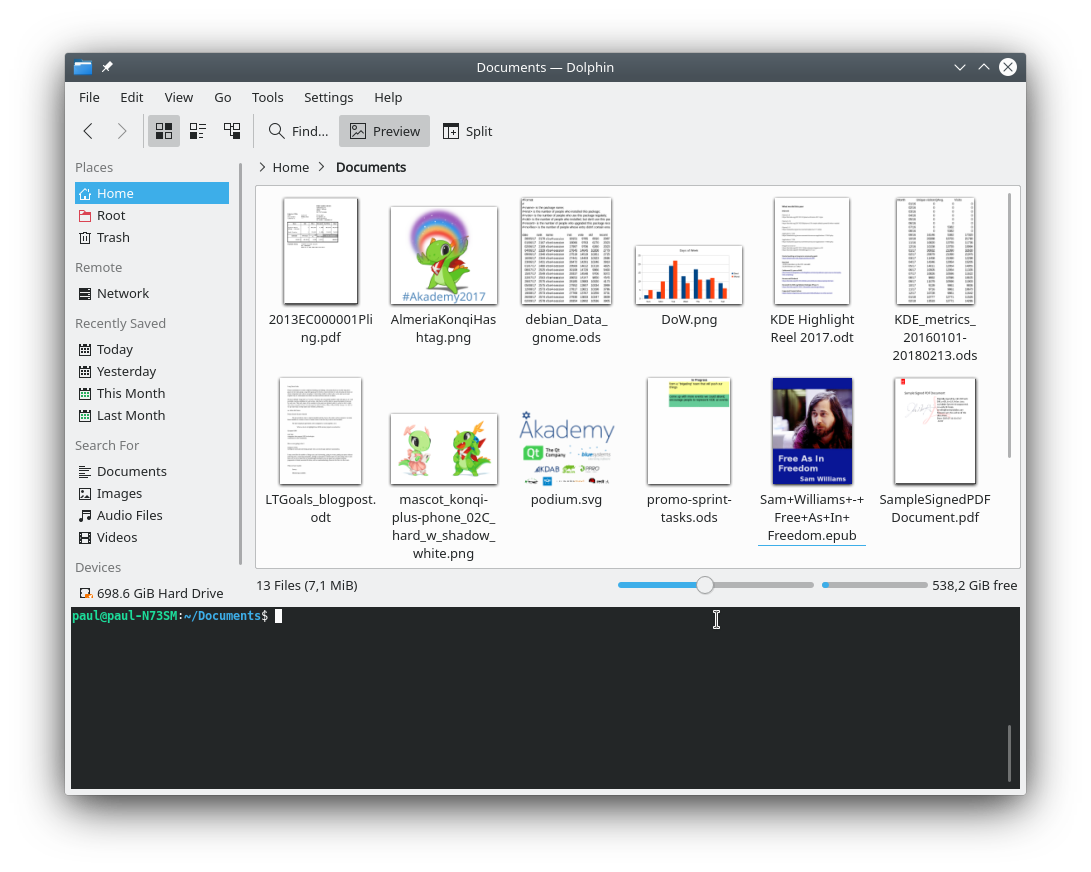 Dolphin is KDE's file manager. It also connects to network services, such as SSH, FTP, and Samba servers, and comes with advanced tools to find and organize your data.
Neue Funktionen:
Fehlerkorrekturen umfassen:
The AudioCD-KIO allows other KDE applications to read audio from CDs and automatically convert it into other formats.
The AudioCD-KIO now supports ripping into Opus.
We made CD info text really transparent for viewing.
Video Editing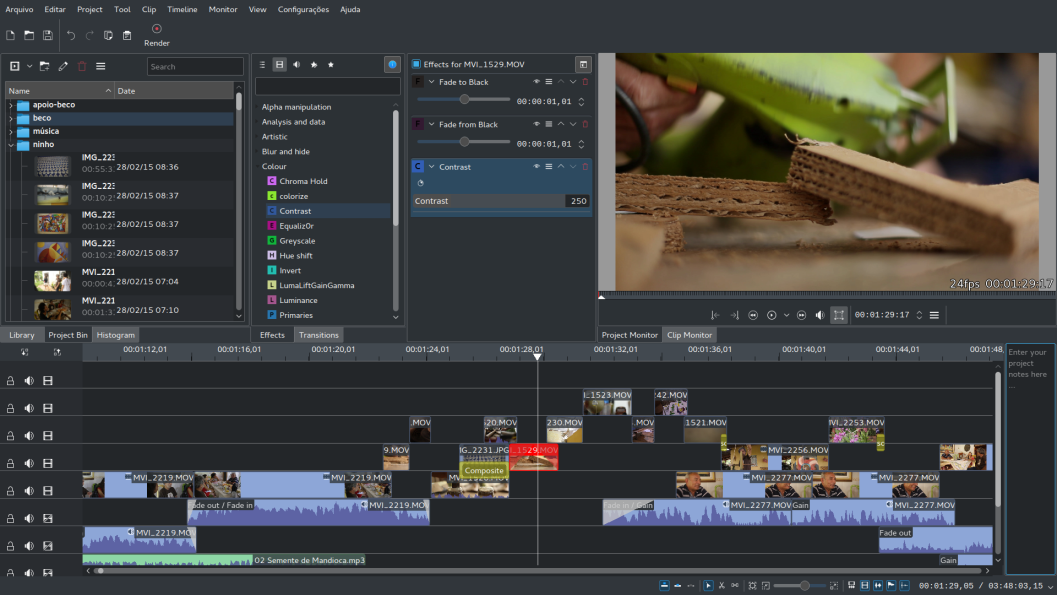 This is a landmark version for KDE's video editor. Kdenlive has gone through an extensive re-write of its core code as more than 60%% of its internals has changed, improving its overall architecture.
Verbesserungen umfassen:
The timeline has been rewritten to make use of QML.
When you put a clip on the timeline, audio and video always go to separate tracks.
The timeline now supports keyboard navigation: clips, compositions and keyframes can be moved with the keyboard. Also, the height of the tracks themselves is adjustable.
In this version of Kdenlive, the in-track audio recording comes with a new voice-over feature.
We have improved copy/paste: it works between different project windows. The proxy clip management has also been enhanced, as clips can now be individually deleted.
Version 19.04 sees the return of support for external BlackMagic monitor displays and there are also new on-monitor preset guides.
We have improved the keyframe handling, giving it a more consistent look and workflow. The titler has also been improved by making the align buttons snap to safe zones, adding configurable guides and background colors, and displaying missing items.
We fixed the timeline corruption bug that misplaced or missed clips which was triggered when you moved a group of clips.
We fixed the JPG image bug that rendered images as white screens on Windows. We also fixed the bugs affecting screen capture on Windows.
Apart from all of the above, we have added many small usability enhancements that will make using Kdenlive easier and smoother.
Büroprogramme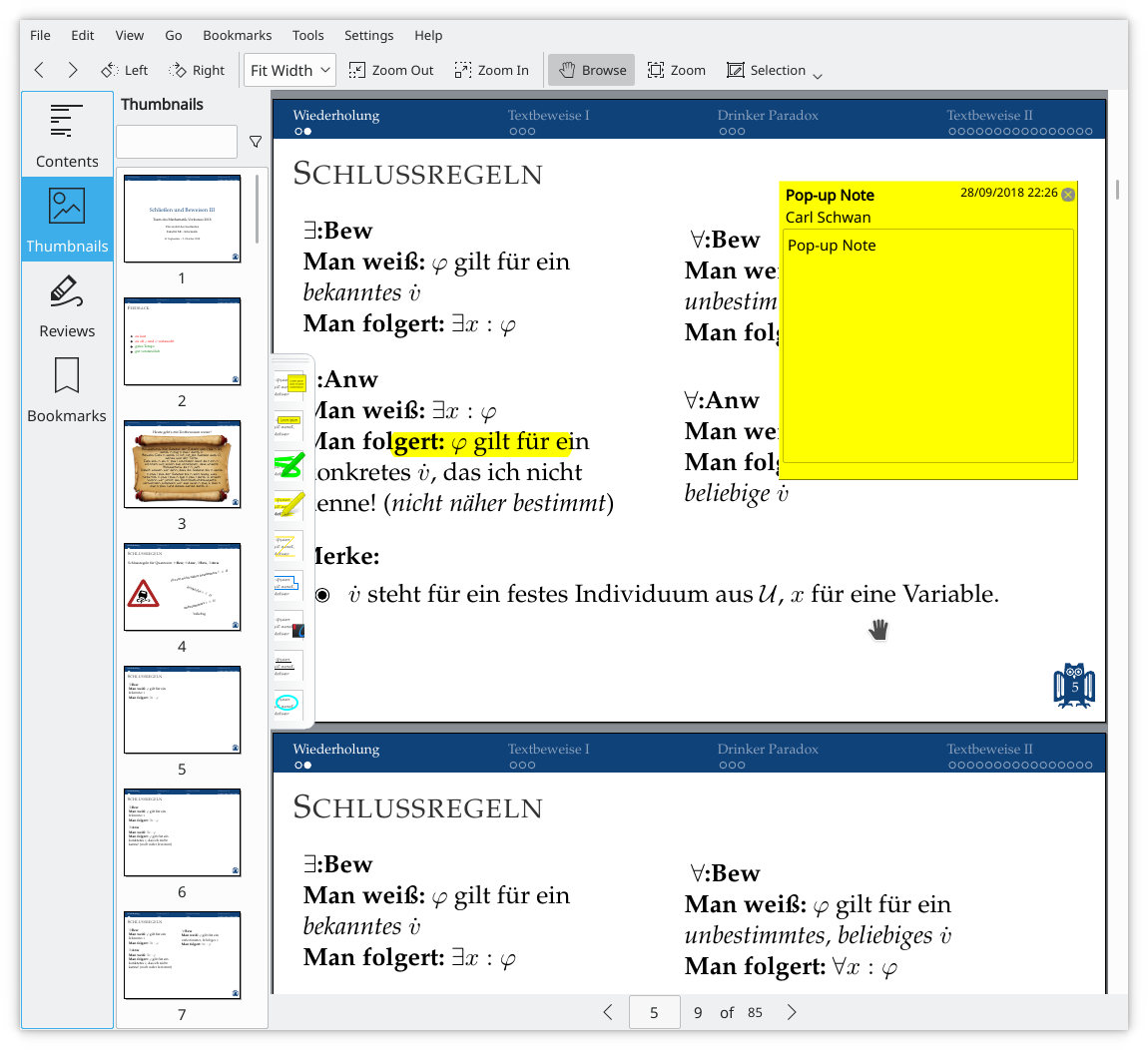 Okular is KDE's multipurpose document viewer. Ideal for reading and annotating PDFs, it can also open ODF files (as used by LibreOffice and OpenOffice), ebooks published as ePub files, most common comic book files, PostScript files, and many more.
Verbesserungen umfassen: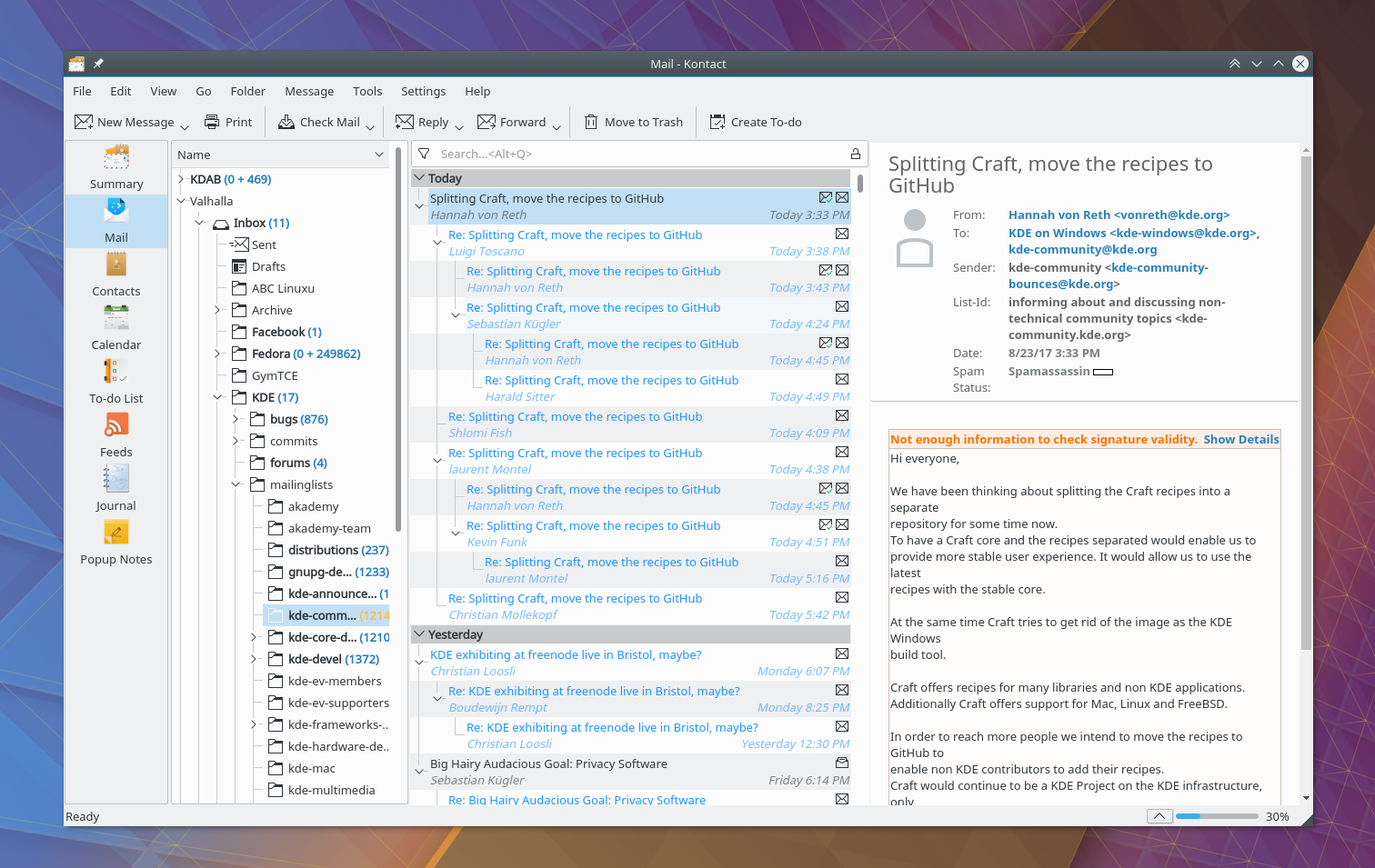 KMail is KDE's privacy-protecting email client. Part of the Kontact groupware suite, KMail supports all email systems and allows you to organize your messages into a shared virtual inbox or into separate accounts (your choice). It supports all kinds of message encryption and signing, and lets you share data such as contacts, meeting dates, and travel information with other Kontact applications.
Verbesserungen umfassen:
Move over, Grammarly! This version of KMail comes with support for languagetools (grammar checker) and grammalecte (French-only grammar checker).
Phone numbers in emails are now detected and can be dialed directly via KDE Connect.
KMail now has an option to start directly in system tray without opening the main window.
We have improved the Markdown plugin support.
Fetching mails via IMAP no longer gets stuck when login fails.
We also made numerous fixes in KMail's backend Akonadi to improve reliability and performance.
KOrganizer is Kontact's calendar component, managing all your events.
Kitinerary is Kontact's brand new travel assistant that will help you get to your location and advise you on your way.
There is a new generic extractor for RCT2 tickets (e.g. used by railway companies such as DSB, ÖBB, SBB, NS).
Airport name detection and disambiguation have been greatly improved.
We added new custom extractors for previously unsupported providers (e.g. BCD Travel, NH Group), and improved format/language variations of already supported providers (e.g. SNCF, Easyjet, Booking.com, Hertz).
Entwicklung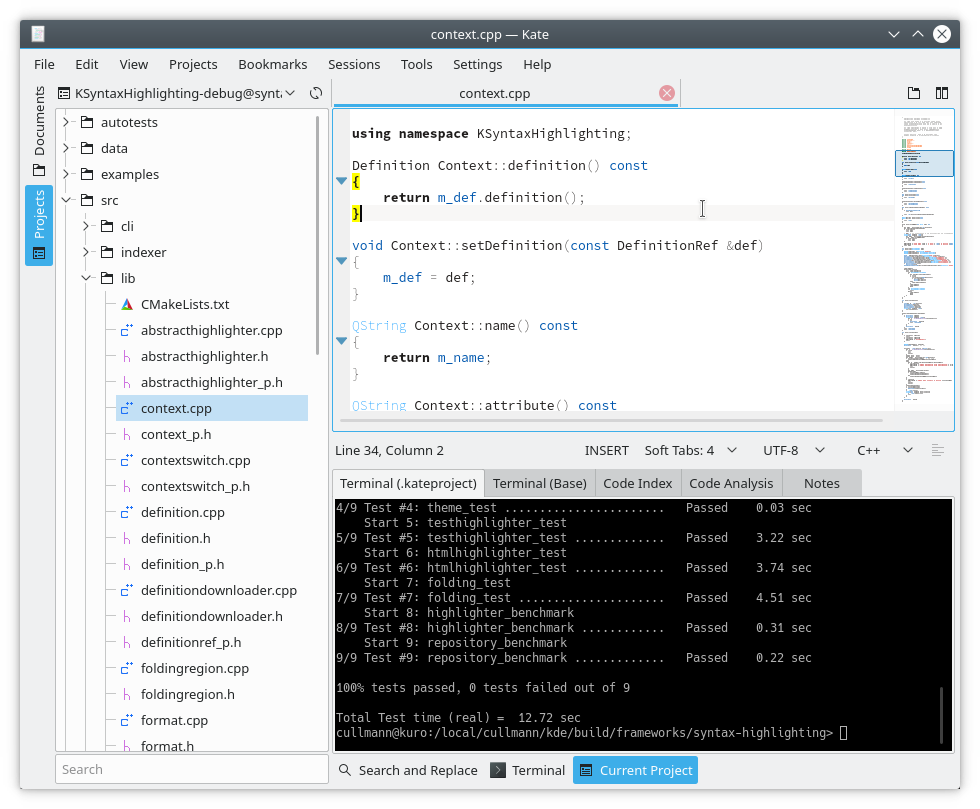 Kate is KDE's full-featured text editor, ideal for programming thanks to features such as tabs, split-view mode, syntax highlighting, a built-in terminal panel, word completion, regular expressions search and substitution, and many more via the flexible plugin infrastructure.
Verbesserungen umfassen:
Kate can now show all invisible whitespace characters, not just some.
You can easily enable and disable Static Word Wrap by using its own menu entry on a per-document basis, without having to change the global default setting.
The file and tab context menus now include a bunch of useful new actions, such as Rename, Delete, Open Containing Folder, Copy File Path, Compare [with another open file], and Properties.
This version of Kate ships with more plugins enabled by default, including the popular and useful inline Terminal feature.
When quitting, Kate no longer prompts you to acknowledge files that were modified on the disk by some other process, such as a source control change.
The plugin's tree view now correctly displays all menu items for git entries that have umlauts in their names.
When opening multiple files using the command line, the files are opened in new tabs in the same order as specified in the command line.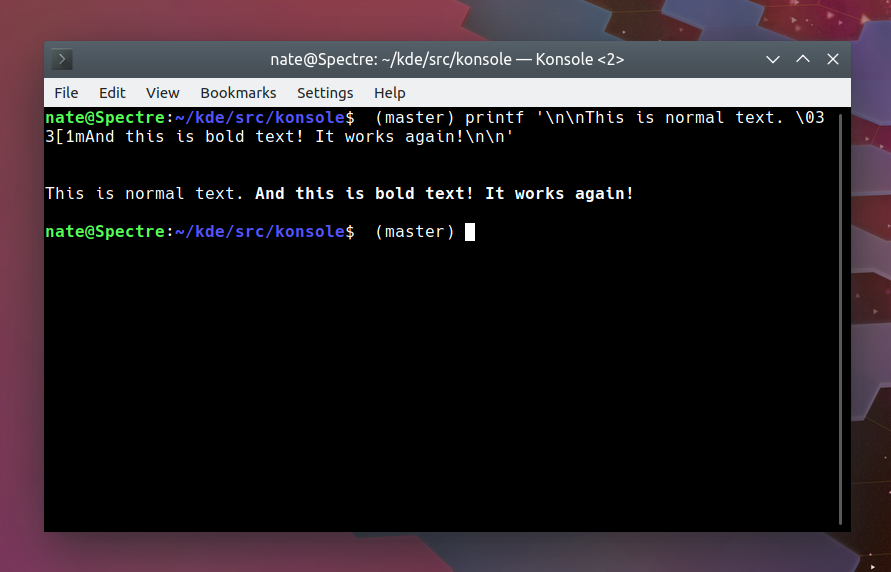 Konsole is KDE's terminal emulator. It supports tabs, translucent backgrounds, split-view mode, customizable color schemes and keyboard shortcuts, directory and SSH bookmarking, and many other features.
Verbesserungen umfassen:
Tab management has seen a number of improvements that will help you be more productive. New tabs can be created by middle-clicking on empty parts of the tab bar, and there's also an option that allows you to close tabs by middle-clicking on them. Close buttons are displayed on tabs by default, and icons will be displayed only when using a profile with a custom icon. Last but not least, the Ctrl+Tab shortcut allows you to quickly switch between the current and previous tab.
The Edit Profile dialog received a huge user interface overhaul.
The Breeze color scheme is now used as the default Konsole color scheme, and we have improved its contrast and consistency with the system-wide Breeze theme.
We have resolved the issues when displaying bold text.
Konsole now correctly displays the underline-style cursor.
We have improved the display of box and line characters, as well as of Emoji characters.
Profile switching shortcuts now switch the current tab's profile instead of opening a new tab with the other profile.
Inactive tabs that receive a notification and have their title text color changed now again reset the color to the normal tab title text color when the tab is activated.
The 'Vary the background for each tab' feature now works when the base background color is very dark or black.
Lokalize is a computer-aided translation system that focuses on productivity and quality assurance. It is targeted at software translation, but also integrates external conversion tools for translating office documents.
Verbesserungen umfassen:
Lokalize now supports viewing the translation source with a custom editor.
We improved the DockWidgets location, and the way settings are saved and restored.
The position in .po files is now preserved when filtering messages.
We fixed a number of UI bugs (developer comments, RegExp toggle in mass replace, fuzzy empty message count, …).
Dienstprogramme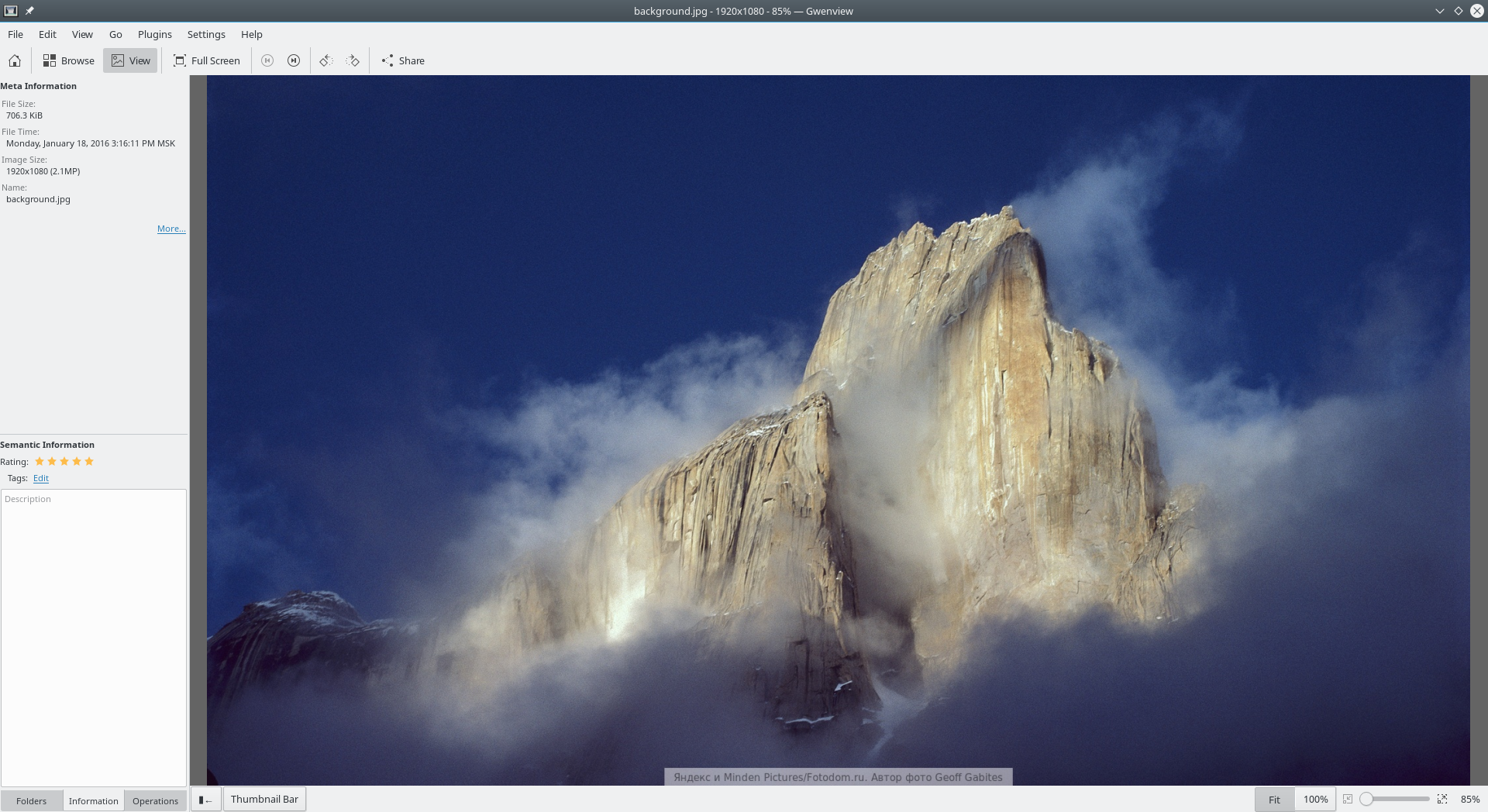 Gwenview is an advanced image viewer and organizer with intuitive and easy-to-use editing tools.
Verbesserungen umfassen: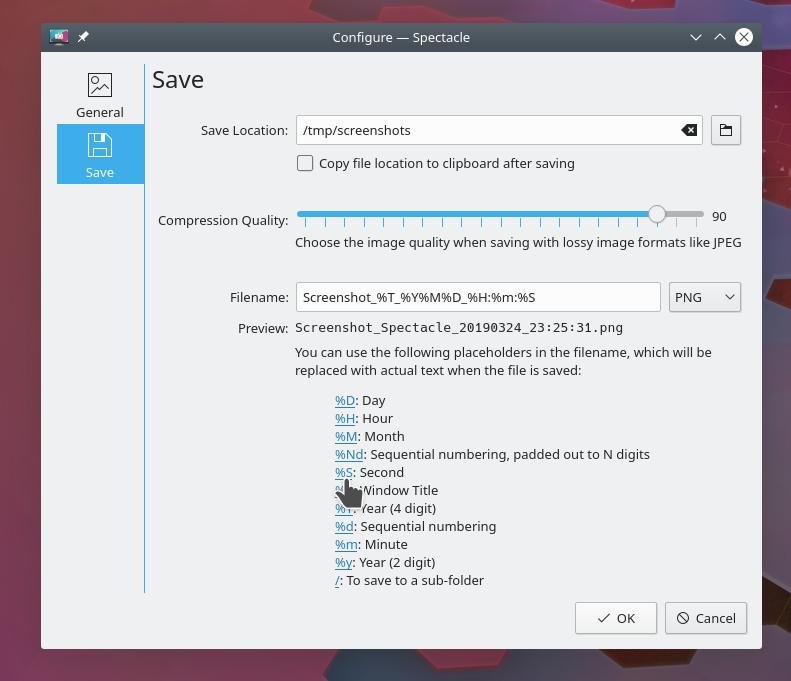 Spectacle is Plasma's screenshot application. You can grab full desktops spanning several screens, individual screens, windows, sections of windows, or custom regions using the rectangle selection feature.
Verbesserungen umfassen:
We have extended the Rectangular Region mode with a few new options. It can be configured to auto-accept the dragged box instead of asking you to adjust it first. There is also a new default option to remember the current rectangular region selection box, but only until the program is closed.
You can configure what happens when the screenshot shortcut is pressed while Spectacle is already running.
Spectacle allows you to change the compression level for lossy image formats.
Save settings shows you what the filename of a screenshot will look like. You can also easily tweak the filename template to your preferences by simply clicking on placeholders.
Spectacle no longer displays both "Full Screen (All Monitors)" and "Current Screen" options when your computer only has one screen.
The help text in Rectangular Region mode now shows up in the middle of the primary display, rather than split between the screens.
When run on Wayland, Spectacle only includes the features that work.
Games and Education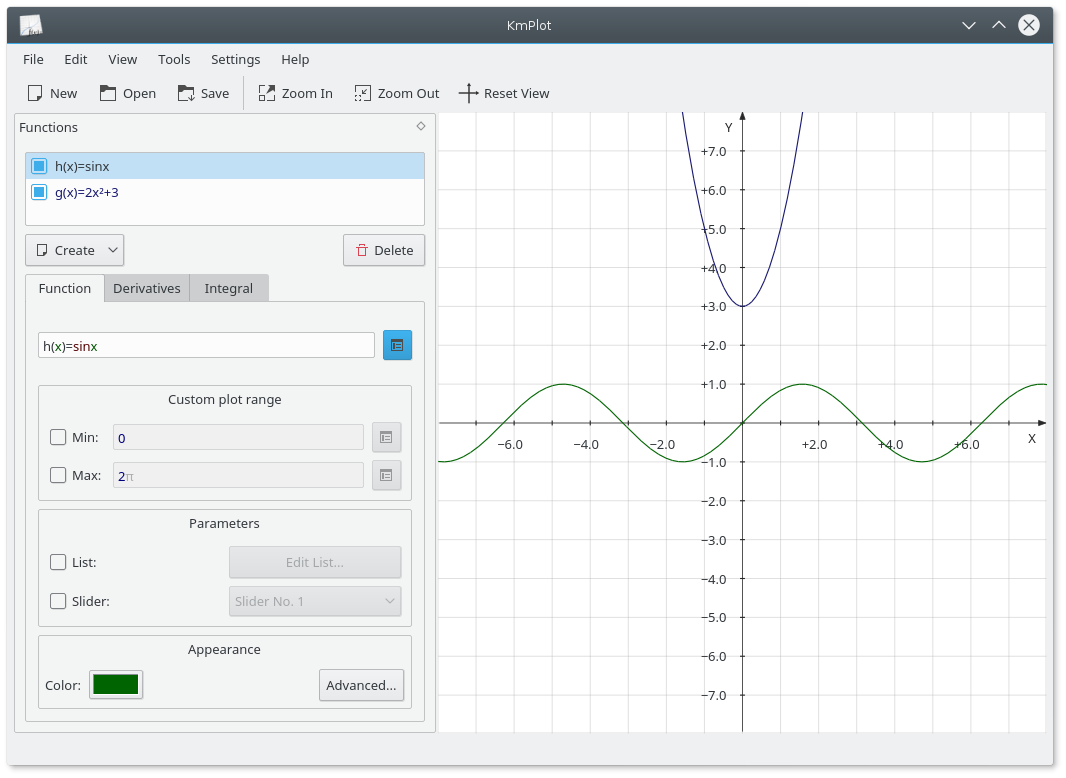 Our application series includes numerous games and educational applications.
KmPlot is a mathematical function plotter. It has a powerful built-in parser. The graphs can be colorized and the view is scalable, allowing you to zoom to the level you need. Users can plot different functions simultaneously and combine them to build new functions.
You can now zoom in by holding down Ctrl and using the mouse wheel.
This version of Kmplot introduces the print preview option.
Root value or (x,y) pair can now be copied to clipboard.
Kolf is a miniature golf game.
We have restored sound support.
Kolf has been successfully ported away from kdelibs4.
You can find the full list of changes here.
Spread the Word
Nicht-technische Mitwirkende sind ein wichtiger Teil des Erfolgs von KDE. Während proprietäre Softwarefirmen riesige Werbebudgets für neue Software-Veröffentlichungen haben, hängt KDE davon ab, dass Menschen mit anderen Menschen sprechen. Selbst für diejenigen, die keine Software-Entwickler sind, gibt es viele Möglichkeiten, die Veröffentlichung von KDE-Anwendungen zu unterstützen. Berichten Sie Fehler. Ermutigen Sie andere, sich der KDE Gemeinschaft beizutreten. Oder unterstützen Sie die Non-Profit-Organisation hinter der KDE-Gemeinschaft
Bitte verbreiten Sie die Nachricht im sozialen Netz. Senden Sie Neuigkeiten an Nachrichtenseiten, nutzen Sie Kanäle wie delicious, digg, reddit und twitter. Laden Sie Bildschirmfotos Ihrer neuen Einrichtung auf Dienste wie Facebook, Flickr, ipernity und Picasa hoch und posten Sie sie in entsprechenden Gruppen. Erstellen Sie Bildschirmaufzeichnungen und laden Sie diese auf YouTube, Blip.tv und Vimeo hoch. Bitte kennzeichnen Sie Beiträge und hochgeladenes Material mit "KDE". Das macht sie leicht auffindbar und gibt dem KDE-Promo-Team eine Möglichkeit, die Berichterstattung über diese Veröffentlichung von KDE-Anwendungen zu analysieren.
Binärpakete für KDE-Anwendungen installieren
Pakete
Einige Anbieter von Linux-/UNIX-Betriebssystemen haben dankenswerterweise Binärpakete der KDE-Anwendungen für einige Versionen Ihrer Distributionen bereitgestellt, ebenso wie freiwillige Mitglieder der Gemeinschaft. Zusätzliche binäre Pakete und Aktualisierungen der jetzt verfügbaren Pakete werden in den nächsten Wochen bereitgestellt.
Paketquellen
Eine aktuelle Liste aller Binärpakete, von denen das KDE-Projekt in Kenntnis gesetzt wurde, finden Sie im Community Wiki.
Kompilieren von KDE-Anwendungen
The complete source code for KDE Applications may be freely downloaded. Instructions on compiling and installing are available from the KDE Applications 19.04.0 Info Page.
KDE unterstützen
KDE ist eine Gemeinschaft für Freie Software, die nur existiert und wächst, weil viele Freiwillige Zeit und Mühe aufbringen, um zu helfen. KDE sucht stets nach neuen Freiwilligen und Beitragenden, ganz gleich ob es um Hilfe bei der Programmierung, Fehlerbehebungen oder Fehlermeldungen, das Erstellen von Dokumentation, Übersetzungen, Werbung, Geld oder was auch immer geht. Alle Beiträge sind höchst willkommen und werden gerne angenommen. Für weitere Informationen lesen Sie bitte die Seite KDE Unterstützen oder werden Sie ein Unterstützer des KDE e.V. im Rahmen unserer Initiative Join the Game.
Über KDE
KDE is an international technology team that creates free and open source software for desktop and portable computing. Among KDE's products are a modern desktop system for Linux and UNIX platforms, comprehensive office productivity and groupware suites and hundreds of software titles in many categories including Internet and web applications, multimedia, entertainment, educational, graphics and software development. KDE software is translated into more than 60 languages and is built with ease of use and modern accessibility principles in mind. KDE's full-featured applications run natively on Linux, BSD, Windows, Haiku, and macOS.
---
Markenzeichen-Hinweise.

KDE® und das "K Desktop Environment"®-Logo eingetragene Markenzeichen des KDE e.V..
Linux ist ein eingetragenes Markenzeichen von Linus Torvalds. UNIX ist ein eingetragenes Markenzeichen von "The Open Group " in den Vereinigten Staaten und anderen Ländern.
Alle sonstigen Markenzeichen und Copyrights in dieser Ankündigung sind Eigentum ihrer jeweiligen Inhaber.
---
Pressekontakt
Brauchen Sie weitere Informationen, dann senden Sie uns eine E-Mail. press@kde.org