KDE veröffentlicht die KDE-Anwendungen 18.08.0
16.August 2018. KDE veröffentlicht heute die KDE-Anwendungen 18.08.0.
We continuously work on improving the software included in our KDE Application series, and we hope you will find all the new enhancements and bug fixes useful!
Neu in den KDE-Anwendungen 18.08
System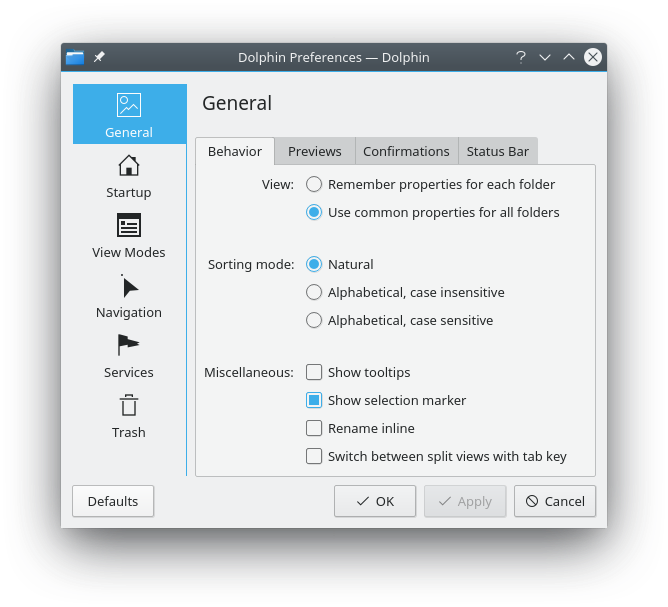 Dolphin, KDE's powerful file manager, has received various quality-of-life improvements:
The 'Settings' dialog has been modernized to better follow our design guidelines and be more intuitive.
Various memory leaks that could slow down your computer have been eliminated.
'Create New' menu items are no longer available when viewing the trash.
Die Anwendung wurde besser an Bildschirme mit hoher Auflösung angepasst.
The context menu now includes more useful options, allowing you to sort and change the view mode directly.
Sorting by modification time is now 12 times faster. Also, you can now launch Dolphin again when logged in using the root user account. Support for modifying root-owned files when running Dolphin as a normal user is still work in progress.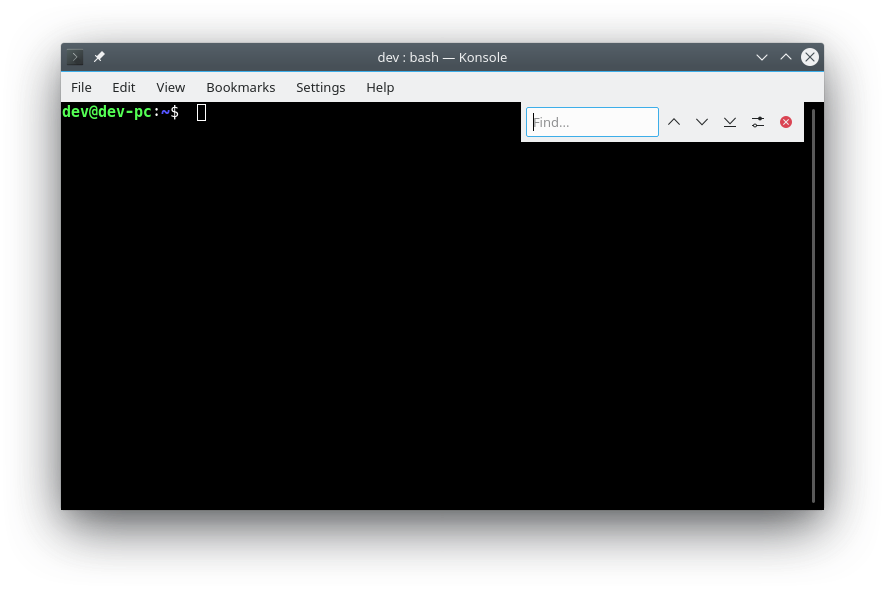 Multiple enhancements for Konsole, KDE's terminal emulator application, are available:
The 'Find' widget will now appear on the top of the window without disrupting your workflow.
Support for more escape sequences (DECSCUSR & XTerm Alternate Scroll Mode) has been added.
You can now also assign any character(s) as a key for a shortcut.
Grafik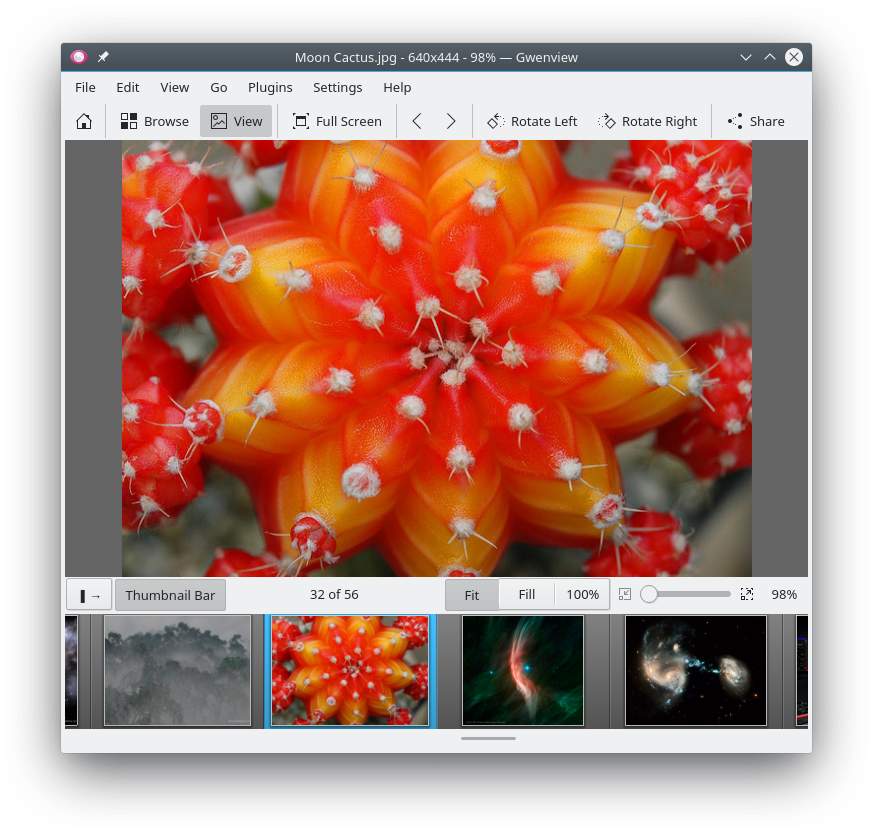 18.08 is a major release for Gwenview, KDE's image viewer and organizer. Over the last months contributors worked on a plethora of improvements. Highlights include:
Gwenview's statusbar now features an image counter and displays the total number of images.
It is now possible to sort by rating and in descending order. Sorting by date now separates directories and archives and was fixed in some situations.
Support for drag-and-drop has been improved to allow dragging files and folders to the View mode to display them, as well as dragging viewed items to external applications.
Pasting copied images from Gwenview now also works for applications which only accept raw image data, but no file path. Copying modified images is now supported as well.
Image resize dialog has been overhauled for greater usability and to add an option for resizing images based on percentage.
Red Eye Reduction tool's size slider and crosshair cursor were fixed.
Transparent background selection now has an option for 'None' and can be configured for SVGs as well.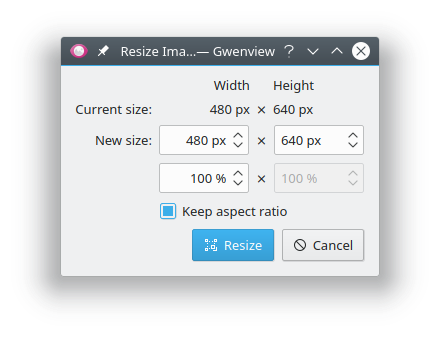 Image zooming has become more convenient:
Enabled zooming by scrolling or clicking as well as panning also when the Crop or Red Eye Reduction tools are active.
Middle-clicking once again toggles between Fit zoom and 100% zoom.
Added Shift-middle-clicking and Shift+F keyboard shortcuts for toggling Fill zoom.
Ctrl-clicking now zooms faster and more reliably.
Gwenview now zooms to the cursor's current position for Zoom In/Out, Fill and 100% zoom operations when using the mouse and keyboard shortcuts.
Image comparison mode received several enhancements:
Fixed size and alignment of the selection highlight.
Fixed SVGs overlapping the selection highlight.
For small SVG images, the selection highlight matches the image size.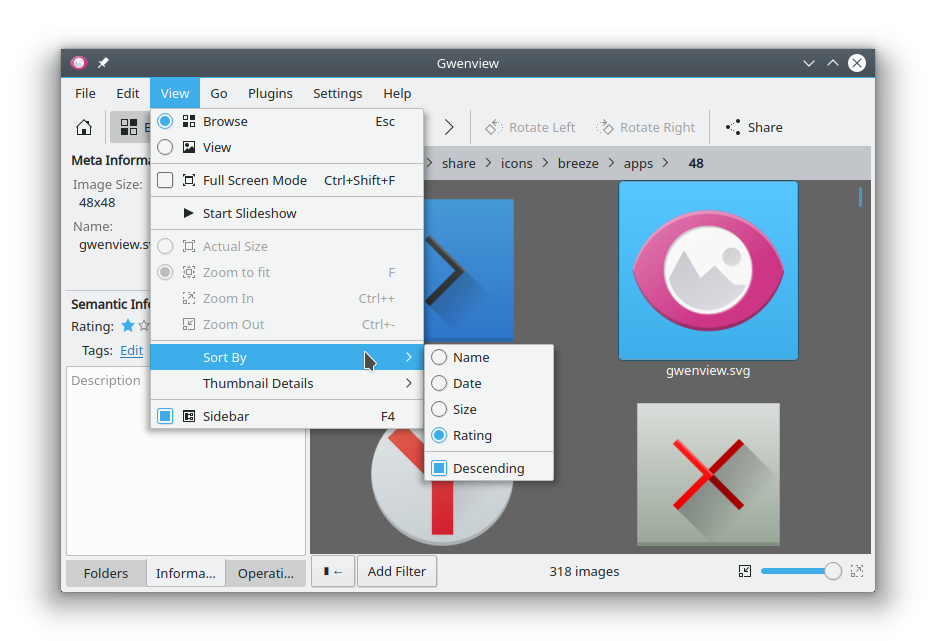 A number of smaller enhancements was introduced to make your workflow even more enjoyable:
Improved the fade transitions between images of varying sizes and transparencies.
Fixed the visibility of icons in some floating buttons when a light color scheme is used.
When saving an image under a new name, the viewer does not jump to an unrelated image afterwards.
When the share button is clicked and kipi-plugins are not installed, Gwenview will prompt the user to install them. After the installation they are immediately displayed.
Sidebar now prevents getting hidden accidentally while resizing and remembers its width.
Büroprogramme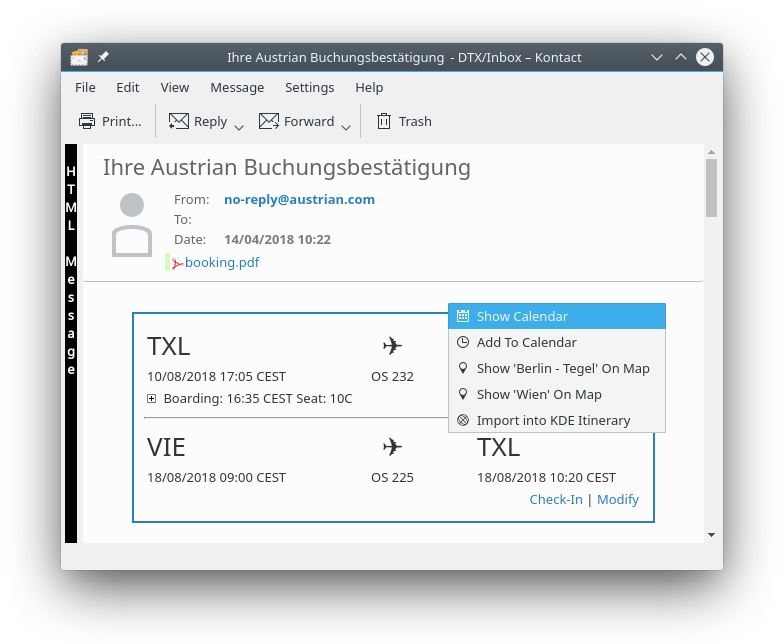 KMail, KDE's powerful email client, features some improvements in the travel data extraction engine. It now supports UIC 918.3 and SNCF train ticket barcodes and Wikidata-powered train station location lookup. Support for multi-traveler itineraries was added, and KMail now has integration with the KDE Itinerary app.
Akonadi, the personal information management framework, is now faster thanks to notification payloads and features XOAUTH support for SMTP, allowing for native authentication with Gmail.
Lernprogramme
Cantor, KDE's frontend to mathematical software, now saves the status of panels ("Variables", "Help", etc.) for each session separately. Julia sessions have become much faster to create.
User experience in KAlgebra, our graphing calculator, has been significantly improved for touch devices.
Dienstprogramme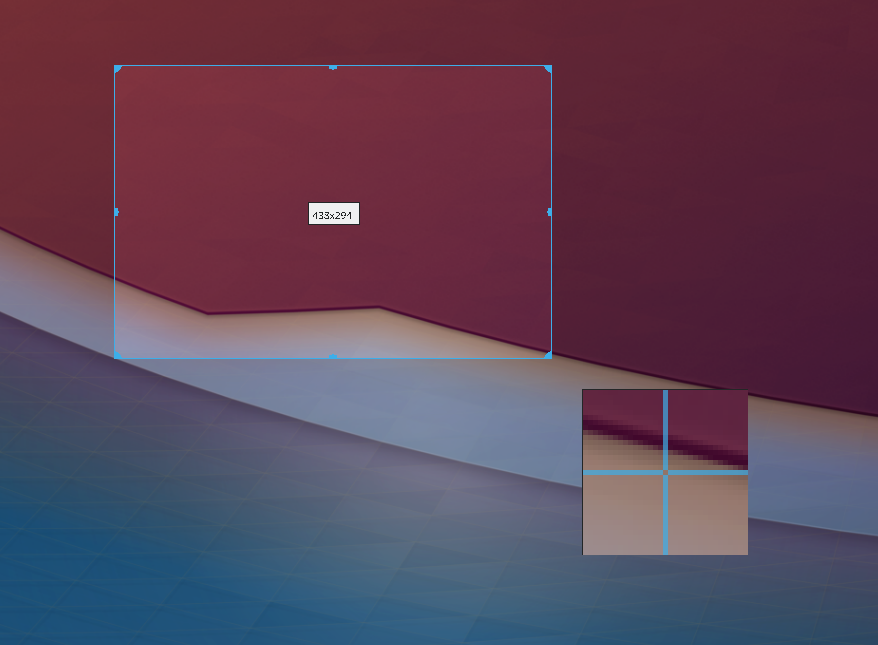 Contributors to Spectacle, KDE's versatile screenshot tool, focused on improving the Rectangular Region mode:
In Rectangular Region mode, there is now a magnifier to help you draw a pixel-perfect selection rectangle.
You can now move and resize the selection rectangle using the keyboard.
The user interface follows the user's color scheme, and the presentation of the help text has been improved.
To make sharing your screenshots with others easier, links for shared images are now automatically copied to the clipboard. Screenshots can now be automatically saved in user-specified sub-directories.
Kamoso, our webcam recorder, was updated to avoid crashes with newer GStreamer versions.
Bug Stomping
Mehr als 120 Fehler in Kontact, Ark, Cantor, Dolphin, Gwenview, Kate, Konsole, Okular und Umbrello und weiteren Anwendungen wurden behoben.
Vollständiges Änderungsprotokoll
You can find the full list of changes here.
Spread the Word
Nicht-technische Mitwirkende sind ein wichtiger Teil des Erfolgs von KDE. Während proprietäre Softwarefirmen riesige Werbebudgets für neue Software-Veröffentlichungen haben, hängt KDE davon ab, dass Menschen mit anderen Menschen sprechen. Selbst für diejenigen, die keine Software-Entwickler sind, gibt es viele Möglichkeiten, die Veröffentlichung von KDE-Anwendungen zu unterstützen. Berichten Sie Fehler. Ermutigen Sie andere, sich der KDE Gemeinschaft beizutreten. Oder unterstützen Sie die Non-Profit-Organisation hinter der KDE-Gemeinschaft
Bitte verbreiten Sie die Nachricht im sozialen Netz. Senden Sie Neuigkeiten an Nachrichtenseiten, nutzen Sie Kanäle wie delicious, digg, reddit und twitter. Laden Sie Bildschirmfotos Ihrer neuen Einrichtung auf Dienste wie Facebook, Flickr, ipernity und Picasa hoch und posten Sie sie in entsprechenden Gruppen. Erstellen Sie Bildschirmaufzeichnungen und laden Sie diese auf YouTube, Blip.tv und Vimeo hoch. Bitte kennzeichnen Sie Beiträge und hochgeladenes Material mit "KDE". Das macht sie leicht auffindbar und gibt dem KDE-Promo-Team eine Möglichkeit, die Berichterstattung über diese Veröffentlichung von KDE-Anwendungen zu analysieren.
Binärpakete für KDE-Anwendungen installieren
Pakete
Einige Anbieter von Linux-/UNIX-Betriebssystemen haben dankenswerterweise Binärpakete der KDE-Anwendungen für einige Versionen Ihrer Distributionen bereitgestellt, ebenso wie freiwillige Mitglieder der Gemeinschaft. Zusätzliche binäre Pakete und Aktualisierungen der jetzt verfügbaren Pakete werden in den nächsten Wochen bereitgestellt.
Paketquellen
Eine aktuelle Liste aller Binärpakete, von denen das KDE-Projekt in Kenntnis gesetzt wurde, finden Sie im Community Wiki.
Kompilieren von KDE-Anwendungen
The complete source code for KDE Applications may be freely downloaded. Instructions on compiling and installing are available from the KDE Applications 18.08.0 Info Page.
KDE unterstützen
KDE ist eine Gemeinschaft für Freie Software, die nur existiert und wächst, weil viele Freiwillige Zeit und Mühe aufbringen, um zu helfen. KDE sucht stets nach neuen Freiwilligen und Beitragenden, ganz gleich ob es um Hilfe bei der Programmierung, Fehlerbehebungen oder Fehlermeldungen, das Erstellen von Dokumentation, Übersetzungen, Werbung, Geld oder was auch immer geht. Alle Beiträge sind höchst willkommen und werden gerne angenommen. Für weitere Informationen lesen Sie bitte die Seite KDE Unterstützen oder werden Sie ein Unterstützer des KDE e.V. im Rahmen unserer Initiative Join the Game.
Über KDE
KDE ist ein internationales Technologie-Team, das freie Open-Source-Software für die Arbeitsfläche und Mobilgeräte erstellt. Zu KDE's Produkten zählen ein modernes Arbeitsflächen-System für Linux- und UNIX-Plattformen, leistungsfähige Lösungen für Office und Groupware sowie Hunderte von Software-Titeln in vielen Kategorien inklusive Internet- und Web-Anwendungen, Multimedia, Unterhaltung, Bildung, Grafik und Software-Entwicklung. KDE's Software wird in mehr als 60 Sprachen übersetzt und mit Benutzerfreundlichkeit und zeitgemäßer Zugänglichkeit im Hinterkopf entworfen. KDE's leistungsfähige Anwendungen laufen nativ unter Linux, BSD, Windows und Mac OS X.
---
Markenzeichen-Hinweise.

KDE® und das "K Desktop Environment"®-Logo eingetragene Markenzeichen des KDE e.V..
Linux ist ein eingetragenes Markenzeichen von Linus Torvalds. UNIX ist ein eingetragenes Markenzeichen von "The Open Group " in den Vereinigten Staaten und anderen Ländern.
Alle sonstigen Markenzeichen und Copyrights in dieser Ankündigung sind Eigentum ihrer jeweiligen Inhaber.
---
Pressekontakt
Brauchen Sie weitere Informationen, dann senden Sie uns eine E-Mail. press@kde.org