Kupte si zařízení s Plasmou a aplikacemi KDE
Here you can find a list of devices with KDE Plasma pre-installed that you can buy right now:
Steam Deck
A portable console that runs AAA games
Play your entire gaming library with this portable console that has the flexibility of a PC. The Steam Deck runs KDE Plasma optimized to play the latest AAA games and your favorite emulators. You can even connect a screen, keyboard, and mouse for a full Plasma-based desktop PC experience.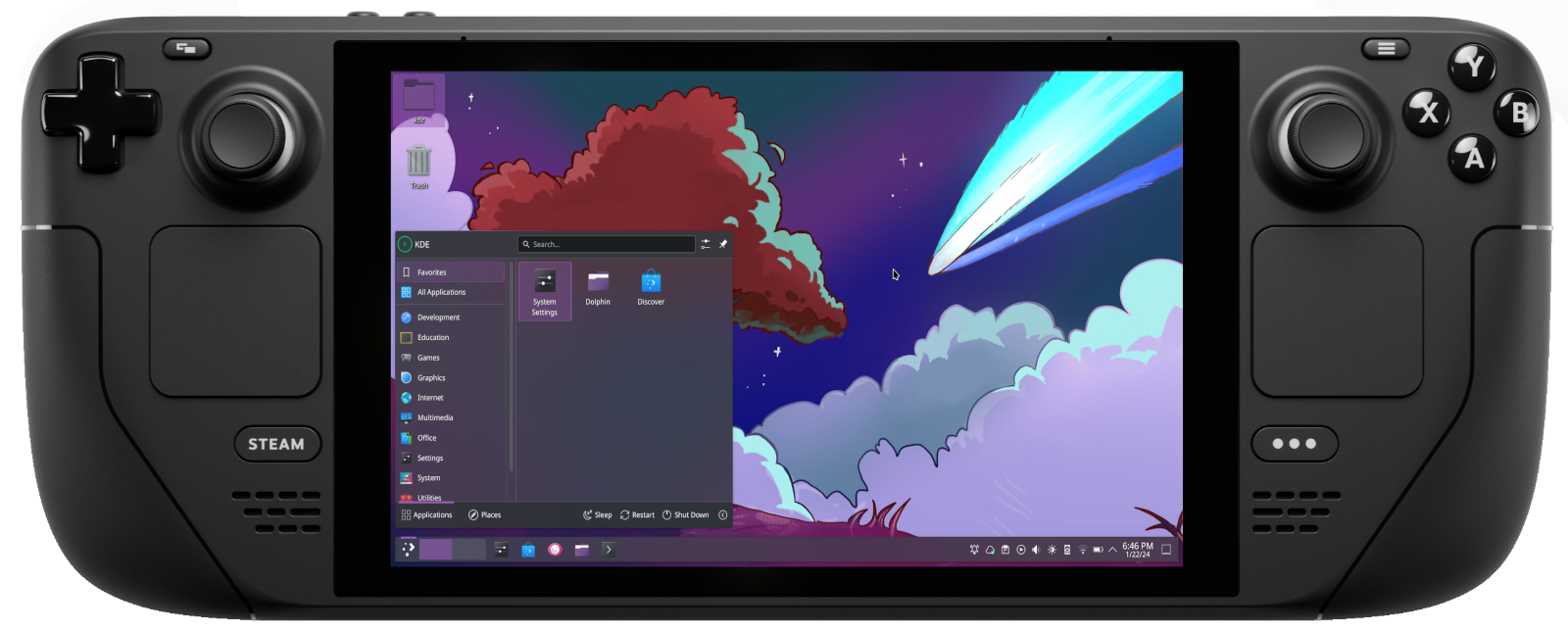 Specifikace
Operating system pre-installed: SteamOS 3.0 (Arch Linux based)
CPU: Custom AMD Ryzen quad-core 3.5GHz CPU
GPU: Custom 1.6GHz GPU with 8 RDNA 2 Compute Units
Paměť: 16 GB RAM (LPDDR5)
Zobrazení: 1200 x 800 7" IPS LCD
Úložiště: Up to 512 GB SSD
Cena: starting at US$399
Chcete se dozvědět více?
PinePhone KDE Community Edition
Experience the future of KDE's open mobile platform
Plasma Mobile and PinePhone provide you with the excitement of experimenting with the future of Free and Open Source mobile phones right now.
The Pinephone is a tinkerer's dream, letting you boot new operating systems with ease and tweak, expand, and update the hardware. Plasma Mobile provides you with a feature-rich environment with an already well-populated app ecosystem ready for convergence. Experiment with software that improves on a daily basis, use calendars, sync up with your desktop and other devices using KDE Connect, browse the web, read documents, play games, send Instant Messages, and so much more.
As a regular user, get this phone if you want to experience first hand what the future of FLOSS mobile phones will be like. Test it, give us feedback and help us push Plasma Mobile to maturity!
As a developer, get this phone if you want to contribute to Plasma Mobile, one of the most active, community-driven projects for mobile phones. It will also give you a headstart in creating apps for a budding system that is on the verge of taking the mobile arena by storm.
Learn more about the PinePhone
KDE Slimbook
Powerful Hardware, Sleek Software
The Linux ultrabook with a Ryzen 5700U processor and KDE's full-featured Plasma desktop running on KDE Neon and with access to hundreds of Open Source programs and utilities.
Vyberte si velikost
KDE Slimbook 14"
AMD Ryzen 7 5700 U
14-inch IPS LED display with 1920 by 1080 resolution at 60Hz
Up to 2TB storage SSD
Up to 64GB memory
47‑watt‑hour battery
%1 kg
KDE Slimbook 15.6"
AMD Ryzen 7 5700 U
15.6-inch IPS LED display with 1920 by 1080 resolution at 60Hz
Up to 2TB storage SSD
Up to 64GB memory
92‑watt‑hour battery
1.5 kg
Hardware sellers and services with KDE Plasma as an option
You can find here a list of hardware sellers and services offering Plasma as an option: