Buy hardware with Plasma and KDE Applications
Here you can find a list of devices with KDE Plasma pre-installed that you can buy right now:
PinePhone KDE Community Edition
Experience the future of KDE's open mobile platform
Plasma Mobile and PinePhone provide you with the excitement of experimenting with the future of Free and Open Source mobile phones right now.
The Pinephone is a tinkerer's dream, letting you boot new operating systems with ease and tweak, expand, and update the hardware. Plasma Mobile provides you with a feature-rich environment with an already well-populated app ecosystem ready for convergence. Experiment with software that improves on a daily basis, use calendars, sync up with your desktop and other devices using KDE Connect, browse the web, read documents, play games, send Instant Messages, and so much more.
As a regular user, get this phone if you want to experience first hand what the future of FLOSS mobile phones will be like. Test it, give us feedback and help us push Plasma Mobile to maturity!
As a developer, get this phone if you want to contribute to Plasma Mobile, one of the most active, community-driven projects for mobile phones. It will also give you a headstart in creating apps for a budding system that is on the verge of taking the mobile arena by storm.
Learn more about the PinePhone
KDE SlimbookPowerful Hardware, Sleek Software
The first Linux ultrabook with a Ryzen 4000 processor and KDE's full-featured Plasma desktop and hundreds of Open Source programs and utilities.
Vyberte si velikost
KDE Slimbook 14"
AMD Ryzen 7 4800 H
14-inch IPS LED display with 1920 by 1080 resolution at 60Hz
Up to 2TB storage SSD
Up to 64GB memory
47‑watt‑hour battery
%1 kg
KDE Slimbook 15.6"
AMD Ryzen 7 4800 H
15.6-inch IPS LED display with 1920 by 1080 resolution at 60Hz
Up to 2TB storage SSD
Up to 64GB memory
92‑watt‑hour battery
1.5 kg
Kubuntu Focus M2
A powerful laptop for daily use or CPU-intensive work
The Kubuntu Focus laptop is a high-powered, workflow-focused laptop which ships with Kubuntu installed. This is the first officially Kubuntu-branded computer. It is designed for work that requires intense GPU computing, fast NVMe storage and optimal cooling to unleash the CPU's maximum potential.
Specifikace
Operating system pre-installed: Kubuntu
CPU: 10th Generation Intel Core i7-10875H Processor, 8 core / 16 thread. 2.3GHz Base, 5.1GHz Turbo
GPU: NVIDIA GeForce RTX 2060/2070/2080 GPU PCIe x 16 AND Intel UHD 630 Graphics with CUDA and cuDNN
Paměť: Up to 64GB Dual Channel DDR4 3200 MHz
Zobrazení: Full HD 16.1" matte 1080p IPS 144Hz
Úložiště: 2 x M.2 2280 PCIe Gen3x4 interface featuring Samsung 970 Evo Plus at 3,500MB/s and 2,700MB/s seq. read and write
Cena: starting at $1,795
Chcete se dozvědět více?
Pinebook Pro
The Pinebook Pro is meant to deliver solid day-to-day Linux or *BSD experience and to be a compelling alternative to mid-ranged Chromebooks that people convert into Linux laptops. In contrast to most mid-ranged Chromebooks however, the Pinebook Pro comes with an IPS 1080p 14″ LCD panel, a premium magnesium alloy shell, 64/128GB of eMMC storage, a 10,000 mAh capacity battery and the modularity / hackability that only an open source project can deliver – such as the unpopulated PCIe m.2 NVMe slot. The USB-C port on the Pinebook Pro, apart from being able to transmit data and charge the unit, is also capable of digital video output up-to 4K at 60hz.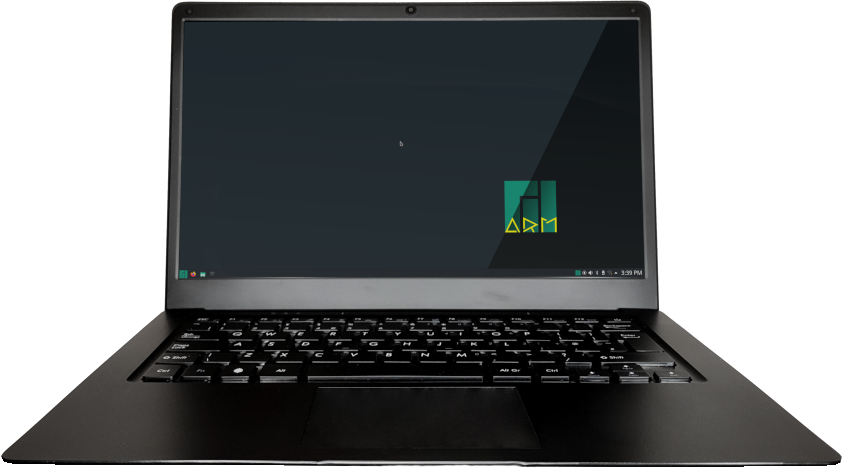 Specifikace
Operating system pre-installed: Manjaro KDE
CPU: Rockchip RK3399 SOC
GPU: Mali T860 MP4
Paměť: 4GB LPDDR4
Zobrazení: 1080p IPS Panel
Úložiště: 64GB of eMMC (Upgradable)
Cena: starting at $199
Chcete se dozvědět více?
Hardware sellers with KDE Plasma as an option
You can find here a list of hardware sellers who offer Plasma as an option when buying the laptop: