Rilascio di KDE Frameworks 5.36.0
Disponibile anche in:

English | Català | Español | Eesti | Galician | Italiano | Nederlands | Português | Svenska | Українська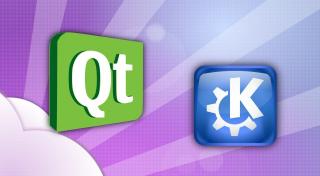 8 luglio 2017. KDE annuncia oggi il rilascio di KDE Frameworks 5.36.0.
KDE Frameworks sono 70 componenti aggiuntivi per Qt che forniscono una grande varietà di funzionalità, comunemente richieste, raccolte in librerie mature, soggette a revisione paritaria, ben testate e con termini di licenza di facile utilizzo. Per un'introduzione, consulta l'annuncio di rilascio di Frameworks 5.0.
Questo rilascio è parte di una serie di rilasci mensili programmati che rende disponibili i miglioramenti agli sviluppatori in modo rapido e prevedibile.
Novità in questa versione
Changelog for KDE Frameworks 5.36.0
All frameworks: Option to build & install QCH file with the public API dox
Baloo
Use FindInotify.cmake to decide whether inotify is available
Icone Brezza
Do not depend on bash unnecessarily, and do not validate icons by default
Moduli CMake aggiuntivi
FindQHelpGenerator: avoid picking up Qt4 version
ECMAddQch: fail hard if needed tools are not present, to avoid surprises
Drop perl as dep for ecm_add_qch, not needed/used
Scan the whole install folder for qml dependencies
New: ECMAddQch, for generating qch & doxygen tag files
Fix KDEInstallDirsTest.relative_or_absolute_usr, avoid Qt paths being used
KAuth
Check error status after every PolKitAuthority usage
KBookmarks
Emit errors when keditbookmarks is missing (bug 303830)
KConfig
KCoreAddons
Use FindInotify.cmake to decide whether inotify is available
KDeclarative
KKeySequenceItem: make it possible to record Ctrl+Num+1 as a shortcut
Start drag with press and hold on touch events (bug 368698)
Don't rely on QQuickWindow delivering QEvent::Ungrab as mouseUngrabEvent (as it no longer does in Qt 5.8+) (bug 380354)
KDELibs4Support
Search for KEmoticons, which is a dependency per the CMake config.cmake.in (bug 381839)
KFileMetaData
Add an extractor using qtmultimedia
KI18n
Make sure that the tsfiles target is generated
KIconThemes
More details about deploying icon themes on Mac & MSWin
Change panel icon size default to 48
KIO
[KNewFileMenu] Hide "Link To Device" menu if it would be empty (bug 381479)
Use KIO::rename instead of KIO::moveAs in setData (bug 380898)
Fix drop menu position on Wayland
KUrlRequester: Set NOTIFY signal to textChanged() for text property
[KOpenWithDialog] HTML-escape file name
KCoreDirLister::cachedItemForUrl: don't create the cache if it didn't exist
Use "data" as filename when copying data urls (bug 379093)
KNewStuff
Fix incorrect error detection for missing knsrc files
Expose and use Engine's page size variable
Make it possible to use QXmlStreamReader to read a KNS registry file
KPackage Framework
Added kpackage-genericqml.desktop
KTextEditor
Fix cpu usage spiking after showing vi command bar (bug 376504)
Fix jumpy scrollbar-dragging when mini-map is enabled
Jump to the clicked scrollbar position when minim-map is enabled (bug 368589)
KWidgetsAddons
Update kcharselect-data to Unicode 10.0
KXMLGUI
KKeySequenceWidget: make it possible to record Ctrl+Num+1 as a shortcut (bug 183458)
Revert "When building menu hyerarchies, parent menus to their containers"
Revert "use transientparent directly"
NetworkManagerQt
WiredSetting: wake on lan properties were backported to NM 1.0.6
WiredSetting: metered property was backported to NM 1.0.6
Add new properties to many settings classes
Device: add device statistics
Add IpTunnel device
WiredDevice: add information about required NM version for s390SubChannels property
TeamDevice: add new config property (since NM 1.4.0)
Wired device: add s390SubChannels property
Update introspections (NM 1.8.0)
Plasma Framework
Make sure size is final after showEvent
Fix vlc tray icon margins and color scheme
Set Containments to have focus within the view (bug 381124)
generate the old key before updating enabledborders (bug 378508)
show show password button also if empty text (bug 378277)
Emit usedPrefixChanged when prefix is empty
Solid
cmake: build udisks2 backend on FreeBSD only when enabled
Evidenziazione della sintassi
Highlight .julius files as JavaScript
Haskell: Add all language pragmas as keywords
CMake: OR/AND not highlighted after expr in () (bug 360656)
Makefile: Remove invalid keyword entries in makefile.xml
indexer: Improve error reporting
HTML syntax file version update
Angular modifiers in HTML attributes added
Update test reference data following the changes of the previous commit
Bug 376979 - angle brackets in doxygen comments break syntax highlighting
ThreadWeaver
Work-around MSVC2017 compiler bug
Informazioni di sicurezza
The released code has been GPG-signed using the following key: pub rsa2048/58D0EE648A48B3BB 2016-09-05 David Faure <faure@kde.org> Primary key fingerprint: 53E6 B47B 45CE A3E0 D5B7 4577 58D0 EE64 8A48 B3BB
Installazione dei pacchetti binari
In Linux, l'uso di pacchetti per la tua distribuzione preferita è il metodo raccomandato per avere accesso a KDE Frameworks. Istruzioni d'installazione dei pacchetti binari nelle distribuzioni.

Compilazione da sorgente
Il codice sorgente completo per KDE Frameworks 5.36.0 può essere scaricato liberamente. Le istruzioni su come compilare e installare KDE Frameworks 5.36.0 sono disponibili dalla pagina di informazioni di KDE Frameworks 5.36.0.
La compilazione da sorgente è possibile tramite i comandi di base cmake .; make; make install. Per un framework di solo livello 1, questo è spesso la soluzione più semplice. Le persone interessate a collaborare al framework o a tenere traccia dei progressi dell'intero set sono invitate a usare kdesrc-build. Frameworks 5.36.0 richiede Qt 5.6.
Un elenco dettagliato di tutti i componenti di Frameworks e altre librerie Qt di terze parti si trova su inqlude.org, l'archivio curato delle librerie Qt. Un elenco completo con la documentazione delle API si trova in api.kde.org.
Contribuisci
Coloro i quali sono interessati a seguire e a contribuire allo sviluppo possono scaricare i
repository git
, seguire le discussioni nella
mailing list di sviluppo di KDE Frameworks
e contribuire con patch attraverso
review board
. Le politiche e lo stato attuale del progetto sono disponibili sul
wiki di Frameworks
. Le discussioni in tempo reale avvengono nel
canale IRC #kde-devel su freenode.net
.
Puoi discutere e condividere idee su questo rilascio nella sezione dei commenti nell'articolo sul Dot.
Supporta KDE
KDE è una comunità di software libero che esiste e cresce esclusivamente grazie all'aiuto dei molti volontari che donano il proprio tempo e il proprio impegno. KDE è sempre in cerca di nuovi volontari e contributori, che aiutino indifferentemente per la scrittura di codice, correzione o segnalazione di bug, scrittura di documentazione, traduzione, promozione, con aiuti finanziari, ecc. Tutti i tipi di contributo sono apprezzati con molta riconoscenza e accettati con entusiasmo. Consulta la pagina delle donazioni KDE per maggiori informazioni o diventa un membro sostenitore di KDE e.V. tramite il nostro nuovo programma Join the Game.
Informazioni su KDE
KDE is an international technology team that creates free and open source software for desktop and portable computing. Among KDE's products are a modern desktop system for Linux and UNIX platforms, comprehensive office productivity and groupware suites and hundreds of software titles in many categories including Internet and web applications, multimedia, entertainment, educational, graphics and software development. KDE software is translated into more than 60 languages and is built with ease of use and modern accessibility principles in mind. KDE's full-featured applications run natively on Linux, BSD, Solaris, Windows and macOS.
---
Informazioni sui marchi registrati. KDE® e il logo K Desktop Environment® sono marchi registrati di KDE e.V. Linux è marchio registrato di Linus Torvalds. UNIX è un marchio registrato da The Open Group negli Stati Uniti d'America e in altre nazioni. Tutti gli altri marchi e marchi registrati citati in questo annuncio sono di proprietà dei rispettivi proprietari.
---
Contatti per la stampa
Per ulteriori informazioni inviaci un messaggio di posta:
press@kde.org