Release of KDE Frameworks 5.2.0
Also available in:

English | Català | Español | Eesti | Galician | Hungarian | Nederlands | Polski | Português | Português brasileiro | Svenska | Українська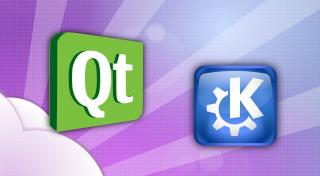 September 12, 2014. KDE today announces the release of KDE Frameworks 5.2.0.
KDE Frameworks are 60 addon libraries to Qt which provide a wide variety of commonly needed functionality in mature, peer reviewed and well tested libraries with friendly licensing terms. For an introduction see the Frameworks 5.0 release announcement.
New in this Version
KActivities
reimplementation of the file item plugin for linking files to activities
KArchive
fix handling of uncompressed files
KConfigWidgets
fix missing default shortcuts for standard actions, leading to many runtime warnings
better support for QGroupBox in KConfigDialogManager
KCoreAddons
Mark KAboutData::setProgramIconName() as deprecated, it did not do anything. Use QApplication::setWindowIcon(QIcon::fromTheme("...")) instead.
new classes Kdelibs4ConfigMigrator and KPluginMetaData
KDeclarative
added org.kde.kio component.
KImageFormats
disable the DDS and JPEG-2000 plugins when Qt version is 5.3 or later
KIO
now follows the mime-apps spec, for better interoperability with gio when it comes to the user's preferred and default apps.
new classes EmptyTrashJob and RestoreJob.
new functions isClipboardDataCut and setClipboardDataCut.
KNewStuff
installing "stuff" works again (porting bug)
KWidgetsAddons
new class KColumnResizer (makes it easy to vertically align widgets across groups)
KWindowSystem
New method KWindowSystem::setOnActivities
KXmlGui
KActionCollection::setDefaultShortcuts now makes the shortcut active too, to simplify application code.
Threadweaver
The maximum worker count will now decrease if a lower value is set after workers have been created. Previously, workers would remain active once they have been created.
Examples from the previous ThreadWeaverDemos Github repository are being merged into the KF5 ThreadWeaver repo.
The maximum worker count can now be set to zero (the previous minimum was 1). Doing so will effectively halt processing in the queue.
Documentation of various aspects of ThreadWeaver use is becoming part of the KDE Frameworks Cookbook. Parts of it is located in the examples/ directory.
Buildsystem changes
Support for relative libexec dir.
Frameworkintegration
the file dialog now remembers its size correctly, and works better with remote URLs.
Getting started
On Linux, using packages for your favorite distribution is the recommended way to get access to KDE Frameworks.
cmake .; make; make install
commands. For a single Tier 1 framework, this is often the easiest solution. People interested in contributing to frameworks or tracking progress in development of the entire set are encouraged to
use kdesrc-build
.
Frameworks 5.2.0 requires Qt 5.2. It is part of a series of planned monthly releases making improvements available to developers in a quick and predictable manner.
A detailed listing of all Frameworks and other third party Qt libraries is at inqlude.org, the curated archive of Qt libraries. A complete list with API documentation is on api.kde.org.
Contribute
Those interested in following and contributing to the development of Frameworks can check out the git repositories, follow the discussions on the KDE Frameworks Development mailing list and contribute patches through review board. Policies and the current state of the project and plans are available at the Frameworks wiki. Real-time discussions take place on the #kde-devel IRC channel on freenode.net.
You can discuss and share ideas on this release in the comments section of the dot article.
Supporting KDE
KDE is a Free Software community that exists and grows only because of the help of many volunteers that donate their time and effort. KDE is always looking for new volunteers and contributions, whether it is help with coding, bug fixing or reporting, writing documentation, translations, promotion, money, etc. All contributions are gratefully appreciated and eagerly accepted. Please read through the Donations page for further information or become a KDE e.V. supporting member through our new Join the Game initiative.
About KDE
KDE is an international technology team that creates free and open source software for desktop and portable computing. Among KDE's products are a modern desktop system for Linux and UNIX platforms, comprehensive office productivity and groupware suites and hundreds of software titles in many categories including Internet and web applications, multimedia, entertainment, educational, graphics and software development. KDE software is translated into more than 60 languages and is built with ease of use and modern accessibility principles in mind. KDE's full-featured applications run natively on Linux, BSD, Solaris, Windows and macOS.
---
Trademark Notices. KDE® and the K Desktop Environment® logo are registered trademarks of KDE e.V. Linux is a registered trademark of Linus Torvalds. UNIX is a registered trademark of The Open Group in the United States and other countries. All other trademarks and copyrights referred to in this announcement are the property of their respective owners.
---
Press Contacts
For more information send us an email:
press@kde.org