Second release of KDE Frameworks 5
Also available in:

English | Català | Español | Eesti | Suomi | Galician | Hungarian | 한국어 | Nederlands | Polski | Português | Português brasileiro | Svenska | Українська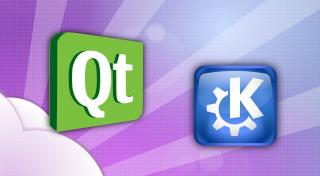 August 7th, 2014. KDE today announces the second release of KDE Frameworks 5. In line with the planned release policy for KDE Frameworks this release comes one month after the initial version and has both bugfixes and new features.
KDE Frameworks are 60 addon libraries to Qt which provide a wide variety of commonly needed functionality in mature, peer reviewed and well tested libraries with friendly licensing terms. For an introduction see the Frameworks 5.0 release announcement.
New in this Version
This release, versioned 5.1, comes with a number of bugfixes and new features including:
KTextEditor: Major refactorings and improvements of the vi-mode
KAuth: Now based on PolkitQt5-1
New migration agent for KWallet
Windows compilation fixes
Translation fixes
New install dir for KXmlGui files and for AppStream metainfo
Getting started
On Linux, using packages for your favorite distribution is the recommended way to get access to KDE Frameworks.
cmake .; make; make install
commands. For a single Tier 1 framework, this is often the easiest solution. People interested in contributing to frameworks or tracking progress in development of the entire set are encouraged to
use kdesrc-build
. Frameworks 5.1 requires Qt 5.2. It is part of a series of planned monthly releases making improvements available to developers in a quick and predictable manner.
inqlude.org
, the curated archive of Qt libraries. A complete list with API documentation is on
api.kde.org
.
Contribute
Those interested in following and contributing to the development of Frameworks can check out the
git repositories
, follow the discussions on the
KDE Frameworks Development mailing list
and contribute patches through
review board
. Policies and the current state of the project and plans are available at the
Frameworks wiki
. Real-time discussions take place on the
#kde-devel IRC channel on freenode.net
.
You can discuss and share ideas on this release in the comments section of the dot article.
Supporting KDE
KDE is a Free Software community that exists and grows only because of the help of many volunteers that donate their time and effort. KDE is always looking for new volunteers and contributions, whether it is help with coding, bug fixing or reporting, writing documentation, translations, promotion, money, etc. All contributions are gratefully appreciated and eagerly accepted. Please read through the Donations page for further information or become a KDE e.V. supporting member through our new Join the Game initiative.
About KDE
KDE is an international technology team that creates free and open source software for desktop and portable computing. Among KDE's products are a modern desktop system for Linux and UNIX platforms, comprehensive office productivity and groupware suites and hundreds of software titles in many categories including Internet and web applications, multimedia, entertainment, educational, graphics and software development. KDE software is translated into more than 60 languages and is built with ease of use and modern accessibility principles in mind. KDE's full-featured applications run natively on Linux, BSD, Solaris, Windows and macOS.
---
Trademark Notices. KDE® and the K Desktop Environment® logo are registered trademarks of KDE e.V. Linux is a registered trademark of Linus Torvalds. UNIX is a registered trademark of The Open Group in the United States and other countries. All other trademarks and copyrights referred to in this announcement are the property of their respective owners.
---
Press Contacts
For more information send us an email:
press@kde.org