KDE Ships First Beta of Frameworks 5
Tuesday, 1 April 2014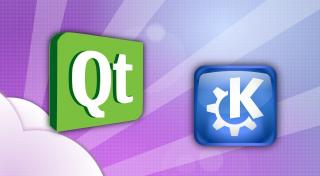 Today KDE makes available the first beta of Frameworks 5. This release is part of a series of releases leading up to the final version planned for June 2014 following the previous alpha last month. This release marks the freeze of source incompatible changes and the introduction of the Frameworks 5 Porting Aids.
Frameworks 5 Porting Aids
To ease the porting of KDE Platform 4 based applications, the Frameworks team has brought the 'Porting Aids' group into existence. These Frameworks contain kdelibs4 modules and API's that are being deprecated in KF5 and are provided only to assist applications in porting to KF5. As such these Frameworks will only have a limited support period, currently planned to be three release cycles. Application developers are strongly encouraged to port away from these Frameworks during this support period to prevent dependency on obsolete and unsupported code. Once support is ended, some unofficial development may continue on some modules, but they will not be part of the officially supported Frameworks release.
Currently, the following Frameworks belong to this group:
khtml
kjs
kjsembed
krunner
kmediaplayer
kdelibs4support*
kdelibs4support contains deprecated API's from modules which no longer exist or deprecated classes from existing modules.
For information about Frameworks 5, see this article on the dot news site. Those interested in following progress can check out the git repositories, follow the discussions on the KDE Frameworks Development mailing list and contribute patches through review board. Policies and the current state of the project and plans are available at the Frameworks wiki. Real-time discussions take place on the #kde-devel IRC channel on libera.chat.
Discuss, Spread the Word and See What's Happening: Tag as "KDE"
KDE encourages people to spread the word on the Social Web. Submit stories to news sites, use channels like delicious, digg, reddit, twitter, identi.ca. Upload screenshots to services like Facebook, Flickr, ipernity and Picasa, and post them to appropriate groups. Create screencasts and upload them to YouTube, Blip.tv, and Vimeo. Please tag posts and uploaded materials with "KDE". This makes them easy to find, and gives the KDE Promo Team a way to analyze coverage for these releases of KDE software.
You can discuss this news story on the Dot, KDE's news site.
Installing frameworks Beta 1 Binary Packages
Packages. A variety of distributions offers frequently updated packages of Frameworks 5. This includes Arch Linux, AOSC, Fedora, Kubuntu and openSUSE. See this wikipage for an overview.
Compiling frameworks
The complete source code for frameworks 4.98.0 may be freely downloaded.
Supporting KDE
KDE is a Free Software community that exists and grows only because of the help of many volunteers that donate their time and effort. KDE is always looking for new volunteers and contributions, whether it is help with coding, bug fixing or reporting, writing documentation, translations, promotion, money, etc. All contributions are gratefully appreciated and eagerly accepted. Please read through the Supporting KDE page for further information or become a KDE e.V. supporting member through our Join the Game initiative.
About KDE
KDE is an international technology team that creates free and open source software for desktop and portable computing. Among KDE's products are a modern desktop system for Linux and UNIX platforms, comprehensive office productivity and groupware suites and hundreds of software titles in many categories including Internet and web applications, multimedia, entertainment, educational, graphics and software development. KDE software is translated into more than 60 languages and is built with ease of use and modern accessibility principles in mind. KDE's full-featured applications run natively on Linux, BSD, Windows, Haiku, and macOS.
---
Trademark Notices.

KDE® and the K Desktop Environment® logo are registered trademarks of KDE e.V..
Linux is a registered trademark of Linus Torvalds. UNIX is a registered trademark of The Open Group in the United States and other countries.
All other trademarks and copyrights referred to in this announcement are the property of their respective owners.
---
Press Contacts
For more information send us an email: press@kde.org