Plasma Workspaces 4.10 Improve Mobile Device Support and Receive Visual Refinement
Wednesday, 6 February 2013
Plasma Workspaces have been refined considerably. Work continues on updating widgets with new ones built with Qt Quick. This effort brings improvements in consistency, layout behavior, stability, ease of use and performance. It is also now easier to build widgets, entirely new Plasma Workspace layouts and other custom enhancements. A new QML-based screen locker makes Workspaces more secure. The wallpaper engine was also updated to QML, so it is easier to write animated wallpapers. (QML is part of the Qt Quick application framework.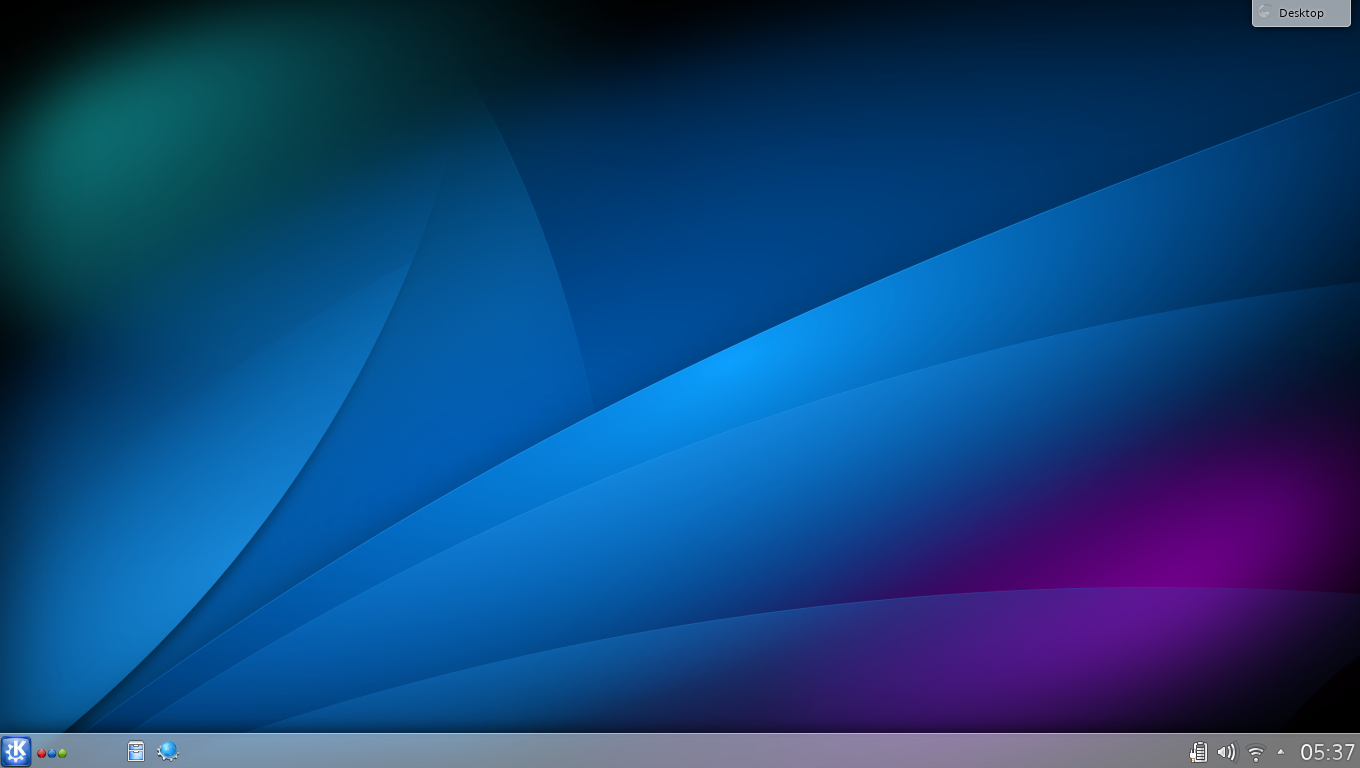 In addition to improvements related to Qt Quick and QML, the task widget received some usability updates, with a smoother look for groups of windows. There also have been improvements to the notifications system, particularly in the area of power management. There is now improved support for high resolution displays and a new Air theme reducing visual clutter and giving Plasma Workspaces a cleaner appearance.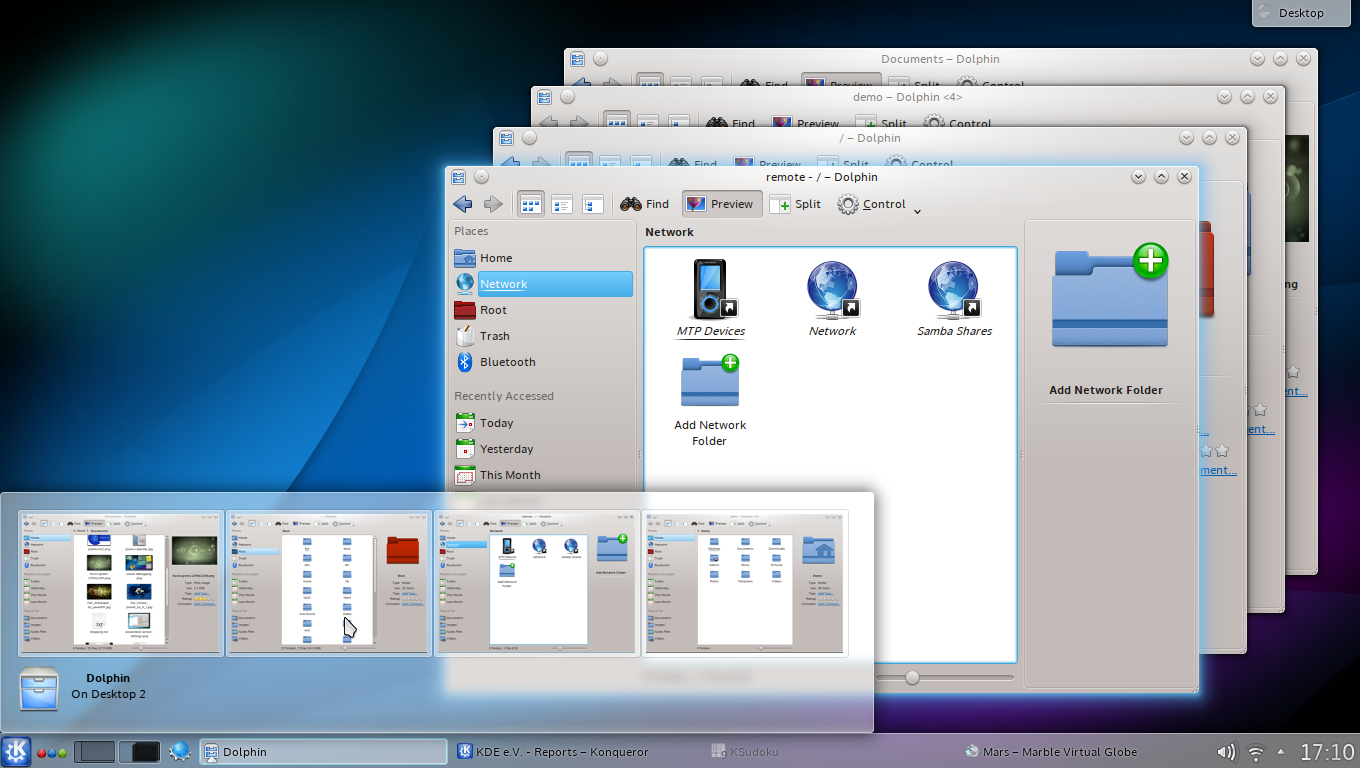 KWin Window Manager and Compositor
With KWin's Get Hot New Stuff (GHNS) integration, additional effects and scripts are available in the KWin configuration dialog and can also be found at kde-look.org, including behavior modifying scripts. Custom window switchers can also be retrieved in the KWin configuration dialog and that section of kde-look.org. There's a nifty new effect that animates the maximize window state change.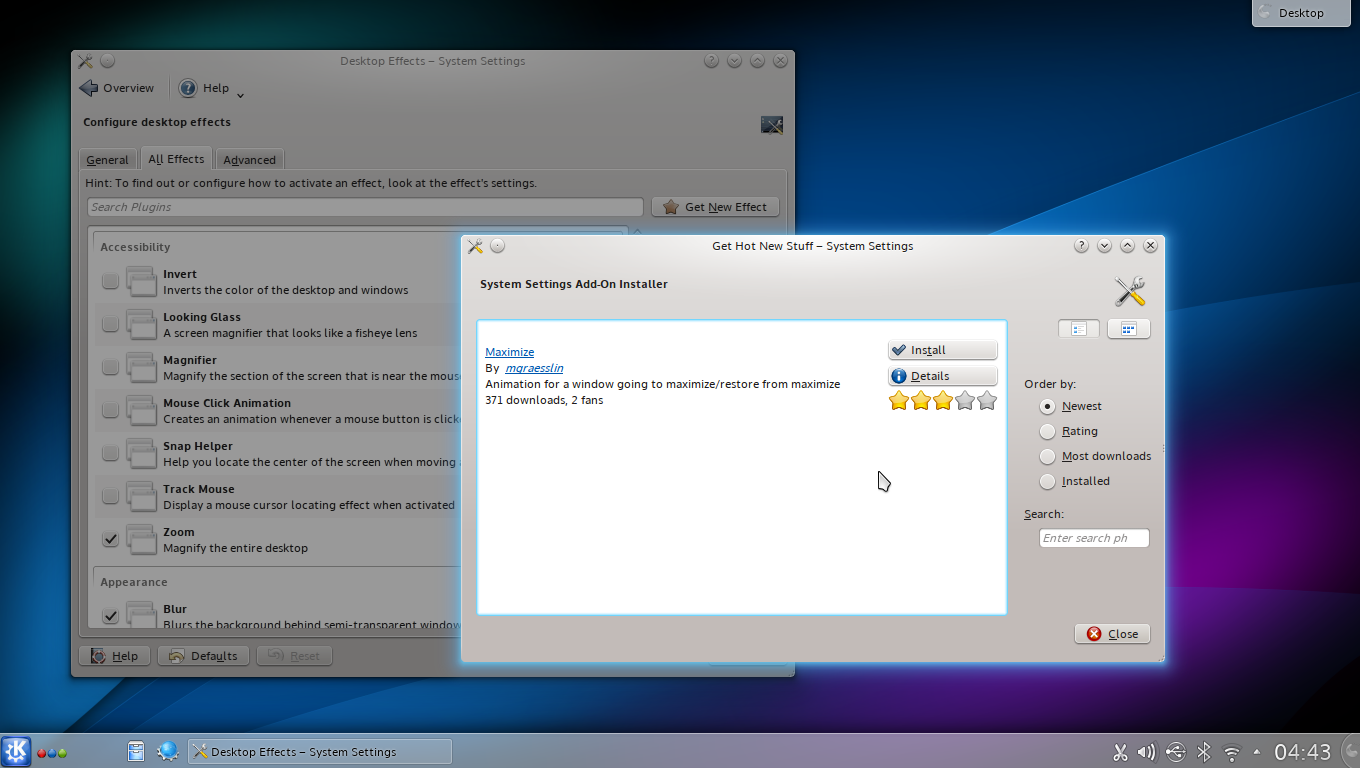 KWin now detects some virtual machines and enables OpenGL compositing if possible. In addition, the proprietary AMD driver now has OpenGL 2 support.
Tiling support in KWin has been removed as it had stability issues, lacked multi-screen support and conflicted with other parts in KWin. In short, KWin developers concluded that the necessary functionality would be more suitable for a plugin using the Javascript API. In that way, users would get more control, and development and maintenance would be easier. Third party developers would be able to customize, improve and experiment. A plugin-based version might be available in the next release; help is requested as none of the current KWin developers are working on tiling support.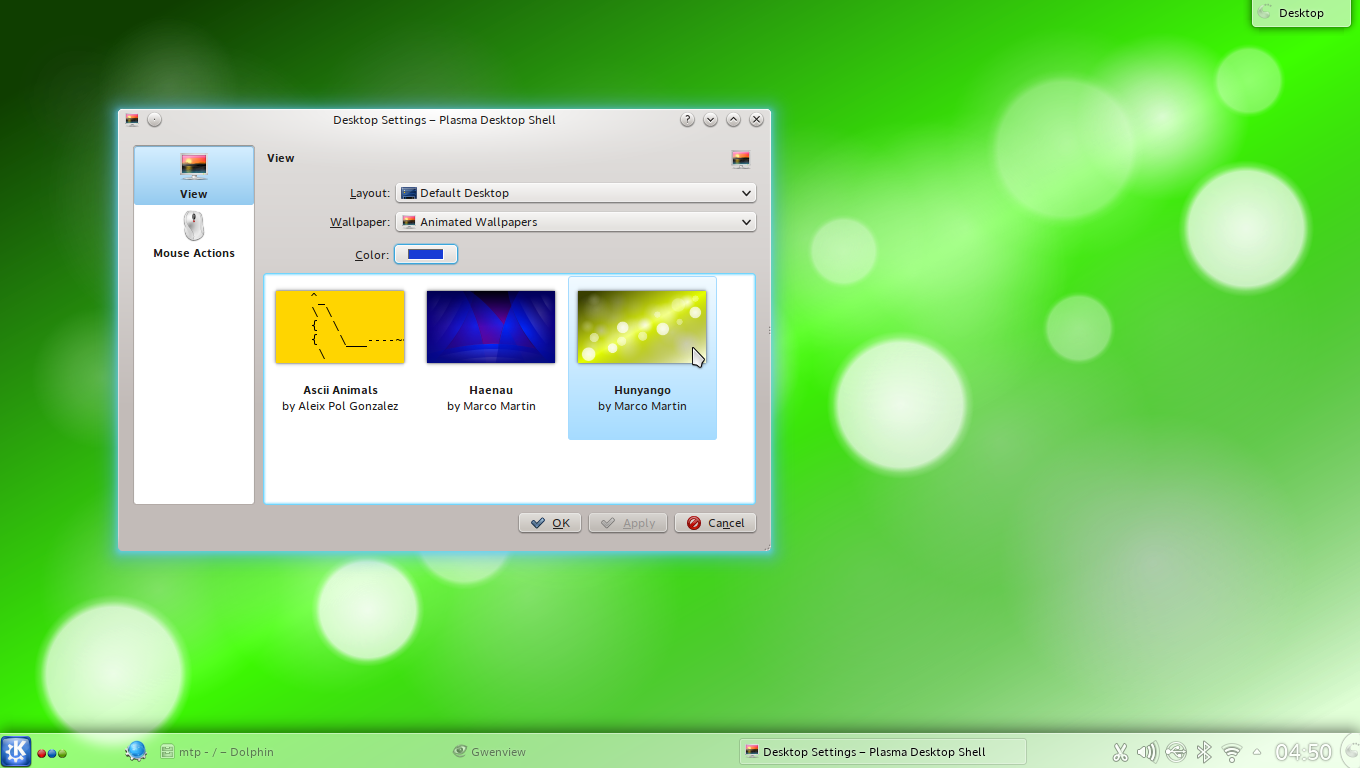 Several applications now support color correction so that they can be adjusted according to the color profiles of different monitors and printers. The KolorServer KDED module supports per-output color correction, per-window is coming in a later release. Color management support in Kwin is designed to relieve the Compositor of this task. This allows the user to disable color management, and makes code maintenance easier. Multi-monitor setups are also supported. These color management features were given a big boost with a Google Summer of Code project.
The new KDE appmenu enables a common menu for multiple applications running simultaneously. It has an option to display a top screen menubar—hidden by default—that appears when the mouse is moved near the top edge of the screen. The menubar follows the window focus so it can be used in multiscreen environments. There is also an option for the menu to be displayed as a sub-menu of a button in the window decoration. The menu can be displayed on the screen wherever the user wants it.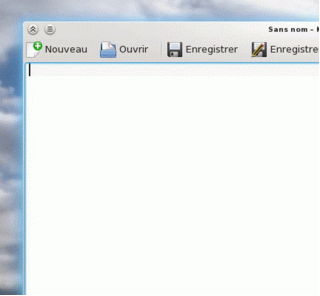 KWin bug fixing has improved thanks to extra help verifying incoming bug reports. Stay current with KWin Window Manager development at Martin Gräßlin's blog.
Faster and more reliable metadata engine
Thanks to the work sponsored by Blue Systems, the KDE cross-application semantic search and storage backend has seen over 240 bugs fixed and a significant number of other improvements. Chief among these is the new indexer, which makes indexing faster and more robust. A nice feature is that it first quickly indexes the basic information of new files (name and mimetype) so the files are available at once, and then delays full data extraction until the system is idle (or connected to AC!), so it doesn't interfere with the user's workflow. In addition, it is now far simpler to write extractors for new file formats. A few formats that were previously supported are not yet available for the new indexer, but support for these can be expected soon. An added benefit of the new indexer is the ability to easily filter on the type of file, which is reflected in the user interface: it is now possible to enable or disable indexing of Audio, Images, Documents, Video's and Source Code. The search and storage user interface and Backup have seen improvements as well. The introduction of the Tags KIO slave allows users to browse their files by tags from any KDE application.
Nepomuk Cleaner is a simple new tool for managing semantic storage. It is useful for cleaning up legacy, invalid or duplicate data. Running the Cleaner after upgrading can provide a significant speed improvement. More information on this and other changes in the KDE search technologies can be found in Vishesh Handa's blog.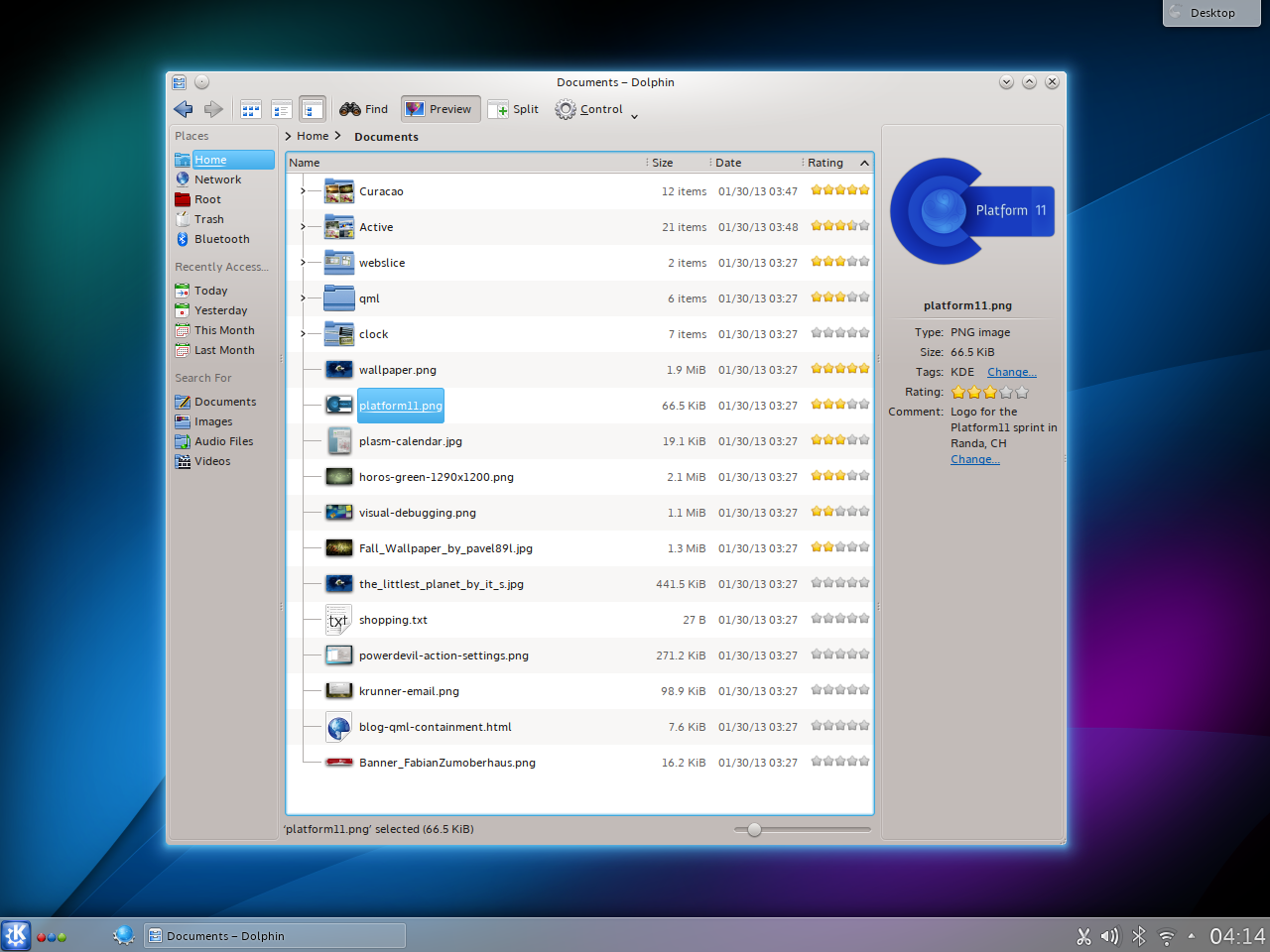 New Print Manager
Printer setup, maintenance and job control are improved with a new implementation of the Print Manager. The Plasma applet shows available printers and provides access and control over queued jobs. The System Setting configuration screen enables users to add and remove printers, giving an overview of the current printers, along with access to important control functions such as sharing and default printer selection. The New Printer Wizard automatically selects proper drivers and control settings on recognized devices. The new Print Manager tools are fully compatible with the latest CUPS printing subsystem, resulting in quick responses and reliable reporting.
Dolphin File Manager
The KDE file manager Dolphin has seen many bugfixes, improvements and new features. Transferring files to and from a phone or other mobile device has become easier with support for MTP devices, which show up in the Places panel. The size of Panel icons can now be changed, and other usability and accessibility options have been added. Dolphin now has the ability to report the current directory and files to the Activity manager (controlled in System Settings). There has also been an impressive number of performance enhancements. Loading folders, both with and without previews, is significantly faster and requires less memory while using all available processor cores to be as fast as possible. Minor improvements were made to search, drag and drop and other areas. Dolphin also benefits from the improvements in the KDE semantic storage and search backend, reducing the resources needed for metadata handling. More details from Frank Reininghaus, the Dolphin maintainer.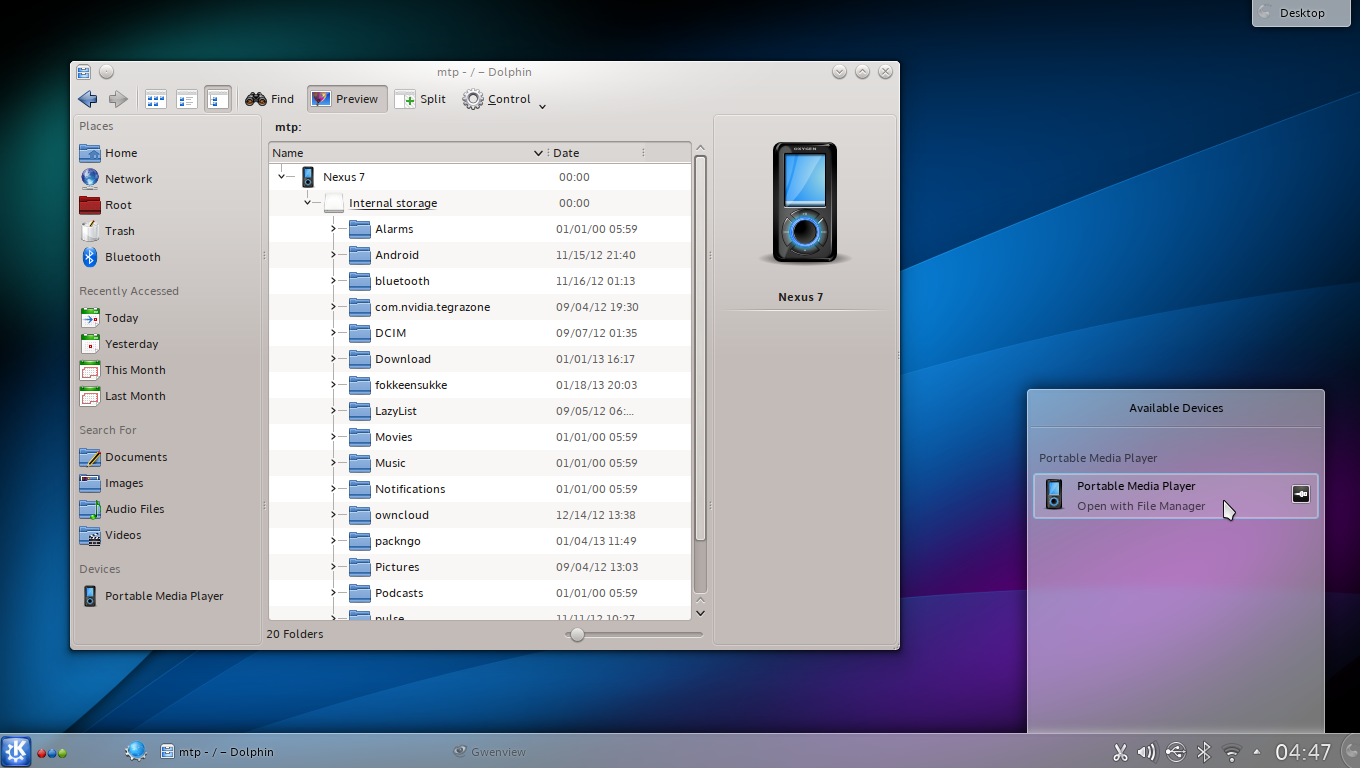 Installing Plasma
KDE software, including all its libraries and its applications, is available for free under Open Source licenses. KDE software runs on various hardware configurations and CPU architectures such as ARM and x86, operating systems and works with any kind of window manager or desktop environment. Besides Linux and other UNIX based operating systems you can find Microsoft Windows versions of most KDE applications on the KDE software on Windows site and Apple Mac OS X versions on the KDE software on Mac site. Experimental builds of KDE applications for various mobile platforms like MeeGo, MS Windows Mobile and Symbian can be found on the web but are currently unsupported. Plasma Active is a user experience for a wider spectrum of devices, such as tablet computers and other mobile hardware.
KDE software can be obtained in source and various binary formats from download.kde.org and can also be obtained on CD-ROM or with any of the major GNU/Linux and UNIX systems shipping today.
Packages
Some Linux/UNIX OS vendors have kindly provided binary packages of 4.10.0 for some versions of their distribution, and in other cases community volunteers have done so.
Package Locations
For a current list of available binary packages of which the KDE's Release Team has been informed, please visit the Community Wiki.
The complete source code for 4.10.0 may be freely downloaded. Instructions on compiling and installing KDE software 4.10.0 are available from the 4.10.0 Info Page.
System Requirements
In order to get the most out of these releases, we recommend to use a recent version of Qt, such as 4.8.4. This is necessary in order to assure a stable and performant experience, as some improvements made to KDE software have actually been done in the underlying Qt framework.
In order to make full use of the capabilities of KDE's software, we also recommend to use the latest graphics drivers for your system, as this can improve the user experience substantially, both in optional functionality, and in overall performance and stability.
Also Announced Today:
KDE Applications gained feature enhancements to Kate, KMail and Konsole. KDE-Edu applications saw a complete overhaul of KTouch and many other changes. KDE Games introduced the new Picmi game and improvements throughout.
This release makes it easier to contribute to KDE with a Plasma SDK (Software Development Kit), the ability to write Plasma widgets and widget collections in the Qt Markup Language (QML), changes in the libKDEGames library, and new scripting capabilities in window manager KWin.
About KDE
KDE is an international technology team that creates free and open source software for desktop and portable computing. Among KDE's products are a modern desktop system for Linux and UNIX platforms, comprehensive office productivity and groupware suites and hundreds of software titles in many categories including Internet and web applications, multimedia, entertainment, educational, graphics and software development. KDE software is translated into more than 60 languages and is built with ease of use and modern accessibility principles in mind. KDE's full-featured applications run natively on Linux, BSD, Windows and macOS.
---
Trademark Notices.

KDE® and the K Desktop Environment® logo are registered trademarks of KDE e.V..
Linux is a registered trademark of Linus Torvalds. UNIX is a registered trademark of The Open Group in the United States and other countries.
All other trademarks and copyrights referred to in this announcement are the property of their respective owners.
---
Press Contacts
For more information send us an email: press@kde.org